Longboard living…
My decision to go to the Longboard Girls Crew '100K Likes' party and skate-madness weekend was made pretty late. I knew I wanted to go, but I wasn't sure it was possible until five or six days before. But the moment things fell into place at home and work I found room on a flight to Madrid (£ouch!) and a sorta-cheap, definitely basic hotel, and on Thursday April 26th I headed out. It was just too big a deal and sounded too much fun to miss.
100K Party
The party itself was on the Thursday night. I didn't realise that by 'night' it meant starting after midnight, but of course it's no accident that 'mañana' is Spanish. There were longboarders and skateboarders all over the city, all evening – Madrid really seems to be leading the way in the current longboard culture explosion. The club opened its doors somewhere around 1am, and after a quick hand-stamp and a hug hello from Monica I found myself in the midst of the kind of setting a Hollywood director would die for: multiple levels, central bar, sunken dance floor with skate ramps, at the back a stage and DJ space (with our own Yannick kicking out the jams) and a massive screen playing longboard videos non-stop… and the craziest BMX dancing and skate stunts going down on the dance floor.

That was just the beginning. When it got too crowded, maybe 2:30 or 3am, the ramps were removed and everyone surged in. This was the best-natured crowd you can imagine: rowdy, loud, heaving – and open and welcoming, full of stoke and a shared love of skate.
I was taking photos most of the evening, popping up here and there and capturing the buzz as best I could. Candid and posed, on stage and in the crowd, it was all a hilarious, brilliant challenge, and a stunningly great event. Dancing, prizes (I still don't know for what, but that's irrelevant), stickers and tshirts thrown into the crowd, and shots handed out to whoever asked. And to those who didn't as well; I had to stop taking photos a couple of times for shots myself. I meant to say hello to Juan Rayos that evening but in the end it never happened, we each captured the night on camera in our own ways. Maybe next time!
I left the party sometime around 5am, somewhat wiped out from the flight and from carrying my camera gear on my back all night. When I got back to the hotel I grabbed a slice of pizza from a 24-hour cafe nearby and ended up chatting with a group who'd just come from a nearby bar. I didn't leave them until 7:30 – true Spanish style.
Moyano Slide Jam

Moyano is a pedestrian street in Madrid that is wide, paved in granite, and has a perfect slope for all sorts of skating. It's about 300 metres long, but it feels longer and every metre is made of stoke. That Friday night was Slide Jam night, a competition held from around 11pm onwards (mañana, remember?) part-way down the slope, after an evening of mini-ramp jumping and freestyle slide tricks. The idea was simple: sling yourself down from the top, pushing for speed and carving for feel, then bust a stand-up slide from the row of cones. Stay on if you can and go as far you can sideways before stopping or switching out of it. It was all done properly; walkie-talkies, clipboards, multiple judges, and loads of shouting and applause.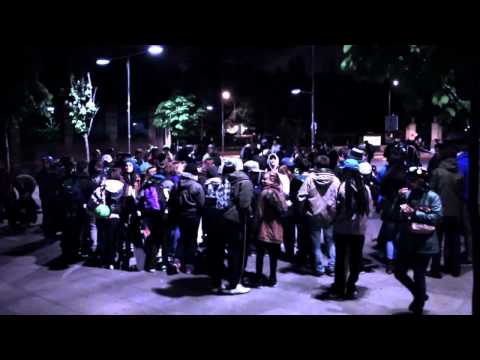 Me? I'm still nursing a dodgy knee from a Critical Mass crash, and I need to learn this slide stuff properly first anyway. I took photos – my theme for the weekend – and laughed and cheered everyone on. The sliding finished somewhere near 1am as far as I can recall, and we eventually headed back to Sonso's place. I'd checked out of the hotel and joined Gbemi and Michael in couch-surfing mode; I was properly hooked up, no chance of missing anything now!
Tarp Surfing
Saturday began with tarp surfing, a crazy thing set up by Goat Longboards. Take a giant blue tarpaulin, maybe 12 metres or so square, grab one corner and run into the wind to the opposite corner. Result: a giant blue wave and a crowd of longboarders cheering someone trying to ride along the bottom edge of the tarp wave before it comes crashing down on their head in a landlocked wipeout. Some did it just for fun, others did it for fun and the competition.

(Click and drag in this image – it's interactive!)
Goat gave away prizes for what seemed like both style and craziness, and I managed to shoot a complete 360-degree panorama from inside the wave while Jacky Madenfrost skated past just inches away. Good times! The only sour note was off to one side, when one girl collided with someone while looking the wrong way and hit her head hard on the concrete. She was fine after some time out, but I can't have been the only one thinking "helmet, helmet, helmet…"
Downhill
Saturday night was downhill night. It took place well after dark (starting at 11pm or so, funnily enough), at Madrid's Parque de Dehesa de La Villa, where there's a downhill cycle and running track that's ideal for general-purpose downhill longboarding. There are some good straights on this hill, some great curves and hairpins, the surface is sound, it is well lit, and it runs for well over a kilometre. It isn't the gnarliest DH route imaginable, but it looked awesomely fun. Gbemi came back so excited after his first run that he was bouncing like Tigger. (That was nothing compared to how he was after trying Goat's prototype downhill deck – but that's a story for another day.)
There were numerous small group competitions into the night, all managed and recorded, with more casual downhilling going on inbetween individual races. This went on until the prizes were given at no-idea-o'clock, and we ended the night by going back and cooking half a ton of pasta at 5am and drinking sangria. We meant to go to Jacky's at 9am on Sunday to wish her a happy birthday… but really, that was never going to happen.
The runout
The days went by in a blur, the nights went by in a glorious riot of fun, and next thing I knew I was hugging people goodbye at the airport. I arrived in Madrid for a party, not really knowing many people there, but I left feeling like I'd joined an extended longboard family. And feeling exhausted, too, but that's a minor detail. Madrid, I will be back!
– Keith

Comments
comments