Mischo Erban is twice World Champion downhill skater, and world record holder for fastest stand-up skateboarding.
Today (June 18th) he set a new official Guinness World Record (129.94kph, 80.74mph), skating down a mountain road in Quebec, Canada, monitored by Recon Instruments, including a heads-up in-helmet GPS display. Two weeks earlier William Parry of Recon Instruments had a conversation with Mischo…
What's your history in the sport?
I originally started out in 2003, I was tired of struggling to get from class to class in time while at university. I had classes at opposite ends of the campus and I wanted to get to class faster. I decided to borrow a longboard from a friend of mine just to test it out. I ended up buying my own.
From the point of buying a board I started riding a lot more.  When school finished up for summer, I headed back to Vernon. I lived halfway up Silverstar Mountain. I hadn't realized that I had been sitting on a gold mine all this time. I was like, "why didn't anyone tell me about this sport?" Here I started really riding, and the best thing about it was that I could hitchhike back up to the top. I could really ride whenever I wanted to, and get as many runs in as possible. The best time was when people were coming home from work. I would be out from like 3pm until 6, and was able to get in 6-8 runs.
A year later I entered my first race, and I placed top twelve out of fifty guys. It was a great event, and everyone was having so much fun. This led me to wanting to put on my own event. In 2005 at my own event, which incidentally was still only my second race, I managed to win it. Guys crashed in front of me, leaving my chance for glory. I crossed the finish line first. It was crazy!
From my first win, I started to branch out from Vernon and began racing around British Columbia, and a little in the US. Then in 2007 I began to head overseas to compete. My first race was in the World Championships in Europe, where I came second. There I just avoided a crash, and nearly had the chance to win. I knew that this was the sport for me. I was in love with it from the beginning.
It has not always been easy to compete. Racing on the International circuit in 2007, I really needed to get to a race in South Africa in order to fight for first place in the overall championship standings. The problem was that I didn't really have any money, and I was still in my last semester of school. However, I managed to get the community organized to help me out through donations and small sponsorships. Through this I got my ticket to Cape Town, and I headed out literally days after I finished school. I ended up crashing, finishing in second place, but I gained a newfound hunger to win.
By 2009 I was really, really hungry. I had good sponsors backing me up. I was living in California and training on this one really awesome road, which all really helped with confidence. That season, I really managed to nail it, and came away as the 2009 World Cup Champion. Unbelievable! In 2010 I switched up my sponsors, everything including wheels, trucks, and boards. It was a tough year; I had to reorganize myself and build my confidence, and just reconnect my mind and equipment. In 2011 everything started coming together a little bit more; towards the end of the season I was getting focused again, and it all came back together when I won the World Championships in Brazil, on my favourite track. Becoming 2011 World Champion was phenomenal and made the struggle in transition between sponsors totally worth it. I was back!
This year, 2012, I started off with winning my second race of the season at Mount Panorama in Australia. There was a lot of publicity there, including a live webcast of the race, so it was a perfect race to win. Two years ago it rained there and I opted not to race, and I always felt regret for not competing that day, in the rain. I wanted to win on that track on a dry day, which was a dream come true earlier this season!
Now we are here, and I am looking at breaking the Guinness World Record to obtain the fastest skateboard speed from a standing position. Looking back, during that tough year in 2010, the biggest thing I went for was a record attempt in Colorado where I went 130kmph. This Guinness attempt is the culmination of 2 years hard work and planning; getting sponsors together and pitching the idea to make it happen. This year, with Recon's help, I am able to do this, and I am stoked.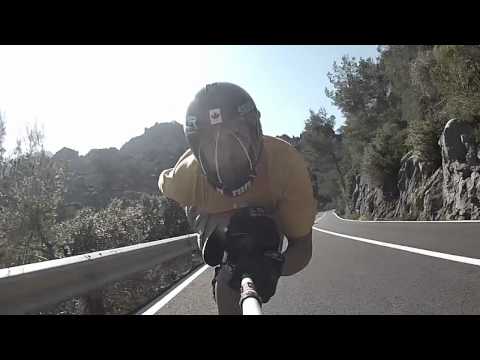 Did growing up and racing in and around BC provide a lot of opportunities early in your career?
Yeah, the BC scene has provided some of the best racers in the World. I was surrounded by an awesome group of people. They were some of the early pioneers of the sport – who better to learn from? They were racing hard, and it was good competition here on local turf, so I definitely was able to build up a really good background of tough racing. These people had raced around the world. It was good to compare myself and measure my progress against these guys, especially the ones that had been overseas to compete. It gave me the confidence to challenge anyone.
Who were your key influences from the BC scene?
I didn't have one particular person. What I focused on was that everyone had a different style. I analyzed everybody that I trained and competed against, taking bits and pieces from their skills, and looking at what they were good at. For example, during this time I realized that I needed to move away from big wheels to using smaller, grippier ones. One of the guys that I really admired was Bricin Lyons; he was probably the biggest, most passionate influence in giving back to the sport.
What's your fastest speed so far, and what speed are you hoping to achieve for your 2012 world record attempt?
To date, I have gone 130kph, and with the Guinness record attempt I am looking at bumping my personal best up at least by 10kph, if not more! I am pretty confident that the hill is capable of it! Off into the future I will retire happy if I can achieve beating the skiing speed record, which stands at 252kph. For this to happen I would have to pretty much double my current fastest speed – although I am pretty sure that this road doesn't exist yet, so someone has to build it for me!
How have you been measuring these attempts in the past?
I have always gauged my speed via GPS. I would always train on Silverstar Mountain just with a GPS, as I didn't have that many people to ride and practice with. At that point I felt that the GPS would never lie to me. I would always download my runs and check them. They were not always totally accurate though, as the reception was sometimes a bit sketchy, but I knew I could be pretty certain that the speeds I was obtaining were largely spot on.
How does Recon Instruments technology help improve your performance?
When I trained in the past with GPS, it was mounted on my shoe. It was a place that was kind of awkward at times. There was no way of mounting it anywhere near my face so that I could look at it. The shoe mount was pretty much the only option I had. It wasn't ideal, as I had to keep looking down at my shoe, and then refocus in front of me, which made things really awkward. I was taking risks just to check my speed.
When I found out about Recon Instruments, I thought that somebody had read my mind, and I was just like, "finally, I can see the live data coming in, I can see my speed live!" Whether I am entering a turn, or exiting, I can check my speed instantly. Most importantly, I can gauge my performance much better. I can associate feelings on the board with the facts on the screen; it's a million times better than when I had to keep looking down at my foot. Recon's technology makes everything way easier, and just perfect! It is the best way to look at the data.
The technology is one factor, but is the location at Les Éboulements, Quebec, the best location to break this record?
It is one of the steeper hills that I know is safe. There are other hills out there that do provide this kind of speed, but they are not safe. In the past, street lugers have shown that it is a fast one, so I hope it holds up as well for downhill skateboarding. It is on Canadian soil too, so that just makes it all the better!
Why do you want to be the fastest in the world?
It is something that goes back to why I fell in love with the sport, and my personal history within the first few years. As I mentioned, I trained on Silverstar, which is not a crazy technical road, it is more about speed and endurance. This is where I worked on my good tuck, where I became really aerodynamic, and greatly increased my speed in a straight line. And I just love it; I love that sensation of being top speed all the time, going as fast as possible. Sticking to good lines and blowing full speed into corners – it has been something that I have really liked about the sport since the beginning. You're just a few inches off the ground, yet you have this perfect view in front of you. Speed is something that everyone can associate with!
In terms of experience, does being a double world champion help when looking at this attempt?
Yeah, I would say that all my past experience of being in fast races and keeping yourself together certainly helps. It is all the work that you do season on season that puts you in a good mindset. You know what it takes, and you are more aware of your body position, and how to get faster. You know what works, so yeah, experience is a big factor.
How do you see the sport of downhill skateboarding evolving?
I see it progressing even more. At this moment in time, racers still go by their feelings, whether it is the feeling that they go faster on new equipment or that they think that they are fast compared with other boarders. Numerical data always helps set the record straight, it really sorts people out. Heads-up display tech is going to help push athletes further and faster than anyone has ever dreamed! Having numerical values makes it easier to pinpoint goals. People are going to get more serious about the sport, more professional, as they will have something to compare themselves to.
How do you think heads-up display technology can further improve skater performance?
It is such an open canvas. It's crazy. The element of surprise, seeing what people come up with, is what I am most excited about. Personally, I would like to see even more data collection, so that I can compare hills one to the next. Gradients, steepest pitch, or consistency in grade over a distance would be useful. Maps for when it is the first time that you ride a hill would be great too, especially if it could provide early warning of tight turns coming up. With advancements in this technology people will be able to ride down hills safer.
What would be your advice to people starting out in longboarding and downhill skateboarding?
Do it safe. You want to be around for the next day, so learn to manage the risk involved. It all comes down to gaining experience, and keeping a lid on your aspirations at the start. You need to learn the basic skills of how to control your board first and foremost. Then technique and speed will come, once you have built up your ability to handle your board. Have fun with it, but do it safely.
Recon Instruments, award winning innovator of Heads-up Display (HUD) technology for action sports athletes, is excited to announce that World Champion downhill skateboarder, Mischo Erban, 28, used a custom made Heads-up Display solution to help him break the record to obtain the fastest skateboard speed from a standing position. This groundbreaking technology has been built by Recon Instruments specially to help Mischo break this record, which informs him of his speed, distance, time and navigation.
The previous official Guinness World Record for the fastest skateboard speed from a standing position currently stands at 113 km/h (70.21mph) and was achieved by Douglas da Silva (Brazil), at Teutonia, Rio Grande do Sul, Brazil, on 20 October 2007.
Comments
comments