Fun pre-season chat with 2012 World Champion about RAD rolling paper, downhill skateboarding

Ahoy! Where are you from?
I'm from a small town North of San Francisisco called Petaluma.
What's the skating like in Petaluma?
"P-town" has some good corner sets and straightaways. When I was first getting into skating it was awesome, enough to push myself and learn on.
When did you first get into skating?
I was 14, so 2004. My cousin had a deck and got me stoked.
Was there a big longboarding community?
For sure. There's a long history of Downhill skating in the Bay. Skaters like Eli Smouse made it over to Europe and represented the bay in 2003, he won the first Hot Heels in Austria. Since then Noah Sakamoto and Patrick Rizzo killed it. I'm stoked to have grown up skating with those guys.
Do you still get to skate with them?
Every now and then, when I'm back home. Always stoked when I do.

How soon after you started skating did you get into downhill?
When I first started, I saw some old downhill vids on youtube of these gnarly french guys and old EDI races. I always thought it was crazy. But I skated more and became more comfortable going downhill. After a few years skating, downhill seemed less and less crazy.
What's EDI?
Extreme Downhill Institute, I think. It was a old race organizing body back in the day. Biker Sherlock ran it.
Is that his real name? 
It is! He has most definitely earned BOSS status. I think he races monster trucks now.
What does an Extreme Downhill Institute do?
Host races. They were before the IGSA.
History lesson! What was your first race outside your home town?
Haha no joke eh. I'm liking the look back. My first official race was Maryhill 2007.
Was it fun?
Holy. Fuck yes. I was a noob, got out my first round, but after that I was hooked. All I did after that race was skate, and work to skate more. That year I was able to find a sponsor, get out to more races and film some more vids. Went back to Maryhill 2008 and got 2nd.
What changed to get you on the podium in one year?
Skated a lot that year. Gained some more races experience through California outlaw races.

Who were you riding with back then?
I was working and riding for my local skateshop, Sonoma Old School. Then I was able to get involved with Loaded and O-tang when they were expanding their team.
You managed to get your first sponsor in 2007?
Yep, at 17. I was amped. (http://www.youtube.com/watch?v=QTuw2a06X0I)
Did you do Maryhill on a dervish?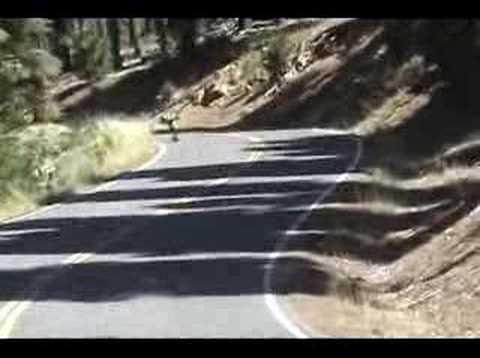 Haha no. I stuck to my downhill board for racing. I like rocking flexy drop through boards though, they're very fun – anywhere.
What was your downhill board?
My first downhill board was an Evo. Then I met the NorCal skate crew and they were all "what the fuck are you doing on that Canadian machine. You're from NorCal. Get on a topmount."
What is the NorCal crew?
All the OG's that have been shredding the bay for years. Eli, JM, Patrick. Now there is a entire new generation of groms killing it. Liam Morgan and Byron Essert are taking things to the next level.
Speaking of Liam, any updates?
About his moto crash? His injuries are pretty clean, thank god. He'll have a full recovery and be back skating this summer.
Do you go to any NorCal races?
There are still a outlaws all over California. 2008 and 2009 were really cool because we had 7 races that all counted for points. We called it the California Outlaw Sires. They brought a lot of skaters out and there was always a party.

How did you do in those seasons?
I did well and learned a lot. I remember some amazing heats with Zak Matum and John Rogers. I think the series champion won 1000 bucks. The prize money had been compiled from all the races throughout the year.
How did life change after Maryhill?
You have no idea! It was crazy. I graduated from high school earlier that year. Planned on going to college. I ended up going to LA, moving in with Louis Pilloni, and working in the shipping room at Loaded. I planned on enjoying skating for 2 years then back to school. I'm on 4 years now.
What do you want to study in college?
Teaching and political science. Kinda random.
Do you still work in Loaded?
Nope. We had an awesome time, but now I'm working with the Arbor Collective. Making rad shapes and what-not.
Are you still living in LA with Louis Pilloni?
Yep. It's been awesome. Louis is the man. We live with 5 other skaters running Skatehousemedia.

What new adventures did the 2009 season bring to you?
2009 was a very fun year. I skated amazing hills all over the world. I raced Europe for the first time, which was a dream come true. Made it to the finals of Danger Bay for my first time. Met awesome people. I learned how huge, international, and awesome the skateboarding family is. My stoke and love for skating only grew.
Europe turned you into a romantic? 
Haha NorCal kinda kept me spiritual. Fuck man, so many things. I like how you can drive 6 hours and be immersed in a completely new culture. Its like 6 -7 hours from San Francisco to Los Angeles. In Europe, its 6-7 hours from Zurich to Barcelona.
You're definitely American, the thought of driving 6 hours is about as appealing as wiping my butt with grip-tape.
Haha 6 hours is nothing in the States. I like Europe. A 6 hour drive will put you in a new country, language, and culture.
What races did you attend that season?
Canada and most of the IGSA races. 2009 was the first year BC hosted 3 races in 10 days (Dangerbay, Jakes Rash, Gold Rush.) That was awesome. Louis and I also made it to Peru for the first year of Tarma.
Is Louis your best friend?
We work well together. lol.
Who do you travel with?
Arbor and RAD Wheels Team. Homies. The two go hand and hand.

What is SkateHouseMedia?
Its a website. I am just one of 7 that help run the it. Basically, we all live together in "The Skatehouse" in LA. Back in the day, 2010, all these awesome skaters were coming to town and crashing on our sofa. Around that time the Gopro camera came out and we were collecting all this radical helmet cam footage. Every night we would get back from skating the hills and plug our footage into the tv. We realised we had something cool going on, we were collecting footage from skaters all over the longboarding community. So one day Brian Peck said Skatehousemedia and it all started. Its a video blog that showcases what we love about skateboarding. We are on year 3 now with over 300 unique videos. So hyped.
Who are the 7 lucky kids?
Louis Pilloni, Matt Kienzle, Max Dubler, Calvin Staub, Patrick Schep, Kody Noble, Brian Peck and myself. Wow, 8 now, Brian lives back on the East Coast but is our badass website boss and epic slide shov-it-er.
Sounds like the skate version of a reality tv show!
Lol it gets greasy. Would be a rad tv show.
Where is the furthest you've had someone visit from?
We've had skaters from all over. Australia, Africa, Switzerland, Norway, way too many Canadians. Not sure of the farthest.
What's the best present that's been given to the house?
Braden Tibbles is the raining number 1 house guest at skatehouse. During his first trip his duty was to buy the house this soda called Cactus Cooler, every time we asked. He did a great job and we all got cavities. He's been back twice since, has gotten the house more soda, along with an awesome blender.
How do you have room for more with 8 residents?
At first we didn't. All the residents followed their skating and came to LA. It took a minute till we were all able to throw down for a house. At the worst, we were 7 deep in a 2 bedroom apartment. It was shit. We always had guests too. Now we are all a little more established, along with the site. Stoked to have a real house to bring the girls home to.

Any big SHM projects in the works?
Just trying to get more organized and efficient. With a bunch of skaters running a web site, organization can be a challenge. We are definitely moving forward. We are trying to capture all the different events the housemates go to. Trying to document those and showcase them to the longboarding community.
Aside from skating – what's your role in the crew?
Film/edit. The websites been a great opportunity to learn how to use a camera and final cut well.
You're a film-maker?
I'm liking photos more at the moment, but really stoked to be learning more about both.
Learning from housemates?
Yeah, big time. Matt K went to film school and has taught everyone a bunch. Louis has also been editing and filming for some time now. We have a good crew, everyone works well together.
What is a RAD wheel?
Haha a RAD wheel is a 100% Rider Approved Design. It's a wheel project Louis, Jacko, myself and the rest of the team are running. The idea is to develop rad wheels we want from the ground up. We have two 100% unique shapes dropping soon, more to come.

Who makes up the rest of the team?
Max Ballesteros
James Ware
Tony Graves
Kelly Carter
Ben Dubreuil
Jimmy Riha
Duke Degen
Adam Persson
At what point did conventional longboard wheels stop ticking all the boxes for you?
Wheel are wheels. They will all work. But the opportunity to design an entire line of wheels from the ground up, to make exactly the wheels I want to ride. To help engineer parts of the wheel and wheel development to help bring wheels to the next level. Its awesome. Skateboarding progresses through rider designed products, stoked to be a part of the project.
Performance-wise, what will be the difference between these 2 shapes from all other shapes on the market?
Everything about RAD wheels are 100% new, designed and tested by the riders. The core is the biggest change. It offers unique support to the wheels lips, it's made of material much stronger than traditional wheel cores. The urethane is 100% unique, rider tested and buttery. I'm really stoked on the race and freeride shapes we have now. Very excited for what's in the works.

How do you stop all the companies from making copies?
Imitation is the biggest compliment. And it happens a lot in skating. We have to stay a step ahead, always improving what we have.
Is it true you're actually ditching urethane and using a secret blend of unicorn balls and tigerblood?
Hahaha don't forget the babies..
Why don't you patent the core & shape?
I am. They are, but, you know how it goes.
Can we expect RAD trucks, socks and bacon in the future?
Bacon! Not a bad idea. I want to see RAD rolling paper. Who knows where this is going? This is just the beginning.
You'll be riding your own wheels this season?
Yeah, dream come true. I'm stoked on my set up this year. Rider made wheels, rider made trucks, and skate developed boards from Arbor.

What trucks are you riding?
Good buddy Kevin's trucks. You might know them… Aeras?
Did you play a role in developing your deck?
I've been really stoked on how much Arbor utilizes their team in every step of board development. The 2012 line reflects the team a ton, down to the graphics. We helped Arbor drop 12 old shapes and add 11 more. The idea was to clean up the line up and make it more functional. Longboards are not just pintails anymore.
Which one will you be racing on?
I'm using the Vugen 38. Graphic inspired by the new world order.
How was last season?
Awesome. I got to race Tetonia for the first time.
Is it as scary as rumours suggest?
Its an incredible hill. It is scary, but in such an awesome way. A way most of us downhill skateboarders are familiar with. It makes you feel like the first time you got speed wobbles every time down it. I haven't found a hill that gives you the same feeling of out of control… control.
How was racing this beast?
Racing Tetonia is like nothing else I've felt. So much adrenaline gets pumped into your body. Your hands are shaking at the bottom. I had one of the most memorable heats of my life last year with Patrick, battling the entire way down at 120k.

How did you do in the race overall?
I ended up getting knocked out by Dalua. Think I ended up 7th. Not too bad for my first year of racing Tetonia. Can't wait for this year.
Did you attend any other South American events?
Just Tetonia and Tarma. I took some time after Tetonia to chill and skate in Brazil with Kevin. That was the best, freeriding, skating fast. Not having to worry about racing.
Where else did you travel to?
I took this 2 week trip to this undisclosed island with hella hills. It was awesome. That's the best for me. Hill hunting. Finding the best, most beautiful places in the world to skate.
Did you skate in Europe at all?
I've skated Europe a bit. There are so many awesome hills in the Alps and Pyrenees. I was lucky enough to road trip and film for 2 weeks in Switzerland with Greener Pastures last year. That was an unreal experience.
How did you get involved with Greener Pastures?
The project was something Patrick, Kevin, and I had been dreaming up all euro trip 2010. That year Patrick took the initiative to make it happen. He got the filmers, the ride, the crew, the financial support. I'm stoked Patrick invited me along for the trip.
Kevin Reimer was supposed to go with you guys?
Yeah. His broken ankle kept him home last year.
What was the highlight of the trip for you?
Just waking up everyday to an amazing view and nothing on the agenda but skating rad hills. Filming was a chore, but we were always on top of amazing mountains to skate down.

Would you do it again?
You can't take being apart of a project like that for granted. I'll go again for sure.
What are your plans for this season?
This year has already been nuts. I've already been traveling more than any other year and it's not slowing down. I'm trying to document my travels and put them up though Skatehouse, Arbor, and RAD. My main goal is to keep progressing my skating. The opportunity to that is unforgettable and I'm so fucking lucky. I'm in Australia right now racing for the IGSA World Cup, I really want it. The entire time working to improve the products and companies I work in/with.
How is everyone down there?
Its nuts right now. We have 15 people at Jacko's from all over the world. Striker of CoastLongboarding is blasting punk music, the swiss have some perfect spliffs burning outside. We are all trying to figure out what the ozzies are saying, such awesome slang. We are leaving this afternoon for Kiera, its going to be epic. Its going to be very exciting. Everywhere this year it's going to be tough.
How close did you come last year?
I got 5th last year. I'm better than that.
What do you do when you're not skating?
When I'm not skating, I'm usually editing, chillin with friends, snowboarding, or sailing.
You have to take some weeks off after the Euro tour and skate in Spain!
I'm spending a week in Barcelona after Peyragudes, stoked.

Choose 3 numbers between 1-26
666 ?
haha ok, 7 and 2.
6 – What is the strangest food you've eaten?
Blood sausage in Spain, so weird.
2 – Would you rather have a hook for a hand or a wheel for a foot ?
Wheel for a foot, for sure.
7 – What is your favourite meal?
That's a tough one. I love food. Ceviche is boss. Good sushi is bomb. The classic for me is a big old plate of ravioli and alfredo sauce.
Haha great! That was a ton of fun! Good luck in the race on Saturday and for doing better and having more fun than you did last year! We'll have to catch up at the end, or somewhere in Europe later in the year.
For sure! Thanks for the interview, it was a blast. Kinda a trip. Enjoy your weekend in Spain! Say hi to the crew for me.
I'll say a special hello to Sonso.
Awesome, Arbor love.
Do you have any thank-yous or shout outs?
Yes. The world is full of awesome people. The more you meet and connect the more doors open for you and the friends. Huge thanks to my Mom, she never held me back. Huge thanks to Adam Colton, he's inspired so many skaters and companies out there to do great things. He's one of the biggest catalysts for this longboarding boom. Big ups to Striker cunt, the life behind the BC scene.  Huge thanks to Louis, for pushing me, the sport, and SkateHouseMedia. Huge thanks to Steve Lake and Bob Carlson for being awesome and doing it right.
Links
http://www.skatehousemedia.com/
http://www.facebook.com/RiderApprovedDesigns
http://arborcollective.com/

Comments
comments