Caloy tells us all about the scene in the Philippines, United Skate Shop and his adventures abroad!
Hi Caloy, how are you?
I'm good. Wrapping up my day here at work, looking forward to skating this weekend. Race season here is about to kick off so a lot of folks goin' out to skate as well.
Where will you be skating this weekend?
There's a hill here in the Philippines called Sierra Madre. That's where the race is gonna be on December 1 and 2. Pretty awesome course with lots of turns and straights, but all grip. Gonna hit that tomorrow. Sunday maybe another hill. Lots of spots to choose from here anyway.
When did you start skating?
Less than 3 years ago, my brother got me into it. Started just skating around but once I got to skate with a lot of people (coz the scene here is quite big), I enjoyed it and kept at it and the rest is history. I wish I started earlier.
Who were you riding with in the beginning?
A local crew called Pirata (Pirates), my roots. I still ride with them from time to time, but mostly it's with my team from The United Skate Shop nowadays.

Where did you start skating?
There's a very popular local spot here in Luzon (the north part of the Philippines) called Taktak. That's where it all began and that's where I got exposed to the local scene. Since then I got hooked. Haven't skated there in a while though since it's a mild hill, but every now and then we still go there to chill.
Who else is on the team?
There are a lot from all over the Philippines and in some parts of the world. From the Philippines, we've got riders from the three major islands, Luzon Visayas and Mindanao, from all ages. It's a pretty big crew (over 40 guys and a few girls) more like family I should say. Maybe you should come on over here so I can introduce them to you? Haha. Outside the Philippines, we've got some brothers over at Singapore and New Zealand. More on them from  http://theunitedskateshop.com/category/riders/.

What is the community like in your city?
Awesome! Fortunately, I was able to skate internationally (Maryhill) and get to know the community outside of the Philippines and I'd have to say, the Philippines still is amazing in its own right. Even the pros are stoked about what we're doing here.
There are lots of people, from different places, ages, guys and girls and all help out in making the community bigger, sharing the stoke. I guess the best part really is the diversity of people in the scene. Different characters which makes the community really interesting and gnarly. That's why I don't blame the likes of PSwiss, Jacko, Colton, Stokawski, Zak, Dubler and Calvin (Viva La Copa!) wanting to come back and other riders like Kelly and Pilloni wanting to visit.
What is your role in the community?
Like everyone else, my role is to share the stoke. Since the scene here is still growing, it's up to each and everyone of us to keep it safe and super awesome. That way, others will get into skating. That's why I always make it a point to travel as much as I can, join as many sessions, races, outlaws, so I can experience everything the scene has to offer and pass it on to others. I even got into editing videos just so I can pass on the experiences in a different form.

Have you travelled much around the Phillipines?
Definitely. Just recently, I completed my Philippines experience. Since there are three major islands here, Luzon, Visayas and Mindanao, not everyone has the chance to join events/races. Fortunately, I was able to compete in every island and meet all the good people from the local communities there. Actually, the interesting thing is I've travelled more around the country because of skating. I guess it became an excuse for me to see the world around me, in that sense. It's so beautiful here and I'm glad I got into skating, because that got me around.
Where are the big communities in the country?
On all the three major islands, there are big communities. And there are more than one per area, which is awesome. That's the beauty of this country – there are lots of hills and lots of people skating. No matter where you go here, there's always a local crew you can skate with.

Are there longboarders in nearby countries?
Team United actually has two riders Ken Jubela and Ros Fie Eh in Singapore who are also part of the local crews there. I also skated with Jes Izman in Malaysia who told me about the scene there, which includes some street lugers. From China, where I lived in for 10 months (what's up to the Nuts On Wheels Crew of Shanghai!), there's a community that's starting off. In Japan, I heard from Ayumi that the community there is starting to grow as well. But I'd have to say, I believe the Philippines is still the biggest scene in Asia, no doubt!
What was it like skating in China?
Very very different. For one, Shanghai is flat. I'd have to drive out really far to find some hills, but even that wasn't very advisable because of the traffic on the mountain roads. I had great company in the local crew, so I had to make do with mild slopes, where I learned to slide. The best part about it was I got to tell them all about the Philippines scene and they're all excited to come over. Skating in China gave me the chance to share the stoke when I threw their first two outlaws ever.

Who are the people driving the community there?
When you're in Shanghai, Nuts On Wheels (locals) and a Atomik (a group of expats, mostly French and Spanish folks). I hear they're keeping at it, which is awesome.
How is your Island different from the other 2?
Well, it's the largest island in the Philippines that's why there are lots of cities here compared to the other two.
What's your favourite spot?
Sierra Madre a.k.a Pirata's Haven (respect!).
What are the other local crews in Luzon?
Damn, I hope I don't forget anyone. Let me start off with United and Pirata – represent! I ride with them mostly. There's also Kulot at Kidlat and the Southside Groms where I live. From the north, there's UpNorth Baguio, followed by Orion Skim Crew of Bataan. Then there are the Manila teams, Longboards Manila and CBD, Skate of the Nation, Kick Engines, Society Longboards, Contach, Whiskey Hill and Sindicato. Down south there's Uragon.

Who organises the races there?
The local crew who skates the local spots usually are the ones who organize it. But of course, everyone helps each other out. That's the Philippines for you!
What sort of skating did you do in the beginning?
Cruising and carving, which didn't last very long, about 2 weeks I think. As soon as I tried downhill, I got hooked on speed.
How did you get into downhill?
That's what my brother started with. At first I was a chicken about it, but he found a way to make me go faster and faster until I enjoyed it. I blame it all on him. Hahaha! But I love him for that.
When did you get a board you felt comfortable with?
It took a while. Not until this year did I find the perfect board for me (so far). I guess when you progress you look for different things, so maybe that's why it took a while. Good thing the good folks from The United Skate Shop never fail to hook me up.

What are your favourite setups?
The one I have now. Hahaha! Rayne Vandal, 50 deg Aeras, Bones/Magic bearings, Riptides, RAD wheels. Ever since, skateboarding has been really rad and gnarly!
When did you start competing?
January 2010. It was a race in Iloilo, Visayas (the island below Luzon) called Palumba. It was a great experience. I flew out with some really good people, went down a gnarly hill, ate some good food at the local fiesta. Since then, I made it a point to go to as many races as I can, even Maryhill! Excited to go back to Iloilo again this January.
What other races did you do in 2010?
There was Palumba (Visayas), Highlands (Luzon), Visayan Longboard Trilogy (Visayas), Flash Pizzazz (Luzon) and a handful of outlaws. Not sure if I missed out on any other races, back then but those are what I remember.
Is there a national league?
Lots of races in the Philippines. Lots. But no official league yet. Maybe soon, who knows? The community is getting bigger and bigger, that's important.
What is your favourite race in the Philippines?
It would have to be Palumba, my first race. For sentimental reasons, obviously. Then it's a toss up between Romero Cup (Mindanao) and Visayan Longboard Triology (Visayas), because those were events which were more than just racing, it's about the whole experience – imagine camping out in hammocks 10 minutes away from the spot, on a beach, getting to eat really delicious local food and hitting the ocean or a waterfall after a long day of skating. Who wouldn't love that?

Do you guys have a national forum?
Yes, on facebook. It's Philippine longboarding. But nowadays it's being flooded by sellers/buyers so it turned into a classifieds section. There are still some people/newbies who inquire about how to get started and such so the community always makes it a point to help out as much as we can.
What is the heart of the Philippines skate community?
Every person who shares the stoke. Every person who sees skateboarding as an excuse to form a sort of brotherhood with one another. Every person who goes to events not just to race or win, but to experience everything that goes his/her way. The heart of Philippines skate community are the good people who make of it. Rain, shine, big hill, mild hill, flat land, it's all what we make of it. That's why this community is so damn awesome!
What races did you do in 2011?
Not much. There was Palumba (Visayas), Highlands (Luzon), Dumanjug (Visayas) and a handful of outlaws. That was the year I moved to China for a while so I didn't get to join much races. 2012 was when I joined a lot. The highlight of 2011 was in Shanghai. With the help of The United Skate Shop, I was able to throw the first ever outlaw there. It felt good because it was that year I did some good to another  community, showing them how it's done in the Philippines, sharing the stoke.

How did you make up for lost time when you returned?
I took a month off before I started my new job back here in the Philippines and skated Maryhill! That was amazing! After that, I skated as much as I could. And I still do. Haha.
When did you hook up with USS?
USS, United Skate Shop? When it first started. November 11, 2011.
Who started it?
My brother, Carl. He found an excuse to do what he loves, making a living out of it. He's doing awesome!
What is it's role in the community?
United's role is sharing the stoke, keeping the community United. No matter what type of skateboarding you do, what gender you are, or what age you are. We keep spreading the United cause.

When did you first plot your trip to Maryhill?
Early 2012. I figured I missed a lot of races so I saved up for a big one instead. Nobody from the Philippines ever went there so I set my mind to it, got in touch with John, then boom, there I was.
Have people from the Philippines gone anywhere?
I'm not the only guy with international racing experience. Some friends went up to Newtons and Canada in 2010, I think.
What did you hope to find on this trip?
I was curious to see how different the international skate community is. At first I was sort of star struck, getting to meet all the pros and skate with them. But in the end I realized, it's the same vibe internationally compared to the Philippines – a bunch of people skateboarding and having all sorts of fun and shenanigans on the side.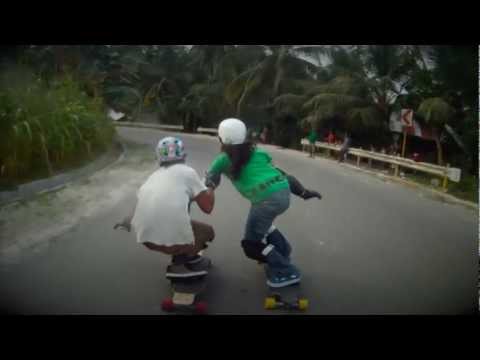 Who did you travel with?
My dad. He found an excuse to get away from work for a while when he found out I was going. Haha
How did you prepare for this journey?
That was the tricky part. Prior to Maryhill, I hadn't gone downhill for over 3 months. That's why I headed to the Philippines a week before. Team United kept me safe and got me ready – we travelled to a spot in Luzon – Bataan, where the Orion Skim Crew took me to 3 different places where I practiced. We had a couple of spotters then which made me push it. I'm really thankful about that.
What did you expect from Maryhill?
A beautiful hill and some rad skaters. But being there, my expectations were exceeded.

 How was the experience?
Amazing. A 12 hour flight from the Philippines to San Francisco, an hour from San Francisco to Portland and a two hour drive was well worth it. The night before I couldn't sleep 'coz of the excitement. The morning we drove off, my dad and I got a bit lost trying to find the spot, but when I did I pulled over to see the bus and the U-Haul parked picking up freeriders to go up the hill. These are guys I see in videos and pictures, and they were right in front of me! Come registration, I was impressed at how professional the crew was in making sure everything checks out. A few minutes later, I suited up, hopped on the bus and the nervousness kicked in.
Going up the hill, I couldn't help but be amazed by the beautiful pavement we were on. When it was time to skate up top, I lined up like the rest and after a few minutes I was off. During the early parts of the run, I couldn't help smiling and shouting inside my helmet 'coz I was really stoked! When I saw the finish line and got down safely, my smile got bigger and I couldn't help but shout out. Damn that was awesome!
Run after run, my legs were killing, but the stoke kept me going. There's something about that hill that I couldn't get enough of. But more than skating, the things that were going on down at the site was pretty awesome. Lots of free swag, and I mean looooooots! Pinatas. Gimmicks. Airsoft. Water guns. Booze. Glad I got it all on the GoPro, I'm just waiting for the right time to release it and give away the free stuff I got. Gotta keep sharing the stoke.
On the last day, I asked the organizers if I could take home the Philippine flag as a souvenir. They said they'll keep it to make sure that we come back next year. And that's what I really hope for – that the Philippines continues reppin' on the international scene. Who knows, maybe one day someone from this beautiful country will place in one of the top international races. The Philippines really has great great talent and it would be awesome to go out and show it.

Who has come down to skate with you guys?
In 2010, Adam Colton and Adam Stokawski made it for the Visayan Longboard Trilogy. In the same year Max Dubler and Zak Maytum headed over for the Philippines Venom-Madrid tour. The following year, 2011, it was Jacko who came over and joined Subic Flash Pizzaz. This year, 2012, Calvin Staub (Chista as we call him here) flew over to rep for the Madrid 2 race leg downhill challenge and P-Swiss joined VLT just before he flew off for Australia to kick off his IGSA tour.
How did it feel to meet and ride with these guys?
It means a lot. These guys coming here gave the Philippines a chance to be known. It really is awesome here and these pros experiencing our scene, our community got them really stoked. In turn, they passed on the word and now it's great hearing the international community buzzing about the Philippines. When I visited Maryhill, I heard the likes of Dalua, Kelly, Pilloni, Budro and a lot of other guys wanting to come here. There were also a handful from Mexico and Puerto Rico who said they've seen a lot of videos and heard a lot about the Philippines. I hope more and more people come over so they see what we're all about. Next weekend, during the Haven's Gate Race on Dec. 1 and 2, there will be about 20 internationals coming over from China, Taiwan, Singapore, Malaysia and Australia. Super stoked to have them here soon. So the more the world gets to ride with people from the Philippines, the more others know how we do it and they know what we do down here is legit.

What will people love most about visiting?
The culture. When people visit the Philippines, we always make it a point that they have the best experience so they want to come back or never leave! Every time a foreign visitor comes in, they will be received openly by not just one group,  throughout the entire stay and they will be very well taken cared of. Different people will show them around the different spots to skate, make them try the local food and drinks, bring them to our little secret places like waterfalls, farms, beaches, etc. invite them to parties and get them blasted. More importantly, we open our doors of our own homes and treat the visitor as if he/she was family. We'll do everything we can to make sure our guests fit right in and make their trip more than worthwhile. But hey, don't take my word for it, ask those who have come here and they most likely have other good things to say about visiting. And I'm sure they'll say they'll want to come back.
What do you do when you're not skating?
Spend time with my girlfriend and family. Work. Play FIFA13. Edit videos. Eat. Sleep.

Choose 3 numbers between 1-40.
1, 7, 39

1 – What do you take with you when you go for a skate?
My skateboard, safety gear, friends and La Copa!
7 – What is your favourite meal?
McDonald's Quarter Pounder with Cheese meal OR Burger King's Spam Shots meal
39: Possala Wang asks: what's your favorite dance move?
The one where you pull off when the music is loud and you're way too blasted to remember.
It has been super dooper awesome talking to you bro, hope I'm opportuned to see your beautiful island soon.
My pleasure. Keep on doing what you're doing man! I hope you and everyone reading this gets a chance to visit our awesome awesome country.
Any thank yous?
Team United for always believing and supporting me. My family who's always there for me. My girlfriend, Ina, for constantly being my inspiration. To my friends that are always there through thick and thin. God, you're awesome. Last but not least, the entire Philippine Skate community for always keepin' it real and legit!
Links.
www.theunitedskateshop.com
http://www.youtube.com/user/TheUNITEDSkateShop/    ← I made a lot of the videos here
http://www.facebook.com/theunitedskateshop?fref=ts
http://itsmorefuninthephilippines.com/

Comments
comments