SoCal native and Madrid's Pete tells us about the roots of skating in his neck of the woods, recent happenings and his plans for the future. Get stoked or die!

Hey Pete! How's your weekend going?
It's bueno, been jamming out a bunch of schoolwork recently. Skated on Friday with the Valhalla guys, pretty low key. Yourself?
Valhalla? As in Vikings?
Oh yes they are Vikings from space that landed in Southern California and have been hitting the Malibu scene quite a bit recently. Good dudes when they aren't hungry.
There's a real life Viking out there as well… Sammy Hustleberg?
Hell ya there is, he was there too but we didn't get too many runs in with those dudes.

Where are you from?
Born and raised in sleepy Camarillo, California, known in the past for its many retirement homes and a psych ward now turned university. 
Do you go to the crazy college?
I do attend, this is my last semester at the looney farm university, CSUCI. They say they used to perform lobotomies under the library. 
When did you start skating?
I started skating with friends in high school, we all kind of found each other trying to bomb hills around 2006. My brother was a big influence too. He comes from a surf background, and we used to take mini boards and hit driveways late at night and challenge each other to bomb bigger hills. 
What were you riding in 2006?
I was riding a Sector 9 Cosmic Flex board. After that I made my own mini decks out of maple from Home Depot and eventually grabbed a Landy DH race.

Were the boards you made decent?
They had strange shapes, sort of inspired by the 80's pool decks like the Hammerhead, but they were flat with no concave. I would cruise them now. I wouldn't go as far to say decent, but they were shred-worthy.
Do you still skate with your bro?
Nope, he stuck to the waves. Once I started getting faster than him he stopped going so much, haha. 
How did life change after you grabbed the DH race?
That's all I wanted to do! My skate crew (Mach 5) and I had big dreams of driving cars so we wouldn't have to walk hills, then our dream was racing, then getting a sponsor, and so on. All we wanted to do was skate, whether it was a ditch, a hill, a park, tech slides or speed. We wanted it all. 
Who else was in Mach 5?
Mach 5 was Dustin Hampton, Steve Doman, Willy Freeman, John Murillo, Josh and Jesse Davidson, and myself. Basically all the downhill skaters in town at the time. Now most of the members moved on and found other passions, but Dustin still shreds the gnarbuckle and Steve can still get down.

You have a friend called Free Willy (sort of)!
Yep, I'm not sure if his parents thought of that PUN, you're on one today with the literary catches!
Which of your Mach 5 dreams came true first?
Driving a car, then all the others, it is rad. Manifest radness. 
When did you get to race?
Racing came around late 2006 or 2007, I forget exactly. At that time Mach 5 was always on the net, learning things from old Landy videos and using Silverfish too much. We found out quickly about the local IGSA circuit which was holding regional events at a track called Bonelli a few times a year. We went to every one of those events for a few years, meeting all kinds of rad legends and the roots of Cali Downhill.

What are the roots of Cali Downhill?
We were really stoked to meet and compete with the Rogers brothers, Dave and John, who had been in the X-Games. Roland was there at the time shredding, Danny Conner, the Canadians like Scoot and K-rimes were there… who else? Oh ya, Jimmy Flindt, Mark Golter, Rick Kludy, Noah Sakamoto, Rizzo. As well as legends like those dudes there were early risers all around, like the young Tim Del Taco, Max Capps, Zak Maytum, Andrew Gnarcado – the list goes on.
How deep do the roots go?
I guess as deep as they get haha. So-Cal is the birthplace of skating. 
What impact does the culture and history have on you?
Thats a good question, I guess the lifestyle associated with California is conducive of skateboarding. I'm honored to be a part of such a rad community. It was nice being able to ride with some of the seasoned skate veterans, and it still is today. They have all kinds of stories and radness to learn from.
Who is your favourite stokestorian?
I would have to say Danny Connor, he is always stoked. Plus he is a good story teller.
Which is your favourite tale?
I can't remember one in particular, but there is always a story to be told about how races of the past went down like all the EDI races and the Red Bull DHX. Downhill skating had a huge spotlight in those days, with national media coverage. 
What took it away?
Somebody told me, I forget who. It may have been John Rogers. He told me about how there was coverage on ESPN and I remember watching as a kid, then the way they ran the heats this one time it was some qualifying method where dudes were sandbagging trying to get second, so it just looked horrible on TV to see a bunch of bros all nascared out trying to get another rider to pass them before the finish. That and other aspects I can't remember pulled the plug on the national coverage. Ask John, he was there haha! 
What will Pete Eubank's legacy to skateboarding be?
We'll see. I hope that I'm not the salty old dude at events who talks about the 'good ole days'. I want to be the dude who skates till he is old and wrinkly from stoke, taking runs with everyone with big ole grins all around. 
How was the first time riding Bonelli?
Bonelli the first time was exhilarating, I was so stoked and uncoordinated I fell at the top of the hill right after the push by leaning too far forward. Derp. After that it was basically a drag race to the finish line.

What do you enjoy about racing?
I love the thrill of being able to go as hard as you can. When you're racing, the primal instincts built into your hard-drive via evolution kick in to catch the rider in front of you. Your focus is strong, your breathing heavy, but you're not thinking about it at all. Your focus is 100% to pass the target ahead of you. Your tuck becomes smaller and faster than ever and you grab as much draft as you can get, calculating each line to see what can get you more exit speed. That's what I love about racing: it's timeless. You may not be able to do tricks forever but you will be able to race into upper middle age. Check out Scott Lembach! The dude is a machine!
When did you first get sponsored?
Right after Dustin and I made the video "Tuna Sandwich" with Adam Colton we both got picked up by Comet Skateboards. From there I continued to progress and managed to land some other sponsors. Shout outs to Comet, Thank you guys! Some of the raddest dudes in the business, for sure. 
How did you end up in a video with Adam Colton?
At the time there weren't many people shredding downhill, and there was no scene in Malibu yet. So we all skated together because there was really no one else. Back then, we were just learning the ropes of riding canyon runs. Figuring out how to drift for rights and lefts was a must, and Adam helped us learn all that. He was like our Jedi Master. Anyways, he got a new lens modded for his camera and he wanted to test it out on Dustin and me.

Why are there so many generations of local legends?
Possibly for two reasons. One, the So-Cal area is a hotbed and birthplace of skateboarding. Two, it may be ethnocentric. Many places have local riders who have become legends like Stephan Daddow in Australia or Martin Siegrist in Switzerland. 
Was sponsorship as good as you'd dreamt?
All I had dreamt at that point was to be a part of the scene, so it was everything and reassuring when it started to work out. I would say that it blew my expectations out of the water, getting free stuff and support for events is great.
Did it change the way you skated?
If anything, it fueled the fire inside to progress. It seemed like my duty to get better at skating for myself and to show that their investment was not a poor choice. 
What was the most important thing you learned about racing in the early days?
To be very still. The less you flail around the faster you are.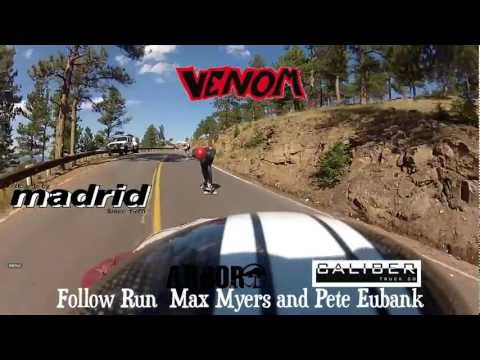 What's your favourite thing to do on your board?
That's hard, I have many favorite things. I'll narrow down three. Skating fast and close to other riders. Backside slides switch and regular. Learning new things. 
What's the last thing you learnt?
I've been learning how to do switch everything, working on it – it's hard man. But I really like fusion tricks like hands down 360's and laybacks. 
What's your favourite setup?
My favorite setup is the one I'm riding right now: my simple top mount shape with madrid's T3R concave, Venom 80a tweakers, and Caliber precision trucks with Venom 90a barrels. Simplicity is all you need. 
Are any of those your sponsors?
All of them, haha!

When did you hook up with them?
It all happened kinda quick. I was getting boards from Comet starting around 2009 I think. Then in Fall 2010 I went to the Menlo Park slide jam for my first time with a bunch of friends. We all placed, and that's when I got picked up by Caliber Truck Co. By that time I was packing bushings at the Madrid warehouse for Venom and I was always around, hanging out with the guys. I feel like it was the very beginning of January 2011 when I got a phone call from Max about getting on with Madrid and Venom. I was pumped on the offer to be able to design boards so I jumped on it. 
What's T3R?
T3R is the rocker version of the T3 concave that Madrid has had for a few years. I wanted my board to have rocker so I guess I influenced that. 
What other boards have you designed?
I designed my board from 2012 and 2013, just simple topmounts. The bigfoot was a collaboration between Max Dubler, Jerry Madrid, and myself, and it is an awesome micro drop, kind of alternative shape. We have also been working on a prototype for a while that I think will be pretty sweet. It's awesome designing boards at Madrid. Jerry is a killer guy, and I, with all the other riders and people working there, respect him so much. We can go in pretty much any time and work on shapes in the shaping room and have a chance to design side by side with him. It rules, mega.
Do you have any other sponsors?
Ya, just a few. Other than those rad companies above, S-One helmets helps me protect my dome piece, Ojoom has hooked me up with slide pucks for a long time, and Wheelbasemag.com are some long time homies that help me get my creative energy published via rad digital skate zine. 
How do you express your creative energy?
in farts, skating, writing, making designs. 
What do you write about?
I write about my experiences. I like writing vignettes based on thoughts, dreams and stories. I never really thought I would be into writing, but it is a neat way to create. The tools are there, you just need to choose a writing style and get down with your proper vernacular, then just ride the barrel and get pitted! 
Is Madrid named after the city?
Nope, its named after the Madrid's, Jerry and Angela who run the show over there with Alex Breton and the rest of the team.

What did you get up to in 2012?
DUUUUDE, 2012 was epic. It started out with finishing up my junior term in college and heading to the Catalina Island Classic, which was epic! We got to go swimming off the coast in the kelp forest, drink beers with friends, and pretty much have the run of the town of Avalon. This year sounds even more epic, with an extra day for freeriding that beauty of a tech course.
After that I took my finals and had a few stuffed bags and plans for a month and a half. My goal was to hit five races of different stature during my travels: first Danger Bay, second Jakes Rash, third Britannia Classic, fourth Alaskan Push Race, five I Heart DH race at Windam Mountain in New York. I had no idea how I would do any of it other than I had the tickets to get from one place to the other by plane.
So I get up to BC and spend a few weeks in Vancouver. When I get there, I don't know anyone who can pick me up other than Zak Maytum, who was in town at the time. I call him up and he happens to be kinda close to the airport and picks me up. Total coincidence, but it was perfect and totally worked out. For the next week I stayed in the van, which is really nice to sleep in so I was stoked. We went to all the races during the week and had a blast. Danger Bay was epic as usual and I was stoked to make it through a dry heat and a wet heat before getting knocked out of the race by Danky (mule kicker) Ovalhe, so I'm not too bummed. Then Jakes Rash was epic. Britannia was a whole 'nother thing  so epic, the curves and the scene and the people. It was awesome to race, it came down to every corner. After that I stayed for another week with my friend Jeff Radomsky and his rad roomates who let me crash on their foldout couch. We went biking and skating all around the city, he took me to all the raddest spots in Van, and I couldn't have asked for a better time. That was one of the best times last year, totally awesome, thanks guys!
Then it was time to jump on a plane again and headed up to Alaska to skate and visit my girlfriend who works as a fish biologist with salmon up there. Alaska has some extreme beauty, and the whole time I was there we were house-sitting this place that was freaking awesome. Nice view of the mountains and sweet setup. I got to work in the field with her performing studies on some fish and checking habitats. Besides that I also got to shred with the local group of riders at some of their home spots. Later in the trip, the local dudes were holding the first ever longboard event in Alaska on the beach of Anchorage with a push race. It was awesome, everyone was stoked, and we had a great time.
When that portion of the trip in crazy mountains and playing in streams was over I got on a flight to New York City from Anchorage, and again I had no idea how I was going to get myself from JFK to Windham Mountain for the race. Turned out that Madrid teammate Calvin Staub was out there already visiting family in Long Island before the race. He ended up being a life saver and picking me up from the airport after getting stuck in Chicago for ten hours and getting into NY around midnight. Freakin' stud, thanks Schfifty! From there we hung out with his awesome family and enjoyed some hospitality then bounced out to Windham for the race. The race was awesome, technical in strange ways. Short kick, a right hairpin to break up the speed section, and ending in a technical flat left corner. Lots of fun. Ended up making it to the semi finals and raced with some really great diverse heats of riders from all over. Even better was the people I met there. Spent some quality time with old high school buddy, Dustin Hampton, and met some new rad dudes from Mexico, Dan and Gerardo and Claudio, from Malaysia, Jes, from Quebec, Maxim and those crazy guys. It was a blast.
After a month and a half I went home and rested mega on my local hills in North Malibu. Big shout outs to the people who made it possible: Caliber Truck Co, Madrid Skateboards, Venom, Wheelbasemag.com, Calvin Staub, Zak Maytum, Jeff Radomsky!

Are skaters your favourite thing about skating?
I would say second favorite; the actions come first. I love skateboarding, you know the feeling you get when you're skating good and you know it. That's what brought everyone together in the first place. 
Is it tough balancing school and skating?
It can be really tough, a lot of the time one gets sacrificed for the other. They go back and forth, with priority depending on what projects are due or what we are filming. I still skate a ton while in school, how could I not? But it's mainly just on the hill in front of my house. 
How was skating in Canada different?
Eh dood, its not that different but they are all aboot the radness that's for dang certain! I skated mostly sweet neighborhood runs there, but also some cool mountain roads. Beer is expensive and there is a tagger named girl farts. 
Was this your first time skating outside the US?
Ya, I guess it was. I had been outside the states to Bali, Uganda, Mexico, China, and Europe in the past, but it was all kinda before skateboarding. I would bring my boards but I didn't hit any events or anything.
Did you see the boardmaster in Uganda?
I didn't, but after watching that film I wish I had.
Is skating enough to bridge the gap between such diverse cultures?
It's one way to bridge the gap. Man, I could write an essay on social penetration using skateboarding as a bridge. I think it brings people together that might otherwise never meet. You are able to connect with people through some common ground instantly.
What's your role in the community?
I used to host slide jams, but not so much anymore. I would really like to hold a race on some of our local Malibu runs. They would make a lot of sense: secluded, not direct roads, they could have the possibility of being shut down and borrowed for a day or two. Currently I am a part of the Gel Lab, which is a group of rad dudes in the greater LA area who create places for people to come together, whether that be for skateboarding, music, or creative services. It's kind of a catch-all for a collective consciousness of good vibes and creativity. We have late night skate events every Wednesday, every Thursday night there is a music set, usually with special guests  that plays for the world to hear over Mixlr, and we create videos together for all sorts of stuff. Ari Chamasmany is the real brains behind the group and is motivated to move, create, and just jive out, you know.
What instrument do you play?
All of them or sometimes none of them, depending on who is taking the reigns.
How has the year gone so far?
Awesome and busy. It started out with a trip to Albuquerque with my girlfriend, hanging out and skating some ditches and some desert canyon runs. Then the early part of the term was jammed with lots of skating; I got to film some things I have wanted to film for a while, like the bigfoot video and the Construction bomb video (http://www.skatehousemedia.com/03/29/2013/quick-clip-pete-eubanks-construction-bomb).
Now I'm just in the home stretch with school, and then I'll have more time to work on projects, work, and skate more often.

Do you do any work behind the camera?
I enjoy photography and I have ideas for videos, but I'm a greenhorn when it comes to footage and film. When Dustin and I film, I get more of a chance to get behind the camera. It's fun, and editing can be sweet too. 
You must be stoked the IDF is sanctioning a race on your coast!
Ohhh man, Angies is going to be gnarly!!! Can't wait. 
How will you welcome the world?
With a cold beer and a firm handshake.

What do you predict will happen in skating this year?
Every year my mind is blown. I think that riders will integrate a more full terrain experience when riding down the hill. Instead of just riding the road they will build launch ramps and jibs to grind on. That's the future, and possibly highside heel and kickflips. 
Got big plans for the season?
My plans so far include Catalina, Angies Curves, and Whistler to start it off right. Then in August and September I was invited to go to Borneo for a skate roadtrip with a bunch of good friends from all over the place – it's gonna be epic.
Long treks Borneo?
To be honest i'm not quite certain, all the elements sound awesome though. Good people, good location, good skateboarding. You can't go wrong unless one of us gets swallowed whole by some mega anaconda monster in the jungle – but that's doubtful.
What do you do when you're not skating?
Too much haha! I make decals, go on hikes, free dive in the ocean, surf, write research papers, go to class… I've even started gardening a bit. All kinds of stuff.

Pick 3 numbers between 1-13.
1, 7, 13 isson. 
1 – ­ If you had to be a bad guy in a movie, who would you be?
Tyler Durden, Fight Club. Good style, psycho motives, completely imaginary.
7 ­- why did the chicken cross the road?
To achieve enlightenment. 
13 – ­from Justen Ortiz: if you could combine 2 animals to create the most deadly animal on earth, what would those two animals be?
Timberwolf Eagle because its huge, fast, and kills for sport.
Buddy! It's been rad finally having this chat with you. Thanks for your time!
Dude, it was real, thanks for letting me share my stories.
Any thank yous?
Thanks to Mom and Dad. Thanks to my friends who shred with me all the time – couldn't name em all but the main hombres are Dustin, Max D, Tai, Jimmy, Skatehouse. Thanks to my sponsors and supporters; Madrid Skateboards, Caliber Truck co, Venom skate products, Wheelbase mag, S-One helmets, Yeehaw! gear. Couldn't make it happen without you guys! 
Links
www.yeehawgear.com
http://www.wheelbasemag.com/columns/yeehaw/
http://calibertruckco.com/
http://madridskateboards.com/
http://www.s-one.com/
http://www.venomskate.com/
Comments
comments