We catch up with our buddy Mike and all the exciting new developments in his life since our last interview – on the cusp of his joining G-Form, pre Central Mass 3. We hope you have as much fun reading this as we did talking to the moustached Massachusettee.
Hey bro, nice to talk to you again. How are you?
Great to speak with you again, Gbemi. I'm doing well! And yourself?
Really good. How is your week going?
Pretty well – things are busy, but productive. We have big sales, marketing & product development initiatives in the works for board sports, so there's a lot of exciting stuff going on here at G-Form!
Last time we spoke you were about to graduate and start a super secret new job – was that it?
Yes sir! I graduated last May from Colgate University, and a week later started as Sports Marketing and Events Manager at G-Form.
How did you land the job?
In January 2011, I started riding as a Loaded & Orangatang ambassador. A year later, Team Manager Darren Ratcliffe introduced me to G-Form while I was out riding with some of the team in LA – they had a proform deal worked out with the folks at G-Form. It only took about 15 minutes of riding to fall in love with the product. Fast-forward a few weeks – the leader of my Colgate entrepreneurship seminar ("Thought Into Action") asked me if I had any post-graduation work prospects yet. Having none, he asked if I'd heard of G-Form – he was in charge of their marketing and on the Board of Directors. I had skated to the seminar and actually had my G-Forms in my schoolbag. I pulled them out and assured him I did indeed know and love the brand! A funny and unexpectedly rad coincidence for sure. Anyways, Andy gave me an introduction to the folks at G-Form, and after a few months of portfolio and résumé building and interviews, I was hired!
Stoked! Are you the only skater on the books?
At G-Form? For the most part, yes. However we have worked with a skate-specific designer on an upcoming product launch, and at the beginning of the summer hired a friend of mine as the resident "Skate Intern," Stephan Vaast. He is a mechanical engineer and fellow skate enthusiast; together we've been pushing along some exciting new projects on the skate side of things. More skaters will join the ranks as our involvement in the industry continues to grow. Steady progress!
Was that your dream job?
For sure. Although I wasn't strictly focusing on skate when I was first hired, the entrepreneurial and personal appeal of an exciting startup in the action sports industry was considerable. As I continue to learn, take on more responsibility and a more targeted focus on board sports, it keeps getting dreamier!
Girard-Form?
I wish! We can pretend…
Before you joined, what did you imagine you'd be doing?
I wasn't sure. I double majored in Environmental Economics and French – I was considering working in finance (or some other typical job for an econ major), or maybe even the environmental field, but ideally wanted to stay in the skate industry if possible. One thought was to hit up Loaded and see if they could use another hand on deck in-house. Regardless of the route, I was hoping to loop in the French speaking in some way or another, too.
Have you managed to speak any French for G-form?
Actually, yes! More and more as we expand globally. We work with a variety of francophones – team riders, distributors, event organizers, team managers, etc. – providing ample French speaking opportunities. It's been rad to reconnect with homies I met while studying abroad in Dijon, and actually comes in quite handy on the business side of things. Keeping the rust off… au moins un peu!
How long have you been with G-Form?
My first day was May 28, 2012, which puts me at about 14 months. Time has flown!
What was your role when you first joined?
At first, I was our Sports Marketing and Events Manager. The general scope of this was to establish a sponsored athlete program, find and maintain relationships with athletes that I thought would be good brand ambassadors, as well as choosing events to support that would be good marketing opportunities. These athletes and events spanned sports from skateboarding to snowboarding, BMX to BASE jumping and plenty of stuff in between… even ice canoeing! (Crazy French Canadians.) I would write event recaps, find and create content for our social media, and work on overall brand building. That role has evolved a lot since.
What's the craziest sport your work has exposed you to?
Probably ice canoeing and proximity wingsuit flying. Unfortunately I haven't yet had a chance to try my hand at either.
Proximity icesuit flying!
A dynamite proposition for the next X Games!
Is skating still number 1 in your heart?
Absolutely! Fortunately with my new role as Director of Board Sports I get to focus my energies in this realm. I now manage the worldwide sales, marketing, strategy & product development for board sports, especially longboarding.
Congratulations buddy!
Thanks! I'm really stoked on the opportunity and the inherent new challenges and responsibilities.
How has your role in Loaded evolved in the last couple of years?
From January-December 2011, I was a standard Loaded & Orangatang ambassador. This was an exciting way to get more directly involved with a brand I loved and receive support in return. During this time I travelled abroad to France for 4 months through Colgate; Loaded and Orangatang helped support me through these travels and also helped introduce me to some of the amazing members of the French longboard community. Starting January 2012, I took on a more comprehensive ambassadorial role, helping to manage the team riders in the Northeast US and in France – being their point of contact, supplying them with product, reviewing media, etc. I received some more support from Loaded in return for these extra responsibilities, which was rad. After being hired full time by G-Form, I've had to focus my energies more on G-Form but still am proud to ride for and represent Loaded and Orangatang as actively as I can as an ambassador.
The last video I saw from you was Ambassador abroad 4, will you be making any more videos?
My time to produce videos has definitely dwindled. However I have put out a few other little videos on my personal channel since then:
http://www.youtube.com/watch?v=1Jdpm9-dSgs,
http://www.youtube.com/watch?v=H5VEC4aACu0.
The most recent video that I produced and co-filmed was G-Form's DH video. I am definitely hoping to film/produce more videos for Loaded and Orangatang as well.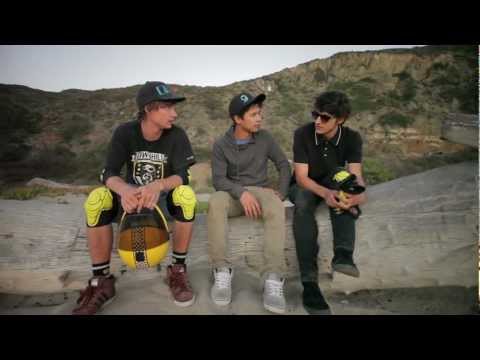 What is G-Form?
G-Form makes innovative reactive protection. We strive to find new, exciting ways to protect a person and their valuables with unparalleled comfort, style, slimness and protection. G-Form is also dedicated to supporting and growing longboarding – especially the riders, retailers, organizers and events that fuel its core.
How can protection in skating be approached innovatively?
The biggest issue with protection tends to be the sheer fact that people don't want to wear it. The main reasons for this are that it's typically uncomfortable, limits flexibility (and therefore performance), unattractive, un-washable and too bulky to wear under clothing. An innovative protection aims to solve one or two of these issues; we're aiming to solve all of them, without having to sacrifice one benefit for another. We're aiming to find a way to make riders genuinely want to wear pads. Protection doesn't need to stay the way it was in the 70s – a plastic cap, fabric, EVA foam and velcro straps.
What does G-Form have to offer skaters?
The opportunity to finally be protected and comfortable at the same time. The pads are the thinnest, most flexible and comfortable offering in the pad game. They are  made with a reactive foam that stiffens momentarily to absorb up to 94% of impact energy, before returning to its flexible state. The hinged molding style articulates the same way as your joints, so movement is unrestricted. Since the foam is encapsulated in a thin outer film, they're also waterproof and machine-washable. They breathe, they bend, they won't mess up your tuck or footwork, and G-Form will replace them if you unintentionally damage them within a year of purchase. They're a refreshing, innovative new approach to protection that you often forget you're even wearing.
Yellow slide gloves are on the way?
No comment. Well – Something slide glove-related is in the works.
What G-Form products do you use?
I wear G-Form knee and elbow pads every time I ride, and most of the time will throw on the crash shorts too. If I'm about to learn a new trick and am pretty much positive I'll crash, I'll put on the protective compression shirt too. I use a few prototype products, and then the gel pads in my shoes.
Gel pads?
The medical-grade gel is actually the first material the G-Form molded, before moving over to reactive foam. The gel provided vibration dampening to cyclists, but has since found new uses. I put the little gel inserts in my shoes to mellow the ride and soften the landing on run-offs.
How different do your yellow pads feel?
Yellow really turns the loud factor up to 11. You feel like a G-Form beacon of shred.
What did you get up to in the summer of 2012?
I jumped straight into my job 1 week after Colgate University graduation. It was my first summer of "real" full-time employment after running my landscaping business for 3 years. It was a whirlwind of activity for sure. Some events that stand out are; the I Love DH race in Windham, NH, Summer X Games in LA, and the Central Mass race & slide jam that I organize in Harvard MA – then in its 3rd year.

How was Central mass different under the G-Form regime?
Bigger and better! Last year's event was mostly run outside of G-Form auspices; they supported with product and staffing. We had well over 200 participants and it was a great success! This year for Central Mass 4, G-Form is playing a much more central role. As a "Harvard Hero" presenting sponsor, their support helps create a much bigger and better event.
X-games must have been fun!
For sure! It was awesome to see it in the flesh after watching on TV for so many years. All the ramps and tricks are even more stunning in person, and the ridiculous talent of people like Nyjah Huston and Bob Burnquist is even more visible and visceral. It was rad to also get to chat a bit with Manny Santiago, Mikey Taylor, Tony Hawk, Aaron "Jaws" Homoki, Kevin Robinson and a few other guys.
Any vert/street skaters in the black and yellow?
Not visibly, but word on the street is Lizard King and a few other rippers are starting to try the gear out under their skinnies. Our upcoming slideable pads will help us enter the vert market, but the street crew is a tough nut to crack. Those dudes won't even wear helmets!
Will we ever see a g-form ad with Wiz Khalifa?
Ideally an ad accompanied with a new music video. "Black and Yellow pt.2" is definitely overdue. If anybody has any Wiz connections let me know so we can make this happen. I'll even throw in a cyph or two on the track.
Does G-form sponsor any longboarders?
We do! We have an awesome team that continues to grow. The first was probably Ethan Cochard, Dustin Hampton and Ross Druckrey – they got on flow before we even had a concept of a flow team, several months before I was hired. The Loaded guys have been awesome too, helping to spread the G-Form love for probably near two years. We just recently launched our official Ambassador team. It features some of the world's best DH, freeride and freestyle talent. The roster is:
Amanda Powell
Ari Chamasmany
Carmen Shafer
Chance Gaul
Cindy Zhou
Dane Webber
Douglas "Dalua" Silva
Dustin Hampton
Ethan Cochard
Jimmy Riha
John Kreutter
Ross Druckrey
This roster is supplemented by a very strong US flow team and international riders, including riders like Axel Serrat, Erik Lundberg, Laurent Pergault, Lotfi Lamaali, Daniel Caro, Gerardo Moreno and Javi Velasco, with more to come as we add more awesome international distributors.
Good looking out for the Euro bros!
Absolutely – they're essential ingredients in the worldwide recipe.
How do you decide who gets to be on the team?
First and foremost, I focus on riders that genuinely love the product. Our team is entirely comprised of people who found out about G-Form on their own, loved it, and expressed an interest to get more involved. It's awesome to incorporate these kinds of riders because they truly believe in and support G-Form.
Beyond love for the product, "sponsorability" comes down to a fine blend of riding ability, professionalism, personality and motivation. I pick riders that will support their scenes, push their riding, represent us in a positive manner and keep us visible in more places at more times… and be fun to hang out with!
What are the skating highlights of the last 12 months?
Oof.. that's a Loaded question. The biggest overall highlight has been getting the opportunity to assume a role where I can have a more significant, positive impact on the skate industry than I could merely as a rider. I feel fortunate to have the opportunity to learn, grow, influence and enjoy myself.
Some event-specific standouts in sparknotes form:
-Organizing Central Mass 3. The ongoing growth of this event is an exciting, rewarding challenge.
-Finally getting some stiff Loadeds to rage down hills at high speeds!
-Shredding all over the northeast US & Canada with Team Mids -King of Kona. Props to organizer Cam Frazier for making it happen in grand fashion.
-Broadway Bomb was fun and exciting, with the added twist of the cops finding out beforehand!
-ISPO was a truly special worldwide blend of brands and riders… and more than a little fun.
-Getting to know the Kebbek and Restless crews and the rest of the "Queebs" at multiple VT events.
-I Love DH, pt.2, a valuable part of the northeast skate scene. Big ups Marc Deanfor your proactivity.
-Maryhill, Whister and Monterreal – An epic triple-threat, and a very valuable experience on many levels.
-Agenda, an exciting aggregation of industry kingpins across both longboard and skate industries.
How did Central Mass 3 go down?
It was great. At nearly 250 competitors between DH and slide jam, it was just about as much action as you can possibly pack into one day. Heavy rain put us under heavy pressure to shut things down – after a few hospital crashes within two practice heats, the ambulance squad and police strongly urged we cancel. This obviously wasn't an option, so we eased up the chicanes, urged racers to ride within their means, and the rain fortunately slowed. After that everything chilled out. The staffers were on point all day, and we tried to run as tight a ship as possible. Time ran tight by the end of the day, so the slide jam ended in epic mayhem fashion – the best runs were the ones that could snake through the scores of riders hiking back up the hill. We're definitely looking forward to the extra time and capacity that will be afforded by a two-day event this year! Check out the Central Mass 4 event page here and my full recap on last year here.
What can we look forward to for central mass 4?
Double the fun and then some! For the first time, we'll have two full days of skating excitement, August 17-18. Day 1 will be downhill, with Pro, Am, Junior and Women's divisions, $4,000 cash purse, warmup time in the morning and freeriding opportunities throughout the day. The Harvard General Store had graciously partnered and will have delicious grilled and chilled food throughout the day. Tight bracket organization and trained staff will make for a smooth and fun day, concluding with an afterparty with live music and shuttles from the event hotel and back. (See schedule at www.skatecentralma.com/schedule.php). Day 2 is dedicated to slide jam. We will have separate hardwheel, women's and Pro and Open softwheel divisions; built features, secondary competitions and tons of riders on an all-new slide hill, not yet seen in previous events. It is FAST with some nice bends and pitch changes. Should make for an exciting time. We will have some amazing sponsor partners, and increased press coverage should help steam up the hype train. We're doing it big this year and couldn't be more stoked to have the town in gracious support. Wheelbase Magazine is playing a central role in advising, social media, pre-event hyping, video production, judging and announcing, while Push Culture will provide their high quality news coverage.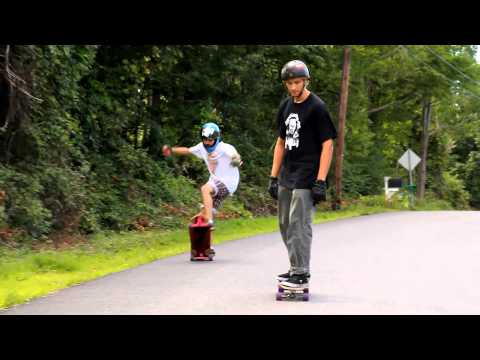 Do you see more events like Kona in the future?
Absolutely. It's funny – the radness of the event was borne out of unfortunate circumstances. Originally intended as a downhill race in Clermont, FL, some unruly riders took it upon themselves to blow the hill just before the event. Cam Frazier (organizer) was in a tight spot – he had already collected registration money from a ton of riders, and had already invested significant money. Would he refund everything, suffer the financial loss, and disappoint a ton of riders? Or would he look for an alternative?
Fortunately he took option B. He reached out to Kona Skatepark with the idea of a two-day skate festival of sorts. Riders could camp out on-site, skaters raged the snake run and surrounding park features all day and night, and overall it probably was even more fun than if it had gone according to the original plan. Everyone came away from it stoked for King of Kona 2, which at this point is a must!
How did it feel to be back in Europe for ISPO?
Amazing. I have missed Europe constantly since returning home in May of 2011. Returning to Munich for ISPO allowed me to reunite with lots of overseas homies, as well as meeting a ton of new folks, learning a lot more about the industry and having an awesome time in general. The inclusivity of longboarding is incredible, and in my opinion an essential factor in its ongoing growth and success. The mentality of "a rising tide floats all ships" was apparent and so enjoyable.
How long will the tide keep rising?
I think the industry is here to stay, with plenty of remaining growth potential. That being said, I think the market has gotten a bit flooded with lots of people churning out boards, wheels and trucks. It seems inevitable that several of these may fold in the coming months and years. That said, the companies that continue to innovate, offer top quality product and marketing should have long and prosperous lives ahead of them. Competition breeds good things!
What was the highlight of your time in Europe?
Meeting so many awesome new friends while also reconnecting with previous homies from France. Fitting 22 people people into Alexandre Ulrich's (DTC) van to go eat, drink and be merry at an Augustiner beer hall definitely was a stand-out. As was the on-the-go snowball fight through the streets of Munich en route to the afterparty. Really hoping to see more of these crews in the coming months!
What are your plans for the rest of the year?
It will be a busy one! Later this week I head out to Giant's Head Freeride, for which G-Form is major sponsor. That will be a blast and some great exposure at an incredible venue. A short time after I'll host Central Mass 4, then gear up for Surf Expo. There's a very good chance I will be going back to Europe, but final details await.. trying not to count my chickens before the eggs hatch In the interim, we are focusing on exciting new G-Form product, sales and marketing developments. There is a lot on the plate and some game-changing stuff will be dropping in heavy and ongoing fashion. I'm excited for the rest of the year and the excitement it will bring. Hopefully it will also mean our paths crossing in person, Gbemi!
It'd be great to bump into you, maybe ISPO next year?
Sure thing! I will most definitely be there. Would love to see you there!
How can people reach you/G-form for support?
For anything board-related (sales/distributor inquiries, marketing, product development or otherwise), you can hit me up at mgirard@g-form.com. General customer service inquiries can be sent to customerservice@g-form.com, and if you think you have what it takes to ride for Team G-Form, tell us why at sponsorship@g-form.com.
It's been awesome catching up with you bro, stay rad and good luck growing G-form and for CM4!
Likewise Gbemi! Always a pleasure my man. Stay rad and thank for the well wishes. Best of luck in your endeavors in faraway lands as well!
Links.
Me:
Facebook.com/mike.girard
Instagram.com/emgeemann
YouTube.com/emgeemann
Emgeemann.tumblr.com
Twitter.com/emgeemann
Central Mass 4:
Skatecentralma.com
facebook.com/events/432053616870958/
G-Form:
G-form.com/skate
Facebook.com/gformprotects
Instagram.com/gformprotects
YouTube.com/gformllc
Twitter.com/gform
And of course!!
Loadedboards.com
Orangatangwheels.com
Comments
comments