His friend's call him Pollo, his fans call him awesome. Enjoy this rad conversation with Alejandro from Mexico, and find out about his skating adventures and life in China.
Hola Pollo, how are you?
Sup bro, I'm stoked! How about you?
How is your weekend going?
I had Chinese dinner yesterday and got drunk with some "baijiu" (Chinese Alcohol) so now I'm kind of resting and enjoying the end of my Sunday.
Where are you from?
I'm from beautiful Guadalajara Jalisco, Mexico. Home of the Torta ahogada, Mariachi and Tequila.
And ROSY!
Haha true! How could I forget her. Hi Rosy!
How come you got drunk on baijiu and not tequila?
Well I'm living in China for the moment, I have been here for 3 months already and it's my second visit to the country of the dragons.
When was your first visit?
I was in Shanghai and Beijing 1 year ago, studying and working.

What took you to China?
If I look back, I'd never have thought I would come to China. The opportunity came and I wanted to taste and feel something new, something different – and what's more different to American countries than China? So I just went for it without thinking very much.
Did you take your skateboard with you on your first visit?
Of course! I never leave without my skateboard.
When did you start skating?
As a kid I used to try all kind of different sports, extreme sports mostly, I started with MTB because my father loves the sport. At the age of 12 I was riding all across Mexico competing, and at the same time I found skating. I wasn't good at all and the MTB didn't fufil me anymore, so I sold my bike and bought a BMX. I remember my dad was angry! I stuck to BMX for 4 years until I met some kid that introduced me to the "longboard sport". I remember thinking it was a silly sport but he convinced me to try it, he even lent me a skateboard and took me to a hill. After the first run I felt the love for this sport; 2 days later I was pulling colemans everywhere, and a week later I bought my first longboard: The Loaded Dervish.
How did the stoke from skating differ?
The feeling of flying without being attached to anything, it was like freedom, you take your board, forget about everything and bomb a hill.

What makes you love skating?
The feeling of pushing yourself to the limit of your fears. The thin line between when you need to stop but you just want to keep going… Kind of feeling fragile but at the same time the strongest person in the world.
Does anything scare you when you're on your board?
Of course! I'm not James Kelly or some crazy Mexican, I've had some serious falls so I take safety very serious. Whenever I feel I'm pushing my limits too hard, I think twice before I keep going.
Have you converted your dad to Longboarding?
50-50, when I started taking Longboarding seriously and got prepared for some competitions my parents were afraid; they knew the sport was dangerous, but at the same time they knew that it made me happy, so they were supporting me as much as they could.
How did life change when you got that Dervish?
It changed my entire life. After I got better, I knew some other guys who were better than me, so I learnt from them and pushed myself as hard as I could to be at the same level. I owe to longboarding some of my craziest friend, some of my scars (actually all) and a lot of different experiences that made me who I am now.
What's your favourite scar?
I would say that the one in my feet after I broke my peronee, it looks so RAD haha.

Has it gotten you any ladies?
The skater type is kind of a sex appeal to ladies but I haven't got any lady because of it :O (Am I the only one?)
Who else was skating in Guadalajajajajara then?
Some of the best skaters that I've known. Miguel Azanza, Lobo Hill, Jorge Vigon, Mauro (fast as funk) Fabian and Also some grownups; Jesus Gonzales and Claudio Uribe from Treee Longboarding. I owe these guys everything I know!
What kind of stuff did you guys get up to together?
Back in the day, everbody who knew the sport here used to carve and dance on the board, but these guys were really in another level, they went to bomb hills on any board you can imagine, from Landyacht Evo to flexible boards like tan tien and Dervish. They didn't care they just went for it; that stepped up the level of the riders very fast.
Was anyone making events?
Of course, Treee longboarding was already there before I entered the 'scene'. They tried to make as many events as they could, just for the love of the sport.

What is Treee?
Treee is the community I grew up with, people that know the sport and know how to keep it spreading all over. They also have a store, so they always bring new things, new magazines and of course new videos. I'm so proud of counting me as one of them!
When did the community start to grow?
The community was already growing before I knew it. After I entered I could see what the movement was like; it grew very very fast as I remember, everbody from all around Mexico sharing videos, pictures and spots. 1 year later, you could spot guys riding in every part of Mexico and my city.
 What sort of skating did you do in the beginning?
I started with some Carving-dancing and at the same time freeriding, after I got a rigid board, I stopped dancing and went to the hills every weekend.
When did you riding start to evolve?
After I met Jorge. He is a crazy medicine student who will always take me to the hills, no matter how big the hangover from the night before. He always pushed his limits and made me do the same, even I was scared about it.
Has Jorge been the greatest influence on your skating?
I think that every person you skate with influences you in something, but I would say that he took me to the best level I could ever be.

What's your favourite thing to do on your board?
Powerslides and 180s. It was the first thing I learnt after Colemans. At that time nobody was doing powerslides going that fast (except for Jorge of course), so I was fascinated with the feeling of slowing down without using hands.
Are there many nice spots to go fast??
Mexico is full of them! you should go some time, I'm sure they will fill you up with tacos and tequila…oh and of course good skating.
Do you compete?
I did the last two years, but now I just ride for the thrill of it. I learned to enjoy the ride without having to prove something to myself or to somebody.
What sort of competition do you enjoy best?
Competitions where ramps are all over the place, but I'm pretty sure that my knees don't feel the same way – haha!
Not racing?
Not any more; now I try to spread the stoke anywhere I go. I want to share the feelings and the experiences I had back in the day.
Is that why you took your board to China?
At the beginning I took it because I thought that China was going to have amazing hills, well maybe it has but not in Shanghai which is a flat city. After pushing myself on the streets I found out that it's very easy to move; they have special paths for bikes and motorcycles, so you just grab one and go wherever you want to. Don't forget to smile to the Chinese driver 😉
Are there amazing hills anywhere in China?
I've some friends in Beijing and they have amazing hills an hour away from them.
How long was your first Chinese adventure?
3 months in Shanghai and 1 month in Beijing, but it felt like a lifetime.
What was the biggest culture shock?
Using the bathroom! They have this flat bathroom and you have to do a squat to poop on it, and then find out that they don't put paper on the toilet. You should bring yours every time haha! Good experiences. After you pass this "Chinese test" I think you're good to go.
How was the skate experience in Shanghai?
After telling myself that there were NO hills in Shanghai, I looked at the bright side: they have a lot of skateparks and I had a big one crossing the avenue. It had a big big ramp, so I stuck to all kind of early grabs with my board. That's where I met a lot of friends and where my skills in skateparks improved a lot.

Is skating big in Shanghai?
Yes, they actually have the biggest skatepark in the world, called the SMP. They do a lot of events there, but I wasn't going there daily because it was to darn expensive haha.
Are you an awesome street skater now?
I wish I was! I would say I'm better than before.
Is there a longboard community in Shanghai?
Yes, they are called N.O.W. (Nuts On Wheels), most of them Chinese guys, and there's another crew called the Atomic krew, which is mainly made of expats living in China. I had the opportunity to make friends with people of both of the crews, really friendly and outgoing people.
Were there many of you expats skating there?
Not so many as you will think, but every day new people comes to China so I'm pretty sure by now there are a lot of skaters over there.
Any famous skater expats? Who did you ride with while you were there?
I don't think so, I skated with some expats who were getting sick air off the halfpipes doing some crazy things, but as far as I know nobody famous at all.
How big an influence are you guys on the locals?
Well I show them some of what I knew at that time, maybe it wasn't very much, but some things made them go up on their board and keep pushing themselves to make that weird new trick, even for girls too.
Do you know when N.O.W. started?
You got me there! They were entirely Chinese and my Chinese was so poor, so we just communicate by signs and sharing the stoke of skating – but whenever somebody pulled out a tricks everbody will shout whoooooaaaa. (Chinese style.)
Haha. Is your Chinese better?
Is not good but definitely better than a simple Ni hao!
Was Beijing similar, skate wise?
No, Beijing was freaking cold! As a latino I'm used to beautiful beaches and bikini girls, not cold winters like it was there, even so I put myself a lot of clothes and went out to skate with the fellas there.
Is Shanghai the longboarding capital of China?
No, Beijing is the longboarding capital of China. For me it was bad timing; I arrived in winter and there aren't many places to skate in that time.

How is the Chinese community different from your homeland?
The feeling that we share is the same: love for the sport. China hasn't has many riders as Mexico, but c'mon this is China, maybe in the upcoming years they will take over the world of longboarding – can you imagine?
Have you bumped into any of the guys touring China – Justen/Perropro?
I heard that those guys were touring here and I was so jealous, but haven't had the pleasure to meet them anywhere.
What kind of skating do people enjoy over there?
Here is all about skateparks. Longboarding is still a little thing here.
Have you noticed any differences since your first visit?
Now I'm in a city which is full of factories and I'm more into my job, so I really cannot compare, but when you skate here people stares at you like if you were an alien in it's mothership… I like to call it "the freak show".
What do you ride (setup)?
Back in Mexico I ride the Fullbag Elise, with some sweet Rey trucks and Orangatangs orange InHeats. Here in China I have the so called Treee-viche (very small board) with bear trucks and orangatang yellow 4president.
Are any of those your sponsors?
Orangatang Hook me up every time I need new wheels – cheers to Chinchilla amigo Kyle wey! (Send some bacon and wheels to China, dude!!)
Is anyone you skate with in China sponsored?
Yes, most of them, Chinese guys who were sponsored by local stores.
What do you do when you're not skating?
When I'm not skating I'm working or doing some kind of exercise, I like to keep myself moving.
What are your plans for the rest of the year?
Well, Hopefully go back to Mexico and keep riding – haha! Nothing is 100% when you are in China. (Just the rice in every meal haha.)
Pick 3 numbers between 1-15.
5, 3 and 10.
5 – What is your favourite skate video?
The video that made me start on the freeriding. Kyle riding in Let go video: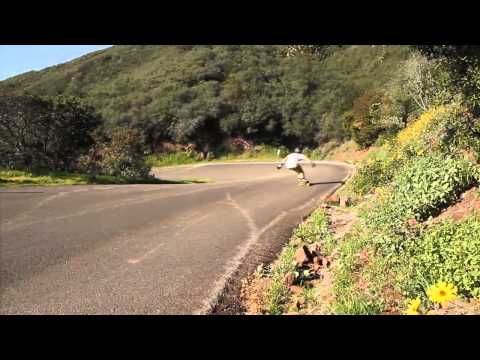 3 – What impact has longboarding had on your life?
It changed my life and everything and everbody around me, it has given to me so much and I will not change it for anything EVER.
10 – What's your favourite band?
The Maine
It's been really fun getting to talk to you bro, thanks for staying up! Enjoy the rest of your time in China – keep spreading the stoke!
It was nice staying up and sharing a  important part of my life! Thanks for listening and thanks for the interview dude.
Any thank yous?
Whooaaaaa a lot, do you have time?
Thanks to Jesus Gonzales: without his support I will not be part of what I am today.
Thanks to Claudio Uribe for spreading the stoke all over the internet.
Thanks to Darren and Kyle from Loaded boards for helping me every time.
Thanks to all the people I've skate with : Gerardo, Jorge, mauro, Fabian, HOC, Elian, Yiyo, Favela, Pranker, Jaime, Fer,Fer, ROSY (She skates better than you), Luis, Julien, Peak, Andrea, Dacar, Nacho, Liz, Alex Pimentel, Richie, Rikki the Kid, Ljungrren, Pepe, Oscar, Gacela  los regios and so on, (I could keep going…  they know who they are).
Aguante al STM groms taking the world (with the help of Kevin "The handsome")
Links.
Check out https://www.youtube.com/user/treeeskate for RAD videos of all the crew, and www.treee.mx for info on upcoming events in Mexico.
Instagram: pollognarly
Si llegaste hasta aquí abajo es que sabes que Kevin es MUUY guapo.
Cheers!
Big thanks to Claudio Uribe for the sick photos. Love you bro
Comments
comments