Last weekend I headed to Springfield, Missouri, with my buddies Blake and Matt for a two-day skate event hosted by Sean Melton and the SLC Longboard Shop. The first day of Thrills On Hills was race day. The course had banked turns and a few fun dips that threw some riders off and which made it exciting to race. Short but sweet, around 35mph in the fastest part.
I brought my Rayne Darkside with me for the weekend to see how it felt skating on more technical roads than I have access to back in Oklahoma.  I had the same setup all weekend: Rayne Darkside, 50* Buck Trucks with 95a/90a Riptide APS Barrels with a Riptide pivot cup that I shaved down a tad to fit my baseplates. I swapped between Metro proto race wheels and a couple sets of Micro Motions for the steep freeride hills we hit between event times.

Race day was my first day to get out and do some pack riding at speed on the Darkside and it felt great. I was riding on the shortest wheelbase and my tuck was very comfortable between the Rayne's mean cave and the bubble on top of the back truck. I'm only 5'7" with short legs, a gnome-like stature, so the platform offers a good amount of room for me.
After a few practice runs and feeling out some twitches under my feet, it was starting to feel really comfortable gripping a hard left-hand turn that a lot of riders were scrubbing, the shorter wheelbase showed an advantage there. I have to give shout outs to my buddies Roberto Cobian, Cody Womack, Keaton Tomlin, and Gerrit Hoover for hectic heats from the quarterfinals to the end of the race.

In the finals everyone was in a close pack through the first two turns and then it was basically a sprint to the finish line. Going for the inside line in the right-hand sweeper right before the finish line I had to give Cody a little bump and our wheels rubbed at the same time which unfortunately bought him a one-way ticket to pavement (Heh, sorry bud!!). Roberto was feet ahead of the crash and took 1st place, followed by myself in 2nd. Cody and Gerrit had a sudden death heat to see who got 3rd and 4th, which I'm told was neck and neck the whole time. Gerrit ended up in 3rd, Cody in 4th.
After the race a few of us headed to a place that I can't mention much about, but I will tell you that it is caked with hills. The classic undeveloped neighbourhood full of 20% grade hills everywhere that every skater wishes they had. Unfortunately for me, this skating paradise is a little longer than a five-hour drive from my house.
Freeriding the Darkside is really comfortable for me, again, with the short wheelbase options. The kick tail makes slopestyle skating more interesting because of the capabilities of blunts, spin variations, and flip tricks. The mean cave gives my feet a few different placement options, which comes in handy skating a variety of hills.
Another feature of the Darkside that came to light during my trip was that the construction is top-notch and the deck is as strong as it can get. I sent this deck flying into metal fences, curbs, electrical boxes, over cliffs, you name it… my board went there. Each time it came back with minimal damage and it's still looking like it did when I got it a few weeks ago.( We got some random footage on a few of these crazy hills http://youtu.be/ZsNfE7L2yqI).
After we enjoyed the steep hills and we couldn't force out legs to walk up them, we headed back to Springfield to camp and what would turn out to be the raddest skater campsite ever. Next to our field where we camped there was a barn renovated to host 500 people for huge parties, complete with a bar and a few pool tables. A few guys took some ramps for the slide jam and put them inside the barn and it was an all-night skate fest. Big thanks to Sean for all of the grub and drinks that were supplied!

The next morning, we all woke up bright and early to recuperate and rehydrate ourselves for the slide jam that would ensue on the road right off of the campsite in a couple hours.  The hill wasn't as steep as the crazy roads we were skating the day before but it was great for the different skill levels of everyone participating. There were a few kickers ramps as well as some longest slide contests and free gear to keep everyone stoked. The Darkside fulfilled what I needed to throw some techy runs at the jam and was receiving a lot of attention from other riders who were curious about it.
It all comes down to having fun, and having a board that is suitable for everything really helps keep the skating fun. It's not fun trying to figure out how you will fit an extra deck in your car just because you want to "skate everything".  I was able to ride the Darkside in all different types of situations over the weekend and it performed well. I highly recommend this deck to any riders who prefer a lot of concave and like to feel locked in to their board while riding something that is versatile enough to handle anything you throw in its path. Rayne Motherfucking Longboards.
Check out the Rayne Darkside review video I did on behalf of Green Country Skate to hear about all of the details of the board.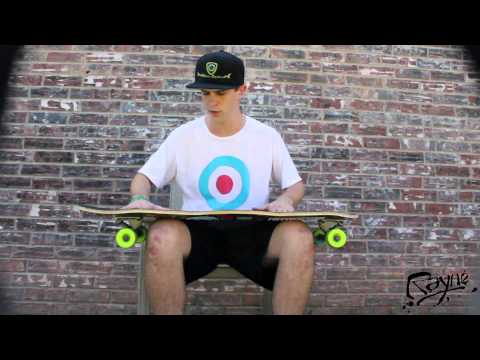 All of  the above photos were taken by Brandon Vandalsem
Dave Atess signing out.
Comments
comments