We are very happy to present this conversation we had with multi-talented Brazillian ripper – Max. He tells us about being a Raynezilian, the history of the sport in his city and Brazilian Bacon BBQ!

Hey Max, how are you?
Hey bro I'm great, how about you?
Rad. How was your weekend?
This last weekend was fun, went hill hunting with a large crew, found a really sick hill which had tons of curves!
What are your hill hunting weapons?
Haha just my longboard!
What sorts of hills make your mouth water?
The kind of hills which make your legs burn, full of curves, drifts and fast tucking sections
Where are you from?
I was born in Miami, USA, but lived most of my life in Belo Horizonte, Brazil.

Are there many leg burning hills in Brazil?
Where I'm from there are not many, the landscape here is full of hills, but short ones. The longest hills we have are like 6-7 km long, it can still burn your leg though haha.
Do you have any Miami memories?
For sure, not from when I was born, because I moved out when I was two years old. Too young to remember anything, but I used to go back every summer to visit my dad, from when I was 8 until 12 years old or so.
What's life like in Belo Horizonte?
Life here is really chilled, not many attractions around town but the culture of extreme sports is kind of growing, so that's cool! There're lots of parties, the night life here is big, but I haven't been out too much lately. Been just concentration on skating and work related to that.
When did you start skating?
I started skating when I was 16 years old, almost 8 years now.
Do you dabble in any other extreme sports?
I've tried lots of sports all of my life, I love it. But as far as extreme sports I've done just a bit of snowboarding, surfing, motocross, mountain biking, etc… but not for too long.

Which is your biggest love?
Longboarding! No doubt.
What got you into skateboarding?
My best friend introduced me to longboarding, I loved it first try!!
Were there many other people in your city skating?
There were a couple of crews, but they weren't skating much. In the beginning I had only 1 or 2 friends to skate with.
What kind of stuff did you get up to in the beginning.
I liked going fast, but had no idea of the potential I had. At first I needed to learn how to brake, so I was trying to slide. Dialed Coleman slides pretty easily but toeside slides were very hard to learn at first haha. After that I started burning wheels like crazy. Going skating almost everyday taught me a lot, from that I got into tech sliding, then went on to some bowl skating, and after a couple of years I got into speedboarding! After that I left the other disciplines aside, I really like going fast!
You struggled because you're regular right?
Haha regular rules! Now toe sides are my speciality.
Do you have more friends to skate with now?
Oh yeah, now I've got more than 20 friends to skate on a regular basis, the scene here has come a long way. We even have a downhill skateboarding federation now!

Who taught you about going fast?
I met some dudes from a crew called "Andromeda" they were the only ones in our city that still were practicing speed-boarding, I landed a deck from one of them, bought some DH trucks, a full face helmet and started skating with them, learned quickly from there on!
Is it important to taste different disciplines?
I think so! The time when I used to ride multiple disciplines was when I evolved the most throughout skating. I like the overall style, you can ride anything, anytime, anywhere!
How do the other disciplines influence your DH?
Tech sliding helped tons with my drifting skills, my friends who didn't have the tech sliding background had way more difficulty learning to pre-drift.
What led to the growth of Longboarding in your city?
Many factors I believe, like when we started to travel to skating events and getting good results, videos popping up, a couple of outlaws we put together were great too. After that we started the downhill federation and bigger events started to take place here in our town and more riders from other parts of the country started to come visit us, this generated a lot of attention too.

Do you work behind the camera?
I've filmed some amateur stuff, I dig editing and making new videos but I never got the money to buy a proper filming equipment, so I'm sticking with what I've got- my gopro haha.
When did you guys get a federation?
It was back in 2011, when we did our first big race. It wasn't a legit Brazilian national but riders from all over the country came, and it was rad! I had just gotten back from my euro tour and to see everyone skating in my town to skate was amazing
In respect to federations and such, is Brazil more similar to Europe?
I'm not sure how federations work in Europe, I know it's hard work and sometimes it seems like little is done. The deal is that no-one dedicates their lives 100% to it, so it's tough to get major results, especially when the government is not willing to help much.
What's your role in the federation?
I join in to help the federation, I don't have a specific role, so I try to help everywhere I can.
How does having a federation impact the community?
It definitely helps it by becoming more legit, you get better chances of closing a road and making a race happen. Sometimes you get good support from the government, which without a federation is so difficult.

Is there a national body?
Yes, there is a national confederation of skateboarding in Brazil, called CBSK.
Where is the Longboarding capital of Brazil?
This could be very controversial, but there is not a scene here which is the biggest and best, they are all good and full of talented skaters, but I have to say that the 3 biggest scenes are in Sao Paulo, Belo Horizonte and the South of Brazil.
Who wins the national cup most?
The guys from the South, they are fast!
What was the first race/freeride you attended?
The first longboarding event I attended was in Sao Paulo in 2008, called "Downhill for real skaters", which was a downhill slide contest. That same year I also went to my first race
How did you do?
I got 6th in the slide contest and didn't do too well on the race, I had an american tuck and couldn't hold my tuck during the whole course, thats when I learned I had to improve that.
What was your winning trick in the slide contest?
One foot slide, was a good one or caballerial tailslide, but well that didn't make me win haha.
Is there a Brazilian tuck?
Not specifically, there are many styles but I've always heard Brazilian tucks are fast haha.

What tuck do you employ now?
You could say new school tuck I guess?? Most riders have a similar tuck these days, its the most aerodynamic way to stand on your skateboard.
What were you riding then?
I believe I was riding a chopped Sector 9 bomb hills with some Randals and Big Zigs.
How did the experience of that first race impact you?
It was cool, I met a bunch of riders which I became good friends with later. Dalua was there, he had just gotten back from Europe, where they were saying he had the world's strongest push, and holy shit, it was impressive to watch. That opened my eyes, and I went back home and started practising my skills more and more.
Is he part of the first generation of fast Brazillians?
I guess so, but he is one of the youngest from that generation. There are several fast riders from back then that are still active in skating, like Juliano Cassemiro, Silon Garcia, etc.
And Max is 2nd gen?
New generation I guess… There might have been a second one in between, but new riders show up everyday! It's more about the ones who really dedicate themselves to the stoke and skate on a regular basis, show up to events and are active in the community.

What legacy have the previous generations left for you guys?
This is a hard question, the first downhill generation from my city stopped being active after a while, they didn't leave much behind other than history. Some moved away and some stopped skating. It's almost like this sport was never here, because the other riders never became professional, they just did it for fun, and organized a couple of events, most of them one time only.
I believe we used that early spark to create something bigger now, and hopefully the next generation's will have a legacy and something to continue to cultivate! But what is cool is that the older guys are getting stoked again and getting back into action, you can see some races now with the master category and that is rad!
Brazil has such a rich tech-slide culture & history, it must be harder to distinguish yourself in those contests?
Super hard, the Brazilians kill at tech sliding and I wasn't good enough… the guys from Sao Paulo were on a different level!
Who's your favourite?
Sergio Yuppie for sure, he is a legend.
What other competitions did you do in '08?
I did a couple of other slide contests, I was also going to Teutonia for my first time, unfortunately I got hurt a week before and had to cancel my trip.
Were you ready for Teutonia in your first year?
That's a good question. I'm not sure if I was 100% ready. Anyways there was not much skating in that year at the race in Teutonia, it rained heavily and results were based on qualifying and only one day of skating. Luckily I had one more year to practice and go for that challenge!

Is that the crown of Brazilian racing?
For sure, its one of those things that if you are a real speedboarder you have to it at least once in your lifetime!!
Hope your injury wasn't too hectic!
It was scary, I hit a street pole with my knee. Seemed like it had broken everything at first! Later I checked and it was no big deal, a couple of weeks off skating and I was good to go again.
Aside from your tuck, how else did you grow that year?
I think that's when I started to learn how to pre drift, which was a big role on the evolution of our sport!
How did that reflect in 2009?
Well 2009 there was only one race, Teutonia. So I was basically just freeriding and evolving my skills! I qualified top 20 I think, and raced Scoot Smith who was the World Champ that year! I followed him closely but couldn't make a pass.
Was your first time at Teutonia as you dreamed?
I had more fun than I expected, the hill wasn't that scary, I wanted more!

Why didn't you do more racing?
At that time there was a lack of events and I didn't have support or enough experience to go abroad.
What was the highlight of that year?
Teutonia for sure, was my second race ever and my first world cup event. I met Mischo, Scoot, Kevin and a bunch of other international riders, which was really rad! I was hooked and wanted to explore more of that lifestyle of travelling to DH longboarding races.
Were South Americans making an impact on the scene then?
Only a couple of guys, my friend Hugo Haddad which I skated with in a regular basis, qualified #5, that was impressive! Yes! Right on Martin Siegrist's ass haha, and in front of Scoot Smith. He had a super tight tuck!
Is that the secret to dominating Teutonia?
A solid tuck is the most important thing for sure.
What was it about the lifestyle you wanted?
To be able to travel to new places, ride the best hills, meet rad skaters and experience new cultures!
Did you get to travel in 2010?
2010 was a bit slow, again I had no sponsor to be able to travel abroad, and Teutonia was still the only race in Brazil that year I think. 2011 was when things started to happen for me in skateboarding.
What did you need to do to make the dream come true?
I needed support for travel's and equipment, I already had the time and dedication it takes.
How did things develop back home that year you couldn't travel?
Things were good back home, living with a happy family, business was good and I was studying in college, and more dedicated than ever to skating on a regular basis.
Were you involved with any local events?
No, the scene was a bit away then, there were only a few events in Brazil, mostly just tech sliding and I wasn't too much into that anymore, I wanted speedboarding!
How did you feed your speed addiction in the absence of organised races?
That's easy living in Minas Gerais, I would gather with my buddies and go skate all the hill's around town, normally 3 or 4 times a week we would go to the hills, skate fast and have a blast!

Was Teutonia more fun the second time?
Indeed, I moved on some rounds, had some tight and exciting heats, and finished in 9th place. I was being watched that year, if things went well I was going to get a new sponsor! I had to show what I was capable off!
What did you change in your game to finish in the top 10?
Better equipment and more experience. Overall I was more prepared for that hill.
When did you finally get sponsored?
After Teutonia, I got sponsored by Orangatang Wheels and they sent me to Europe the next year. I also got hooked up with some boards from Fibretec, a super cool brand from Switzerland! I still love those guys.

Is it difficult for South Americans to land those big sponsors?
Yes, most of the sponsors are flow here, you can get a big sponsor but its not easy. Only a couple of guys have that, and since there are not many brands from here its hard to get support. But things are starting to change I believe.
How come you didn't land a local shop sponsor first?
There was no longboard oriented local shop at that time, I had to open one myself to give riders easy access to longboarding gear and help the community to grow.
There is a huge market, why aren't the local brands bigger?
In Brazil its really hard to make quality products like in North America, nowadays there are many brands popping up though, and boardshops everywhere. People started to see opportunities and the potential that the skateboarding market has!
What changes are you starting to see?
Lots of new brands, new shops, big companies getting involved with the sport, government giving more support and credibility to skate events and people starting to take it more seriously.
I hope this goes in the right direction and downhill skateboarding gets on the level of other big extreme sports like surfing and snowboarding.
When did you first open the shop?
In the beginning of this year. Opened with a friend, it goes by the name of Drop Skate Shop.

Congrats. How is that going?
Thanks! The shop is going good, we have a lot of competition now but that's part of life. The real shops will remain true to its roots and progress. The ones that are in only for the money probably won't last for too long.
How is your shop different?
I believe a shop has to put on local events, give real support to riders and help the sport to progress, I learned good things related to that from Scott Lembach, from MuirSkate, he is exactly what a shop owner should be like. Most shops nowadays are just worried about  sales and beating the lowest price and getting all your customers, which is not right. Each shop should stick to your scene and make it grow. I'm proud to be sponsored by Muir!
I helped put on this shop in my town because of the lack of that, hopefully someday it will be able help riders and the scene like they do. That's my goal. I haven't made a dollar in profit from it yet, all we do is put it back into the business and help supporting events and riders.
Are there many South American skate brands?
Not like North America, there are way less brands and they are still small and young. The good ones will probably get bigger and go world wide soon though.

What are the South American brands to look out for?
Maybe Lab from Argentina, they produce a lot of stuff, should be getting better quality products by now, New Olders a helmet company from Brazil is growing fast, also two new board companies here one called Monkey's and the other Coast, they seem to be getting better boards every time. You can also find lots of truck companies and leather suits.

How was 2011?
2011 was a great year, I definitely made my appearance to the global dh skate scene. It started of with an outlaw event which we put together, and I ended up winning… made a cool video for Fibretec from it which people got stoked, lots of chicks in it haha! It was a good start to go abroad to Argentina for the South American championship and then later to the euro tour, Peru and Teutonia finishing off a great year!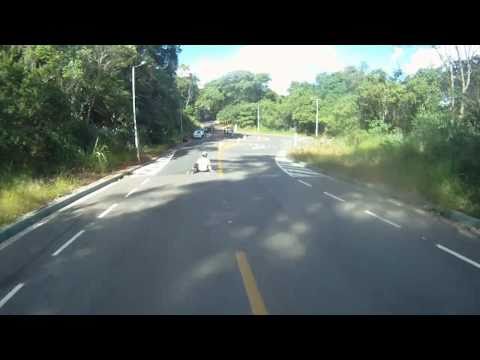 Is racing in Argentina similar to Brazil?
This would be a hard question for me to answer, I only went there once and ended up falling in my first heat looking backwards way in front of the competition, dumb move, well that was a good lesson learned haha. Never did that again. But the tracks there are good, and seems like the Argentinians are getting faster and faster each year. Its a shame they cancelled the Snake Skeleton World Cup this year, I was going back to that race and really looking forward to it. The shame is that the government prohibited the practice of downhill skateboarding in San Luis, where the race was. I hope they can surpass this problem and help skateboarding to became a legit sport in Argentina.
What are the biggest problems facing DH skaters in Brazil?
Many downhill skaters in Brazil have been in the sport for a while now, most of them do it for the love, they probably wished to compete and travel abroad to the big events. Therefore I think the biggest problem is how hard it is to get support and how expensive the products are here in Brazil because of tax from the government and the lack of good quality Brazilian brands, which is getting better and hopefully in the future more riders will have access to fresh equipment and support from this brands to help in their career as riders.
We have good accessible hills, talented riders and events are happening in most of the local scenes. With the lack of support you see lots of good riders having to get a regular job and losing the focus on their skating, having to leave that as plan B or C in their lives. I guess that happens more than you think and not only in Brazil, but everywhere.
Was skating in Europe as good as you'd dreamt?
Wow! Skating in Europe is something else, the hills are like I dreamed of or even better. I could say the freerides are the best part for sure, the roads in Alps are perfect! Can't wait to go back to Switzerland and Italy, that was my best skating moments so far! I hear the French Alps are the best though, would love to go there someday.
How did you do in the Euro races?
Progressed my results in all of them, it was my first tour as a DH skater, so I had much to learn. First race at Kozakov it rained in qualifying, got unlucky and didn't qualify for race day.
Second race was Insul, very tech, footbraking was a big part of it which I sucked at, ended up in 19th. Next was Padova, I was getting more experience and feeling good on the track, almost went to semi's on a patchy track, ended up in 9th. Then it was Verdicchio, the last race of the tour… I was getting the momentum going fast, and finished off the tour by winning that race! It made me super stoked, my friend had said "you will progress in each race, I'm sure you will do great by the end of the tour" and it happened! Came back to Brazil and won a Brazilian national race a week later in my home town, I can say that Euro Tour really helped me to evolve my skills.

Is there anything from Europe you would like to take back to Brazil?
Definitely the mountain passes, and how everything is organized and taken care of. In Brazil everything is a mess haha and the roads are not treated that well.
How was 2012 for you?
2012 was a tough year for me, I had planned to do most of the World tour races and had my tickets booked to Australia for the Newtons Nation race, and then, one month before the trip I got injured. Hurt my knee, the lateral meniscus and had to get surgery. I was really bummed, all my plans had to be put on hold and I knew I had a long road ahead of recovery… oh well shit happens, a couple of months went by and I was back on my board.
Scored a new sponsor in RAD wheels, and couldn't wait to get back into racing.
I kind of rushed my recovery process a bit and went to the North American tour, I had no luck in racing that year, got taken out in all 3 races, but aside from that the trip was great. I met tons of people I wanted to meet and skated some sick roads.
Once I got back home my goal for the rest of the year was to recover properly and get my legs stronger for next season so I could get back that level of skating I had before my injury.
Physiotherapy, pilates and than gym, thats what I did for the most of the time, and other stuff to keep my mind cool because I could not skate. It was a good self learning experience and time to think about life and set some goals.
What did you set out to achieve in 2013?
First of all my goal was to heal up strong, surpass that injury and be able to skate perfectly again. Than get back into racing in a competitive form. That being done, I had another goal to move back to America and live in California, the land where skateboarding was born, so I can live this lifestyle fully! I'm finally achieving this goal, moving out to San Diego on December 16th. Super stoked!

Congratulations! What are you looking forward to most?
I look forward to attending more events, which will be easier to get to now, skate high quality skateparks, get into surfing and for sure get more involved with the companies I am sponsored by. Producing media, helping to develop new products and all that stuff.
Have you had a fun year?
Yeah, 2013 was rad! Got to visit Australia and Canada for the first time, raced a bunch, didn't get taken out which is amazing haha. This year has been the best in skateboarding for me, I'm really excited for next year and what the future has to bring!
What stopped you being taken out so much?
I guess in 2012 I was skating slower and the riders with less experience could get me in trouble more often, and they tend to crash a lot more! Nowadays where I'm able to skate faster I tend to get myself out of that trouble zone haha.
Was racing down under as good as you hoped?
For sure, the ASRA association is really well organized, the Mount Panorama hill is as scary as it looks in videos and I had that adrenalin rush every time bombing that crazy hill.
I also got to freeride with some friends that showed me around some amazing hills in the Sydney area, they are perfect for downhill skateboarding, I had a blast. Big shout out to Rob and Maga McWhinnie, Luca, Cameron and all the locals for everything. Australia is amazing!

What has given you the biggest smiles this year?
I have to say hosting a World Cup race in my hometown was a big accomplishment, I was very happy to see all my friends from around the World coming into town, and to see all that happening was a big dream I had since back in the day, it definitely put a big smile on my face!
Was there a lot of pressure wrapping up the first IDF season?
I felt like I had a lot of pressure to make sure our race was as good as the others during the year, especially being the last one and as one of the main organizers, my name was on the line. So I worked really hard to make sure everything was going to play out as we would like! Hard work for 2 months, but it was worth every minute!
Is it hard to race in your own competition?
Its a whole different ball game that I have to say, on race day I woke up with a different feeling from all the races I've raced before in my life. I was lucky we had a big crew involved with organizing the event, otherwise it would not be possible for me to compete. Stoked I got to the finals with 3 great friends and Adam, the World Champ. I'm happy for his accomplishment he was skating really fast and deserved the win even though I thought Brazil was going to get the Mega Grand Prix title. Yeah buddie RAD for the win!!!
Seems like we were close to a Brazillian victory, with you guys killing it in qualifying!
That's true, me and Thiago trained a lot in Mega Space, and the top 10 in qualifying were basically all Brazilians. I thought Thiago was going to win, he seemed unbeatable that weekend, but the World Champ showed his power and consolidated his victory and took it all to Sweden!

Will you be racing Teutonia?
Of course, can't miss it, its the 10th year anniversary of that race. It should be epic!
Will we see a Brazillian take the top spot?
I hope so, its about time haha, for the last 3 or 4 years we've seen Canadians and Americans winning.
Is it likely to see a Brazillian girl take the title?
For sure, Georgia is the favourite for the women's title, she has been killing it ever since she got into downhill skateboarding!
Could we be looking at the first girl to get an open class podium?
That could be quite hard at Teutonia, the weight plays a big roll on that hill and usually its hard for a girl to keep up with the boys there.
But yeah maybe next year or on the near future we could see a girl getting on an open podium, Georgia and Elena are very fast, they smoke a lot of guys already.
What were you riding this year?
I started the year riding the Fibretec Flying Pan, Aera Trucks and Rad Wheels. But during the North American tour I switched sponsors and my set up right now is the Rayne Future Killer with Ronin Pro Light trucks, Rad Wheels, Riptide bushings and Vicious Grip! The best setup I've had yet, super dialled right now.

What's it like being on the Rayne team?
Being on the Rayne team is great, I always thought they had the best boards and design so I was stoked to get the chance to ride their boards again, they have been helping me a lot. Les the team manager is a great guy, we have been in good contact. Can't wait to get more involved with them and maybe get a chance to design a board one day.
There are quite a lot of Braynezillians!
That's true hahahah, Dalua does a good job with Rayne and built a great Rayne Brazilian team.
What's a Pro light truck?
It's the precision version of the Ronin truck but with holes in them to make it lighter!
How will you be more involved with your sponsors in the coming year?
Living in North America I will be closer to them and that should make things easier working hand in hand. Internet is lame for doing this kind of stuff haha.
What do you do when you're not skating?
I like to hang out with friends, make some bbq's, enjoy nature and that kind of stuff. I used to be more rowdy and party a lot. Nowadays I enjoy to be more laid back when I'm not skating. I also spend some time training.
What's Brazilian bacon like?
Its really good, they also sell thick pieces, so you can slice it which ever size you want. The other day Byron bought a huge piece for the bbq and cooked it on the grill, I have to say it was one of the best bacons I've had in my life.

Pick 3 numbers between 1-15
1, 7, 13
1 – If you had to be a bad guy in a movie, who would you be?
Wow let me think here for a second… how about  Patrick Swayze on Point Break, that would be rad
7 – why did the chicken cross the road?
To get to the other side hahahah
13 – what happens when a zombie bites a shark?
It becomes a shark zombie, that would be fucked up.
It has been so much fun talking to you for these past hours. Stoked on your story, best of luck in your big move. See you in Europe for some Churrasco one day!
Thanks so much Gbemi, its been really fun chatting with you, I've never told anyone this much about my skate experience! Stoked to share it with someone. I would love to go back to Europe, hopefully 2014 it will happen and I will see you there!
Any last words?
Always skate for the fun and love for the sport!! Get a new friend into skateboarding and always keep spreading the stoke!
I would like to give a big shout out to my local crew MG Downhill for all the sick skate sessions and events we have put together, if it wasn't for you guys I would not be here today.
Also I would like to thank all my sponsors for providing me the best skate parts ever and keeping me stoked, MuirSkate, Rayne Longboards, Rad Wheels, Ronin Trucks, Riptide Bushings, Vicious Griptape, Hammer Extreme Sports and Vultur!
Links.

muirskate.com
raynelongboards.com
ronintrucks.com
hammerextreme.com.br
megagrandprix.com
riptidebushings.com
Thank you Carlos Gomez, you're an awesome photographer and human!
Comments
comments