65 to 70 of the best riders from Oklahoma, Kansas, New Mexico, Missouri, Minnesota, Wisconsin and Texas came out to skate fast runs deep in 'NoCoast' territory last weekend (17-18 August 2013), without the permission of any authorities. The plan was also to camp on a local's land that we had never seen, just hoping there was enough space for everyone. Those were just a couple of things that kept me up late at night while preparing for The 2nd Machado Classic, a two-day outlaw event taking place in two different states with two different outlaw races.
The first outlaw was Shepherds: here, it is all about the draft.
What initially started as a race to help raise money for our brother Jason, had quickly turned into something very special. You hear about invite-only races for the pros, so why not have it for the local scene as well? An invitation-only outlaw means the heats are close, and winning means you beat some really badass skaters.
Saturday's race at Shepherds (that later turned into massive mob runs) took place in Arkansas on some fast winding sweepers, with speeds of around 55mph. 

Shepherds Raw Run: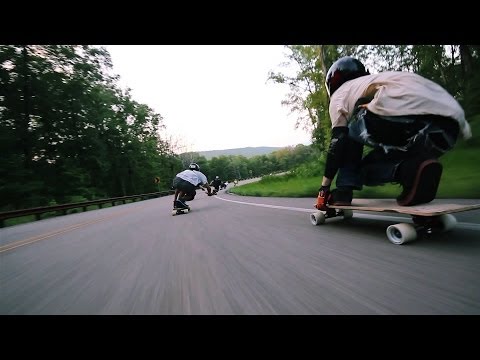 Day One Coverage:

Sunday's race would be back across the border into Oklahoma. With so many riders participating I was very nervous that the races could get blown, but the opposite happened. On Saturday the Park Rangers were stoked to see so many riders out and actually watched some of the heats for a while!
After taking runs until sunset everyone then packed up and drove back across the border to set up camp and start the raging festivities. It was very cool to see so many friends camping right next to each other with tents only a few inches apart. The landowner provided us a grill and firewood for the night. Their hospitality was something that you just don't see much any more, so it was very much appreciated.
Sunday morning we woke up to the sounds of donkeys and mules making some of the strangest sounds I had ever heard. With practice runs starting around 10 am we got the hay set up and prepared for the first run. As an organizer you definitely don't want to see anyone get seriously injured. The first run down we had a guy break his collarbone. A few runs later we had a guy hit his head a few times as he slid in the grass for 30 yards. It was getting hectic quick.
After finishing practice the guys were getting the hang of the course, and it was time to run two round-robin heats to seed the final 48 man bracket. With so much talent at one race even the qualifying got intense, seeing a few more crashes.
Single elimination rounds only got harder. You started seeing guys really pushing the limit of how fast they could go into crash corner. A few guys from our northern states – Wisconsin and Minnesota – were ripping from the start. Texas always brings their A-team to races, especially now with their new skate bus. It's pretty much the sickest skate bus in the game.
At the first Machado Classic we had a photo finish between Chubbs and Ray Adams, and this time I was prepared. Nicholas Hopper and Jordan Koehler fought it out to the line for the win. We had to go grab my computer so we could do a video review. With that it was clear that Jordan's wheels crossed first, but only by inches. It was an awesome way to end a weekend of hard racing!
The Finals:
Day Two Coverage (Race Day):
So far this formula is working out, and I will continue to make improvements in hopes to draw even more talent to further NoCoast events. No one would have walked away with swag if it wasn't for all the companies that still believe in supporting local events on a grass roots level. Events are not all about swag, but it gives guys a bit of incentive to make a 10+ hour drive. Also a huge thanks to my wife for all the help at the races; she's super rad.
Comments
comments