We got to pick our buddy Les' brain and he drops lots of knowledge about the Rayne and Vicious brands, sponsorship and bacon vodka. ALSO there is a BIG surprise at the end. It's not a naked picture… Or maybe it is?

LES! Stoked to have this long overdue chat. How are you? Doing good Gbemi. Sunny day in Vancouver is a special day and the sun is bright right now!
What have you been up to recently?
Just got back from a road trip to Mexico – #Rayneallthepincheway. Other than that, we're working on dropping a Spring 2014 Catalogue that's a few days overdue right now… AGENDA is in January followed by Surf Expo and ISPO… Getting ready to show some new new stuff.
How was Mexico?
Mexico was epic. I'll keep it brief, but we could not have done it without the generosity and stoke of the Mexican community in every city. Claudio Uribe, On Board Distribution, THC, No Need 4 Lube, Abraham, Gerardo, Fer, Fer, Fer and Fer (there's a few of them), Vic, Favela, Caro, Charlie, the list is endless, everyone that came to every event… Waiting hours for us to show up and skate in the dark, lol… a hell of an adventure.
"Rayne is a challenge to do better; Make better boards, be better people, skate harder, go faster, have more fun."
What is Rayne?
Rayne is a challenge to do better. Make better boards, be better people, skate harder, go faster, have more fun. A little while ago we sat down to try and capture "what is Rayne" and what we ended up with has really been guiding how we acted under Rayne: Better, Best, or Different. Mundane is easy. Products are easy. Anyone can get in the longboard game… in fact so many are. (Check out Extremely Cheap Skates – http://theberrics.com/gen-ops/extremely-cheap-skates.html… not that different in Downhill). Skateboarding is a great leveller, you can't really gentrify it. But making something that is unique, that you didn't pull out of a catalogue of standardized products that "can have your brand on it too", that's what we strive for. I think that translates to our team as well. We don't just want someone who can skate, we want incredible people. People that don't just ride "any board", but want to ride a Rayne.
One of my favourite quotes from a customer was when they called their board "their home board". So deeply connected to Rayne, it just feels like home.
What is your role in the family?
Some say I am the Papa. Which really started thanks to Max Capps, who is on our Vicious team (and always broke, lol). But, yeah, from a rider perspective, I help get shit done, keep things moving forward, maybe some mentorship if that's what they are looking for. Apparently I am old as hell. From the Graham perspective (the Biggie Bossie), I am in charge of the Rayne and Vicious brands, teams and sales.
Note: We recently brought on Cameron Frazier to start managing the Vicious team and Aidan Lynds is now Assistant Team Manager at Rayne.
Leslie wan-kanobi?
Ha… I'd like to think I have less grey hair and a smoother nut sack then that old fart, but I'll take that Jedi mind trick stuff and run with it for sure. These aren't the skaters you're looking for…
What's a typical day in the life of Papa Les?
A little insta, a little UTubes, a little Facesmash.. lots of spreadsheets, endless emails.
How did Rayne Longboards make you a better person?
Rayne makes me a better person everyday. As a team environment, the family, you need to be pretty selfless. I've never really been "selfish", but it's a whole new thing when you rarely get a free moment to yourself or to do what you want. That means often giving up skating for filming or driving, filming for teaching about it, a Sunday sleeping in to be at the hill for first runs etc. That's not a complaint, it's a dream to live and work Rayne. It's the family stuff that can wear you down sometimes though, but then you see a new board or a podium or a new trick and you get that warm feeling and some pride and you all get to share in the success together.
Is it difficult to juggle both teams especially when many Vicious riders have your grip on rival decks?
Not at all. Rayne is Rayne. Vicious is Vicious. I actually revel in the chances to step outside Rayne and work with Vicious stuff sometimes because it exposes me to such a diverse environment. Vicious ends up on all kinds of boards and under all kinds of riders and that diversity is pretty awesome sometimes. I also don't believe many people subscribe to one brand and only one brand. I agree with and support the quiver theory. But, as I mentioned above, Cam Frazier is coming on to help because I don't think it's getting the attention it deserves and the riders need more.
Cam's leading a Movember charge with the Vicious team right now actually! http://us.movember.com/team/1223417
Why do you guys do a Movember challenge every year?
Movember was the first contest I really ran at Rayne/Vicious. I had come back from doing some school overseas and was stoked on how Movember was played up on college campuses. I hate shaving, so this was a good way to break away from the norm and get kids thinking about it too with their Vicious stache.
Are you involved with any other charities?
Not a straight forward answer. We donate a lot of product to various organizations, but what we try and do most is help the at-risk youth in Vancouver. Vancouver is the poorest area code in Canada, with a lot of heroin and meth abuse. The factory is in North Vancouver, but the sales/marketing office is in Chinatown in the Downtown East Side, above Flatsport Longboard Shop. Youth can work at a skate company no matter what their ink, hair or sexual preference is, so the goal is to get them job experience and help them find a niche.
Is it important to be involved with the community?
I wouldn't work anywhere that did not have a strong community feel. Whether it's longboarding as a community or Vancouver, being connected is empowering to all. Otherwise you live in a disconnected police state and have no power at all. Check out Flatspot, it's awesome
http://thethunderbird.ca/2013/11/20/skateboarders-carve-out-new-community-in-chinatown
Were you the 1st employee?
No. Most definitely not. A lot of awesome people came before me… UNKLE Lee Cation, Andrew the guy behind Giants Head Freeride… Rayne has been around 10 years now, I've only had a full time roll for the past 4.
Is Vicious sometimes a step towards getting on Rayne? (e.g Lenny)
I don't see it that way. I think the other example you're looking for is P-Swiss haha! Lenny was actually well connected to us at Rayne as well. Graham has done Europe a few times now and met Lenny and his dad Olivier and we have stayed with them the past two ISPO's. We really respect Alex and We Funk and we all stayed together in Munich as well. It was a smooth transition, I feel. We Funk doesn't make longboards any longer as I understand it either.
Rayne cannot sponsor everyone, and we don't want to. Supporting riders with grip is an opportunity to support people we love and respect and that doesn't even mean they would want to ride Rayne. Max is in love with Sector 9, William Royce is a Pro with Bustin, for example, but we think they both represent the Vicious brand really well and we're stoked to support them how we can.
What is the key factor for recruitment to the team?
We don't really recruit. Almost everyone on the team was riding Rayne before they joined. We have an active Brogram which is a good place for groms to get noticed and get some perks like discounted product, opportunities for prototypes and video incentives. We want to support youth actively pursuing podiums and advanced skills, but that is different then sponsorship which requires greater commitment and follow through. If you're successful at that and you're sticking with it, not dropping off the map for a boyfried/girlfried/bacon! then they have a chance to move to the Flowgram which provides greater incentives, the opportunity to get event entries and more free gear vs just discounts. Typically you get on the Program (pro team) when you're a pro… as in skate is pretty much all you do, you're at the top of performance and you need a salary because skate is your life. Most don't make longboarding their job, it's their hobby type thing. That works for Brogram, might work for Flowgram depending how committed you are, but typically does not work for the Program. Pro's skate every day and appreciate they are a public figure and a brand ambassador – every day.
Some names that have been going through it…
Will Smallwood is killing it on the team and moved up from Brogram to Flowgram this year. He's come out of what was Colabo and Dan Pape's longboard safety longboard camps, was featured in a Skate Slate video riding Rayne and eventually earned a part of prototyping the Rival/Supreme (http://www.youtube.com/watch?v=XN3aY5SFvaM). Will been in some sick edits thanks to Brock Newman (http://www.youtube.com/watch?v=NjpfH1ylL2c), competes for podiums at events around the Pacific Northwest and is at the Rayne shop helping out whenever possible. We think he's a model grom and see some great opportunities working together. Aidan was the same way and look where he's ended up.
Aidan Lynds is a name we hope you keep seeing around Rayne for years to come. He also started Brogram, but is a bit older than Will and fast tracked himself simply by being relentlessly dedicated – one of those "shop rat" groms. School is important for sure, and I will kick your ass to finish High School before you get anywhere with us, but Aidan has been in the office gaining experience and trying a lot of different jobs to see where he wants to go now that he's graduated. He also made sure to get to ALL kinds skate events, posting some solid edits (http://www.youtube.com/watch?v=kjYaml-OC_Y), spent his own time and money travelling and ended up on Skate House Media (http://www.skatehousemedia.com/04/02/2012/visitors-aidan-lynds-and-mike-slota; http://www.skatehousemedia.com/08/22/2013/vistor-aidan-lynds) and is now the guy helping manage the Brogram and Flowgram with me.
Both of those guys are here in Vancouver though and that's an advantage in itself. You don't have to be in the city of the brand you love to make it happen, but it is an advantage to be close
though…
Justin Readings and I met at Maryhill a few years ago. He's from Onterrible. Justin, along with Luke Melo and Braden Tibbles who are also on the team, has worked hard and saved money to pursue skating even without a paying sponsor. These guys were doing it three plus years ago when the opportunities were even smaller and less available than now. Now I hear groms asking for support to go to Europe and I laugh… and tell them if Justin can make it from Ontarrio to Europe twice, all around the West Coast every year and now South Africa twice (he's there now) on Flowgram then you're just not working hard enough. Sponsorship is not salary. Olympians break themselves and their lives to chase that dream… not sure why downhill skateboarders think they should get some kind of free lunch sometimes.
"It is not the job of sponsors to provide opportunities for riders to travel the world and make a great life for themselves. It's our job to work with and support well aligned, balanced, exceptional riders who travel the world or strongly lead their home community and already make a great life for themselves."
It is not the job of sponsors to provide opportunities for riders to travel the world and make a great life for themselves. It's our job to work with and support well aligned, balanced, exceptional riders who travel the world or strongly lead their home community and already make a great life for themselves. Getting sponsored is to help make it cheaper, to offset your life – not give you one. To reward your exceptional talents and abilities and earn recognition for our partnership together.
Ultimately, if you want to be sponsored, it is hard work – just like going to college or getting a job! Hard work to get the sponsorship and hard work to keep the sponsorship. The guys that contribute most to Rayne, get the most from it. Too many people want a sponsor to give them something, not enough people want to earn it.
Did you have to go to school or read all the books to be a better brand manager?
Reading books never hurts. School is a check box, a qualifier. It says I have committed "X" amount of time to passing this bar and this institution says I have done it to their acceptable level. If you can gain the experience and insight to do that without school, then you saved money, not necessarily time. Fortunately skateboarding allows for people who rather invest time in skating and not schooling… assuming they were able to learn from that school better than the other one, great. I am more concerned with creativity, attitude, effort and commitment…. The last one being the hardest.
I have tried to find and train a few people, they often can put in the effort, but can't wait for the reward… a commitment issue. I spent years just connecting with Graham and doing small projects before any real opportunity came up at Rayne. Most of that was free too. The investment has paid off, I get to live and work skateboarding.
Tommy Watson is a great example too. He's been working for years from Sundae Skates to Nersh to Ronin etc. He has built a wide network of friends and comrades in skate; is well respected both on and off silverfish (ha, ha); and came to Rayne this past year willing to work and learn. He has no college degree, he has an open mind, a strong work ethic and smiles a lot. Asking good questions means he is never wasting anyones time and having a big heart means he makes you feel good when you do need to take an extra minute to work through things.
Did I say reading books never hurts? (and with all the down time at sanctioned events, you could be crushing books every year… ever see Graham at an event?)
What have you been most excited about Rayne-wise this year?
Fat Bottom and Sinful Pleasure Wheels. Fat Bottom is making boards lighter, using less material, creating less waste, and retaining strength and stiffness etc. Graham really killed it with Fat Bottom and it is going to translate into exceptional Deelite boards as well. It's in the Avenger, now the Fortune and I have tried it in a couple others now that make sense and they were awesome too. I really love the Avenger for speedboarding right now.
We call our wheel lineup Sinful Pleasures and we decided to keep the names to the 7 deadly sins. The first wheels have been Greed and Envy. Now we have Lust. Wheels are a true consumable. The whole goal is to destroy them. This just lends itself to sinful behaviours… like skateboarding, ha. Overall, we feel there is an imbalance in the wheel market. There're a few brands we respect, but the reality is just about anyone can make a wheel and in some cases, anyone is making a wheel. We know our R&D and we knew we were able to make fun, strong performing wheels pretty easy, it was just a matter of starting to do it. Now that we have, there's no telling what's coming from it, but there are some seriously fun wheels coming in 2014 for sure.
How are Rayne wheels different?
Every wheel company starts with Urethane right? Well, wrong. It is possible to just order wheels and add colour and put a logo on it. Greed. Why do people do it? Envy! We were not trying to fool anyone. We made solid, dependable, performance focused wheels, but have used stock molds and cores currently – the necessary, but not sufficient condition to having a wheel brand. Custom shapes are expensive and not necessarily the right way to spend money when what you also want is a top performing Urethane. Some brands have come out with mad technology (they claim) and charge you insane prices! To start, we provided excellent thane at very cost effective prices and built a team around it. This summer we dropped Lust, our own shapes (though Nersh created them… we lusted for them when they stopped using them). The Centre set, large core Lust in our Ruby Red thane are a bit of a dream. Easy to kick out, controlled drift, easy to hook back up. They should have been called Easy.
There are key differences to our wheels, it starts with our better, best, different philosophy. We prototyped a lot of wheels and worked with "scientists" to decide on our formulas… most companies do that anyways – we hope! What we learned helped guide us. Colour affects performance. Not to say one colour is faster than the other, but if you change durometer and you change colour, you have made something that might be pretty, but is also not the same anymore – science! 77a and 80a durometer Rayne thane is made from one consistent Rayne Red colour because the Urethane is the same, only the durometer is different. We then use the core color (blue for 77a, red for 80a) to denote colour because colouring the core does not change its performance. Colours are fashion, we make performance. It might hurt our sales some, but we're looking for performance minded customers, not ones that get a boner over a new colour or graphic… sounds like a gimmick? Probably is.
Who will be racing on Rayne Wheels?
Graham Buksa, Justin Readings, Tommy Watson, Alvaro Bajo, Mischa Chandler, and Jake Fast are currently on the wheel program exclusively. We have a few Brogram guys on them as well. We were really stoked for Levi Green to join us this summer as well, he's a key guy to help develop our freeride wheels… did you see his Darkside video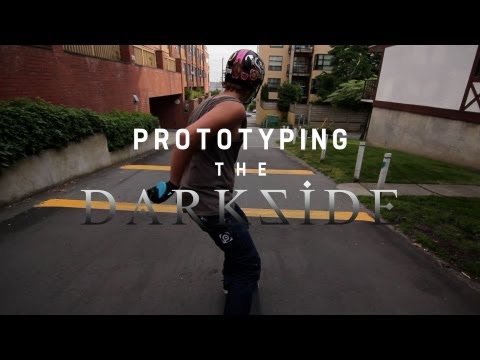 How will the introduction of your wheels affect pro riders already on wheel teams?
Like Vicious, we don't need or want to have people exclusively on our brand. Riders can select their mix. We will have a tight wheel team working on prototyping and that's about it. We want to provide opportunities to help some of our best riders. Not everyone can find a wheel sponsor. Some want to be more invested in R&D or are looking for a future with the brand beyond skating. Then it makes sense to help remove distractions and let them just focus on Rayne. Sometimes this means they can get more from the one brand than they would have from a handful. By joining Rayne fully, we are able to offer more opportunity and protect our R&D a lot better.
Stoked that you've added a few more Euro bros to the team this year. World expansion?
It has always been a goal to support riders in their communities. It's tough because then they all seem to want to come to Vancouver. EU riders definitely appreciate having a supportive home base when they come to Canada, West Coast etc. While at Rayne we really want EU riders for EU representation and reach, not just to come West. We find a balance.
Was it fun having the family over this summer?
We had a lot of fun with the EU riders that visited this summer. The EU guys – Alvaro, Deen, Kevin, Max, and lets not forget Mark, Will and George from the UK who just wrapped #Rayneallthepincheway, are all key members of our global team. We know them each, travel together, it's not just some arms distance relationship.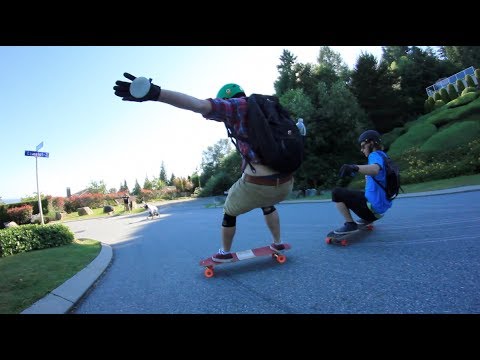 Have you had similar enlistment runs in other continents?
We have a huge Brazilian contingent: Dalua, Thiago, Caio, Max B joined this summer, Team Pulse. We have Cameron Kite and his groms in Australia with Dani Hawes and Michael Bowditch. Each region has its core riders that spend their time focused on their home typically first.
Where are Rayne things made?
All over the world. Rayne boards are made in North Vancouver, BC, wheels in California and the rest is made where it can be made best, not necessarily the best price.
Do you drop a new line every quarter?
Not necessarily. We drop things when they're ready and we want to. We're trying to do that in a more organized way though and are trying to hold to Spring, Summer, Winter… March, June, October… and release product in those segments. For Summer 2013 we re-released the Catalyst, dropped the Piranha, Future Killer and the Darkside. This Winter we have a Heritage series to celebrate 10 years of making boards http://www.raynelongboards.com/news/products/2013-heritage-series.
Claudio mentioned he was moving out to Vancouver; are you building the behind-the-scenes team too?
Always building. I'd like to retain a lot of team guys to grow behind the scenes and find futures for themselves as they divest from racing and competing, but that's the commitment issue sometimes… or maybe opportunity recognition and delayed satisfaction, who knows… skaters always seem to gotta skate and don't always want to look at their future. Most of our team is 18-22 and can't put down their board, commit and follow through. They get scared of missing out or have the travel bug and need to go do their thing. I wish there were more Aidan Lynds' out there, but I guess I am glad there are not at the same time. Claudio has matured like a fine prune and can recognize the opportunity. He killed it at #Rayneallthepincheway and we have a new project already on the way for him.
Is that the most viable long term path for skaters?
If they want to work in skate, they either need to invent something or start working towards something. Pros are starting to invest in their futures – Graham is a rider turned Rayne. K-Rimes, Aera and now working at Powell. Chris Chaput, Abec 11. Skate House Media was skaters with a business mind to life. Marcus Bandy's got Wheelbase. Now Jimmy Riha is pushing Rad-Train. I see riders coming up with ideas and trying to make a go of it all the time. Part of my experiences is teaching about the business plan. The biggest failure is usual just that – no plan. Followed by a lack of follow through and/or no capital.
You don't have to work in skate to be a pro to keep skating. It helps, for sure, but Olympians (at least here in the great socialist land of Canadia) have to work, train, compete etc. Get few subsidies. Often have few sponsorships and typically more product versus cash and need to fundraise to compete – AT AN OLYMPIC LEVEL and for a GLOBAL AUDIENCE. (Pretty sure Lo Lo, one of America's most prolific Olympians just got in crap for showing off her $700 luge cheque? http://www.huffingtonpost.com/2013/06/18/lolo-jones-bobsled-paycheck_n_3461217.html Longboarding is just not there. Both because few skaters take an athlete approach to the sport and in the sport our "world stage" is simply not as stable or durable or historic as the Olympics (or X-Games).
Street League comes along in skate and that's controversial too. Most of street skate is getting its money from big coporations and that comes with its pros and cons too, look at Jerry Hsu http://www.jenkemmag.com/home/2013/11/19/jerry-hsu-discusses-chocolate-leaving-enjoi-the-industry/
Still, most downhill skaters bitch and moan they aren't getting enough to skate, often slack off at competitions where they would get more recognition, don't film on the regular and are not going out in search of outside sponsorship at all, just industry brands. So, all that's left is to quit yer bitchin and go get a job or take this for real and make it your job. No such thing as a free lunch.
Will it ever get there?
Does anyone want it to?
What happens if it gets there?
You fly me out for this interview and don't do it over google docs!
Or we meet on the moon and discuss it over bacon vodka!
Bacon vodka is doable for sure! Moon's a bit cold this time of year, lets hit Mars.
What do you do when you're not skating?
Sit at my desk and play interwebs lol. If I am not skating I am usually behind a camera watching skating. My hobbies are mostly towards skating… film, photography, DIY projects etc. Sunday was all about making a skate blanket out of old shirts I wanted out of my closet and getting #Rayneallthepincheway edits going.
Pick 3 numbers between 1-14.
10, 69, 666
10 – who's your favourite skater?
Current? Downhill? Too vague… Wayne Gretzkey… he was a skater right? And his daughter is smoking hot.
69 – What's the most embarassing thing that's happened while skating?
I pulled what I like to refer to as a Ross Druckerey (really just to take the heat off myself) and I sharted a bit more than the "art" part of it at a Switchback Slide Jam. A bit hung over, feeding the beast with grease to calm it… then highsided and landed on the poo button.
666 – Who's your favourite rockstar?
I prefer Kombucha to energy drinks.
It's been so much fun talking to you bro. Thanks for being such a solid guy and a nice hairy friend. Maybe see you in Munich!
It only took me the whole summer lol… would be awesome, will you be there?!
Maybe. Any last words?
Contrary to popular belief, I don't need to have the last word.
Links.
But I do enjoy getting the last word.
http://www.raynelongboards.com/
http://www.youtube.com/user/RayneChannel
https://www.facebook.com/RayneLongboards?ref=sgm
instagram.com/raynelongboards
http://twitter.com/RayneLongboards
meatspin.com
AND… for all you fans of Thane out there, we're offering a 20% discount to Rayne.com. Just enter the code THANELOVESRAYNE – link expires 2 weeks from now, so giddy up!
Comments
comments