He's big, he's green and really really fast. Vernon's Slimer gets down with us and shares some of his recent skateboarding adventures. 
Hello James, how are you?
Hey man, I'm good just watching the thick frost outside melt.
Where are you from?
I hail from Vernon, BC.
What's it like there?
It's awesome for 8 months of the year. The remaining 4, on the other hand, tend to be snowy and cold.
How do you keep the stoke up when the white stuff arrives?
Haha good question. It's hard to do when you know everyone else is enjoying their boards. So mainly just by watching videos, and maybe going snowboarding a few times a year. I also enjoy playing a good racing game, so that usually keeps me entertained and practiced on race lines.
When did you start skating?
I started downhill about 6 years ago. Skating in general like 10. Never really picked up street skating well though.

Can you ollie?
Oh yeah. I can skate bowls, and drop in sometimes but nothing fancy like kickflips and heelflips.
What got you into it?
I've always enjoyed individual sports where you didn't have to worry about someone else or yourself letting the team down. So skating kind of came on its own.
Are you a lone ranger?
No, I always like being with people.
Is there a big community in Vernon?
There is a very tight community of about 4-6 people who are extremely good, people like Mischo Erban, Zen Shikaze, Matt Rae, Bren Davidson, Quinn Finnochio, Bryan Reich, Devin Nowlan.
Who showed you the ropes?
It was basically no one. Matt and I skated together for 3 years and we wanted to be the fastest. Looking up to the fastest.

You're first generation Vernon DH?
No, that would be Zen he is a real OG.
Why did you and Matt decide to go solo?
We didn't really have opportunities to ride with the really good guys, they didnt invite us haha. we scared them.
What's the scariest thing about James Ware?
It wasnt me haha. It was The Matt Rae, he used to be really intense. people couldn't handle it, so they chose not to hang out with him. You wouldn't be able to tell now though, he is way calmer.
Who is Matt Rae?
Matt Rae now lives in Calgary, Alberta becoming an electrician. Still comes to all the big races and still gives anyone a run for their money.
You guys were ''those groms'' weren't you?
In a way. We were finished from high school and driving already, but I guess still the groms of Vernon.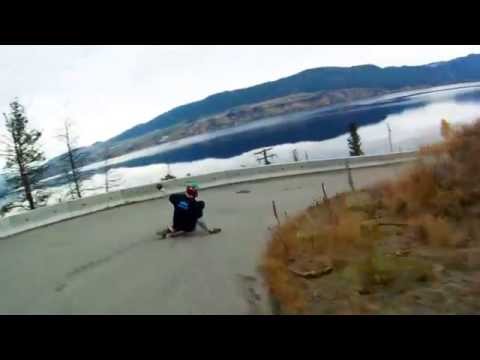 At the end of your 3 years training- were you the fastest?
I would like to think we are at the top. Just have to start making it out there more!
What were you riding in the early days?
The first board I owned was a DH race from Landyachtz with 97mm flys haha. It was really fast, even when you tried to roll onto grass to slow down.
Do you remember the first time you went fast?
Very much so and to this day I still get the same feeling of stoke.
How does speed make you feel?
Anytime I'm going down a hill it's like meditating, nothing in my head, living in the moment.
How far would you go to chase that feeling?
I'm not sure yet. I've already paid for myself to travel to California 2 times this year to be able to skate the style of road I want. Not just the Canadian style straight roads. I like the twisties!

What are Vernon roads like?
Vernon roads are some of the best. We live in the intersection of 4 valleys, in a town of about 45,000. So it's pretty small. We have some crazy hills all within a 15 minute drive of each other.
Do you have a favourite?
I've skated everything here a lot. They are all different. Some are 25% with 4 hairpins and a straight you can easily hit 70km/hr on. Some have 9 hairpins but aren't as steep and have really flat corners. This one hill only has 1 hairpin type sweeper that you go into at 80-90 and you have to scrub to like 70 so it's still really technical. So, no real favorite in Vernon. I like them all.
Fast and Technical > Super fast and straight?
Fast and technical any day. Although I would really like to hit teutonia! I like scary fast fast.
What's special about the roads in Cali?
They seem to never have straight sections. It's 2 miles of corners haha.
How long did it take you to be as comfortable at speed as you'd like?
By 2009/2010, the first year I went to the Mount Washington downhill on Vancouver Island. I raced in heats of 7 at speeds up to like 115km/hr. That's where I gained my confidence.

What was the hardest lesson to learn?
I found just being confident was the biggest thing. You gotta know you can do it.
Is it important to compete?
I don't think so. It's just the way I've always skated. Racing head to head with people as close as possible, like F1 cars or something.
Did you do many other races in 2010?
Yup, Danger Bay, Vernon Dh and I think Kelowna started that year.
What is Kelowna?
The Kelowna Downhill at Skylands is one of the best courses. It's fast, with big sweeping corners that you take on the edge of traction, so it's easy to mess up! Definitely one of my favourites.
What was the highlight of  that year?
I would have been riding the Evo that year so I have many highlights. Mainly just having the best of the best in our neighbourhood.

How do you guys duel out for the title of Vernon's fastest?
I don't think there is a fastest. Well, technically Mischo after he set the world speed record, but we have all done really well, and beaten each other numerous times.
When did you first skate outside Canada?
December of last year when I went to skate at the skatehouse for 11 days.
Dream come true?
Oh man, it's been a year since I was there and I can remember it like it was yesterday. Plus I'm a fan of warm weather so it's the place to be for sure.
What led to you being invited to going out there?
I ride for Rider Approved Designs, so Louis asked me and I said yes.
How did you spend your 11 days there?
Skating the best hills and eating junk food they don't have here. Haha.
When did you first get sponsored?
My first sponsor was a local skate shop called Dunas, back in 2010. They helped me out a lot with everything.

What role does your local shop play in the community?
They help a lot of the younger riders, getting the cheaper gear. and they supported the Vernon DH for years.
Is sponsorship imporant?
No, because you can still skate and have fun without them.
What's your current setup?
I have the Arbor Highground, 176mm 46* K4's, RAD wheels. And I've got a new little freeride setup cause I figure I should learn, so I'm riding the arbor backlash with randals and the new RAD glides.
Are Arbor and Aera sponsors?
No they aren't. but they have helped me out which is super rad of both. Maybe one day.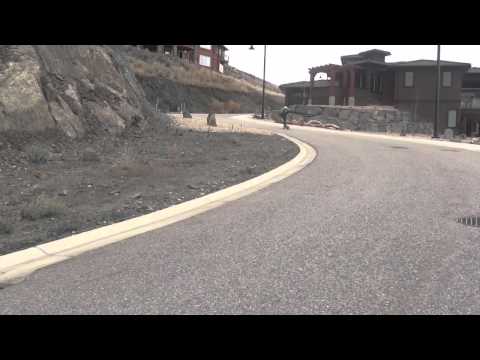 What did you get up to in 2012?
2012 was a really good year. I got 6th at Danger Bay X. Raced in heats with Scoot Smith all day exchanging 1st and 2nd place finishes. And then to top it all off,  the consolation final was 3 guys from Vernon, Zen, Mischo and myself. I ended up beating both of them and finishing right behind Scoot.
2 days later at Jakes Rash, I ended up getting 6th behind Matt Rae, followed by Billy Bones and William Royce. In the pouring rain as well! That was by far the highlight of last year.
Do you and Matt end up in many heats together?
No, I think other than making finals together we don't see much of each other in races.
What was your first podium finish?
That would have been the first year I attended Mount Washington. We crossed the line like 5 guys wide! I ended up second, with Nick Jean taking first, Tynan Eggler third, Striker took 4th and Matt Rae 5th.
Woah, Striker races?
Yeah and it's scary. He can't stop, and he throws stuff hahah. Watch out!
What would racing in Canada be without him?
He has started so many events in Canada and BC alone. Our community wouldn't be anything if it wasnt for him, he started it all.
Would you still race if you didn't get good  results?
Oh yeah, the people I've met through this sport are amazing. People from every walk of life.
How has your year gone?
This year has been the best yet. Made the ¼ finals at Danger Bay, made finals at jakes rash, made ¼ finals at Brittania gold rush, fell pushing in the Vernon dh haha, one of the fast groms fell on me in the first heat at whistler, beat Krimes the first heat at Angies Curves, got 4th at Sullivan Challenge. Oh and hit a tree at 60km/hr and broke my nose. So good.
Do you look like a pirate with your new nose?
Haha, I hope not.
How are races below the border different?
I notice a lot of the Americans don't tuck while racing, they have too much style to just tuck and mob, haha. Not that they didn't win, but it is something I noticed.

If you got beaten by someone who wasn't even tucking – they must be doing something right, right?
Well I mean James Kelly tucks well, Byron, Louis etc do, but there are a lot of guys who could be just as fast but they don't tuck. They don't practice that.
Is style an important element of your skating?
No, I don't focus on that, it comes with just skating. I personally don't think I have "style". Unless tucking and grabbing rail are style. And my freeriding is anything but stylish, but I'm still new to that.
What is a RAD wheel?
RAD wheel are made by Rider Approved Design. Wheels made and designed by the riders for the riders, using new ideas instead of the same old thing. They design all their wheels from the ground up trying the most innovative ideas, and it works.
What's it like being part of the team?
It's RAD. Everyone on the team is RAD. Down to earth people. Wouldn't change a thing.
What do you do when you're not skating?
I work construction, building houses 40 hours a week, that eats up a lot of time. I have a motorcycle so that also eats up a lot of time haha.
Do you have any big plans for next season?
I would really like to travel more, maybe Europe and South America. It's something I never thought I'd have the chance to do but I can now.
Pick 3 numbers between 1 – 14.
6, 13, 1.
6 – if you could have any super power what would it be?
flying of course.
13 – what happens when a zombie bites a shark?
Megashark! 
1 – If you had to be a bad guy in a movie, who would you be?
Dr evil, I want a mini me.
Haha. It's been really fun getting to know you over this interview buddy. Thanks for your time!
It was my pleasure man. It was really fun. Enjoy the endless summer!
Any last words?
Yeah! Shoutout to RAD wheels, they have done a lot for me and I can't thank Louis enough. Arbor skateboards and Sector 9 for helping out, and Kevin for being a rad homie and helping a brother out. Also to Jamie the tickler hickey for teaching me everything I know haha.
Links.
Photos by Manslaughter!
Comments
comments