Come along with us on this journey through the mind, eyes and feet of our brother Aaron. He's not superman, he could be spiderman and he's definitely super steezey
Morning Aaron, how are you?
Doing well thanks. Kind of misty out in SF now.
What's it like there usually?
It's time of year dependent. It fluctuates. 4 days of sun, 4 days of clouds. Summers are prime, winters often overcast, but not that bad. I can still get out and skate.
When did you start skating?
Got my first skateboard when I was 3. Mom hid it in her closet for a few years, then I found it a few years later. Been under my feet ever since.
She bought a skateboard when you were born and you found it when you were ready?
Haha, yeah. I guess she thought I was too little to start riding skateboards. The skateboard was a gift from my Aunt.
"I'm no superman, but when I'm on my board it's solitude and meditation for sure."
Sounds like when superman found the fortress of solitude!
Haha. Unlocking secrets. I'm no superman, but when I'm on my board it's solitude and meditation for sure.

Do you remember when you fell in love with riding your board?
To be honest, I feel I really fell head over heels for boarding after I had been snowboarding for a while (started playing in the snow when I was 7). After, I noticed the similarities in balance, movement and just the feeling of being on board; I started street skating a lot. This later evolved into my feeling more at home on a board, and taking it to the hills on longboards.
When did you first bomb a hill?
Well, I guess it all started from snowboarding up in the sierras. The first time I bombed a hill on a longboard, was when I was about 15. I used to press my own boards and would test them out by just riding them down mellow hills by my house.
Weren't there any boards out there that you liked?
Yeah there were. I had an '07 Rayne hellcat and drew inspiration from the shape. Also got the Comet Voodoo D2 the day it was released. I rode other boards besides the ones I made, but I really liked working with wood, making tables, chairs, and skateboards.

Do you still press boards?
Not really. Now I just ride them. But I still work with wood and have all of my old presses. Lately I've been into carving driftwood that I find on the beach at the bottom of the hill I live on.
What do you do with your creations?
Give them away usually. Don't really like to keep a bunch of carvings. would rather see them go to a good friend.
Do you have any other creative outlets?
I like music, I like intriguing conversation. Woodworking and carving. Playing sports and not watching them. Being in the forest or by the beach puts me in a positive mindset. People watching, Cameras, Screen printing. I'd say skateboarding is the main way I stay creative, but the list goes on.
Always on a quest for knowledge.
Haha Aaron SkyLurker.
Yeah I'll lurk the Solars.
What is it about making things with your hands that you enjoy?
The unlimited creative process. Turning nothing into something. Wood's got personality man. working with your hands and mind is also really meditative.
Was anyone skating around you back then?
Not that many were into bombing hills when I first got into it. I used to cut class (shhh) to go hike hills above my neighbourhood. I soon found people to ride with in Redwood city (where I grew up) and the neighbouring town Menlo Park. Started going to Berkeley to skate as my confidence on board grew.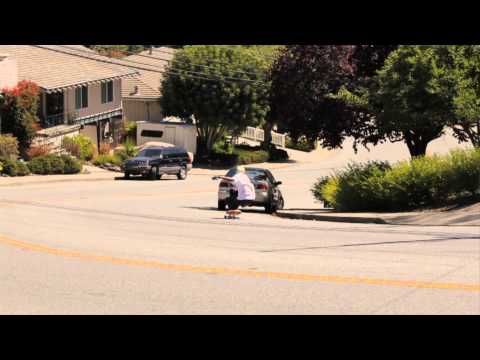 What kind of music do you enjoy?
I'm mainly a fan of the synthesizer. I like way more music than I dislike. Chillwave, hip-hop with good flow, a nice guitar riff. It's pretty much all good.
How does skateboarding allow you to express yourself?
The people I hang out with, the brands I represent, life on board I guess.
Who were you skating with in Berkeley back then?
Locals who grew up skating those hills. I'm not a name dropper.
What's the terrain like?
Berkley is really unique, steep, lots of corners, and easy access to the top. But there is much more here in the Bay Area than just that. It wasn't until after I started exploring in my own backyard that I realized that there is EPIC terrain all over the Bay area. Everything is so close here too. You don't have to drive more than 10 minutes to another sick run.

What's the community like there?
Small but growing. Cohesive. Driven.
There are pockets of shredders all over the Bay Area. And with this much rad stuff to skate, the scene is only gonna get bigger. I see it even in my immediate neighbourhood.
Why is it growing so much?
Guess there are a bunch of crazy kids out there who love bombing hills as much as I did when I was 15.
What's the most important lesson you learnt about bombing hills?
No pain, no gain. All things happen for a reason. You gotta pay to play and sometimes the price is high. Forcing something to happen usually doesn't work.

"If my roadrash were tatoos, I'd be in debt and covered in ink."
How much have you paid?
If my roadrash were tatoos, I'd be in debt and covered in ink.

All I know about the Bay area is E-40, is hyphy real?
Damn straight Hyphy is real. Some say the music was created to glorify, normalize and perpetuate the negative stereotypes of minorities in urban areas. Others just use the music as an excuse to get fuxed up.
"I hope people from all backgrounds see how much fun you can have on a skateboard. The pavement does not discriminate..."
Are there many people from minority backgrounds having fun on skateboards?
Yeah. I hope people from all backgrounds see how much fun you can have on a skateboard. The pavement does not discriminate, and you don't need cash to smash and go fast.
Do any kids from the urban areas skate?
Yes. Skateboarding has long been an outlet for inner city youth. This does not only pertain to the SF bay area, but everywhere where a skateboard is accessible, and is not limited to just street skating.
What does skateboarding offer to kids from rough backgrounds?
An opportunity to get rid of some negative energy. An activity to stay fit. A group of friends to belong to; if they are good enough, a chance to see the country or the world. I think skateboarding can teach a lot of valuable life lessons as well.

What's your favourite thing to do on your board?
Turn left, get sideways, and go really fast.
You're regular?
Nah goofy, but what is stance these days anyways. Learn it all.
When did you first find skate family?
I first met the Sunset Sliders and The Caliber crew at the first annual Menlo Park Slide Jam in Menlo Park, California in 2010. Joined the Caliber family shortly after that, and rolled with the Sliders after class (I was going to college in the city at the time).
Who organises the Slide Jam?
David Hiltbrand is his name. Along with a few other local brands. I think a lot of people would be amped to see another event like that in the area.

Are there any other events in the area?
Yeah, there are a few. I used to run weekly jams though a local skateshop. That kind of lost funding.
Many fellow Sliders put on mini event in San Francisco, and I know there are events in the north, east and south Bay Area throughout the year. Winter months are always slower.
Who are the Sunset Sliders?
The Sliders are a group of intellectual skateboarders that dabble in many activities besides bombing hills and shredding in San Francisco. The gangs cohesiveness is mostly brought about by the skateboarding industry. But without a doubt, the Sliders are the funkiest skate crew this side of the Milky way.
How are they different from any other group of gnarly skaters?
I don't know. I'd say we are the same as any other passionate skate crew.
Do you have a role in the family?
Resident pro skateboarder? I think everyone contributes their own style on and off the board respectively.
That's what makes us rad.
What's your off board contribution?
Cat sitter, trippy music player, wood worker, advocate, little brother, bread baker, chauffeur, idk.

Guitar or drums?
Yes, but drums. Got some sweet air drums for Christmas.
What does the clan get up to collectively?
Check out the Tumblr.
It's a pretty good representation of events we organize, and company projects some of us are working on.
http://sunsetsliders.tumblr.com/
Did life change after you met the Caliberians?
Yeah I'd say my life changed for the better after I met the Sliders and Caliber crew.

Was that the first time you got sponsored?
Local skateshop end of summer of 2009.

Was landing sponsorship important to you?
At the time I was really interested in Architecture and Design, so that's what occupied my mind. Bombing hills then wasn't anything special for me. Just something I liked to do. It felt good to ride for a local shop. I worked hard and ended up landing a job there a year later.
What is Caliber?
Caliber is first and foremost my extended skateboarding family. They also make high quality skate trucks.


How do the trucks work for the skating you like to do?
They are strong, turn predictably (of course tuning your setup is key to getting it to perform the way you want it to) and fit on all my skateboards.
What's your ideal setup?
Arbor Backlalsh, Caliber Precition 44 deg. (90a APS Riptide chubby boardside, blood orange 86a barrel roadside + dope amish washers.) Volante checkers, Blood Orange bearings and grip. Some goofy grip art for style and maybe a toe-stop… depends.
All local?
Caliber and Blood Orange are based out of the beautiful Santa Cruz California. Arbor is in San Diego/Venice beach. Riptide is Santa Barbara, Volante reppin the East coast out of Ithica NY, and Predator Helmets are out of Vancouver.
I'm proud to represent all the brands I do, and stoked that they represent scenes around the country.

You use one board to slay it all?
Yep. Usually. I do have a board set up better for skateparks, and a little mini-cruiser for liquor store runs.
Does using local products feel different?
I feel that riding for local brands is a good thing. It supports the community.
I don't necessarily think that they would physically feel any different if they were made somewhere else with the same materials.
When did you hook up with the rest of those brands?
Been with Arbor for a year, Volante for a year. I've been riding Blood Orange for about 2.5 years now, and Caliber for about 4 years. Who knows what the future has in store.


What is an Arbor Skateboard?
A medium on which I can approach the elusive transcendental experience, travel to cool places, meet new people and fall victim to the whim of Gravity.
What kind of skateboards do you enjoy riding?
I think different types of skateboards are better suited for different environments.
Mountains: Topmount (kicktails optional) 36-39in. Something stable.
City/Skatepark: topmount with at least 1 kicktail 26-36in. Something strong and nimble.
Everything else: depends on the terrain, but I can make it work with my Backlash.
What's the most important thing about skating?
Having as much fun as possible.

What's been your most fun year of skating?
This past year was top notch. Visited Hawaii, San Diego, New Mexico, Utah, Colorado, Oregon, Washington and Canada to name a few zones. It just keeps getting better and better.
If it wasn't for skateboarding I probably wouldn't have travelled at all.
Texas with Chubbs?
Yeah I've been to Texas with the Caliber Family.
When are you coming to Europe?
I'd love to come visit in 2014. Who knows. Europe, Asia, South America. I'll make it happen.

"I do what feels good on my skateboard. I guess that's style."
Gnomesteeze says you're the most stylish skater in the game. How do you keep it steezy?
First off, there are a lot of stylish rippers out there these days. I do what feels good on my skateboard. I guess that's style. Have more fun than everyone else.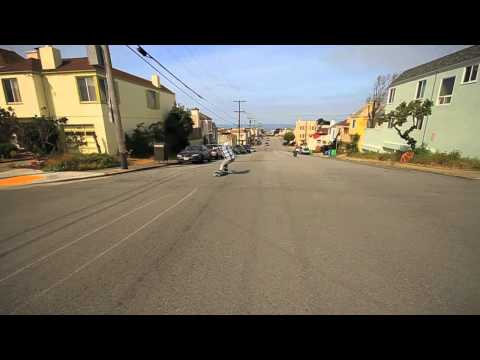 Are you actually from the block?
I did grow up in "little mexico", a suburb or Redwood City, CA.
What do you do when you're not skating?
Read, create, watch documentaries, bullshit with the Sliders, music discovery, wood-working, chasing women, think about skateboarding, frantic knowledge acquisition.

Pick 3 numbers between 1-17.
4, 2, 6
4 – Do you have any recurring dreams?
Life.
2 – What weapons would you choose in a zombie apocalypse?
A chainsaw. Something really durable.
6 – If you could have any super power what would it be?
What Super Hero has incredible balance? Yeah that super power. Balance.
You could be spider man, with your lady MaryJane by your side!
Haha. Yeah, one day.
Thanks for all your time bro. It's been a fun and enlightening experience. Stay steezey!
Thane Mag's the stuff! Thank you man, and keep up the downhill hype.
Any last words?
The famous ones.
Links.
Comments
comments