Brandon represents the south hard! We had a nice goofy conversation about skating, MLK and winning slide jams with handstand slides.
Hey Brandon, how are you?
Pretty dandy, actually. Yourself?
Great. How's your week going?
Nice so far. Juggling work, college, and skating. Living the dream.
What do you study?
I'm studying Communication Arts, but I'm working to be a Theatre Technician.
When did skating find you?
Skating actually found me fairly late compared to a lot of people. I've been on a board since 2010.

Adam Colton victim?
Not quite, but I did start getting into things when all of his videos were coming out. I had been interested in skating since I was little, but finally got into it when a friend of mine let me try out his longboard in high school. I was hooked.
Oh yeah happy MLK day!
Happy MLK day to you too.
What does MLK day mean to you?
MLK Day celebrates the life and contributions of Dr. Martin Luther King Jr. He was a civil rights activist who fought for African American rights and advocated a non-violent approach to getting rid of hate in the world. Sadly, he was a victim of the hate he sought to help destroy and was assassinated before his time. MLK Day is a time for people to remember him and to carry on his legacy of service.
What did you get up to in the early days?
I danced like there was no tomorrow.

You were doing the challenges?
I wasn't actually. At the time, those Loaded challenges seemed unreal. Shoot, I'm not even sure I could pull some of that stuff off now. Cross-stepping and moving around on my board just felt really good. I would go out after class, find a flat road somewhere, play some music and go at it for hours. My footwork was on point.
Do you still get jiggy with fancy footwork?
Yeah, every now and then when there isn't a hill around. It's nostalgic.
When did you start diversifying your portfolio?
I started branching out fairly soon after I got my first board back in 2010. It was a Comet Voodoo XL on 9 inch Gullwing Chargers and Sector 9 Slalom wheels. I realized that it was actually a decent setup for getting more into downhill and freeride. There aren't too many people who skate downhill where I'm from, so my information about other things you could do on a skateboard came primarily from the web. I learned about the concept of sliding on YouTube and decided to try it out. Ironically, I didn't have enough money for slide gloves, so I went straight into learning standups.

That's what all the cool kids do isn't it?
Pshh… duh.
Where are you from?
I am from Birmingham, Alabama in the good ol' U.S. of A.
Were you a keyboard warrior?
Yes. The internet was definitely my main resource for a while when I was starting out. Interaction with other human beings on skateboards came with time.
When did you find real people to ride with?
At a certain point, some of the other kids at my school started to get longboards. We would cruise around our high school campus impressing the girls and such. You know: the usual. We were hot stuff. Shortly after that, I hooked up with a couple of other guys from the Birmingham area.

Are there any Birmingham OGs?
Yeah man! Shoutout to Drean Whitner and Adam Westfall. There are some other guys who skated Birmingham, but these are the dudes who really showed me the ropes. They introduced me to more serious freeriding and downhill. They were kind enough to show me the local runs and invite me to sessions. We actually didn't skate together all too often in those days, but we got a lot done whenever we could meet up. Skating definitely got more serious when I met them. It's been cool to watch us each get better over the years. Drean is riding for Boz Boards and Adam is hooked up by Comet Skateboards.
What's the local terrain like?
Birmingham sits at the very edge of the Appalachian Mountains so there are a lot of elevation changes. There are a few DH spots here and there, but Birmingham shines when it comes to freeride spots. Lots of neighborhood hills. Plenty of fun turns to sesh.
Is there a community out there?
The skate community in Birmingham is small and inherently close-knit. Despite not having a skatepark, there's a good amount of street skaters around. Hardly anyone skates down hills there. It's great as far as keeping spots under wraps goes, but it gets kind of old skating alone. I'm hoping the downhill community there grows.

Have you done any stokevangelism?
Sadly, I haven't. I've been competing in a lot of events and such in the past few years, but I haven't yet gotten around to hosting any events of my own.
What was the first event you went to?
The first event I ever went to was Skateday Bloody Skateday III. It was a slide jam hosted by Mason McNay in Atlanta, Georgia in August, 2012. There was a great turnout of people from all over the southeast. I didn't know anyone at the time and was really nervous about it, but I placed 1st in the "first-timer's" division and tied for 1st overall with Matthew Price.

Who is Mason?
Mason is this cool dude from Atlanta who's been kicking butt and taking names for some years now. He has a slew of sponsors and shreds all types of terrain, but I think people know him best for his tech-sliding. He's got a style all his own and consistently works on it despite the fact that not too many people down South hardwheel. I first met him during SBS3 and he's been a friend ever since. We've been a lot of places in the relatively short time we've known each other. Chill guy.
What did you do to win that day?
Not entirely sure. As with any slide jam, you kinda just skate and hope people like it. I guess the people liked it.
Must have been a good feeling!
Dude, I was on Cloud 9. It was pretty surreal.
Are you a superstar?
I don't think so… I suppose I've become fairly well known in the South simply because I've traveled all over the place and have been on a few podiums. I've had the pleasure of meeting so many people in such a short time and I'm honored to be able to call them my friends. I'm not really looking for superstar status, but hey – if it happens, I won't have any problems with it.

How did you staying in college with all the fame in your back pocket?
Fame won't pay the bills, my man.
Tell that to Spongebob!
I'm banned for life from Bikini Bottom. Let's not talk about it. That was a different time.
How does one win a slide jam?
I think you win a slide jam by being well-rounded. I like it when I see someone skating with a balanced skill set. It's cool to see someone mob the hill and throw a huge standup during one run, but using the next run to show off some more technical moves. Doing techy stuff at high speeds is cool too. It's even better when that person is simply enjoying the fact that they get to come out and skate with a bunch of friends. Like I said, judging a slide jam in the absence of specific criteria can be pretty arbitrary. I would have mentioned "style" as a determining factor, but that's definitely a "to each his own" kind of thing.
What's technical in freeride?
I consider a trick technical when it's something other than a speed check or 180. I think 360's are pretty techy. I think a 720 into a 360 slide-shuv is really techy. That's just me.
Blunt 1080?
That's some next level stuff right there. I'll work on that.
What sort of style do you enjoy watching?
I like watching people skate anything in their path. I like a nice, clean, loose, flowy style that flawlessly shifts from hill to driveway to curb to ramp.
Any specific skaters?
My favourite skaters happen to be from my home town. Adam Westfall kills every obstacle on any board. Drean Whitner mobs hard and oozes style.
Do you have a finishing move?
It's a work in progress… as soon as I figure out how to slide while doing a handstand, it'll be ready.

What events did you hit after that first bloody skateday?
I've been all over the place since then:
-1st Place at the Race For Research Slide Jam hosted by the South Alabama Longboard Team in Mobile, Alabama (2012)
-1 of 5 on five-man shared podium at the Xmas Break Outlaw Slide Jam hosted by Auburn Downhill in Jacksonville, Alabama (2012)
-Placed on shared podium at the St. Pats Slide Jam hosted by Longboard Colombia in Colombia, South Carolina (2013)
-2nd Place at the Tri-Atha-Skate Slide Jam hosted by the South Alabama Longboard Team in Mobile, Alabama (2013)
-2nd Place at the Carnage on the Coast slide jam hosted by Michael Harrington in Pensacola, Florida (2013)
-Placed on shared podium at the General Lee Birthday Bash and Slide Jam hosted by Alex Dingman in Colombia, South Carolina (2013)
-1st Place in Slide Jam at Chattanooga's Weekend of Gnarnia hosted by Axel Marshall and Jason Desain in Chattanooga, Tennessee (2013)
Does the list impress ladies?
I would use it to impress the ladies, but that would probably make my girlfriend pretty upset.
Who is the king of kona?
You know dude, I'm not even sure who the King of Kona was. I do know that Ed Nieves from New York was crowned King of Crust. He kept it crusty all weekend for sure. Props.

Are you the King of anything?
I'm the KING OF EVERYTHING. Not all of my subjects are aware of yet.
What has been your favourite year of skating?
2013 was my favorite. As far as events go, I was able to go to all kinds in all sorts of places – most notably Carnage on the Coast 2013 and Central Mass 4. I'm really looking forward to what's in store for 2014.
What gave you the biggest smiles last year?
I had a grin on my face during the entire trip to Central Mass 4. The drive up was fun, the event was perfect, and the people I met were awesome. Doesn't get much better than that, man.
What were you ridind last year?
Last year I was on a Chop Suey by Jati Boards, Beefcake V3's by Buzzed Precision Trucks, Riptide Bushings, Zealous Bearings and a whole bunch of different wheels. I've recently switched over to the newly released Jati Karate Chop.
Are any of those your sponsors?
Yes sir. I'm proud to ride for Jati Boards and Buzzed Precision Trucks.
How do they work for the kind of skating you enjoy?
Amazingly. If I had to come up with a word to describe both Jati and Buzzed, it would be versatile. Aldrian Harjati – the owner, designer, builder, and everything else at Jati Boards – comes up with some really innovative shapes and concaves. The current lineup is amazing and there's a board for everyone and everything. I'm riding the Karate Chop right now. It's got plenty of room for everything from freeride to downhill, well-placed wheelbase options, and a big fat kicktail. You can take it anywhere.
The Beefcake V3's from Buzzed are equally well rounded. They're incredibly strong and look great. The bushing seat leaves room for a huge range of bushings to let you completely dial them in. I've been digging Riptide bushings in mine.
What's the spirit of the southern scene?
The spirit of the Southern scene is strong. Everybody knows everybody and we're all pretty decent. (In my humble opinion.) I'm constantly impressed with the level of community in the Southeast.

Where's the jewel of the south?
Head to Florida if you want to skate some gnarly 30 minute DH runs. Sarcasm. Anyway, I hear it's Asheville, NC. I havent been yet but we shall see. (Side note – don't underestimate the guys from Florida.)
Because they have pet gators?
Well yes, that of course. Also because most of the people I've skated with from down there are pretty darn good despite their lack of terrain.
What are you looking forward to this year?
I'm looking forward to skating as much as i possibly can in every place that I have the means to get to. I'm hoping to get to some more big name events and meet even more awesome skaters. Perhaps I'll have the opportunity to represent some additional brands. Who knows? I'm stoked and down for whatever.
What do you do when you're not skating?
Chilling in general. I like listening to music, watching TV shows for old people, working on Theatre stages, and tinkering with whatever I can get my hands on. I've been called a "jack-of-all-trades". A list of all the stuff I do would take way too long to type, haha. You'll just have to come hang out with me some time.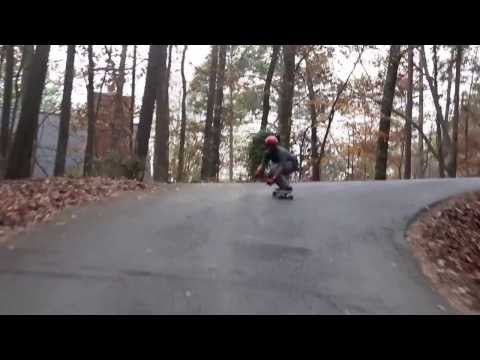 Deal! Pick 3 numbers.
12, 77, 58
12 – Who would you like to be reborn as?
Charlie Sheen. For sure. Dude knows how to party.
18 – Norman Plante asks – If you could choose one person to be your new dad, who would that person be?
I'd like to go on record as saying this is the weirdest question ever. But if I had to choose, it would probably be Lil' B. He's just so positive and uplifiting. I feel like he might be my dad anyway – we have the same name. That's enough justification, right?
58 – What's your favourite joke?
Extreme Ironing. Look it up.
Haha. It's been fun having this talk with you bro. Thanks for your time, stay toasty!
I had a blast, man. Thanks for the opportunity. Keep on keeping it real over at Thane!
Any last words?
Check me out on Facebook and Instagram (@thejigizup) to keep up with my shenanigans.
Live long and prosper.
Links.
Instagram: @thejigizup
Comments
comments