Nice and creamy conversation with DB's Garrett. He tells us about how he got into skating, his 2013 adventures and how to avoid the cops. #RatchetPatrol
Hey Garrett, how are you doing?
Life's good man, how's it going?
How was your weekend?
Well, I got a solid week of snowboarding in at breck and keystone and just got home to Boulder yesterday. I can't complain.
What do you enjoy about snowboarding?
I've been snowboarding with my family since I was 5, and love back country. There's nothing like taking powder runs with a bunch of your friends.
How does it compare to skating?
Nowhere near the same effect. I've kind've plateau'd in snowboarding and my knees don't love being strapped in. I don't get as crazy in the park or back country as I used to. I would say skating is 100x more exhilarating, there's nothing like dropping a mountain pass with five of your closest buddies by your side.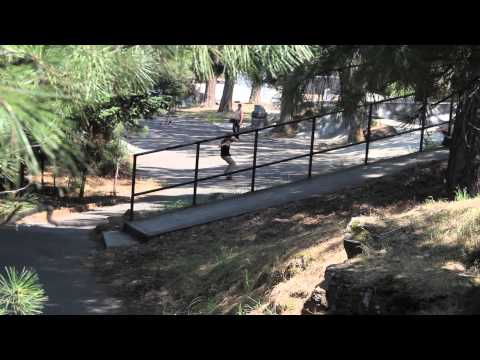 When did you start skating?
I got my uncle's 80s fiberflex bowl rider with gullwings hpg IVs and some G&S alum core wheels when I was five. I street skated until I was probably 16 and saw a guy carving down my road on a pintail. That summer, my dad got me a sector complete at a surf shop for my birthday. I cruised around for a little while and got tired of it. Max Wippermann happened to live around the corner at this time. We did everything from parkour to mountain biking and now longboarding. When he saw I got a longboard he got one of his own and got into downhill. I wasn't really into it, and stopped longboarding when he moved to Seattle. I ordered a real setup mid-summer 2010 and pioneered most of the runs in my area. A few months later, skaters started popping up and I had a crew to shred with.
Who is Max Wippermann?
Max is a dude from Seattle that now goes to school in upstate New York. We were good friends in Middle School and did everything together before he moved out West. He shreds harder than most people I know and killed it on both the North American and European IDF circuit this year. He's put me up the last two years I went out to the West Coast to race. Shout outs to the the Wippermann family for dealing with me/my unexpected arrival last year?

Photo: Jane or Don Creamer Late 90's?
Do you still skate street?
Not so much any more. Since moving to Colorado, the Venom crew has gotten me into shredding park. The prefab parks at home don't do much for me, but Colorado has a knack for laying concrete. I have access to some of the raddest parks in the U.S.
What area were you king of?
I live in South-Eastern Pennsylvania, in the suburbs of Philadelphia. The hills aren't fast or long, you just have to make do. There were definitely some dudes hitting hills around my area before me, namely Tutone Skateboards owner Anton Milioti, Mason Holden and Nick Harris. They were hitting more roads near the valley forge national park. I decided to explore all the roads nearer to  my house.


This is one of the roads, those dudes had been skating before I even picked up a longboard.
Photo: Brandon Ruffenach 2011
Who are the OG's of Pennsylvania/Philly skaters?
I would have to say Anton, Nick, and Mason. If we're talking Central PA, Dean Keller of Phat Deanz among other dudes who I didn't have the chance to meet. I got into the scene fairly late, so I never got to learn much about these dudes. Phat Dean would probably be the best to ask about PA OGs.
What got you back into skating?
I'm not really sure, I picked up my pintail a few years after getting it and just tried stuff in front of my house. I was just going for slides and dancing without any direction. I got pretty stoked on it and bought myself the right setup with some Freeride wheels and started hitting steeper hills. Of course I didn't buy this without asking Max Wipp, "what the best setup is for freeriding" haha. I got 98a bushings, flipped my paris' on my Rayne Vendetta and never looked back.
What's the most addictive thing about it?
I think the time when I was the most stoked about skating was a few months back. I was driving up to summit county to appear in court for a skating ticket on a Wednesday afternoon. Luckily I showed up and they were never served the ticket so I was dismissed. I was stoked and had a car and the rest of the day to skate. I drove an hour back towards Boulder and parked at the bottom of a mountain pass. I stood on the corner trying to hitch a ride for a half hour or so until a guy and his brother from India picked me up. We exchanged our stories in the 40 minute drive to the top. There was a gnarly tailwind, I threw on my helmet, spine protector and g-forms and dropped in. There's no feeling like hitting 50mph back-to-back hairpins on perfect pavement for 20 minutes. I documented my descent on instagram: @creamher #realtimeupdateswithcreamteam
Photo: Garrett Creamer 2013
Is skating illegal where you live?
Completely. We have to be pretty strategic in where and when we skate.
What's the worst thing "The Man" can do to a skater?
Well I guess the situation Zak Maytum is in right now. He's gotten so many tickets in Boulder that he's going to jail if he gets another. We tend to wander off the road into some woods if we see a cop or park ranger down the road. Luckily I've learned most of the hiking trails, and know roughly when to skate these roads.
Is there a way to avoid getting ticketed?
Run fast and then hide. Sure it's not the right thing to do, but civil disobedience. If I'm caught I'll suffer the consequences.
Would you skate if you knew it'd land you in jail?
Without question.
How long did it take you to get to your first race?
I thought I had my downhill game somewhat together a year after getting my first DH setup. It was July 2011 at the last TMMR, I set up my Evo with Randal DH's, Red Cannibals, and jumped in my motorcycle leathers. First heat I drop in with Johnny Copley, Matt K, and Will Bush. I was very intimidated, these dudes had custom leathers and were internet famous. I came into the first corner in last, hit a rock and washed out into a ton of rocks and bushes haha.
Photo: Blair Caldwell (that's me in the back blowing it, yes the sexy red and white motorcycle leathers.) 2011
Did you have fun at that event?
Yea it was awesome, looking back there were a ton of big names there. I got to skate a PA gem, and had my first encounter with Phat Dean while crashing at his house.
What else did you get up in '11?
I think I went to some other pretty lame race at a local ski resort, and just got into traveling around PA and skating. I was really just trying to work and save up for leathers and races the next summer.
What did you find on your travels around PA?
Western PA has more hills, but there really isn't anything over 50mph or a mile to skate.
Who were you on the road with?
Whoever wanted to come skate, I think for the most part it was Scott Hurdleston.
When'd you get your leathers?
I think I picked them up early June 2012 just before my first Windham and Maryhill trips.
How important was that step to you?
It's what allowed me to go to all the sanctioned races I wanted to check out. I spent all of my savings in one summer on leathers, and a few races. It was 100% worth it. There's nothing like skating and partying with all of your best friends in all parts of the country.
What do you like most about racing skateboards?
Being competitive is rad, but honestly I'm more keen on the hanging out with all of my friends idea of races. Being able to skate with friends from all over the country and world in one place is fucking awesome. Racing this year will be a lot better, I definitely have a better grasp on what I'm doing now. The first year was a joke, second year I was learning but still had no balls.

Photo: The Root Beer Studio 2013
Had you learnt all you needed for a good 2012?
Ha. No. Going to those few races in 2012 put things in perspective and showed me how terrible I actually was. Racing is a whole different ball game than just hitting hills with friends. It's fast, close, and unpredictable. I had no idea how to predrift or take a line, all I wanted to do was skate a hill longer than a mile and skate it with people who knew what they were doing.
Did you blow it majorly?
Windham I got like 6th in amateur and Maryhill I didn't qualify by a few seconds. BBDH I got into the round before quarters and got knocked out by K-Rimes and Kyle "Kanye" Wester so I wasn't too bummed haha. My first year I paid my way and all I was looking to do was have fun, not be competitive by any means.

Photo: Jilli Bethany 2012
Were you shopping for sponsors?
I wasn't sending mass emails, but I won't lie I was a huge kook. At this point getting sponsored didn't really happen because there was no exposure to companies on the east coast. My only hope was showing them videos.
I hit up Tutone to get on the team after riding multiple megalodons for around a year. Nothing ever happened with that. I began prototyping for Wild Monkey Racing and then I saw the DB Stalker drop. I fell in love with that board, I checked out the team and it seemed pretty small. I figured if I wanted to ride for a company, this was it. A smaller company on the rise would allow for me to be more involved. I hit up DB and they threw me a board. I was stoked. I wasn't expecting much, I just wanted to rep someone and get involved with the scene.
What gave you the biggest smiles that year?
My first run down Maryhill. Growing up on the east coast it was just a rumor, when I finally got the chance to drop in I was blown away. Meeting a bunch of new people is always rad.
What's so fun about Mary?
It's possible to drop in with like 40 people and stay alive in a pack.
Photo: Andy Russell 2013
How did you get ready for 2013?
Well I didn't really. I wanted to come out swinging and do well at the races I was attending to show my sponsors I was a worthy investment. This was until Colorado wanted to snow until May, and I had to head home to Pennsylvania until races begun. Winter allowed a minimal amount of skating in Colorado. Coming into this race season I was pretty unprepared, there aren't any hills within hours of my home to prepare for the easiest of race courses.  
Did you have a fun 2013?
2013 was what I would consider my first real season of racing. I had a small sense of what I was doing and I had a backing, I got picked up by Venom, DB Longboards, and Meta Longboards. Having the opportunity to ride for these guys was a dream come true in itself, so 2013 was already panning out to be a good year.

Photo: Tyler Gonzalez 2013
What did it take to get sponsored?
I emailed DB and showed them videos and standings as many kooks do today. The East Coast scene was so small that if I wanted to ride for someone this was my only way to make sure it happened. I wouldn't change a thing, I'm stoked where i'm at. I don't know exactly, but I think Venom had to do with Justin "Rolo" Rouleau being my best friend/what I was wearing at Barrett stoked out Dubler. Meta was somewhat of a joint venture with Rolo, we put the team together.

Photo: Justin Rouleau 2013
Why do you have 2 board sponsors?
Haha I don't. DB is a board company, Meta is a skateshop.

Photo: Justin Rouleau 2013
What setup did you kill it on?
I've been on a number of different setups, but I think the Lunchtray was money on Maryhill. Every other course, the Robot Special killed it. Dat asym concave is amazing.
Where did you race last year?
In 2013, I raced: Barrett Junction, Windham, Maryhill, Whistler, and Pikes Peak.  Barrett Junction I decided to have a little too much fun at the party and went one and done.
Windham I had it in my head I would go top five, especially after the first practice day. I had the road dialled, and I was taking runs with my good friend Aaron "A-$wag" Hampshire and Jonas Richter, who finished 1st/2nd. I dropped my first heat in third, passed into first after the first hairpin and came into the bottom lefty a few hundred feet in front. I figured "maybe I won't go one and done at every race this year, sick". I throw a toeside predrift and my back wheels feel a little icy, I hear Jenica's voice on the microphone "and there goes his wheel". As I watch, my back wheel bounce past me. I couldn't even be mad, I stripped the nut on my trucks changing wheels and when I couldn't get it off I trusted it to stay on. REPLACE YOUR NUTS. I laughed it off, grabbed a beer, and watched the rest of the race.
Photo: Jessica Basil 2013
Haha dude! What did that teach you?
Bring fresh nuts to races where you'll be changing wheels a lot.
Where did you go after?
Maryhill was next and this road I'm still figuring out. While it's easy to ride, it's damn hard to race. I qualified two spots away from not having to "race to qualify", and ruined my legs before the real race even started. Got fourth in my first heat and went one-and-done. meh. At least the party was rad. Whistler I went two and through, second heat I just got screwed on the push because this dude almost kicked my board and lost the pack before we even hit the first corner.
Pikes Peak I also went two-and-through. Jumped the line and while resetting he called go. My fault yet again. I can't complain though, the guys I lost to got 3rd and 8th and that hill and event was fucking rad.
TL;DR: I need to let my nuts hang in 2014.

Photo: Andrew Karnowka 2013
One and Done, Two and Through. Complete this sentence – Three and ____?
You're in quarters.
But it doesn't rhyme!
Haha I don't know.
What makes a good skate party?
Mids jail tats. M4L.
What is M4L?
Mids for Life. It's a bunch of the best people/skaters the east coast has to offer and my favourite people in the skate scene.
Photo: Mike Girard (We hit Okemo in the rain and fog the day after the Mt. Burke Freeride May 2013)
Do you have a party trick?
If filming counts or dancing, I dance a lot and I dance like a white girl.
What are your plans for this year?
Hopefully hit most of the races in North America.
What do you do when you're not skating?
I go to school full-time at the University of Colorado at Boulder. I work/deliver part-time at a sandwich place called Deli Zone. I try to get media for sponsors and have been promoting and helping Meta Longboards out with their website release.
Pick 3 numbers between 1-18.
666
6 – If you could have any superpower what would it be?
A body that wouldn't deteriorate with age.
6 – If your superpower could have a superpower, what would it be?
Teleportation.
666- What tattoo would you hate to wake up to?
"94 for life" – see my Barrett junction video.
Yeah Garrett! We did it. Thanks for your time, looking forward to working with you!
Word. Thanks for hitting me up!
Any last words?
#yolo #ratchetpatrol
M4L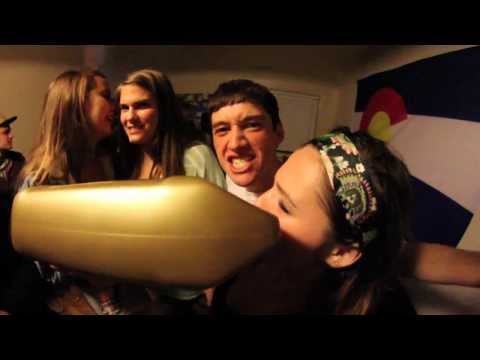 Definitely a big shout out to everyone at DB Longboards for getting me everywhere I go, those guys absolutely kill it. Also shout out to Zak at Venom for helping me with all my wheel/ bushing needs. Go checkout Meta's new online shop at www.metaskate.com.
Links.
www.venomskate.com
www.DBLongboards.com
www.metaskate.com
Old Hideous Youtube: http://www.youtube.com/user/GJCreamer543
Current Youtube Account: http://www.youtube.com/user/garrettcreamer
Comments
comments