As the man behind the Push Culture camera recording, then editing; you've enjoyed the fruits of Joe's hard work for many years. He's a really rad New Yorker with so much love for our community. Get some insight into the life of the 4th Davenport – Joe Goodman.

Hey Joe (in my Jimi Hendrix voice).
Ugh, of course you did that.
How was your weekend?
Excellent, took up painting this weekend.
Are you any good at it?
My first painting was pretty nice. My girlfriend was impressed at least! But I don't see myself having a gallery show for a few more weeks.
Where are you from?
Rochester, NY, Kodak country.
What was it like growing up there?
Cold more than anything! It's a medium size city where everyone lives in the suburbs for the most part. It's cold 8 months out of the year so there was a lot of winter sports we used to do that I miss living in New York City.  Also since the summer is so short we pack it full of fun activities which I loved.
When did you start skating
I started skating 5 years ago maybe. You would think I would be better at it but truth be told I'm not.
What got you into it?
I was working on a show for MTV in NYC and we had a production assistant on set who longboarded everywhere he went. It was snowy and awful outside and he could run an errand on that board through slush and snow faster than the guys in the minivan. So one of the caterers and I started talking to him about it and he was more than happy to speak to us about it. He was an ambassador of stoke and you could not help but get into it.  I tried it out around the set and found it much easier than the skateboards I tried as a kid. I met up with him one day at Thompkins square park and tried it out for real.
I made it a few blocks and in the interest of not dying on the streets of NYC, I decided that was enough. But my mentor would not let me quit! He told me to get back on and take a comfortable stance. I did, and he grabbed me by the belt and started pushing me through the streets!I was loving it until I got to my first "hard left and I lost the board and sent it shooting out into an intersection.  Once we recovered it he pushed me to the top of the Williamsburg Bridge and let me go down. That was the scariest moment ever but after I made it all the way down safe I knew I was hooked.

Does your mentor still skate?
Oh yeah he is a famous border here in the city, by the name of Theseus Williams, 2008 Broadway Bomb champion and star of my documentary on the race.
When did you get your own ride?
Approximately 6 months later, Theseus was tight with the Bustin crew (much smaller crew at the time) and they let me borrow a demo version of the Complex for a while. After he had to return that I bought my own.
How did skating change your life?
In a different way from most people you interview I would say. I was working as a Production Manager in TV not knowing what I really wanted to do in my field but knowing for sure that what I was doing was not it. Then I met Theseus and his friends, he told me about the Broadway Bomb and then I heard the amazing story of how he came out of nowhere to win the Broadway Bomb in 2008. I was fascinated! For the first time in my career I had found a story I wanted to tell. So that's what I did.

What did that inspire you to do?
I found as many people as I could who would help me and who had gear and I started shooting a documentary on Theseus and the race. Once I started shooting though the scope of the project grew beyond just Theseus and I started interviewing everyone involved so I could to get a fuller picture of the race and the scene around it. I had 13 borrowed cameras and volunteer shooters on the race in 2009.
Once I shot it all, I begged a friend to cut it for me since I wasn't an editor. Two months later I came to see him for the 2nd or 3rd time and you could tell everything he had done (which was not much) he had thrown together an hour before I showed up. I decided screw this, took my media and decided to learn to edit myself so I wouldn't have to wait for anyone else.
The next year at the Broadway Bomb after party we had a big screening at Bustin Brooklyn for my short film.
"I don't know where I would be if I had never found skateboarding but I know it would not be where I am and I would not be happy."
How was the film received?
The whole backyard was packed it was amazing! The crowd loved it and I loved it and after that I realized why people work in this business. My whole career had been doing bit parts on other people's productions. After I found skateboarding I had the confidence and I was starting to grow the skills to do it myself. I don't know where I would be if I had never found skateboarding but I know it would not be where I am and I would not be happy.
Is working in skateboarding different from the real world?
Ha, yes in that one of them pays the bills and one doesn't. I have done all my skateboard work over the years in my "free time".  Every night, weekend, moment of down time I would cut videos, shoot videos, plan trips or coordinate shoots. It was my passion creating this content which made it so much more exciting than my day job. I watched every skating video I could find and just binged on it.
Did you have a favourite video?
My favourite director/shooter was Brett Novak and the videos he did with Killian Martin were gorgeous! I am a big fan of Yvon Labarthe and the Three Heads crew as well. Those guys to me create some of the prettiest images in skateboarding. I also had some early interactions with Marc McCrudden who did a film called "Drop: My life Downhill" that was/is probably the highest budget longboard film to date.
What was it like riding the broadway bomb?
When I did it in 2009 was the most exhilarating experience of my life. I had spent a year talking to people about it and filming it so when I finally got to do it I was over the moon. I remember the crush of people at the start and the fear that pounds in your heart that one of these fools is going to carve and take you out. I remember somewhere near chambers st seeing people just get taken out in some construction zones and seeing another kid arrested. When I made it to the end, Theseus was right there to give me a high 5 and a hug. I don't think my heart stopped pounding until hours later at the after party.

Was that the first time you met the community?
That first day skating with Theseus. He used to have a crew that met weekly at Thompkins to skate around and race the park etc.  The first time I really got into the greater scene would have been around the opening of the Bustin Brooklyn store. I was still new and totally unknown and not a great skater so I just ran around shooting the event and trying to take it all in. I remember seeing Jenica around and she was like this super cool skater chick who only the cool kids really knew. Which I find hilarious now that it is years later and we are such good friends.
Was that the first longboard shop in NY?
No that was Unkle Funky's. We did an interview with Jeff (Unkle Funky) for my 2nd Push Culture Video when his shop was still his apartment.
Was anyone else documenting those early NY moments?
The real early stuff yes but mostly in photos. I had a lot of help on the documentary from those people that had been there since the start. There was a guy named Matt Fuller who runs/ran the New York Longboard Archive who really helped set straight a lot of the dates that Ian (the bomb co-founder) had long forgotten. I also got word when I was doing the documentary that someone had tried it a couple of years before me and never used the footage. So I got in touch with Ben Jones who runs a production company out of Denver called Image Brew and after some convincing he sent me all his source tapes.

What projects did you get up to after that?
After I screened the documentary Michael Brooke from Concrete Wave reached out to me. We talked a bunch and bounced project ideas off of each other while I tried to shop the documentary to further my career. I had a few people try and take advantage of me but nothing serious presented itself. After a while Michael told me about the Davenport brothers who were trying to do something close to what I was doing. He said we should meet.
Who are the Davenports?
Twin brothers Brian and Travis Davenport are the soul behind Push Culture, Jenica Davenport the heart. I am the unofficial fourth Davenport; I handle everything else haha.
How did that meeting go?
That meeting was hilarious and happened under varying circumstances depending on Brian or I telling it. I met Brian at his place in the East Village and he was very wary of me. He sat me down and we exchanged a little small talk, then he laid down his rap. 'Here is what we are doing, here is what I want" it was very much like an audition or interview. I listened to him and said "This is where I feel our purposes overlap, here is what I am interested in doing and what I can bring to the table." After that meeting we decided to try it out and made plans to make our first video together.
How did that video go?
I still think it is great and very helpful video. It's the Push Culture News Weather Report. We started shooting it and I thought "Boom this is going to be a great partnership." Brian knew that day what he wanted to talk about, he and I mapped out how to do this on camera and we knocked it out. He was a natural at taking direction and being on camera.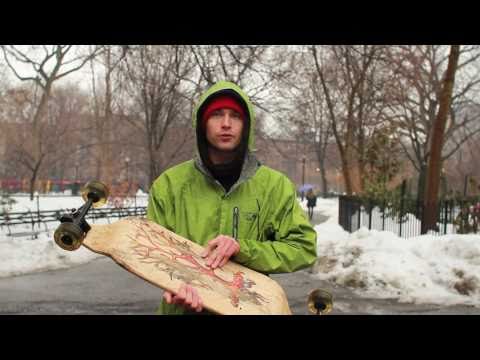 What was Push Culture?
When I met Brian it was a very small YouTube channel they ran where they basically read Skateboarders Journal into their computers. They had a few event coverage videos as well that were confusing messes. I watched it and instantly saw where I could jump in and improve the quality.
Where did you fit into the family?
Well Brian and Travis had an idea to make an apparel company, but first they wanted to do the news to give something to the community before trying to take anything out of it. They however didn't have the skills to do it. I had been working in TV and film for 7-8 years and was very disciplined in what it takes to make good content (though I was teaching myself shooting, audio and editing as I went). Brian knew he wanted to deliver news like the Daily show and cover events. I created the formats that became our template for event coverage and the news desk segments. I would shoot it all at first and then cut it as fast as possible to get it up on the site.
So how it ended up shaking out is that Travis and Jenica dealt mainly with the apparel, Brian and I did the News. Brian would host and interview; we would conceptualize it, I would shoot it and cut it. We are all involved with each other's areas and truly collaborate to make the best product.
Sounds like the perfect family!
I love them like family. Which means sometimes I want to kill them haha.

How was your first year working with PC?
Confusing. Everything was new and everyone involved outside of NYC was very stand off-ish at first. People didn't understand Push Culture, the term or what exactly we wanted to do with it. They didn't want to be interviewed, they didn't want us around. In particular the downhill people from the west coast didn't trust us at first.
What did it take to win that trust?
Time and a lot of content. Once people had time to see what we were doing, watch the videos and to meet us; the doors opened and we were welcome. Once you cross that threshold, you are family and it's amazing. I have met some incredible people travelling around doing this stuff and I know I have a couch to sleep on any time.
What events did you hit?
The first major event we ever did was Maryhill, that was one of the most stressful things I have ever done. I barely knew what was going on and here I am in a motel in Goldendale, WA sharing a communal room with some rather drunk Swiss people while I try and edit videos. We had decided to do a video report every day of the 5 days of activity at the Festival of Speed. We ended up with seven. I spent about 16-18 hours a day shooting and editing as a one man band that year. I remember setting alarms for 3 am to wake up and upload the freshly outputted video so that Marcus had it at 6am to post on the IGSA website. When I watch the videos from that year they are rife with mistakes made solely because I was exhausted and no one was around to double check me before upload.  I think there is literally 30 seconds of black on the front end of one of them haha.
(Video playlist Maryhill 2011:  http://www.youtube.com/playlist?list=PL828F09893ABEE0A2)
My biggest disappointment was figuring out who my room mates were a month after Maryhill! I was staying with Yvon, Rebecca Gemperle, Ramon Konigshausen and Stefan Rufli. I became obsessed with Yvon's videos and wished I had picked his brain more when I had the chance.
Did you have fun there?
In that it was my first major downhill event and I was making cool videos yes. But honestly it was really rough and I was stuck alone editing during all the fun times and shooting in the dusty hot sun the rest of the time. So it was rough.
What was the biggest lesson from Mary?
Know your limits and what is attainable with the crew and resources you have! Though I don't know how well that lesson stuck since we came back the next year and did about 27 videos.
What was next after Maryhill?
I think the next big thing we did was the Adrenalina skateboard marathon on Governor's Island in NYC. We did a live broadcast for about 5 or so hours.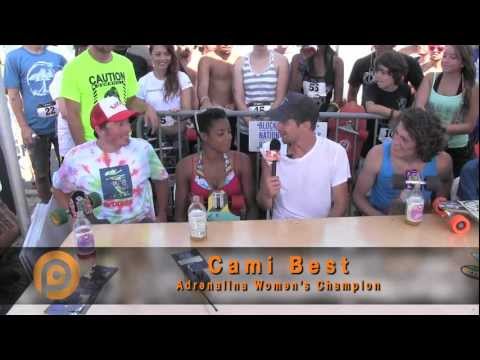 Did people think PC was all about things like Adrenalina?
They heard push and saw the NYC scene we came from and assumed all we did was push around and maybe do a manual every once in a while. That was always the thing that first year, convincing downhill people that "push" was applicable to them whether they were into downhill or distance skating.
Aside from covering events, what else were you trying to do with PC?
We wanted to provide news and information because we knew we could not make it to very many events. We were financing the project ourselves and did not have the money to travel much. So the idea was to tell the audience all about the stuff we could not attend from the news desk. For me though it was about the stories. I wanted to tell the story of these people, why they did it and what it meant to them; the themes I started exploring in the documentary.
What are your favourite kind of stories?
That is hard. I think what I was always fascinated with were who these skaters were outside of skating as much as who they were on their board. In the film Drop: My Life Downhill Marc (the director) went into the story of Scoot Smith spackling walls to earn enough money to go to Maryhill and compete or how the others almost uniformly struggled at unglamourous jobs to have enough money to be a competitor once a year; to touch some kind of glory. I thought the best part of the film were those glimpses of their life and passion and in my opinion that got buried at the end of the film.
Another film Highway Gospel really approached these skaters in a way that fascinated me.  However I wish that film was all about Bricin and Jody and not the Slalom guy.

Who are Bricin and Jody?
Bricin… Bricin is the godfather of awesome and Jody is a genius who doesn't give a fuck. Bricin of course is the originator of Coast longboarding and really one of the main driving forces behind the creation of the current BC scene. Jody invented the Landyahtz evo design in his garage with a home made C&C.
Was it important to represent NY first and foremost through PC?
Of course. NYC is our home and where I learned to skate, so it is a very import place for us. However there is not much downhill going on in the city, every big hill is an hour drive away so as we started getting more into downhill coverage we moved farther away from NYC coverage.
Who are the people contributing to news desks?
These days they are many and diverse.  It took some time to get people to understand what we wanted from them. Thankfully we had arguably the best downhiller in the world on our side in Patrick Switzer. Pat was an early adopter of PC love and stoke and he has helped us and mentored us throughout. Now we have people sending in content from all over the world and it really makes the segments. I love how people have responded to the opportunity to get the word out about how awesome this sport is!
"On average it takes 4 or 5 days of work to produce and finish (a newsdesk) without counting all of the pre-pro Brian puts in to get the gear and information for the stories."
Have you ever skipped a month doing the news desk since the first?
Oh yeah. As our fans can attest to we most certainly have missed months. During the busy parts of the season it is often because we have done so many videos and events in a month we just don't have time. Then sometimes real life gets involved and we don't have the time to shoot and edit. Coordinating my work schedule and Brian's to shoot and edit the news desk is hard. On average it takes 4 or 5 days of work to produce and finish without counting all of the pre-pro Brian puts in to get the gear and information for the stories.
Was there a certain video that solidified PC's rep?
Good question that I suppose we would have to ask someone on the outside to really know. In my opinion it was doing Maryhill that got us out there and noticed. That was when our views first started to spike.
Will you ever be able to work on PC full time?
Dreams can come true.  In the mean time I have to keep hustling.

Is it a realistic dream to have?
Ha, is realism important in a dream? We work hard but the industry hasn't grown enough to support an ancillary entity such as a news organization yet. Hopefully as PC Apparel grows there will be some money to support the news.
What kind of perspective does your job give you into the scene?
The advantage of working with PC has been that I spend my time around the movers and shakers in the industry and best skaters around.  I know what Seismic or Sector etc. is going to do over the next year or two because we meet with them to make sure we are in a position to help the industry get the word out as innovations reach market. I knew James Kelly was going on the first Greener Pastures before Yvon did!
Have you gotten to meet your idol again?
Ha! Sadly, no. I ask Yvon if he is coming to any of the same events every year and he has been too busy doing new and amazing things to make it back since 2011. I email him from time to time to ask a question or just tell him that I loved his work.
Who is your favourite skater?
Hmmm, this could get me in trouble. We are the news, we are meant to be impartial!
Disclaimer out of the way;
Racing:  Patrick Switzer – The way he analyses a course and trains and prepares is amazing. He is always pushing the sport of skateboard racing to be better and better from the gear to keeping the track clean in the corners; Patrick cares. I think it is all the Maple syrup he drinks.
Freeride:  James Kelly – The dude is just steezy and is unreally comfortable at the highest speeds imaginable. Louis Pilloni is a close 2nd.
Push: Theseus Williams! He may not be an active racer but the man is stoke personified.

What's been your favourite season behind the lens?
2012. We did so much and it was so new and exciting I couldn't believe it but at the same time I had a few events under my belt and knew what I needed to make a good video so I could streamline my work flow and take some pressure off. Also, by this point I had trained the boys to take some of the work load off of me allowing me more time to be creative.
What brought the biggest smile last year?
Whistler was probably my favourite event every year, because it is the only one to happen within a short walk of civilization, and that year I got to shoot something different. During the downtime in the first few days before we did the webcast, I took Jenica out around Whistler and we did a sort of "Hey come to Whistler next year because look at all this other awesome stuff you can do while you are here" video. We went ziplining, ATV'ing, drinking of course; it was awesome.  I've always tried to use PC to train myself to do new content in my professional life and this was definitely new. That video should be out before the start of the 2014 season.
What do you shoot with?
Well it has changed over the years but I first bought a Canon XA-10 to shoot everything on which we still use for the News Desk. Then I bought a Canon T3i to get a crisper look and then a Sony EX1 replaced the XA-10 for me in the field. I edit on Premier Pro.

You guys had a great relationship with the IGSA, will we see a PC section on the IDF site?
We are always looking for new opportunities to grow our brand and the sport as a whole.
How did 2013 go?
It was a difficult year but the hard work paid off. I spent almost the entire year working on Push Culture stuff and we had one of our most quality seasons to date. I had to step back from my role a bit in fall as I took on the task of directing my first cable show for TLC network. But that is coming to an end and I look forward to getting back into some Push Culture stuff in the New Year.
Congratulations! What can we look forward to next year?
I don't know for sure but I am going to assume more travel, more videos and hopefully some more network shows directed by me.
PC, Europe – when is it gonna happen?
When you get me a work visa! My dream has been to cover the euro tour since we started this! I love Europe and want a subsidised trip full of locals to show me around.
Do you get any time to skate with all this on your plate?
That has oddly enough always been the sacrifice.  I spend so much time shooting and editing I don't have a ton of time to skate! I go to all these amazing race courses and hang with all the best skaters but I have never had the time or opportunity to develop my own skating to the point where I can skate down Whistler or Giant's head. It also didn't help that I started going fast at 28-29. By that age you know how much that broken limb costs and that mom and dad ain't paying for it with their insurance.

How can people help with the PC project?
Since the early days we have always asked for help from skaters at every event we attend. We would have never got the complete finals course coverage we have with out people being willing to hike up the hill and help us shoot. We are always looking for people to contribute and help us tell the stories going on around the world with respect to longboarding. It's a big world with tons of great hills that we can't cover alone!
"We do this because we love it… people think we have a bunch of support/money/backers/employees that help us do this but the truth is… there are four of us. We do it all for free (truth be told we lose money most of the time) because we love the sport and the people that make it up."
What is the core of the PC brand?
Stoke and love. We do this because we love it. I feel like people for some reason think we have a bunch of support/money/backers/employees that help us do this but the truth is we don't. There are four of us. We do it all for free (truth be told we lose money most of the time) because we love the sport and the people that make it up. Every once in a while we get a hater but for the most part people see that and respond to it.
What do you want for Christmas?
An Arri Amira Camera, all the awesome lenses I could think of and a ton of other expensive toys! World peace would be cool too.
And some good bacon?
Applewood smoked thick cut.
Pick 3 numbers.
1, 8, 7
Why does everyone chose number 1?
Mostly to make my 187 reference work.
8 – what did Lincoln keep under his hat?
Snacks.  He had low blood sugar.
7 – why did the chicken cross the road?
'Cause Colonel Sanders was chasing him.
Thank you Joe for being such a good friend and co-conspirator over the years, glad to shed some light on your hard work. We will meet again!

Any last words?
Thank you skateboarding without you I might never have begun to realize my true potential. You have given me confidence and a place to try and fail and get up and keep going. You have given me some of my best friends in the world and you have done it all without me even needing to be on the board half the time.
But lord knows when I do get on it, everything else melts away.
Links.
pushculturenews.com
Comments
comments