Spencer tells us about the scene in Seattle, killing it in the IGSA junior class, recent adventures, his pro model on DB Longboards and the jar of peanut butter under Lincoln's hat.
Hi Spencer, how are you?
Hi Gbemi, I'm doing well; stoked that the sun has finally peeked out today. It's been raining the past couple days.
What did you get up to last weekend?
Last weekend, well week I should say I was down in San Diego riding the Rad Train with Jimmy Riha. We skated a bunch and ended up making a trip up to Santa Barbara to meet up with the Sunset Sliders and PDX Downhill buses for their Double Dutch bus tour.
Did you document your adventures?
Sadly no, well technically speaking I did instagram a decent amount. I love instagram @speedscientist. But I didn't do any formal video work. Just having too much fun skating and enjoying everyone's company in the sun.
Is there a story behind that name?
I've always been somewhat of a gear nut when it comes to skating. I love setting up boards and dialing them in. I usually think pretty hard about what's going on with my skateboard and with my skating. Thus some people have given me the name scientist, so combining that with my joy of going fast, it was a logical insta handle.
What was the highlight of the trip?
The highlight was probably a run we skated in Santa Barbara. I probably shouldn't name drop so I won't, but it was in the recent James Kelly Unbound video and has been in a couple other videos filmed in the area. Needless to say, awesome flowy corners good pavement, smooth slides, and little traffic.
What kind of runs give you the biggest smiles?
Ones that I can just smash down. Downhill runs that can have standups added and tight corners you need to either surf or slow down for. I'm more techy when it comes to downhill and with my slalom background – I love corners.
How did you get into skating?
First, my Aunt from Hawaii sent me a Carveboard (flexy dropped longboard with reverse coned wheels and seismic like spring trucks, that's marketed as a surfing/snowboard cross trainer), and I rode that for a little while. Then I picked up a Concrete Wave one night at the bookstore with my dad and things really picked up there. I found out there was a race going on at Maryhill so I went and watched that (The 06' Maryhill race presented by Timeship). That race really sparked my interest and from there I bought a board from Roe Racing, not knowing that they were made in Seattle. Gareth, the owner and builder, dropped the board off at my house and offered that if I wanted to come skate with the Seattle slalom crew I could. I took him up on the offer weeks later and fell in love with skating.
That original seattle slalom crew taught me so much and I raced slalom only in 2007. In 2008 I decided I needed to dry downhill, so I started practising. Soon after, I went to my first race, Danger Bay 7. The feelings I got racing there, and the people I met, really made up my mind that I wanted to just do downhill. And as cliche as it is the rest is "downhill from there!"
What do you remember most vividly about that Maryhill race?
The speed at which everyone was navigating that last turn blew me away. Meeting Danny Connor and Jeff Budro was pretty sick too, they signed my shirt. At the time I was a huge Sector fan (still kinda am), so that was a big deal to meet their riders.
How old were you at the time?
Let's see it was 2006, its 2013 I'm 19, thus I was 12.
What was it like to have the OG's take you under their wing?
It was pretty amazing. Something I definitely didn't understand the significance of at the time. Brad, Corey, Dan, and Danno (seattle slalom crew), were all accepting and pushed me at the right times. They also had no problem sharing equipment and helping me tune my gear, which is something that is so crucial to slalom.
What's your favourite slalom setup?
Sk8kings Axe 3, GOG front +10 degrees, radikal rear (about -20 to make up for the kicktail and give it a little de-wedge), seismic avilas white (I think these were 77a). This was Brad Jackman's GS setup that I borrowed frequently.
Did your parents support your skating?
Yes, they really do. My dad watches me at races, takes photos, and helps me make stuff in the shop in our basement. Whether that be modifying boards, making trucks, grooving wheels, even looking at my tuck to help make me more aero, he's always there. My mom is always behind me with good advice and makes sure I'm fuelled up and have everything I need to compete.
What's your favourite fuel?
Pre: Smoothie, with lots of fruits and veggies and yogurt
During: Big Sandwich
Post: SUSHI
No bacon?
Ahh of course bacon, its good in sandwiches and I've even had it on sushi. I will say Canadian style maple bacon has to be the best though.


Is your dad an old school skater?
Nope, but he does have a racing background. He worked on hydroplanes from the end of high school and then through college. He was on the Miss Bardahl crew, when they won numerous Gold Cups (the equivalent of hydroplane world cups). So he understands racing and the passion behind it.
Why should parents support their kids passion?
Ooh that's a tough one, especially when my passion sometimes makes my parents cringe, like when I get hurt. I think supporting a kids passion not only gets parents onto their kids side, but it also really shows they care. Most parents put their kids through school and cloth and feed them, but few parents help their kids with something they're passionate about. It's created a really strong bond between us. My dad has also said, "you can't change a passion, its just something you have." Thus it makes sense not to fight it, even if it's something you're not initially comfortable with.
What's up with the basement shop?
My dad grew up always having a shop in his house. And he now restores classic cars for a living, so the shop is pretty much his office. I've been brought up working down there, learning how to build things, and solving problems with my hands. From day one my dad always said "if you can think it, we can build it." So that's what I've done with a lot of skate gear, or things that don't work just right. I figure out what I want and with his help or on my own, build it or modify it so it works just right.
What's the most common skate modification you do?
Probably something with the concave or shape. I used to grind out bumps in boards a lot, or cut into the side what I would call the "claw." This was inspired by a Longboard Larry board and let you rest your back foot in a kind of hook for toeside predrifts. It let me get real comfortable putting the board sideways and always knowing where my foot was.
How did you do in your year of racing slalom?
First race I finished DFL (dead fucking last) and I got a trophy for that. Then I raced at Hood River and got 4th in the juniors Giant Slalom, then like 8th or something in the tight/hybrid. I did a couple other jams up in Canada and Oregon, but not where I placed with Junior categories.
Who else did you skate with in those early days?
The Seattle Slalom Crew of Brad Jackman, Corey Moy, Dan Kasmar, Michael Dong, Danno, Patrick, and Gareth Roe were the guys I initially rode with. For downhill it was the guys I met on northwestlongboarding.com (our seattle forum that no longer really functions), Shane Donough, Dennis Manougian, and Tad Drysdale. They taught me how to go fast, be safe, drift, and get really good at footbraking, slalom did that too.
Who are Shane, Dennis and Tad?
They are the OG's or the guys who started the Seattle area DH scene. Shane put together the Northwestlongboarding.com forum and organized tons of sessions. Dennis has been skating forever, he raced the first Danger Bays and knew people like Kevin Reimer way before they were good. Tad is a shredder and an old guy, can't say there are many other 50+ year olds that I've gone 70mph next to. He started in his 40's and is stoked as ever. Always down to pitch in and shuttle, and was really good about being safe and having fun.

How did slalom prepare you for bombing hills?
It taught me how to be really in control. When you are riding a board with a 20" wheelbase and super turny trucks, and you need to footbrake to stop or slow down, it forces you to really have it together. The turns that you make are on the edge of traction, and sometimes you're going 30mph or you're turning faster than you can process in your head. Any kind of slalom racing you can't really sit back so you have to be in control.
What typifies the Seattle community?
Oooh, that's a good one. Initially it was a group of really stoked skaters, who didn't have the best hills, the biggest scene, or the most local manufacturers that still shredded and skated hard. Now, with many of the older guys moving on or not skating quite as much, it's turned into a pretty grom heavy scene with lots of freeriders. And everyone skates in the rain, that's a pretty unique feature.
Who are the local manufacturers?
It used to be Insect Skateboards and Roe Racing, that was pretty much it. Dennis made a couple pretty cool sticks too. Now it's Omen and DB Longboards.
Do you see the Seattle flavour in locally developed boards?
Yes, all of the Seattle made boards stand up really well in the wet, since we ride in the rain often. Omen has a very freeride heavy lineup, which makes sense since there is a lot of freeride in Seattle. DB definitely has the quality and diversity of lineup as is present in a lot of the Seattle scene.
Who were the other groms you started with?
The shoreline longboarders, Erik, Dave, Trevor, Spencer Newman, Connor, Rain, and Jake. A little later on Max Wippermann came into the scene and I started meeting some of the other guys I skate with today like Bradley Cameron, Michael, Adam, Jackson, Lluc, Danny, and Liam.
Are there any events on the Seattle calendar?
I imagine there will be a boomtown slide jam at some point. Ross and Ethan usually put one of those on up here. There will be some winter path series races too, Bradley Cameron put those on last year and killed it. They are fun, well organized, and provide a safe environment to skate and learn racing.
Who are Ross and Ethan?
They are the guys that started Boom Town, they are from Eugene, Oregon and both rode for Motion Boardshop and lived up here for a little while. They still have some connections to parts of the Seattle scene.
Were you ready when you tackled your first Danger Bay?
I think so, I had leathers, I could footbrake to a stop, I wasn't super good at high-speed drifting, and I had skated with other people a little bit. I learned a ton that weekend though.

What was your favourite heat?
2nd Heat. Pushed off in 3rd, got a double draft around the first right sweeper without even knowing it. Passed around the bend, nailed carnage corner, then won the heat. That feeling was the most cloud nine I had ever felt at that point in my life, it hooked me into downhill like no other.
What was the biggest thing you learnt?
Probably to stay low when footbraking, since I ate shit on my first practice run, getting a twitch standing straight up into carnage corner. That was no fun.
Did you do any other races that year?
Yup, Vernon DH and the Maryhill Festival of Speed.
How did you do in those races?
Out 2nd round open in Vernon, won the junior class. Out third round in open at Maryhill, 3rd in junior 2.
Must have been fun to get your first win under your belt!
Yeah that was incredible. I didn't even expect for there to be a juniors class, until Mischo mentioned it when I showed up (this was back in the day when most races were just open and women's), so to be able to win it was just awesome.
How did the Junior 2 class help your development as a racer?
It gave me situations where I could push my skating and racing with people of similar weight so that we could all keep up. It was a good way to race and not feel the same pressure as opens or competing with the pros you looked up to. Also when I would race open and junior I would get twice as much skating down the hill. Booyah!

And that's what it's all about!
Aww yup!
Was it tough getting that Maryhill podium?
Yes, there were a few heats I really had to fight through passing and drafting as hard as I could. The final though was luck on my side. I was pretty light so the pack of bigger kids (18 year old Zak Maytum was one of them) left me in the dust. They went 5 by two wide into cowsers and 3 crashed. So when I came around that I had third place.
Were you getting approached by sponsors at the end of the 2008 season?
Actually before that, at the start of the season Dan Kasmar, who I knew from slalom and was working for Insect at the time, approached me about riding for Insect skateboards. I was beyond stoked and said yes.

What was your setup that year?
Initially, I didn't get a board from Insect for Danger Bay so I was on a Demonseed with bear grizzlies and bigzigs. From Vernon onward it was a drop-through Insect Firefly with 200mm Jimz's 48 by 32 and bigzigs.
Was landing sponsors important to you?
At the time, yes. Being sponsored was a dream of mine, although I had support from my parents to get to races so it wasn't completely necessary.
What did you get up to in 2009?
Started riding for Rayne after the Spring Maryhill freeride, went to vernon DH won the juniors again, went top 16 in open, went to the Gold Rush Challenge (Britannia Classic) got 7th in open. Then got hit by a car after Vernon and was out for the rest of the season.
What was it about Vernon that made you excel at it?
Big corner that you needed to grip where exit speed was key. I was light and I liked corners. People crashed in front or around me and I could ride through what was going on.
Were you the first grom to get that far at Brittania?
I think so, again there was some luck at play, people were crashing in front of me all day and I was riding through it.
Ouch. Sorry about the car. What did you break?
I only broke the top bone of my mouth, maxilla I think its called. But I bruised all my internal organs, got a 2nd degree concussion, knocked out my top front 4 teeth, and messed up my left knee. Cars are hard and they always win, lesson learned.
Did your approach to skating change after?
Yeah I was much safer, I looked at blind corners different, and I tried to push myself when it was safer. I also started driving during that summer since I had time to learn that. This changed my road relationship a lot since I understood how cars saw or didn't see me and navigated corners.
What's the biggest mistake skaters make while riding open roads?
Probably cutting blind corners, I used to and still see that a lot. That or skating way outside their limits on open roads, since that's when the biggest mistakes happen.  
What was your favourite year racing Junior?
2010, hit the best races, had good competition, did well myself, as did some of my good friends.
Where did 2010 take you?
Took my back to Britannia, then to Maryhill, Almabtrieb in Germany, and lastly the Graveyard Call in Argonay France.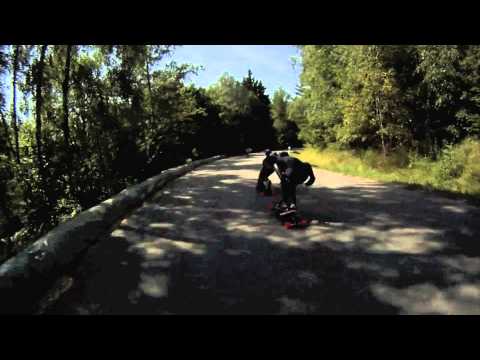 What did you expect from Europe?
Didn't really know what to expect actually. I had never been there before. I guess good food and unique roads with everyone being euro style and foot-braking.
Was it tough being so far away from home?
My parents travelled with me so it didn't really feel all that far away, it was foreign but not completely.
How did you do in the Euro races?
Almabtrieb 3rd in Juniors, 3 rounds in open.
Graveyard Call, won the Juniors, 3 rounds in open.
Was the racing different?
Not really, the tracks were better I thought. Racing was really clean too, no foul play or pushing or grabbing.
Did you get to do much freeriding between events?
I sadly didn't, that's what happens when you travel with your parents haha, we saw lots of sights and did touristy stuff between races.
What was the competition like that year?
Stiff, I did not expect the European Juniors to be so good! I was a little over confident going into it. Especially the juniors from Norway; Hakon and Audun, they were super quick. Really good skaters and really nice guys.
What were you riding that year?
I was riding a Rayne Killswitch that my dad and I foam cored in our shop with Aera Trucks 46 by 38, k3 hangars, venom bushings and reflex bigzigs or zigzags depending on the course.
What's been your favourite season yet?
That's tough, each has been so good in a unique way. I would have to say a toss-up between this past one and 2010. This past one was amazing, the travelling I got to do, the racing I had, and the friends I made were all stellar. Skating courses like Angie's was incredible too, that place is so good.
Which season have you achieved the most in?
That would have to be 2011, when I was the IGSA Junior 2 World Cup Series Champion, as well as the IGSA European Junior 2 Champion.
How hard was it to get the crown?
It was a big commitment. A lot of time and energy of that summer was dedicated to skating. I had support from my parents again so I was able to travel which helped a lot again.
Where would you be today if you hadn't won that series?
That win opened up a few doors in terms of sponsorship and recognition. But I think also I would have more fervor to "prove" myself in a way. Since going into that I knew it was something that I could do.
Do you think having only one junior category under the IDF benefits the groms?
Yes and no. Yes, because having a world cup series that included travel for Junior 1's seemed a little ridiculous when IGSA did it, considering how many junior 1's could actually travel. No, because the new age cut-off hurt the dreams of a lot of my friends who wanted to race their last Junior 2 season and the lowered IDF cut off made that impossible. Overall though I do think it's a good thing, it makes most logical sense to do it the way they do.
How has 2013 treated you?
2013 has treated me pretty darn well. I've been able to go to many awesome races, travel with amazing friends, skate new and exciting roads, nail corners I could never dial before, and to top it off release a pro-model board that I spent the year designing, testing, and fine tuning. 2013 has been a blast.
Did you get to travel to any new places?
Yes, I had never been Giant's Head as extensively as I had before, Angie's was a totally new experience, and I had travelled to Vernon many times before but never actually hit the wonderful hills in the surrounding area.
Who did you hit the road with?
Initially just Patrick Switzer, once in Vancouver though, the crew evolved and Roberto Cobain, Levi Green, Cam Brick, and Dexter Manning joined in. It was pretty crazy and fun cramming 6 dudes into Patrick's RV/Home. Towards the end of that trip, all of those guys went their separate ways, and Daniel Fissmer joined in for the ride back to Seattle. Then for the Angie's weekend I was in another RV with Alex Tongue, Patrick, Tamara, Jolanda Vogler, and Ciao Cesar from Brazil. Then for Maryhill I was with Alex again in his RV.
What do you enjoy most about RV life?
The ability to be mobile but crash anywhere you want. In the RV you can drive all night, park when you get tired, sleep, then get up the next morning and be ready to go right where you left off. There's a kitchen, toilet and even shower (when you are connected to water). It's the most convenient and comfortable way to travel, and if you split gas between people, it's not crazy expensive either. And being able to have smoothies all the time, I love to blend!
What's special about your board?
The asymmetry. Its not symmetrical side to side, since your feet aren't symmetrical either. Thus its made to fit your feet and really has the rider and their comfort in mind. Other companies have messed with the concept, but I have never seen it done in a way as versatile and functional as DB and I were able to.
"…it's so satisfying to have a board that has the features you want, in the size you like, just the way you like it coming together."
Must be fun to finally have a ride you don't have to work on in the basement.
Yeah that is really rad, it's so satisfying to have a board that has the features you want, in the size you like, just the way you like it coming together.
How did you get the opportunity to work on this?
Part of the incentive that I got to ride/work with DB was that I would get to design a board with them. They are also a local company for me, just a half hour south of my house. Thus it was possible to really work on a board side by side with them.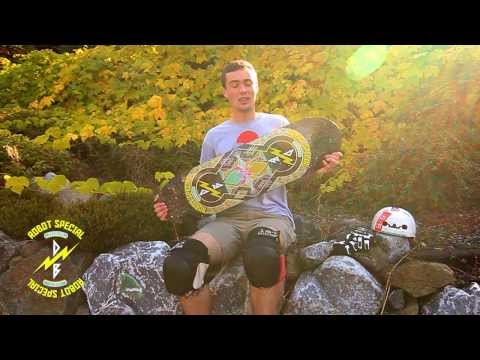 What features does your board have?
It has asymmetrical concave side to side, there is rocker, a slight drop, big wheel wells, flush-mounts, and slight W concave. The biggest feature though is that it is bi-directional, thus if you were to cut the board in half it would be the same end to end. This solves the problem that all previous asym boards had, which was you needed a goofy and a regular board for each riding stance. Now you can serve both needs with one board, just riding it one way or the other.
Does it ride differently to other similar asymmetrical top mounts?
I think so, none of the others out there have rocker to my knowledge, as well this one really facilitates freeriding and since it is bi-directional – switch is not a problem. Lastly it's not only your front foot that gets the benefit of the asym, your back does too.
What is DB?
DB Stands for Dash Boards, which is named after Dash Point State Park in Tacoma Washington. The guys who started the company started out riding skim boards then decided to make their own skim boards named after their favourite spot. As the skim industry grew so did they, then they began to build longboards.
In the past few years their skim market has held strong and they have dived deeper into the longboard industry. Now producing many boards like the popular Lunch Tray, Double-D, Duckrace, and my board. DB is a full on longboard manufacturer as well.
What is your role in the family?
I'm mainly a team rider. I worked very closely with Tim, the head of production and the CNC guru, on my board. So from time to time he will bounce board ideas off me for new ideas to add to the board lineup. I do some video and photo work as well, haven't taken pictures for ads and their piece in the Concrete Wave calendar.
Who else is on the team?
The Pro Team has myself Nick Divona, Bradley Cameron, and Garrett Creamer. Then there is the Ambassador Team with Brandon Montesano, Danny Smith, Michael Adams, Oliver Korman, and Peter Broberg. Last but not least there is the flow team with Michael Thorson, Adam Little, Camden Benesh, Emmett White, and Lluc Viladas. Pretty much everyone is or was at some point a northwest native, so it's a pretty tight-knit family. It's also a pretty young group, which can be awesome and difficult.
What else were you on this season?
This season I was riding Aera trucks 48 by 38, K4 Hangers, RAD Wheels. I also had support from Timeship Racing, Motion Boardshop, and Rage Shades.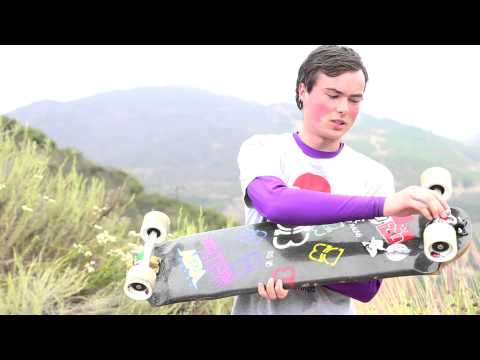 What do you shoot with?
I shoot with a Canon 60D, or a gopro hero 2. Hoping to upgrade to a Hero 3 though in the future. With the canon I use a Tamron lense for the up close stuff 20-70 I believe, then a Canon lens for 50-200.
What do you enjoy about working behind the lens?
I like being able to really focus in on the topic that I'm shooting. It's a really unique experience for me to set up a shot and then nail it. It's also super satisfying knowing how a camera works so that I can get the image on the screen to match what's in my head, I love that.
What are your plans for the future?
I'm working on possibly doing the Euro tour this coming year, but I'm not 100% on that yet. I'm planning on doing Britannia, Angie's, Whistler, and the other west coast races. I'm hoping to do a filming specific trip or just a more laid back skate trip that isn't centered around racing, that would be pretty cool. I'll continue going to university as well, and pursuing my studies until the summer.

What do you study?
I'm currently taking an intro course to Industrial design, but I'm still open to other majors. Just trying to find something that I really enjoy doing.
Do you have any New Years resolutions?
Umm, to be more on time and to not blow it as often. I do both of these things on occasion or sometimes more than I like to, haha.
What do you do when you're not skating?
Building things in the shop, listening to music, slacklining, working out, cooking, blending, designing things on the computer, instagramming, or hanging out with my friends and family.
Pick 3 numbers between 1-14.
Ok 6, 8, and 12.
6 – if you could have any super power what would it be?
Flight for sure, flying like a bird would be so rad. I could get to skate sessions so much quicker too.
8 – what did Lincoln keep under his hat?
Hoo that beats me, probably food I'd say a jar of peanut butter.
12 – Who would you like to be reborn as?
Again something that flies I think, a falcon or an eagle would be legit.

It's been so much fun getting to know you over this interview. Thank you for all your time. Maybe see you when you're over next summer?
Thanks Gbemi, awesome times talking with you too. Glad to help, this has been fun. It's really great to document all this stuff for once. For sure let me know what events you'll be at hopefully our paths will cross.
Any last words?
Yes, the biggest thanks to my parents who continue to support me and push me to do my best. And big ups to my Aunt Rosann who sent me my first board. Without these fine people I'm sure I would not be where  I am today.
Links.
@speedscientist (instagram)
http://www.flickr.com/photos/35951411@N04/ SB Smith Photography (flickr)
http://vimeo.com/user685925
Comments
comments