Adam Colton is a big rock in the foundation of stoke that all you love is built on. We got the opportunity to talk to him about the early days, long treks and his film-making role at Loaded. Hopefully you have as much fun as we did making this.

Hello Adam! Great to speak to you. Where are you from?
I am originally from this mystical island in the middle of the Indian Ocean Called 'Springfield Beach' Virginia. We are known for great crab fishing and mermaids at sunset. Right now I live in a 4 story cardboard box 2-ply in Santa Monica, CA.
Are you a merman?
No I am not tall enough, minimum height is 5' 10".
Did you start skating in Mermaid city?
Started street skating in Springfield Beach when I was in the 7th grade. Took up longboarding when I was in 12th grade. Throughout college I balanced my time between street skating and longboarding but ultimately went the longboarding route because I felt like I could have a positive impact.
What was it about longboarding that hooked you?
With street skating, I would do a lot more body abusive things with gaps and rails so it definitely took a harder toll on my body. Longboarding was a great way to flow around my college campus, not as rough on the body, plus there was so much uncharted territory to explore with longboarding compared to skating since it was so new.

Was there a community in your college?
Not really, I had one friend named Shayne and then slowly we got some of the local town folks to board as well. We mostly cruised around on these big home made dancing boards. I had a classic 2X6 piece of rooted wood I use to cruise around on named "Killer".
You made your first longboard?
My very first board was a sector 9 48" pintail, that was absolutely amazing. After I broke the board, my friend Matt Richard and I started to make boards in his garage during the summers I had off college. We made a huge 60" dancing board which Longboard Larry later adopted and modified  into the "Adam's Old Skool dancer".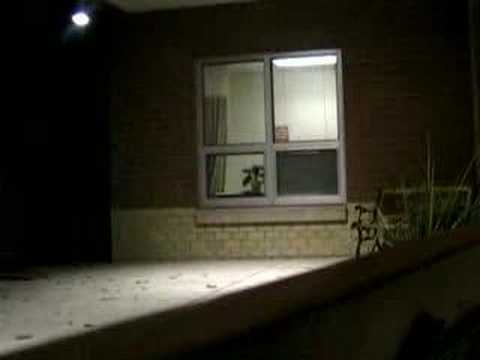 Dancing was your first love?
Yep, I caught hold of one of Chris Chaputs' cross-stepping videos online one day and learned that move and that is what led to myself and friends figuring out what other cool footwork combos we could come up with. Since I live in VA and went to college in NC there were not a lot of hills nearby, so naturally I became focused on a lot of flat land flow moves.
What other genres of skating tickle your fancy?
I remember when I first saw someone do the coleman slide, I was like ''that looks really cool, I want to learn that''. So I went out and learned the coleman slide and got into some other basic hands down sliding. This was way back in the day when this was all new so doing a basic coleman slide was pretty bad ass and up there in terms of difficult progressive moves.
What kind of stuff were people into back then?
There was some racing going on at this time so there was a small downhill stand up group, but actually luge racing was bigger and more popular then stand up downhill at the time.  Pre drifts were something not fully explored yet and footbraking was in full force.  Lots of people were also just doing the basic commuting on boards.

Footbrake for life; Circa 2003?
Yeah boy, you might have seen our Loaded Footbrake for life video.. all the way baby.  Footbraking is crucial.
It looked like you had fun making it. What was the message you wanted to pass across?
Doing a video of that kind with humour, dialogue, acting, it was a fun challenge for me.  Because we are doing purely skating videos all the time it is nice to mix it up now and then so we don't get burnt out.  The message of the video was not to take things so seriously, have fun, be silly.
"…people have got to realize that I have made tons and tons of strictly skateboarding videos; every now and then you've got to mix it up try something new, challenge yourself."
Is there an audience for film-making in longboarding?
Well, we did release the short film "Dead For the Last Time" and people that did not like it made it known, hahaha. A film-maker, videographer or editor may appreciate the video more, and if you are all about a strictly skateboarding video I can see how you would be disappointed.  People have got to realize that I have made tons and tons of strictly skateboarding videos. Every now and then you've got to mix it up try something new, challenge yourself. I had a blast making that video and I am proud of it, even though there is not a huge audience for it there it was good for me, good learning experience. Comes down to the simple fact that you can't please everyone.

What needs to change for people to appreciate a different sort of visual media in their skate diet?
 I don't think really anything needs to change. It is everyone being human, lots of people like to give their harsh blatant and drama provoking opinions on YouTube because it is easy – they are not doing it to anyone's face, haha. There is a different audience for everything. At Loaded, we like to challenge and push people so we will just keep doing that. Every now and then a curve ball will be thrown at our audience, we like it.

"At Loaded, we like to challenge and push people so we will keep doing that. Every now and then a curve ball will be thrown at our audience, we like it."
When did you start making films?
7th grade attack. Soon as I started skating, I borrowed my parents video camera and would tape myself and friends learning new tricks and being stupid.
In regular skateboarding there are lots of films, which bore fruit like ''Lords of Dogtown'', will we see this in Longboarding?
Perhaps. The Video DROP was a pretty high budget longboarding film that supposedly has been doing well. We might see a featured lognboarding film. I think right now the internet (YouTube, Vimeo) is so powerful, you can reach a large audience worldwide and not have to worry about the cost that comes with making a DVD and the marketing and sales.

Have you participated in any film-festivals?
We have submitted stuff here and there but this has all been out of the blue like – Adam, there is a film festival submit something, haha. For some reason it has not appealed to me to submit to a lot of film festivals. I guess at the moment I like to create and edit the videos and spread it on YouTube, I do not have much of a desire to submit it along with paper work to a film festival, but who knows what the future holds? I just might be lazy about film festivals, haha. But really I do not need any awards, spreading the video online and hearing good comments and thoughts is nice enough right now.
Would you be interested in a longboard film festival?
Hmm perhaps, I think we submitted something to a concrete wave video thing but I do not think that was a film festival.
Do you think a longboard film-festival would work?
Could work, all the companies are stepping it up when it comes to video. Perhaps give it a little more time and bam a ram.
Is a "bam-a-ram" American slang for jet fuel?
Its Colton Slang for "you're beautiful".
You're not too bad yourself Adamina.
Haha Adamina is the buffest, ugliest chick I know.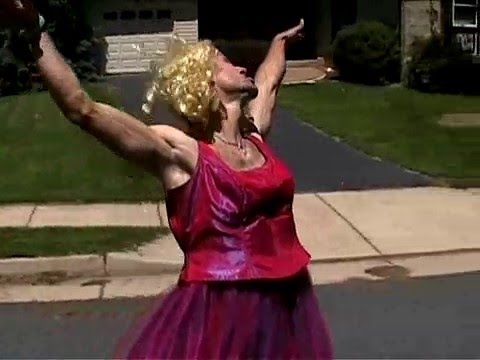 Will she make a small screen come back?
She might pop up at my friend Alan's wedding on June 28th. But she has retired from skating, she works for cover girl now.
Did you do a lot of commuting on your board?
Back in the day I did a bit more commuting, then I got a car in high school and was a stupid, reckless "I can drive & do funny pranks" teenager. In college, I skated everywhere, I was one of the only longboarders on campus buzzing by people cross-stepping with long hair, big sideburns and a smile that could burn a hole through your heart, haha. In CA, I commute a fair amount, mostly food and small adventures in the area.
Do you enjoy a good push through the city?
Where I live in West La/ Santa Monica it is not too bad, not too much traffic or anything. There is some nice sidewalk surfing spots, and it is fun to pass cars stuck in traffic at times. Plus, when you are on a board you can meet people compared to being stuck in a car.

Your longboard is your prefered mode of transport?
Short distances in LA of course.  To go to the mtns to climb and fly, cars are always better.
You can fly?
This year I took up 2 new hobbies: speed flying and paramotoring. Speedfly is a small, stable very manoeuvrable wing that you run off steep mtns with and fly down fast and close to the ground. Paramotoring is a giant fan connected to your back with a wing over your head where you become basically a cheap airplane ha!
Can you take passengers?
With paramotoring you can, though I would not take anyone yet because it would be a disaster and I would need a more powerful motor perhaps. Launching just with myself is super hard, can't imagine doing it with another person strapped to me.
Do you have any other wild hobbies?
I sniff glue, and wax my eyebrows.

Explains Adamina's wild look.
She sniffed way too much glue.
Do all these sports take up longboarding space in your heart?
Yeah, a bit. Bouldering and flying have kind of become the hobbies I daydream about now and the ones I pursue on the weekend. I have a joke that I am retired from longboarding haha.
In every joke there is an element of truth…
'Tis true. At the moment, I am not so keen on pushing my longboarding limits, practising and so forth. Who knows? I could get inspired again but at the moment I am having fun teaching friends how to board and do basic dancing manoeuvers.
Pushing your limits is what fuels your pursuits?
Yeah back in the day I had this urge and inspiration to try new things, to learn, challenge myself. Nowadays it is more about teaching friends and such, not so much about appearing in videos with new sweet moves.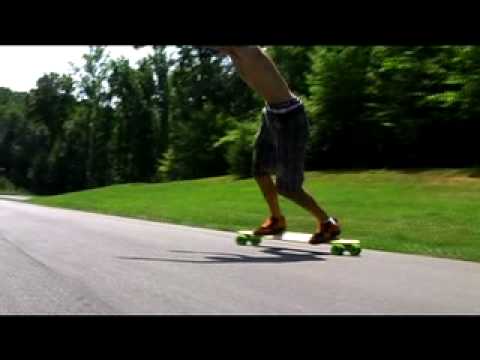 Have you stepped on your board today?
Nope.  But will tonight going out with my bud Sam to skate, he is learning and loving it.
"People have to understand – I have been skating for some 14 years… As in life you go through many changes, right now filming and editing skate videos and capturing this up and coming younger generation gets me more stoked than thinking about skating in a video."
Do you feel any sort of pressure or responsibility to appear in another video?
One thing I am good at is not being a people pleaser. Sure, I go out of my way at times to help peeps and friends, but if I am not feeling skating in a video I won't. People have to understand – I have been skating for some 14 years… As in life you go through many changes, right now filming and editing skate videos and capturing this up and coming younger generation gets me more stoked than thinking about skating in a video. I can be responsible for being a part of putting out sick media that can inspire.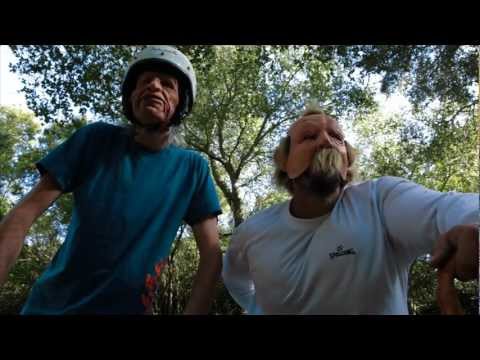 Did you ever train as a film-maker?
I went to college for film and video. Honestly I did not get too much out of it. Though it did give me the time to longboard and create videos which was key. Now, I have learned a great deal working with Loaded and slowly making more and more videos and using better and different equipment. We recently got involved with some camera companies such as cinevate, Small HD and they have been supplied amazing film tools for us to use in our videos and we are going to be continuing to work with them.
What's your weapon of choice?
Canon 7D with the Canon 28-300mm lens mounted on the Cinevate carbon rods with the Durus Follow Focus sitting on top of Manfrotto 506HD head with carbon fiber legs.
How have the collaborations with these companies reflected in the media you release?
Having the best equipment will not guarantee you a great video, it is how you use that equipment. Cinevate has given us a bunch of sliders which give us amazingly clean movement in our videos. We got a follow focus from them that has allowed us to roll focus with the skater making a cleaner and more focused image. Soon, they will be giving us portable lights that we can use to light up foreground objects to make the shots even more eye candy. They are also coming out with their own Jib which will replace the jib we have now. Using these tools effectively and creatively can make your media look very nice.

What's a Jib?
Jib or crane, whatever you want to call it.  You mount a long arm that holds a camera to a tripod and you can get some fun shots.
Does skating long distances appeal to you?
Skating across countries through mountains, desert.s.. That appeals to me, that is a mission a straight up mental mission. Pushing a day to a mtn to go rock climbing with friends, that does not appeal to me. That is just going to take up climbing time with my friends. I would rather ride in the car with everyone – tell jokes, smile, go climbing and go home together.
You've skated across countries?
USA 2005
France 2007
New Zealand 2008
Peru y Bolivia 2009
Morocco 2010
This year I decided to try something different, challenge myself in a new way and did a 1,165 mile Stand Up Paddle Board trip down the Murray River in Australia.

How did that experience compare to skating?
SUP was a refreshing experience and a good change up. There were no honking cars, smog, traffic, I was more submerged in nature which was nice. It is more of a full body workout, while skating really just gets your legs strong. I would say the SUP trip was not as hard as pushing over mountain passes in Peru y Bolivia. Though when there was a head wind and small waves it was very trying on the mind. Skating is more harsh on your body, your joints… SUP seemed really healthy for the body and refreshing.
Had anyone else done a cross country skate in 2005?
Not that I know of.
What possessed/inspired you to start this?
Jack Smith inspired me.  He had done a cross-country trek back in the 70's or 80's I believe. He did it with a team, each team member skating a leg of the journey kind of like a leap frog approach. I read about his journey in a skateboard magazine published by Michael Brooke.
Is the Stand Up Paddle Board the longest trip you've done?
No, it was 30 days on the river covering 1,165 miles.  The USA trip was the longest, over 2 months and covering some 3,000 miles.

Have you done any team skate treks?
All the skate treks I have done have been with a team. The SUP trip in Australia was my first solo trip and I now plan to do some more solo trips because I liked it so much. Perhaps I will do another solo SUP trip next year. Already going on a solo skate trip end of August, stoked.
Do you have a go-to skate trip team?
My first 3 trips were all with different random people, most of them I had never met before. Paul Kent and Aaron Enevoldsen were the first team mates that I have done 2 trips with. I think they would be my go-to team. We are a good combination of many different strengths and personalities. But honestly I think I can work with a variety of peeps on trips.
Who are Paul and Aaron and how did you meet them?
Paul Kent is an amazing athlete, he rides for Rayne, he is big into doing all the push races across the world and does quiet well, he loves self torture and likes the pain of pushing hard and fast, he craves it. He has a very outgoing personality and will chat your ear off, hahaha. Aaron Enevoldsen is Paul's friend, they lived in Calgary together back in the day. Aaron is an amazing musician, very clever and funny with his words, a true comedian at times and a ladies man, hahah.  He works for Rayne now in Vancouver doing international sales. I met both of them on okcupid.

What adventures have you guys done together?
Skated Peru y Bolivia, Morocco, and raising a family of 3 boys.
What was it like skating in Morocco?
It was a land of bumpy pavement, amazing avocado smoothies and overly friendly people.
What do you ride?
A Longboard Larry 2.0 Pusher, Pairs Trucks, Orangatang 83a Durians.
Are any of those your sponsors?
Yes, all of them are sponsors. Longboard Larry and I have been friends for awhile and even though I work with Loaded, we still maintain a good friendship, and he has good relations with Loaded as well.

How long after you started skating did you get sponsored?
I have been skating since 7th grade, got sponsored after college so about 9 years or so.
When did you hook up with Loaded?
I hooked up with them I would say 2006 I believe.
What's your role in the loaded family?
As of now I am focusing my efforts on filming and editing the videos. I do other things as well such as update our frontpage, and our newsletter. Though filming and editing is what I am most passionate about and we hope to expand our budget on this so we can go to more amazing locations all over the world. I am a bit burnt out of SoCal locations and scenery, haha.
Has your role evolved since 2006?
Totally, back in the day I was doing a lot of stuff. Product testing, developing, managing the team, filming and editing, photos, frontpage, blog updates, newsletter, organizing events, sponsorship requests….
Who does all that now?
This is broken up amongst a bunch of peeps that really go in depth with the roles. Darren is our team manager and does sponsorship. Mario does our webpage updates. More of our in-house skating crew and ambassadors do the product testing and Kyle takes control of the blog and helping organize events.
Can we expect any fun stuff from you guys in the near future?
Yes you can, fun product launches shall be happening end of this year and as well as some fun videos. Though I would say some very unique videos and locations will happen more next year.

Where would you like to be in 3 years?
At this exact moment I would like to be flying off of Kearsarge Pass outside of Independence, CA, hahaha. As for 3 years who knows. I have to keep progressing with my role at Loaded and life so I do not get burnt out and can constantly stay inspired and focused. Following your passions is something Loaded really encourages and it is a beautiful thing. As we know, passions change as life experiences present themselves and it is nice to be able to roll with it and be true to yourself. I am really called to physical activity and human travel. My mind and body crave it, it calls to me.
Going away to a far off land, no cell phone, computer, not keeping in touch with anyone, living out of a backpack, being entranced in a meditative state induced by constant long exercise spans gives me the balance in my life to be able to work in front of a computer for a good part of the year.
What do you do when you're not knee deep in skateboarding?
Climbing, flying, raquetball, swimming, slacklining, flirting, kissing, singing loudly, eating out, bowel movements.

Pick 3 numbers between 1 – 39.
2, 28, 34.
2 – Would you rather have a hook for a hand or a wheel for a foot?
Hook for a hand, I think that will be the least hindrance on what I do now.
28 – What superhero do you think would be best at skating?
I do not know many super heros.  Perhaps Fartinabagmon.
34 – lucacoleman asks: Whats the weirdest thing you ever put in your mouth?
Poop.
It's been really really fun talking to you Adamina, come play in London sometime, we has nice sushi.
Thanks for the opportunity, sorry this took so long to do attack. Been to London once, not bad attack. I do like sushi, so we shall see, there are so many other places I need to explore first, haha.
Any thank yous?
Peeps that know I love them.

Links
whoisadamcolton.com
loadedboards.com
longtreksonskatedecks.com
Photos: flickr.com/fartinabag
Comments
comments