Inside lines, Rayne office work and… bull penis? Aidan tells us all about his adventures last year and stuff coming this year including… DISTANCE RACING? OMGrom!
Hello again Aidan, how are you?
Hey Gbemi! I'm doing well. Enjoying a nice hot coffee, bumping some KE$HA and living the office life… How bout' yourself?
Great. Causing havok in the Rayne office?
Would you expect anything else? Haha office life is usually pretty mellow – I try to make it as interesting as possible in whatever way I can!
Do you have to wear a tie?|
Haha no, but Tivohn gets fancy for us sometimes. The dress code is pretty casual, we are all skaters.
What's your current rank?
Haha yep, last time we chatted I was on my way up from being the rayne grom, I'm still climbing the ladder – just in different areas. I've been building a flow team AKA the "flowgram"for rayne for just over a year now and thats going super well, we've managed to build a team of 20+ super skilled riders from all over the world! I guess if you had to label it you could call me the "assistant team manager" as well as Les's personal assistant. So I guess I'm still someone's bitch. I've also been producing a bunch of the recent videos on the Rayne channel. I'm hyped to continue to help out with the media and team stuff.

What is the flowgram?
The flowgram is one of the tiers of sponsorship at Rayne. If you are part of the flowgram, chances are you are a shredder who is involved in the progression of your local scene. You have the riding skills, communication skills, and are devoted to bettering your skating and helping develop a community. We use the flowgram to help guide these riders through the ranks of sponsorship. I'm always here to answer any questions they have or give feedback on videos etc.
What's the most common question groms ask?
Will you sponkor me?
How do you choose your subjects?
It varies from person to person really. It's hard to tell through e-mail who is going to be a rad guy, who stays in touch and takes his sponsorship seriously. Although riding skill is important, we are looking for style, love for the sport, communication skills, and a rad personality. If you are killing it – chances are I know about it.
You're like santa… you know who's been good?
Wear your helmets kids! I'm watching… Yo but seriously wear your F*cking helmets.

Are you having any luck with the beard?
Luck with the beard? As in growing one? HAHA yea right. I couldn't grow a beard to save my life. Got dat babyface steeze.
Where did your 2013 start off?
2013 was a CRAZY year for me! Tons of traveling to races and events with the homies. At the start of 2013 there were two tradeshows that I was fortunate to be invited to tag along. Agenda in Long beach California is the first stop – it's crazy! You meet so many people during the day at the booth, and then head out with the homies at night for rad times. Tyler Peterson, myself, Papa Les, and Tivohn held it down for agenda.
From there it was off to Surf expo in Orlando Florida. The Surf expo is like Agenda on steroids… The building is twice the size and there are triple the amount of people. Again its all about socializing during the day with other brands and the people involved with them, then crazy party times at night.
Is there anything to be learnt at tradeshows?
There is a TON to be learnt about our industry at tradeshows. Being able to meet all of the core people in the industry and chat about products, markets, sales in different regions, growths etc is huge! I always walk away with a ton of new knowledge and information to help me out with my job.

Where was the next stop?
Once that wrapped up we headed to KOK (King of Kona). KOK is a SUPER rad event put on by the one and only Cam Frazier at the legendary Kona skate park. 3 days of non-stop transitional skateboarding!
The last stop on that trip was Puerto Rico! Almost 2 weeks in a tropical paradise, with  some of the cheapest rum ever, super sick hills, amazing hospitality, and hectic races. Overall, it was one of the better skate trips I've been on. The crew was full of homies and the stops were all eventful.
Do you know Cam is ginger?
Cam is a very rare type of ginger, it's not very often you come across a ginger with a soul.
How was this years King of Kona event compared to last year?
Nothing quite like it! Last year when I attended I was just getting into skating transition so it was a learning experience for me. It was cool to go back with some more skills under my belt. I'd compare it to the Maryhill freeride of skateparks; the park is open 24 hours a day for 3 days and you can skate wherever you want, whenever you want. The rayne crew rolled hard this year – check out the video that recaps the event!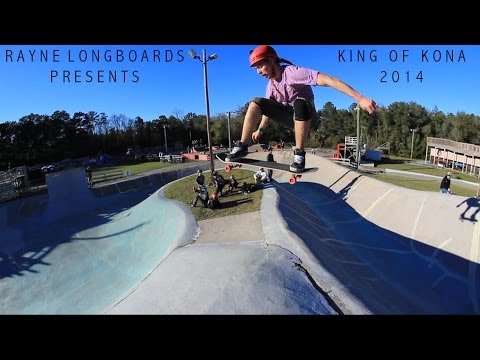 What's the best thing about the event?
Probably the fact that there are pretty much no rules or specific guidelines. You just get to skate your heart out all weekend.
In what ways could your skating step up from 2013?
Your skating should always be improving! If you don't feel the need to improve your skating abilities then you aren't skating enough. I've been really hyped on progressing my transition skills. Anytime I skate a miniramp, bowl or barrier I try to learn something new. It's an awesome feeling when you stomp a trick you've been trying for the past half hour. Although you do pay the price… The ground and I have developed a love/hate relationship. Sometimes it hurts pretty bad, but you just have to remember – No matter how many times you fall, the ground will be there to catch you.
"If you don't feel the need to improve your skating abilities then you aren't skating enough."
Do you miss anything when you're gone for long stretches on skate trips?
Sometimes. Sleeping in my own bed is pretty legit haha, I also find myself missing my home hills from time to time. But generally I'm just happy to be there. I consider myself very blessed to be able to visit the places I do.

What event are you looking forward to this year?
The Catalina Classic! It was one of the better events last year and I'm hyped to see what the boys come up with this year!
What's so good about Catalina?
What's not good about Catalina? Dubes knows how to throw a stellar event forsure! We got tons of practice runs, the course was safe, and it's an invitational event so you dont have to worry about being taken out or catching up to sketchy packs… Plus I had just picked up my new NJK suit and was feelin groovy and lookin' good.
Do you ever name your suits?
Haha no, although I could see the appeal. People name their cars, why not name a suit haha.
You and Justin have the same suit?
Nope – Mine is way cooler!

Who gets invited?
I'm not 100% sure how they do the invitation process, I think they pool in a bunch of names of core skaters and chose the 96 raddest dudes? Maybe they pin names to a wall and throw darts haha. All I know is that I'm glad I got the invite, and can't wait for this years event!

What was your most fun heat that weekend?
I had a sick heat with Jimmy Riha and Max Wipperman, some super tight racing went down and I have nothing but respect for those two. Jimmy has some serious smooth style and Max holds it down on the evo. It was a pleasure to be able to race down a hill with them.

Were you surprised at how well you did?
I try to stay pretty modest, but after the first couple runs that weekend I knew I'd do alright. It was totally my style course and I was feeling good all weekend. Being lighter than most of the other guys in the open division, I had a grip advantage in the corners. It allowed me to take some tight lines and create an early lead in the course.
What courses suit you best?
Ooh tough one! If I had to choose one it'd probably be the Britannia Classic. Sweepy and tucky early on, then it leads into some technical and fast hairpins. I can get low and draft at the beginning of the run, then grip hella in the corners… I might also be biased because it's one of my favourite local runs haha.
Do you guys ever have people outside Canada coming up for the BC races?
International crews come from all over! It's super cool to see how many people buy plane tickets and fly over here for what used to be just a local grassroots race. In between the races our local runs are flooded with homies from all over!
I do really enjoy these events because a large portion of the rayne team comes up for them and its usually the first time in the season I get to see the whole crew!

Had you met any of the international team?
Before last summer, I had met very few of our international riders. It's cool to see how they differ in culture, riding style and personality. All rad people!
Do you guys have any similarities?
The love for downhill skateboarding is pretty strong in all of us. It makes it easy to have a good time when you're rallying down a hill!
What did you and the Euro bros get up to while they were there?
I met up with a few of the euro guys at Angies, then chilled with the crew at Maryhill. Lots of shenanigans and a few drinks later, we were at whistler. We managed to make it out for a few days in the local hill, and filmed a video – check it out!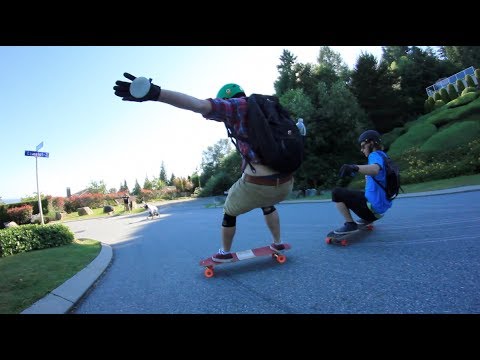 Have there been any additions to the Canada team?
George "G-mack" Mackenzie joined the Rayne family earlier last year! That was a big move for both parties… Stoked to have g-mack on the team; dude has so much talent and style, and is always a pleasure to hang out with. Welcome to the family!
How do you guys celebrate your time together?
We're all pretty close on the rayne team, so we hang out tons and get along super well. We're usually shootin the shit, skating runs, using the orbicle, and doing hoodrat shit with our friends.
Do you work behind the camera?
I have been working on video stuff at Rayne for a while now. I'm always down to point a camera at a skater and throw together an edit. I have a few videos lined up on the Rayne Channel coming out soon that I'm quite happy with. We took Patrick's RV out to Giants Head awhile ago and had an EPIC weekend of skating, partying and RV life, and I managed to take a day off of skating and do some filming. The final video turned out really well and I'm stoked for its release.
What do you shoot with?
Rayne has a Canon T2i and T3i with a couple different lenses. We make it happen with what we got.
What do you enjoy about making videos?
The final product! After you've spent 20 hours on a project and you finish exporting and get to watch the finished video you feel super accomplished!
You do all the editing as well?
Yep! We have a few other guys who film/edit for us but the majority of the recent videos have been me. Brock kills it and has a super clean style of filming/editing, and Shawn usually does all the product videos…
How is Tiffany?
Breaks are fixed and she's ready for this season! Can't wait to get back in and rally to a race. RV LIFE!
Why is it important to have family reunions?
At Rayne, there is the team, which includes everyone who riders our boards and reps the brand. Then there is the Rayne Family. The family consists of all the closest (not geographically) riders. We share food, drinks, beds, bags, and skateboards. Those who are part of the rayne family know who they are, and there is nothing but unconditional love for the family. I <3 the rayne family!
What were your favourite heats from the 2013 season?
This is a hard one! There were so many memorable heats from this season.
I'd have to say my 3rd round of racing at the britannia classic. I had a pretty easy first two heats, and then got matched up with Brendan Davidson, and Matt Rae – who ended up making the finals! The entire run was neck in neck and Brendan and I got pretty cozy more than a few times. When we got to the bottom I wasn't disappointed in the slightest about the results simply because of how incredible the run was.

Did you have any none race adventures?
I changed it up a little recently and have gotten into distance push racing – Lame I know, but the rewarding feeling when you finish is hard to beat. I made it to a total of 3 push races this year and had an awesome time at all of them. Most recently was the Adrenalina Skate Marathon in California. It's a 26.2 mile course that circles around a small island near San Diego.
I managed to take 1st in Juniors, and 5th in Opens. I'll be doing some more push races in 2014 and have been training a bunch this winter.
What's led to this love of pushing?
Well with my previous background in martial arts (long story) and my lanky body type I've always been pretty fit. So when the time came and I had the opportunity to roll to a push race with a few members of the Rayne Family (Victoria Waddington, Paul Kent, and Papa Les) I took it.
It was my first push race ever and I think I came 11th in open class. After crossing the finish line I felt like a million bucks and was actually super hyped on what just went down. It stoked a spark for me and I began some casual push training. Once I caught wind of the Adrenalina event I stepped up my training and fixed up my diet. It felt good to push myself after a long training hiatus.
What does bull penis taste like?
I'm gonna plead the fifth.
Who would be the better ninja – you or Paul?
I'd say it would be a tie, paul is quick on his feet and has army man steeze, but if FRANKIE comes out I'm in trouble.
Broadway bomb this year?
Hopefully! It looked super epic.

Where else will we catch you this year?
Somewhere on a hill? Maybe we'll be racing down one!
What are you looking forward to this year?
Really looking forward to tiffany trips, skateboarding down hills, grinding coping and hitting transition, and hanging out with the Rayne Family. There is some new cool stuff coming from the boys at Sector 9 in the wheel department, stoked to be on the best thane out there… And Rayne now has a California warehouse – skate and party team in full effect! That pretty much sums it up.
Thanks for your time bro, stoked to document the chapters of your life. See you soon!
Anytime Gbemi! It's been a pleasure… Hope you have a rad day!
Any last words?
Much love to all the Rayne Family!
Increase flow experiences. Play harder. Have more fun. Love what you're doing.
Also Papa Les – that guy is cool.
Links.
Facebook fan page – https://www.facebook.com/AidanLynds
Epic skateboards – www.raynelongboards.com
Epic trucks – www.aeratrucks.com
Epic shop – www.switchbacklongboards.com
Epic wheels – www.sector9.com
Epic griptape – www.viciousgrip.com
Epic photos – www.bringvictory.com
Comments
comments