In this second chapter of Caloy's life, he tells us about his 2013 adventures in the Philippines, getting married and the upcoming Visayan Longboard Trilogy.
Hello Mr Caloy! Nice to talk to you again!
Likewise Gbemi! Always a pleasure.
Happy Gnarlentines day!
Haha! That's the first time I've heard that. Same to you.
Got any big plans for the day?
Nah. Just gonna head to work and then have dinner with the wife after. Probably cook for her.
Congrats, when did that happen?
November 2013. It's a love story that started from skating.

How did you meet?
We work in the same office, but never really went out until later on. She lived in an exclusive village where there's strict security but then there's this nice slope outside her house. I'd namedrop her with the guards so they'd let me in all the time. At one point, I was doing it too often so I told her I'd treat her to a thank you dinner and that's where it began.
Did you get her to skate it?
She skated it before since she has a cousin who skated. She'd just cruise around, nothing hardcore. She's super cool with me skating there and everywhere so that's good for me.
Has finding the other half of your soul changed skating?
It's different heading out early in the morning and someone says have fun and stay safe. Kinda inspiring. Haha! Also, it made me a bit more responsible – even if I arrive home dead tired I'd still save a bit more energy so we can spend time together.
Do you have any advice for the skaters who dream of marrying skaters?
Just go for it. You won't regret it. And you'll still get to keep skating.

Last time we spoke 2012 was just winding down and you were getting ready for '13 adventures – how did the year start?
2013 was the year our adventures really blew up. I was just chatting with Carl, Mr United, and he mentioned in that year alone we went to 48 spots in Luzon (upper portion of the Philippines). If we count the whole country, it's around 80. Not sure how it started but that many spots in one year is pretty rad! It's just adventure after adventure after adventure – sometimes just knowing what time we'll leave and arrive, not knowing where we're going.
Still getting in quality time with your bro?
Not as much as before. Skate adventures, yes. He's Mr United so he's never absent in any trip. The quality time that lessened was us playing FIFA on our PS3. Haha.
How different would your relationship be without skating?
I dunno. I never really thought about it. But I'm sure it would still be strong. We're brothers and brothers are always solid. I guess we'd just have a different kind of adventure.
What do you use to document your adventures?
He always has his camera and I bring my Gopro, like the rest of the people in the team. Nowadays tho, everyone would just be stoked about new spot after new spot that we'd forget to actually turn on the GoPros out of sheer excitement to skate. Luckily Carl's there, he'd always have a camera to document the trip in whatever way.

Do you have any new favourite spots?
There are a lot. And the rad thing about them is they're all so close to home, unlike the spots we'd hit before. There's a steep hill we call LBDR just an hour away – it's crazy fast with two back to back hairpins that you'd have to pre-drift. I'm still trying to get it dialed there. There's Laurel, a short course that has smooth pavement with a good mix of straights and turns. Finally, there's Seaside, which is really fast even into turns and the best part is that it has a fantastic view!

How do you find new spots on such a small island?
The default is google maps, but the best trick is to just talk to the locals. There are people who live near the spot, bikers, cyclists, etc. – just ask them if there are steep hills with nice pavement nearby and they'd tell you. 9 times out of 10, they're really nearby so we'd drive up there and we'd be greeted by stoke.
Who did you adventure with last year?
Team United. We'd always be in adventures together. And depending on the spot we hit, we'd have locals join in on the trip. It's always a Rad adventure.

Any new members of the family?
Mostly groms. It used to be just Jaime, but since he's getting older (not to mention really damn fast and gnarly) we invited others to move around with us. There's Abbie and her older brother James and just recently Tom. Skating aside, they're all fun to be with – not much questions, they just go with it and are up for any adventure. These guys (and girls) will be the ones to keep the scene going and rolling in the future. In fact, there are a bunch of members in the family who had babies recently so we have United babies too. Haha.
Are there many groms in the community?
Yeah, there are. The community has grown a lot over time, which is a really rad thing!
Is Abbie the only girl getting gnarly in the Philippines?
Nope, there are a lot. Niqui, the first United girl was pretty gnarly to begin with. She sort of set the pace. There was a time that she'd smoke a lot of guys when she joined the open division. But she just gave birth recently so her skate time turned into mommy duties. There are also a lot of girls, especially in other parts of the country – mostly they're really great freeriding.

What have been the biggest changes in the last year on your island, and the rest of Asia?
In the Philippines, there are definitely way more spots to skate in and lots of people adding on to the community. In Asia, it's getting pretty big as well. There was a race just recently last December called Haven's Gate in Sierra Madre, which was well attended by Philippine locals and other internationals – Japan, Mexico, Indonesia, Malaysia, Singapore, Taiwan and China to name a few. Hopefully it gets bigger and there are more events so we all have excuses to go out and see each other again.
Did you do many races last year?
Not as much as the previous year, but still a lot. There were a lot of adventures to more than compensate.
How is the competition in the races in the Asian circuit?
Our neighbours from other countries are getting better and better. But the biggest competition would still be from the Philippine community. It's tough racing even with members of Team United alone. In the last Haven's Gate, the first Asian Downhill Circuit race, United had podiums in all divisions – 2 in the open, 1 in women's and 3 in juniors. Everyon'e just stepping it up.
Is Gerad still winning everything?
Gerard is still a monster. He wins every race he joins, practically. Great guy too!

Have you guys got any organisation up yet?
The Asian Downhill Circuit was put up and Haven's Gate last December was the first race. Curious to see how this moves forward.
What is an Asian Downhill Circuit?
Australia has ASRA – I guess this is the equivalent of that for Asia. It just got put up so it's exciting to see how it pans out.
Finally! What have they got planned for this year?
They just released a calendar of events. Hopefully they add way more races, since it is called a Downhill Circuit.
Are you involved?
As an organizer, nope. Too many people on that already, I'm sure they can handle it, which is good 'coz I get to keep on skating more and helping out with the United events like Slide Jams, Skate Clinics, etc.
What races did you enjoy most last year?
VLT (Visayan Longboard Trilogy) is always rad – island living! They had the same legs as the previous year, but this year our brothers from Cebu, Grupo Nopo, took us to their new spot Top Bud, a really long mountain pass that would core your wheels in one run from top to bottom and had almost no cars going through. Got to camp with PSwiss way up in the mountains, plus he threw a skate clinic. And then there's Havens Gate, a big Asian event, which was cool because everyone stepped it up.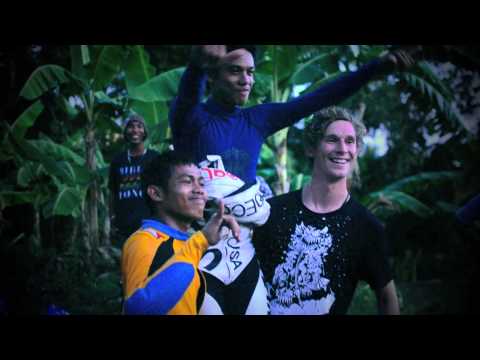 Did you do many travels outside Phil?
Yes, but for work and vacation, not so much skating. The closest thing to skating is when I went snowboarding when I went to Japan for New Year. The great thing about living in the Philippines is that it has so many islands so there's a different flavor and culture in different parts of the country. We have an abundance of hills too.
What gave you the biggest smiles last year?
My wedding and hitting new spots.
Are you still riding your Vandal?
Yup, everything's still the same since we last spoke – Vandal, Aeras, Riptides and Rads.
What are your plans for this year?
To keep on moving around and getting everyone to go out, relax and enjoy the world. Gotta keep sharing the stoke!
Any skate adventures abroad?
Nothing definite yet. Would be rad to get to know the communities in Asia.
Are there any events you're looking forward to in particular?
Every event is something to look forward to, especially if it's in the Philippines.
When is the best time to visit Asia for skating?
Summer season – between March to June.
How are you guys doing post-disaster?
I live far from the disaster area, but the good thing is that the entire country always pitches in to help those affected. The Filipino spirit is unbreakable.
What should people reading this who want to help do?
Stay positive. Always hope for the best. Get in touch with anyone you know in the Philippines and he/she will always know how to extend your help to those in need.

Which Asian riders should the world keep their eye on this year?
Of course I'd say those from the Philippines! Come on over and we'll show you around and show you why.
What are you looking forward to this year?
More adventures and more people getting into the scene.
It's been a lot of fun doing this again bro. Hope our paths cross soon!
Likewise, Gbemi. Thanks a lot for your time and the opportunity.
Any last words?
Share the stoke. Keep moving around. Always be up for an adventure.
Links
https://www.facebook.com/sharethestoke
Comments
comments