Billy tells us about his adventures touring America and Europe last season; fun in Peyragudes, organising Mt Tabor and recovering from two broken toes at Angies! Enjoy
Hey bro!
What's up Gbemi.
I'm great bro, nice to talk to you again. Happy new year!
Hell yeah! 2014 is off to a good start.
What's new for you this year?
Pretty much the same ol' stuff. Traveling and skating.
It's been pretty much exactly 12 months since our last chat, did you have a fun 2013?
Yes! Probably more fun than I should have. I travelled more last year than I ever have. I got to meet some amazing people and visit tons of new places.

"I travelled more last year than I ever have. I got to meet some amazing people and visit tons of new places."
Where did your adventures start off?
I don't remember exactly where things started up for me last year. I think my first race last year might have been Britannia. I know I skipped Danger Bay to visit my family in Texas and be there for my Grandfather's 91st birthday. That was pretty cool.
Good party?
It was a gnarly party. I got turnt up with my grandpa.
How was Britannia?
Britannia is always fun. Good road and a well organized event.

Was last year's race different from previous years?
Not really. Same crew of people and same number of days of skating. Lee has that event pretty dialed at this point.
How did you do in the race?
I think I made it to quarter finals. Or maybe not even that far.
Where was your next stop?
After that I think my next race was Angie's Curves.
Were you excited for a West Coast race?
Pretty much all the races I go to are West Coast races. California is just sunnier than other parts of the West Coast.
How was the Angies Curves race weekend?
It was very fun. Angies is an incredibly difficult road to skate and Sector 9/Louis Pilloni put on a very well run event. This event definitely separated the boys from the men.
How difficult was it?
The road was very slidey once you broke traction with your wheels and you had to negotiate a couple corners that were quite tricky. The first corner was very steep so shedding the appropriate amount of speed was tough. The second corner was a 60+mph right turn that you predrifted for. That one took more balls than anything else. The rest was just maintaining a clean line and trying not to drift at all.
What was the highlight of the race?
For me I was really stoked on being the 4th fastest qualifier.
What were you racing on last season?
Landyachtz Top Speed 36, Bear precision trucks with Venom Bushings and Biggie Hawgs.
New suit?
My suit was a year old or so. Kinda new.

What other NorAm races did you hit?
I think the only other races I did in North America were Mt. Tabor, Cathlamet and Pikes Peak.
Is it getting easier to put the race on?
Definitely. There is still a certain amount of work that goes into it but once you know what you're getting yourself into then you know what to expect.
What's the most rewarding thing about organising the race?
Seeing other people enjoy something that has given me a lot of happiness over the years.
Was anything different this year?
This year we had the biggest turn out at Mt. Tabor. 100+ racers!
100 skateboarders?
Yup. And a handful of minibike racers.

Will you ever have luge at Mt Tabor?
I've had it before but not many people are into it so I eliminated the luge class. The Mt. Tabor neighborhood is also not very stoked on guys luging down the hill during the rest of the year.
Are there any new local events in Portland?
No new local events. Just the same ones we've done over the last few years.
Did you do any racing outside America?
Yes! I went to Europe last summer and did two races in Czech Republic and one in France.
First time racing in Europe?
Yeah. I went to Europe a long time ago with my family but I wasn't even skating then.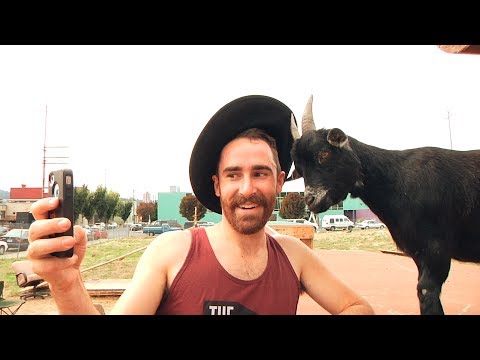 What did you expect from Kozakov?
I didn't know what to expect. I heard that it was a very good race course and the party was top notch.
How did you do in the party?
I survived.
Who were you touring Europe with?
It was me, Kyle, Zen, Dillon and Andrew. At a few points we would convoy with Zak, Max and Fifty Cal.
Did you have any between race adventures?
We didn't have too much time in between races. We did spend a couple days skating some roads in the French Alps. They were absolutely beautiful.

How was Peyragudes?
Peyragues was probably my favorite event in Europe. The setting for the race is a small ski resort tucked up in the hills of the Pyrenees Mountains with a crazy airport runway paved on the side of the hill.
Grim/Kozakov/Peyragudes – which race was the most fun?
1. Peyragudes 2. Kozakov 3. Grim
What was the highlight of your time in Europe?
I don't know if there was one specific highlight for me. Throughout the trip I met lots of rad people, skating some amazing locations and visited places I'd never been. The whole trip was a big highlight for me.
Actually, not getting injured was a highlight for my time in Europe.
Did you suffer any injuries last season?
I got a bad concussion at Angies and broke both my big toes. That one kinda sucked.

Ouch. How are your toes now?
Right toe is fine but I re-injured my left toe when I got crashed out in Puerto Rico.
Do you remember what happened?
I remember bits and pieces. Basically I fucked up and my helmet came off. I was out front with a big lead and messed up doing a fast toeside drift.
Wow. What saved your noggin?
My helmet took all of the initial impact and came off after the first hit. Luckily I just tumbled and scraped my face after that. No hard slams after the initial hit.
Are you ever going to have a skull helmet?
My current full face was painted by Tanner Lesser (Bombsquad) and he put a rad day-of-the-dead style skull on it. Other than a sick paint job, I don't think my helmets will get too much closer to being a skull.

If there was anywhere you could return to,where would it be?
France or Spain. Both places have amazing skating and very friendly people.
Did you make any friends from those countries?
Definitely! I knew a few people already from other races so it was good to visit them in their homeland. There was also a few new people I met while travelling. always cool to meet friendly people in far away places.
Is there anything from America you wish you had while you were here?
Hot sauce and decent wifi connection.
Where did the wind take you after the Euro tour?
After Europe I spent a good chunk of time in Portland. I wanted to film a bunch of stuff at home and I had the time to do it. So Guff and I met up and got it done.

What kind of stuff do you enjoy shooting?
It varies. Whatever I'm stoked on usually. I like to find weird stuff that presents a unique obstacle for a skateboard.
Is this the first time you guys have shot since the tour?
Since the European tour it was the first time that I had done any filming. Guff and I also went out to New York and filmed some stuff during the Broadway Bomb.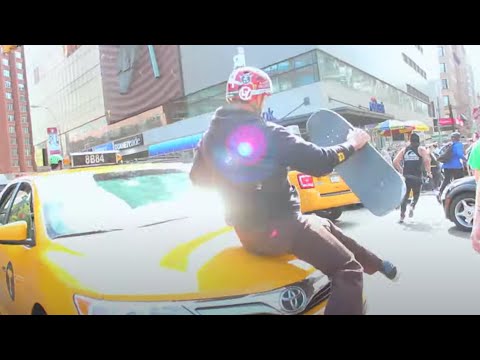 Did you skate South America?
Nope. Missed out on that one.

"I want to focus a little less on racing/competing and put more focus on going to new places and documenting the travelling and exploring I get to do."
What are your plans for this year?
Basically I plan to keep traveling, skating and filming. I want to focus a little less on racing/competing and put more focus on going to new places and documenting the travelling and exploring I get to do.
Are you looking for new experiences?
Always. Getting to check out new spots and meet new people is one of the best things that skating has done for me.

"Getting to check out new spots and meet new people is one of the best things that skating has done for me."
Where would you like to skate?
Asia would be rad. I heard they are building the world's largest skatepark in China. I can only imagine how much fun that would be to skate.
Do you do any camera work?
Not really. I will help out Guff if he needs some assistance but he knows what he's doing.
Someone said to ask why you carry a knife when you skate?
I just do. I've always got my wallet, keys, cell phone and knife on me. It'd be weird to not have it in my pocket.
Billy bro! Thank you for your time, it's been fun having this chat with you. Hope our paths cross soon!
For sure. Come out to Maryhill at some point and we'll hike some runs.
Any last words?
Make the most of good weather and good health.

Links.
Landyachtz.com
beartrucks.com
hawgswheels.com
Thelongboardstore.com
http://www.venomskate.com/bushings/
Comments
comments