In this second chapter of Ayumi's biography, we cover her adventures in 2013. Racing at Maryhill and in the Philippines and developing the community in Japan. Get stoked!
Konbanwa Ayumi nee-san
Konbanwa Gbemi san! Genki desuka?
Genki desu! How was your week?
Good but I have to sneeze every once in a while because of my pollen allergy. Spring is just around the corner! Damn it.
Bad winter?
Actually I love winter! I prefer cold weather to warm. Love snow, but couldn't get to snowboard much this year.
Do you get to ride during winter?
Yeah, we have snow a few times during the winter around where we live, but not enough to hinder skating. We always find places to skate during the winter. You just have to keep warm! Actually, some of our downhill crew even do "Skate and camp" on the weekends, even in the winter. They have proper sleeping bags for sub-zero temperatures but it's still crazy!
Last time we spoke, Fifer was your crew, who are the new people?
Fifer keeps being my best life partner, we live together now here in Japan. We now have skate friends here and there. It depends on what we skate, we have a crew for downhill, for freeride and for ramps. We get to hang out with different people every time.

The same people don't do everything?
It's not yet common to skate everything here. Maybe it's because our longboard community is still very small and many people are just getting started. Most of the time people get into longboarding through freestyling or freeriding and those are most dominant styles here in Japan. Last year we got to introduce more people into downhill and faster freeriding style by organising more session and exploring more spots, and also we had many professional riders as visitors last year and that made more people inspired to try different style.
Last time we spoke, you were excited about him finally moving to Japan after 7 years of distance, is he there now?
Yup! We actually got married in the beginning of 2013. He's just here but he had a long day today and passed out few minutes ago.
CONGRATULATIONS! How is married life?
Thank you so much! Having someone to share every amazing happening in life with is great. We also learned that we have to watch out forgaining weight… having someone to share and enjoy good food is dangerous. We've both gotten a bit chubby…
Chubby unicorns?
Yes, we are! We poop rainbow as well you know.

Who is the better chef?
We both love food and both cook but recently Fifer is the professional chef in our home. He takes care of most of domestic works (besides laundry, I'm the raccoon in this house).
How did your super-hill jam go?
I have to remember that one 'cause after that many session and events in Superhill came up and every one of them were so much fun! Yeah the one when Ishti and Louis Selby were here! It was first slide jam with city permission and that was something really big. One of our local shop Funwaves was the organiser and the owner of the shop Yoshi and his wife Rie did a really great job. They kept organising the annual slide jam in October and people get really excited!
Did people have fun?
Yeah, there were so many people, I guess around 50 people were there (that's pretty big for a skateboard event in Japan). It was cloudy, a bit wet in the morning but the slide contest get very exciting. The interesting thing was that we got to connect several groups of riders from different parts of Japan and thanks to that opportunity, they started to skate and learn together. It makes me happy to remember that the event brought us to where we are now!
How important are the shops to your mission?
It's very important that there are shops that you can actually go and ask everything about longboarding. Funwaves guys skate as well and they know about the equipment, local spots, people etc. For people who want to start longboarding, it's very helpful if the shop where you are getting your equipment from can advise you what to get, and where to skate. Also, it's important for a local shop to provide opportunity for new people to learn and have fun with other skaters, doing sessions and clinics etc. Having a physical place is a big advantage to be able to do these missions.
Are there any new good shops popping up?
There are not many shops like "local supportive" style shops as I mentioned above. There is a bigger longboard specialized shop called "Extreme.jp", they've been in the business for a while but they have been only selling stuff through web site but last year they opened a physical showroom and also opened a branch in Osaka. Looks like Extreme.jp Osaka is doing a good job organising events with the local team called One Foot Motion Long-skateboard. OFM seems to be a pretty stoked crew! I want to go visit them very soon.

Did you have any other adventures before the end of 2012?
I think I stayed in Japan after Maryhill & Mexico in 2012. We had Ishtar Backlund as a visitor and we went to travel a bit around north island of Japan in October.

What's it like having Ishtar around?
Hanging out with Ishtar was very fun. I also learned how to shoot downhill pictures with Ishtar! Thanks to her I learned a lot of stuff. I learned through her way of traveling and getting into new community that if you wish strong enough you can reach to what you want. She has an amazing skill of making beautiful new friends everywhere she goes and she even extended those amazing friendship to me as well.  Thanks to her I got to know my now good friend and fellow Loaded Ambassador, Brad Bennett. Brad, Fifer and I organised an event on 8th March. We showed Greener Pastures Offshore at this event as well. 
You have Japanese people called Brad?
Haha, Brad is from Seattle, WA but he's lived in Japan for over 25 years! During winter he's a back-country snowboard guide and also he gives English classes at his studio in Tokyo. Through his 25 years of living in Japan, he's got so many interesting friends and stories to tell.

How did you start 2013?
2013 started with the big news of our marriage and we had exciting visitors from around the world in the first half term of the year. First Dan Pape stayed few days with us in the beginning of March, then Patrick Switzer and Tamara Prader visited a month later. A week after Patrick and Tamara's visit; Matt K, Ben Dub and Concrete wave crew came along (they stayed with Amane Kishida, the most stylish surf-skater in all of Japan) , then finally Justen Ortiz stopped by during his big tour of Asia.
Visitors kept us super busy during the first term of 2013, but it was so much fun taking them here and there, organising community session with pro riders. There was a lot to learn from skating and travelling around with these guys. Also 2013 started with big news for me that I was adopted to Loaded/Orangatang team!

I thought you were always on the team!
Haha, I just got on the team last year! Loaded team bosses Don and Pablo came to Japan in February 2013. My friend Brad was hosting them and he called me to introduce us. They were here for very short stay but they let Brad take them snowboarding so they had pretty tight schedule and when I rushed to meet them they had almost like zombie eyes and crazy tired. But they were stoked to meet me and patiently listened to my opinion for how we can do to grow the Japanese longboarding community.
Who is Dan Pape?
Dan Pape is one of the founder of SkateSlate magazine, he also produced/filmed/edited the longboarding movie called "Fellowship of bearing" where lots of BC riders, as K-Rimes, Nate Lang, Brianne Davis etc became famous thanks to this movie. Dan's wife is Japanese and they moved back to Japan last summer. Dan is now busy working to make SkateSlate Japan.
What do your house guest bring?
Lots of fun, lots of laundry (remember, I'm the raccoon), and lots more fun! We love sharing our way of "living Japan life" with them. I thinks it's been interesting for our guests to see how we live with the cultural mess in our "mono-cultural" society. Oh definitively Patrick brought us maple bacon fever!

Is there bacon in Japan?
Patrick kept complaining about bacon in Japan, I know it looks almost artificial… We are pretty amateur about bacon. But he always made us maple bacon for breakfast.
Had you met any of them before they visited?
Patrick, Tamara and Justen, I met them at Maryhill and Mt Tabor race the year before. I remember that Patrick talked to me at the top of the Maryhill when we were waiting for a practice run and he seemed very curious about Japan.
Later that day when Fifer, Daniel (my brother in law) and I were hanging out at the local supermarket of Goldendale, Patrick and Tamara came up and they told us how much they wanted to visit Japan. We couldn't even believe that we were actually talking with these famous riders! Later, Patrick and Tamara confessed that we had the most stupid face ever at that time.

You guys are SkateHouse Yokohama?
Haha! Yes that's what we're secretly going for.

How did the community react to all the ProVisitors?
People were so so stoked to have pro riders and to be able to skate with them. I tried to provide as much opportunity as possible that people can come skate with the guest. Some people traveled pretty far just to hang out one afternoon with them. It was very inspiring for many people to see those pro riders actually skate in front of you. After that, we got more people trying faster freeride and different skate styles. Definitively it's bringing their skate level higher.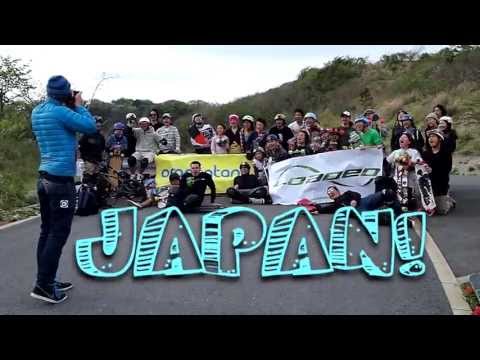 Will you have more visitors this year?
I hope so! We have heard so many rumors that many riders wants to come to Japan but who knows! Hopefully we keep receiving more interesting visitors.
What kind of gifts do you like?
I love any kind of gifts. One of the best gifts I have received recently is my hamburger chair which Fifer got me for my 30's birthday last year!
Do you document your visitors?
Fifer always takes some pictures and sometimes take videos but nothing official. Most of the time we're pretty busy trying to make  whatever the guests wish happen.

Is there a SkateHouse in Tokyo?
Brad's house has been kind of the thing but Brad's place was more like a Traveller's nest. I also know a short board skate couple who constantly receive guests from all over the world but they're not longboarders so it doesn't count I think?
4 wheels, 2 trucks, 1 family!
That's right! My secret mission this year is getting them to longboard as well. To complete this secret mission I'm going into their territory, skate parks, and will learn their thing! Yes, that's my mission for the year, get better at ramps and park, of course with my Kanthaka!

"The most weird stuff that's happened was almost getting kidnapped in Mexico… It was near sunset and we'd skated for a few hours… I saw that there were some kind of bricks on the road and I stopped there… Suddenly Fifer and Punk Rocker started to beep the klaxon crazily and yelled… I could hardly understand because of my full-face. Those bricks were a trap which robbers put on the road to assault people driving and sometimes kidnap them. We were lucky because those robbers were hiding behind the bushes and didn't show up to hurt us! We got pretty freaked out and didn't speak a word for few minutes."
What adventures do you an your Kanthaka have together?
I don't bring Kanthaka on travels, I just use it when I go to the skate-park. My adventure buddy now is Tesseract! We've been together for about 6 months. The most weird stuff that's happened to us is that we were almost kidnapped by Mexican gangs (or something) when we went back to Mexico last November. I was skating a local spot with Fifer, Daniel and our good friend Punk Rocker aka Fabian in Ajusco mountain road. It was near sunset and we'd skated for a few hours. Everybody said they were done for the day but I wanted to do one more run because that was my last chance to skate in Mexico for that trip. Daniel offered to film my run, so Daniel and I were skating down, Fifer and Punk Rocker were coming car after us in a car. When I reached the straight after the fastest corner, I saw that there were some kind of bricks disperse on the road and I just foot braked and stopped there, I didn't want to fall. Suddenly Fifer and Punk Rocker started to beep the klaxon crazily and yelling something which I could hardly understand because of my full-face. Those bricks were a typical trap which robbers put on the road to assault people driving and sometimes kidnap with car and everything. We were lucky because those robbers were hiding behind the bush maybe peeping or something and didn't show up to hurt us! But we got pretty freaked out and didn't speak a word for few minutes.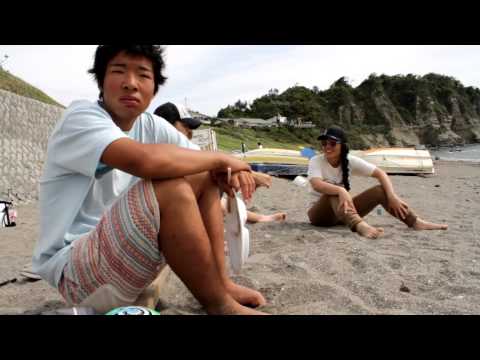 Fuck! Was that a scary experience?
It was scary when we realized that it was a trap. We have heard of aggression of that kind in Mexico recently and it makes me sad that it happens that often. But on the other hand, I know anything can happen while you're skating and it's good to remember that I have to be aware all the time, especially when I live in Japan man! It's too easy here to loose that awareness.
Where else did you get to skate last year?
In 2013 I went back to Maryhill for Noobs Freeride event and FOS (Maryhill has been amazing as always, I miss you Maryhill!). Also went back to Mexico City in November and skated Ajusco mountain. Then, for the first time we went to the Philippines for Haven's Gate race!
I was riding a Chubby Unicorn until Maryhill, after that I got a Tesseract. My current set up is: Tesseract, Kahalani (Ishtar left me her old trucks) with Venom 85a, and my choice of Orangatang wheels depending on where I'm skating.

How special is Maryhill in the story of Ayumi?
Maryhill is and will be always special for me. We met this amazing longboarding community at Maryhill and also it has been my motivation to start downhill skateboarding. Last year we attended not only the race but also the freeride event in Maryhill and it was a great experience as well. Everything is a lot more relaxed and you can meet more diverse longboarders.
How different is the race from the freeride?
At the race, you see lots of pro riders who you know from videos, magazine, advertising etc, and it's a good opportunity to be able to skate with those riders. But freeriding, especially at the Noobs Freeride, you'll see lots of local riders, OG, beginners, kids etc. Everybody is more stoked than anybody. I met a rider called Jacob Kristin who has Cerebral Palsy and can't move well one of his legs and he kills all the way down Maryhill like nothing! It was just impressive to skate with all these amazing riders enjoying Maryhill with their own style, you'll sure remember what longboarding is really about.
What friends did you make?
I have already some friends from previous FOS and our visit to Portland, mostly Portland crew, but we also met some new friends like Paul Kent, Eric Hoang who works at Daddies Board Shop, Tuan Dinh from BC, Jerry He from Texas with his amazing Dragon Ball inspired leather. I was also exciting to meet Amanda Roden because just few weeks before the event I watched the video of her hitting a cow while riding down Maryhill! She kept skating after her crash with the cow and made it down! She's my hero! We finally met Maryhill Ratz aka Deano as well! Amazing person.

When last did you see Rosy
I haven't seen Rosy since 2012! We both couldn't go back to Monterreal last year and we kept messaging each other and I wanted to go visit her when we go back to Mexico in November but we couldn't make it this time. I miss Rosy a lot! She should come visit us in Japan.
Were you 20 seconds faster in your qualifying this year?
Haha, it wasn't that easy this year! I'm sure I was faster than 2012 but I don't remember my time! I have to look into IDF records. Another interesting thing this time was that I actually convinced some of my Japanese friends to go race Maryhill with me, Yoshinori Takuma & Satoru Takuma. They are brothers and they've been doing DH skateboarding in Japan since 2005. It was their first visit to USA so I personally watching them be surprised with EVERYTHING they saw; making very Japanese sounds like "Oooooooo, eeeeeee!!!".  Also Nori Tamura, another Japanese guy joined us at Maryhill. He travelled Canada last summer and I sent him travelling with Striker's van to come down to Maryhill. I was a bit worried about sending this young Japanese gedi to travel in the legendary Cliff Bomb party van but when I saw him at Maryhill he seemed be pretty adopted in the crew, making a bunch of friends and enjoying himself. It was still funny watching him cleaning the van in his freetime though… super Japanese!
Were the Philippines as good as you hoped?
Philippines were beyond our imagination! It was much more than what we expected. We were also lucky to have Caloy and Carl Sambrano brothers as our hosts. Without them, it would have been a whole different experience. I'm really thankful for the kindness and attention they gave us during our stay. Philippines is such a good mix of Asian culture and relax island life. We fell in love with Philippines!
Was the community different from Japan?
Yes, the Philippines community is much bigger than Japanese Community. I think because they have already surf/skimboard culture so deep in their daily life, longboard looks pretty natural in there. Also in the Philippines community there are many groups, they call it "team" and many people are proud of representing their team. But the good thing is there were no such rival feelings between those teams, well at least I didn't feel it. People know that the important thing is just have fun and enjoy the skating, no silly rivalry. I loved it.

How was Haven's gate?
Haven's Gate was very fun event. Since it's one of the biggest event in Asia for now, both locals and riders from other parts were waiting for this event whole year. From the day we arrived in the Philippines, few days before the event, we felt how much people were stoked! The race course is about 3km long and the maximum speed is around 75km/hr. You can tuck down all the way but the first half part is rough pavement and it could slow you down or give you bad wobble if you don't take the right line.
Some details which I loved at the event is how people slept at the camping site. Most of the people showed up with hammocks and set up it in the small house without walls called kiosk. There were guys from Cebu island who built the brand called Driftwood Local Ent and they make hammocks which you can make it very compact and perfect for traveling. We have heard about them before we arrived to the Philippines so we were stoked to buy our own hammock. They also make very nice board case for traveling. Smart products.
Another incident which I personally loved was that one of the United team member, Duke Pandeagua, who we have spent some time together before the race, he didn't have leather suit for racing and ended up racing with my leathers! He came in the 2nd place in open category! (I also made it first palce in women's division! First time to win a race! So stoked!)
Where did else did you get to skate?
The first day we got there, our host Sambrano brothers took us to skate the race course with other skaters from their team "UNITED" and two riders from Indonesia; Shandy and Andry (everybody called him Che Che but I'm not sure how it's spelt, sorry buddy!). The course was still open road so I was a bit nervous. When I started skating, I noticed that Philippine drivers were much mellower than the Japanese/Mexican way, at least they know that anything can come across your way and they don't get freaked out by skaters.

Also Carl took us to a local fun spot called "Laurel" and stopped by another warm up spot on the way. It was few hours driving from Metro Manila but it was super fun travelling with United team in Kuya Carl's mobile.
In what ways has the community in Asia developed in the last year?
Local events are bigger so people started to travel to attend events in neighbour countries. Not everybody has access to travel internationally to attend more events but people start to feel that we can make the Asian scene more unique and interesting. There is more communication and mutual recognition between each country's scene and that encourages people to organise more events and make more fun.
Does Japan have representation in the ADC?
When we were at the Philippines people asked me if we have races in Japan and they'd like to add a race in Japan to ADC. However we still don't have any race because downhill is still too small to get enough riders to make a race. This year I feel like we'll have a chance to make a race happen somewhere in Japan. Hopefully we can join ADC very soon!
"I hope that the ADC will be an encouragement for organisers to make more races which can be accessible to all levels of riders in Asia."
What difference will the ADC make?
It's difficult to tell what difference will they make because ADC has just begun and there are still only few races but I hope that the ADC will be an encouragement for organisers to make more races which can be accessible to all levels of riders in Asia and hopefully there will be races in the countries where we don't have race yet including Japan.

How has 2014 gone for you?
Great for now, we moved house at the end of 2013 because my grandma passed away last year and we moved to the house where she was living to take care of the family house, so we have more room for future guests!
Also we had Intersyle, the biggest boardsport show in Japan from 18-20 February and Loaded had a space to showcase their products at their distributor booth. Between hundreds of surf/snowboard/skateboard related companies, there were only 4 booths showcasing longboard brands.
We are still unrecognisable in the Japanese boardsports scene, but I met some people who offered help through their career, from finding spots, to dealing with authorities and getting event permission etc. Looks like I will have lot to do this year!
Sorry about Grandma! Was this your first show?
Well, I've been in Interstyle several times but just as a spectator. Definitely first time seeing the show from another perspective.
"I consider myself as a bridge between the Japanese, Asian and world communities; growing the community in the healthiest way is my goal."
What are you doing for Loaded in Asia?
Last year, most of my activities were representing Japan at events in other countries and keep organising Loaded events in Japan. This year I'd like to search for ways that Loaded can help grow community in Japan and Asia. I consider myself as a bridge between the Japanese, Asian and world communities; growing the community in the healthiest way is my goal, at least that what I'd like to do!

What are you looking forward to this year?
We're super stoked to attend VLT in April! We haven't even booked the flight yet, but we know we'll be there. As soon as we came back from Haven's Gate, Fifer and I started to organise a donation project to the people who lost their skate equipment in the huge typhoon Hayan which hit the Philippines last November few weeks before Haven's Gate. Some of the friends from Visayas (the most affected area)  including my team mate Dandoy, told us that they were trying to gather skate equipment so that people can get back on board sooner and that will cheer people's spirit. I donated the board which I got as race prize and we thought we can donate some equipment we had at our home and we were pretty sure that many riders in Japan should have some stuff which they don't use that much. So as soon as we got back to Japan, we started to announce our project and from the first hours there were lots of people who were interested to help. I knew that this was the perfect opportunity to help in a more tangible way as skaters. Several boxes has been sent already but we still have more stuff to bring there so that's our excuse to go there!
Also I'm looking forward to go finding any chance to do more events in Japan, maybe we have to wait a bit more for a race but for sure we will have more events coming up.
"Fifer and I started to organise a donation project for the people who lost their skate equipment in the huge typhoon Hayan… I donated the board which I got as race prize and we thought we could donate more… As soon as we got back to Japan, we started to announce our project… Several boxes have been sent already but we still have more stuff to bring there so that's our excuse to go there!"
What can people reading this, who want to help, do?
If you want to donate your gear, you can check out the Facebook page of "Skateboarding for the children affected by Typhoon Haiyan."  They organise whole this donation project and you can get in touch with them through this page.
Are you finding time for your art?
Not really! I really want to work something with my hand, craft work! It's in my blood! I think for now I'm compensate this desire with skateboarding.
Thank you so much for staying up and doing this. It's so nice to catch up with you. Looking forward to hanging out one day. Stay stoked sis!
Thank YOU Gbemi! It's always a unique experience doing your interviews. You're the best interviewer ever! Hope you can visit us very soon.
Any last words?
Thank you so much Fifer for coming along everywhere and with every crazy plan I make and for being supportive in whatever situation. Thank you so much to the Loaded/Orangatang crew, especially Don, Pablo and Darren for believing in me and supporting my activity. Thank you to people who've helped us and hung out with us everywhere we went. I miss you all and hopefully see you guys very soon.

Links.
www.loadedboards.com
@pitufimin on instagram
Comments
comments