In this second chapter of the Gerado story. We talk more about bacon, skateboarding, Mexican races, adventures in America and SQUARE BUSHINGS!
Gerado! Happy new everything!
Happy New Year to you too my friend it's been a while since the last time we did this.
How are you today?
Great man, just had lunch.
Bacon?
Almost. Bacon Cheese burger, and some yellow pepper.
How was your weekend?
Rad, skate everyday and working now at the store, Treee Skateboarding.
So, now you're more than a fruit on the Treee?
Yes, now I'm one of the roots, working at the online and physical store.
What's your job there?
Sales manager and team manager.
Who's on the team?
Right now we recently added Oscar Gutierrez. He's as super fast grom, we have Fer Ortiz, Luis Ortiz (Fer's youngest brother), Jaime Ortiz, Daniel Caro, Fernando Vega, Miguel Azanza and Pepe Ozuna.
What else is new over there?
Well you may not know Fer Vega, but you know Rosy Vega, Fer is Rosy's brother Jesús the old owner, Fer and myself are business partners at Treee, and Claudio is no longer collaborating with the store.
Oh Rosy. Rosy rosy cheeks.
Yeah we all kind of miss her, it's been a while since the last time we skated.
Last time we spoke you guys had just hosted the first MILF, how was the rest of that year?
We helped with a couple things like the teaser, and some logistics of the 2012 MILF.
How was 2013?
Great year, full of travelling, meeting new people, and new places, catching up with the old ones. Tons of beers, roadrash and skating.

Where did the year start?
My first trip of 2013 was I Love DH at Windham, NY.
You didn't do any skating before summer?
I actually did! First race of 2013 in Mexico was Natura in Veracruz, great event, awesome people and really nice weather. After Natura, Monterreal Longboard Fest, I Love DH in NY, Maryhill FOS, El Tigre Freeride close to Guadalajara, Tamasopo Longboard Fest, in San Luis Potosí, Uriangato also in Mexico and Huatulco down in the south of Mexico.
Seems like you guys have a packed calendar!
Yes and 2014 looks like a lot of fun too.

March 14 and 15 -Natura DH Race (National, Xalapa Veracruz. Out of my state)
April 18-20– Laguna DH race (National, my state)
April 25-27  Aguacate DH Fest (Puebla, out of my state)
May 28-31 Monterreal Longboard Fest (IDF Coahuila, Mexico)
June 6-8 San Gabriel DH Race (National, my state)
October 18-19 El Tigre (National, my state)
We are expecting Monterrey to confirm another race and also Mexico City. We a Total of 9 Races during the year.
Seems like good growth!
Last year in Mexico we saw about 10 races with an average of 60 competitors.
Who is organising all these races?
3 of them Treee, Laguna DH AKA 420 Race, San Gabriel DH race and El Tigre Freeride.
Did you do another Darkside outlaw?
I didn't but we may have another one this year
What was your setup for 2013?
I started with the Chubby unicorn, Lite Reys and InHeats, and endedn on the Chopped Tesseract, Lite Reys with Cubed Riptide Bushings and Orangatang Kegels. Oh and ojoom to keep me sliding like butter.

When did you join loaded?
I started January 2013, I was already riding Orangatang, so it was kind of natural for me to move to loaded.
Dude. What's up with the square bushings?
Brad is a mad scientist and I really have to be honest, I was super skeptical about them, it really sound to me like a crazy idea, but now cubes are what I ride most of time. They lean more than barrel, feel more stable than other shapes and they react faster, turning is also super smooth.
Do they work?
Definitely. I highly recommend to get a set under your feet man.
How are they different from regular geometry bushings?
Well, cubes will give you more options for your set-ups. When you use 'em as diamond, they feel more restrictive almost as if you are adding an extra duro, they snap back to the center faster than barrels. When used as in square formation, they are almost like a barrel that turns a lot and more stable.

What trucks can you use these on?
Rey Trucks and…. I don't remember the other company haha.
Who is behind Ojoom?
Mr John Beally, he's a rad dude, super chill and he just recently took some of the loaded crew for Korean BBQ, first time for me, it was awesome, lots of beer and beef.
How did you do in maryhill last year?
Not so good man, got taken out on my second race heat.
Aren't you too big to be taken out?
A push on the back while taking a corner can be enough to be out of the game.
Did you hang around in America after?
Not really, I hung around before in New York, and go to skate a bit in Hood River, just a couple of miles away from Goldendale, that park is awesome.
When last were you in Cali?
I spent 3 weeks of skating everyday the last 2 weeks of december and the first week of January. It's like Disney but with better beer.
Had you been there before?
I had, but not for skating.
What did you get up to in those 3 weeks?
Probably the best weeks of my skate life haha. I arrived there December 19, as soon as I got there Dustin Hampton picked me up and took me to get some Randy's Glazed doughnuts. Spent a couple hours at the loaded warehouse, and after that it was 3 weeks of skating Malibu, Santa Barbara, drinking beer and some ugly roadrash, tuna got me on the straight, no fun. Spent New year at the skatehouse, with a lot of random people, even the owners of Sickboards were there.
I have to say beer and hills are better in Cali than I've ever dreamt about. Bacon there kind of sucks haha. Flew back to Mexico  Jan 9, that was probably the only day I did not skate there.
I miss Cali everyday.
When will you be back there?
Very soon. I'll be racing Catalina Classic for my first time and I will spend 1 week there.
DUDE! That's great.
I know, really want to thank Rey, Loaded and Otang for getting me there. Super stoked.
Have you met Paul yet?
Yes several times, Paul is an awesome person, with a real interest in developing the sport, new technologies for trucks and supporting riders.
What is your role in the loaded family?
Well, I'm one of the 2 Mexican ambassador, (Miguel Azanza is the other loaded ambassador), I currently take care of weekly session, this bring more people into the sport and the opportunity for new riders to learn some tips from more experienced riders.
I also collaborate in organizing 2 big races with Loaded this year. Laguna DH race on April 18-20, and E lTigre freeride for it's second year.

Who is Miguel?
Miguel was the first person in Mexico who got sponsored by any brand, he's been skating for longer than most of us, for about 8 years now, but he just recently got into the DH/freeride discipline.
This is an awesome Video of him skating down Santa Barbara on the last trip to Cali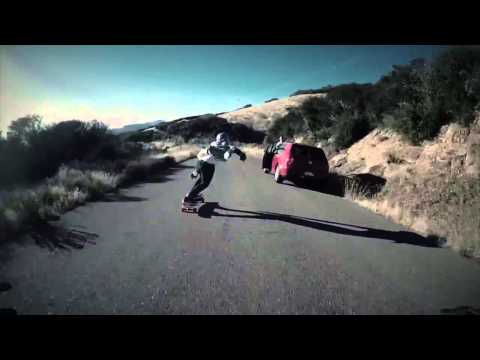 How has this year gone for you?
Pretty well! A lot of skating, more than ever, no more school and we already have the dates for the whole year race calendar.
What are you looking forward to this year?
Main goal is to go to more international races, bring better quality events in Mexico, and get more international riders to the Mexican races.
Are there any exciting new riders in Mexico?
YES. We are very Stoked about Oscar Gutierrez, he just started riding for Treee, he is only 17, and he learns pretty fast, he actually won most of the Junior races in Mexico, he even beat Daniel in some of the races.
Have you learnt any magic tricks this year?
I've been learning a lot of transitions this year, going to mountain roads is not always possible so mini ramps, pools and skate parks are always a good option for skating.
Senor Moreno! It has been super fun chattting to you again. Hoping we get another chance to do this soon. Have fun in America. Don't let them convert you to sushi loving. #teambacon!
Dude Thanks a lot, it is always fun, and remember if your problems can't be fixed with bacon then you have some real problems.
Any last words?
Keep an eye on the Mexican races this year, once again want to thank, my family, my girl, friends, and the sponsors for keep supporting me.
Links.
Facebook: https://www.facebook.com/Chopper.MR
Instagram: @gerardomoreno88
Treee Skateboarding Facebook page: https://www.facebook.com/Treee.longboarding?ref=hl
Comments
comments