Edu, Mr AHMYO, tells us about his skate journey. Starting in Mexico, moving to Madrid and skating with the family out there. Good words from a good guy.
Hola Edu, que tal?
Hola! como estas? All good here, stoked on this interview.
How was your weekend?
Pretty chill, some good skating on Saturday and I discovered some cool streets on Sunday. Some family time and sleeping.
Where are you from?
Mexico City (DF).
Nice place to grow up?
Well it has it's ups and downs, but I try to see the good parts. I have great friends and my family here, so it's home.


What's your favourite thing about home?
I guess the food, the family and old friends.
Avocados and bacon?
You know what's good, Mexican avocados are the best.
When did you start skating?
As a kid, I had a skateboard but never had anyone to do it with so I started doing other sports. 3 years ago, a great friend in Mexico came back from the US with a longboard, and I started to borrow it so I could skate it, I got hooked. I haven't stopped. I've always loved the feeling of a board under my feet, I actually bought a freebord first 'cause I love snowboarding. I thought it would be easy, haha. I was wrong.
Are friends your favourite thing about skating?
It's a great part, I have made so many new friends from all over the world. I have to say it's one of the better parts of skateboarding.

What made you hooked?
The feeling of just going down the hill, I learned carving my way down, surviving between cars and having to break because of concrete bumps. I've always loved to be on a board. I broke my arm at 6 going down a little hill on my skateboard, I opened my chin going on my knees when I was like 4 also, I guess Its always been there.
Is skateboarding your biggest love?
I guess it's my passion and what I love to do the most. It's a perfect meditation, where the mind shuts up and it just feels good.
Who else was skating in Mexico city back then?
I first met Daniel Favela, Oscar Cortes, Davit , Daniel Ruiz , Chente, Pachon , Patrick Olmos, Punk Rocker; the true Old school guys from the city. I met them at the first Sayulita Loaded trip. After that, I started to skate with them almost every weekend until I left the city.

Who organised events back then?
Treee longboarding. The first media I saw from Mexico ever, was theirs and Punk Rockers trick tips.
What did you enjoy about hanging with the community?
It was pretty chill , we were starting, so we just hanged, smoked some tokes and did some skating down a mellow hill. Fun times.
What did you learn from your gang?
I learned how to do a coleman and my first heelside stand up, we used to get stoked on 3 meters. They were great times, Just skating and learning.
Has that changed?
It has, I have progressed my skating and learned a few things in these years.

Is progression necessary?
It is if you want to be confident in your skating. You need to learn how to control it. And it's always fun when you learn something new.
How important is good media to skating?
I believe is one of the main ways of marketing and also exposure that either riders or  brands need and use, so it is important.
Do you make any media?
When I can, I don't have the best computer to do it on, but I try to make some when I can. I hope this year I can do some good quality media. I always have good friends that help me with that.
What were you riding those days?
I had a bustin maestro and an original pintail I used to switch on some bear trucks and otang stimulus.

Why did you leave the city?
I was in a troubled time in my life, a bit of problems and didn't know what to do. I had quit a job I had for like 9 months after I finished school and things weren't going so well at home. I went to Madrid, Spain, to live with a good friend of mine, and to try to find something to do with my life. I started working at a taco restaurant and skating became what I did.
Did skating help you cope with your problems?
It definitely did! After skating, everything changed, and today I can say it saved my life. I can work at something I love. And it gets better everyday.
Dude! What year did you move to Madrid?
April, 2011.
How long did you stay here?
I stayed for a year and 6 months the first time.
Were you a decent skater when you came here?
Well I could go down a hill decently fast and knew how to brake with a coleman. I guess that was decent enough for me at the time. But after seeing the level of the riders there, I wanted to learn more.

Did you find what you wanted in Madrid?
Well, I don't know what I wanted, but I got what I needed to learn. And it went pretty well, I fell in love with Spain. The roads, the food, the weed, the woman.
Who did you skate with while you were there?
Well I learned from the best haha. In Madrid back in the old days it was Rafa Garrido, Luis Villaamil, Cesar Gutierrez, Carlos Sanva , Iñaki domingo, Lucas and Alex; my room-mates. And then I started to travel and the time went by, I  met a bunch of shredders like Toti, Bruno, Mikel Echegaray, Alvaro Bajo, and many more. Spain is full of Insane rippers. I feel really lucky I learned my fast skating there.
Seki!
Cesar is the man.
You know a lot of putos!
All of them haha, I was skate raised in Madrid.

What events did you go to that year?
I didnt go to a DH event until 2012. It was Tuixent 2012, an awesome road at a ski resort  but it got cancelled for 2013.
No Budditch or LaNoche?
Oh yeah haha! I didn't remember the exact dates, but I did. I went to the first budditch and I went to a couple of Noches en Negro. Ra did some awesome events.
Did you enjoy Budditch?
Yeah it was crazy, I had never been to a ditch and I got to meet great people and saw some crazy falls with the bungee rope.
Was there anything like these events back home?
Nope and there still isn't. Ra's events were epic.
Wait. You were at LaNoche 2011! WE ARE TOTALLY BEST FRIENDS!
Yes, I saw you there!
I didn't know Mexicans could lurk so well. Good job!
Haha lurkin for dayzzz.
What was the highlight of your first time in Madrid?
I would say learning what Downhill and freeride really was, and really getting to control my skateboard fast and both ways. And living on my own, having the freedom of doing what I wanted when I wanted.
Who did you learn the most from?
La Banda Crew OG. I always say Rafa and Luis where my mentors, but everyone I met in those days helped me in my skating. I still try to learn from them.
Were there any hard lessons?
Some road rash as usual and some heavy falls, but it is what it is. I got to control it , so it was worth it.

What were you riding back then?
My first DH board was a Comet Ethos 39 I think, but I really started improving on the first wolfshark a friend got me cause he broke my other board haha. But I'll always thank him for that, cause I love my Wolfshark.
Did skating in Madrid help you with your issues?
Yes it did, I discovered a world of greatness, good times with great friends, awesome trips, and just learning to cope with life as it comes. Tryin to get better and feel better everyday. Skating will show the way.
What's your favourite thing about the city?
Easy and good public transport, cool streets to bomb and I don't know. It's Europe, it's awesome!
Did you travel around Spain then?
Yes, I always tried to travel, whenever the money and the job would let me. I could say I know a lot of Spain because of skating.
How was the Edu that went back to Mexico different?
Well, I had learned a lot of harsh life lessons, but I also came back knowing what I wanted to do with my life. And a great knowledge of skating fast was a great thing.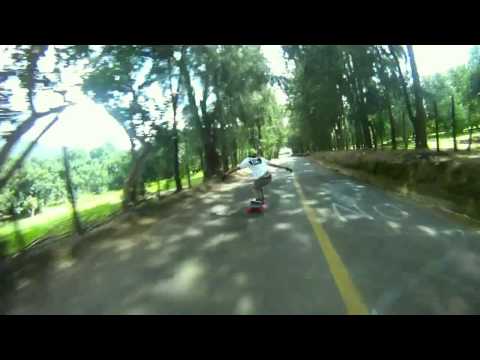 What skate adventures did you have when you returned to Mexico?
Some of the best, I started going to events. In Guadalajara, a great slide jam and then a great trip to Monterrey and Monterreal for the first ever MONTERREAL NO HANDS RACE. It was crazy, I had never skated a road like that and stand up. They were fun times. And I got to meet awesome riders that I'm lucky to call friends now. There are a bunch of shredders in Mexico.
Who are your favourite people to skate with there?
In Mexico. it's always nice to travel and skate with the NN4L and THC crew from Monterrey. And Guadalajara brothers from Treee and Skate Troll Media. But when I am in the city, I usually skate with the homies from back in the day and some fast groms I met when I came back.
What else did you get up to that year?
2012, just those I think. But 2013 I helped a good friend I met in Spain organize the first Natura DH and of course I went, after that it was 5 de mayo and then back to Spain for the summer. I haven't had the pleasure of racing the MILF but I hope 2015 will be the year.
How was your 2013?
Awesome! I attended great races in Mexico like Natura, 5 de Mayo, El tigre,Tamasopo Longboard Fest. And some amazing freerides in Spain like O'Inferno, Castell de Castells, and Velefique. It was full of skating and travelling.

Why did you go back to Spain?
I always love to go back and skate there, I just love the way I live there.
Was it different the second time round?
Yes, it was weird because I knew I had to go back to Mexico, this time I was there for about 3 months. And I loved every day of it. I moved with Tana to small study and just lived to skate and a bit of work from now and then. Can't wait to go back.
What are you riding right now?
Sector Mini daisy, Caliber cast 44s, Blood orange bearings and griptape and some delicious AHMYO wheels.
What is AHMYO?
AHMYO is a new wheel company I created with my best friend. Good shapes and great thane! DH/freeride in mind.

Everyone dreams about finidng a job in skating, what did you do to get yours?
I like to say the universe gave me the opportunity. I started working with my best friend in 2013 and at the time he showed me some information about an uncle he has that had a urethane company. So I started to look into the company and his uncle. And it happens to be one of the oldest Urethane Companies in California. So when I got back from Spain last year, I just had one thing in mind, and that was to make some wheels.
Who is your best friend?
His name is Iñaki, and I've known him since I was 6, he is my brother from another mother. And he is the MAN.
The market is super saturated with wheels, why do we need AHMYO?
Ahmyo means absolute and complete trust in Self.
We wanted to make wheels that were trustworthy. Wheels that made you feel in control.
I believe we all need a wheel like that, and if not the wheel, the concept of AHMYO.
Ahmyo exists to help others as well as myself, to keep on skating and trusting themselves as skaters and as beings. To trust oneself in every way.
What is the most important component of a good wheel?
I'd say good thane, a good urethane formula always makes a wheel delicious and we have some tasty thane.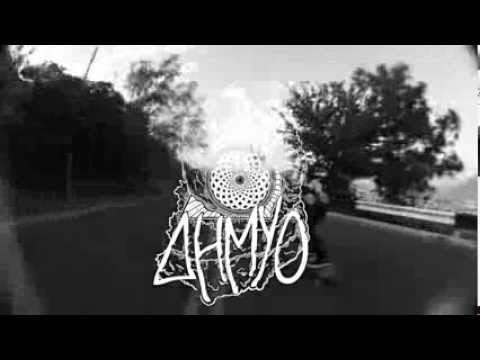 Is it hard to develop wheels from scratch?
Well it wasn't from scratch I have to say, I wish I had the money to make my own core and shapes, but at the moment we chose the better components we had available to make some awesome wheels.
What's special about your wheels?
They are easy to slide and control, a special thane and love in each and every single wheel we have. Trustworthy wheels that just feel amazing!
Who is riding them?
In Mexico:
Pajaro el Muchacho (Abraham Esparza) from THC in Monterrey.
Jaime Ortiz from STM in Guadalajara
Marco Palafox from the Motherfuckers team in Guadalajara.
In Spain
Luis Villaamil (la Banda crewOG)
Monty Ponty (Goat Longbaords)
But I'm super happy that a bunch of friends are stoked on the company and riding the wheels out of love.
Where can people buy them?
In Mexico, we have an online sale web page, and a couple of shops got some. But you can contact us via FB for any Info.  https://www.facebook.com/ahmyowheels
How is 2014 going for you?
Pretty great! I got the company started up and just got some help from OnboardDistribution to skate as flow for Caliber and Blood Orange, so I'm super stoked on that!
Also stoked on the upcoming events in Mexico and getting to Spain again for the summer.
Just creating better things everyday.

What are your plans for the rest of the year?
I'll be going to Laguna DH and then Aguacate Longboard Fest before I go to Spain again and the freeride season begins for me there with the O'Inferno freeride in Vigo, Galicia. An awesome road and event. I also plan to travel there. Tenerife and Mallorca will be a must… and then whatever comes. Maybe going to some IDF events. Maybe Norway with Sammy. Don't know for sure.
I'll be enjoying Spain, skating and taking care of Tana who just got her knee operated.
And trying to make AHMYO grow in this super saturated world of wheels.
Gotta love the magic islands!
I've never been, but I know Luis and Monty live there, so I can't miss it.
Where will we see each other this year?
Well I hope you come to Madrid! It would be great to see you there.
What's the AHMYO dream?
I'd say the dream is to evolve, to progress. To keep on making good and better wheels. Make a new core for sure. Just grow, so we can help more to do the same, personally and skating. It feels nice to be able to help good friends and underrated skaters get some thane under their skateboards.
What does AHMYO mean?
Its about trusting your true self and the world that we live in. Knowing that we are perfect and one with the universe. It is a vibration, like (OM) .
What do you do when you're not skating?
Right now, work on the wheels, either that or just hanging out with some friends. Enjoying life, and being patient. I try to meditate when I can  and I started doing this Chinese exercises that help with your Qi (chi)/(energy)  like Dragon ball Z haha.
Mexican Goku!
That's what's up haha.

Pick 3 numbers between 1-20.
2-9-17
2 – what weapons would you choose in a zombie apocalypse?
a katana and a shotgun. no doubt.
9 – what would you choose as your last meal?
Damn, thats hard, I love food. I'd say my moms pasta dishes. She is an awesome cook.
17 – What is Victoria's secret?
Amusement for the masses.
Edu bro! Thanks a lot for your time. All the best with your new venture. Power to the Putos!
Thank you and same to you ! I hope I can see you this year in Spain. Power to the peeps! Haha.
Any last words?
Thank you for the opportunity and thanks to all the people that helped me got where I am today.
Thanks to the sponsors, OnboardDistribution, Caliber Trucks, Blood Orange, TRIP HOUSE COMPANY, La Banda Crew and AHMYO for sure.
The family, friends, and beautiful Tana.
Links.
https://www.facebook.com/ahmyowheels
https://www.facebook.com/LaBandaCrew?fref=ts
https://www.facebook.com/triphouseco?fref=ts
https://www.facebook.com/onboarddistribution?fref=ts
Comments
comments