Oscar is a rad grom from Guadalajara. He tells us about the adventures he has had on his board so far, losing a tooth and Mexican avocados. BOOM!
Hola Oscar, how are you?
Really stoked Gbemi, how about you?
Just had dinner. Feeling like a champ. Having a good day?
Yes, having a great day. Missed school, but all is good.
Where are you from?
Born and raised in Guadalajara, Jalisco, Mexico.
Nice place to be raised?
Sure it is, tons of good friends, big skate culture, many roads to skate, great food and probably the city in Mexico with the most beautiful girls.
What's your favourite food?
Tacos de Barbacoa.

When did you start skating?
I started when I was only 12; street skating, 2 years later, I got my first go fast board.
Did going fast change skating for you?
Yes, in many ways. DH skateboarding helped me to travel around Mexico, I've been to many cities that I probably would never have visited. Going fast has a lot of rush and definitely changed the way I see things. The trust of pack skating with friends grows too.
What got you into DH skating?
I first got a Longboard as a cruiser, softer wheels made me go faster while comuting, then I started going to the "Vía Recreactiva"; the local government closes the roads on Sundays, and Treee skateboarding had a super mellow part closed just for longboards. They were the ones who took me for the first time into an open road and never stopped from then.
Your government encourages skating?
Yes, it supports most of the events and races, and lately a skatepark is built every month in my city, nothing really big but people get more choice nowadays.
What is Treee skateboarding?
Mainly a Longboard/Skate shop, they support some local riders and they make good quality events and media.
Do you remember the feelings from your first event?
Yes. At that time, I didn't event know what DH was, I just watched people going fast down the road and I wanted to go after them, I didn't know any James Kelly, Kyle Chin, Patrick Switzer or Gerardo Moreno. I just thought going fast was fun.

Did you have a grom gang?
OH yes! I still have my grom gang "Esquinita Longboard" The Longboard Corner. I used to hang out with my friends on the corner of my street house.
Who were you learning from?
Carrasco twins, Gabo and Richie.
When did you upgrade your cruiser?
About year and a half, when Gerardo Moreno, Daniel Caro and more of the Treee crew took me to a canyon road. Actually I still skate it, horrible pavement, kills your wheel in couple runs, I also have a run
What did you upgrade to?
I moved from an old S9 pintail to a Comet Board. Since then, I've always wanted to ride for them.
What Comet Board were you riding back then?
Voodoo Doll.
How did it help you have fun?
Going faster was easier, stiffer board equals more stability, shorter wheelbase also made slides easier.
What do you like about Comet?
Mainly how versatile their, boards are; you can find a bowl, street, DH and cruiser board in the same company. Hybrid skating is also super fun and these guys seem to dig it really well.

What adventures did you and your Voodoo doll have?
As that board was my actual go fast board, I hit it really hard in my first months of skating, always came back home with roadrash.
Were the there any hard lessons?
Not with that board but I lost a tooth on my wildboard! A friend of mine (Luis Ortiz) bailed in front of me going 40m/h (70km/h) both feet went off my board and I ended with my face in the ground.
Are you a wrongboarder?
Righboarder! I have fun with any board and if by some chance there is a good spot while I'm on my longboard I just have fun with it. Also, going fast on street decks is fun but really sketchy.
What events did you hit that first year?
Just that event I mentioned before, there were not many events then.
Have you done any comps?
Yes many now. I went to all the national events last year. First event was Tonallan DH race, it was a drag race.
Is there a big race community in Mexico?
Kind of small, it's growing fast, especially in the last 2 years.

Where is the DH capital?
Guadalajara.
How did you do in your first race?
Haha horribly! I got disqualified in my first heat, I didn't know how to tuck and I raced with no helmet!
Haha wow. Did you do better in the second?
Way better. I knew how to tuck, made it to the semi-finals. That was Natura 2013.
Why did you decide to compete?
I saw that as a chance to travel to a city where I'd never been. I liked the feeling of racing. It wasn't till my 3rd event that I made it to a podium, winning the grom division and 3rd in Open. I was really stoked.
What do you enjoy about travelling?
Meeting other people and seeing new places. I learn something every time I travel.
Where are your favourite places to skate in mexico?
Monterreal (Coahuila), all over Monterrey, and obviously all the Guadalajara Spots.

What other events did you hit last year?
Only national events but went to all of 'em.
-Natura Dh
-5 de Mayow
-Fresco Longboard Race
-Rey del Volcan
-Monterreal Longboard Fest
-Tigre Freeride
-Tamasopo Longboard Fest
What were you racing on?
The Comet Wild Boar, Lite Rey Trucks, Advantage R.A.D wheels, Riptide Bushings and Ojoom Pucks.

Are any of those your sponsors?
Comet Skateboards
Rey Trucks
Rider Approved Designs – I just only started skating for them about 2 months ago.
Word! How did you hook up with Rey and RAD?
Rey contacted me because I was in a run with Miguel and Luis Ortiz and Mike Byrne sent me an email if I wanted to join Rey.
RAD: I got in touch with Louis thanks to Dustin Hampton, he told him about me and I guess Louis thought it was a good idea to add me to the team.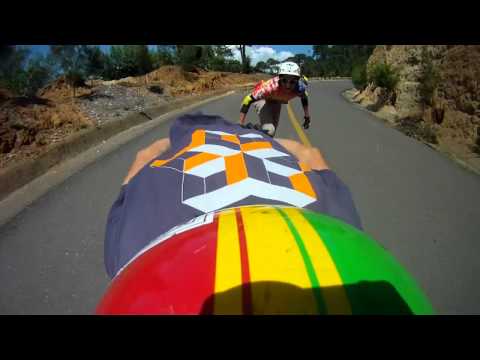 Dustin spends a lot of time there?
Yes, he came last year like 4 or 5 times to Mexico, he's actually coming in 2 weeks for Laguna DH Race.
How has your year gone?
Really good! I spent my first month skating with my friends from NONEED4LUBE in Monterrey skating parks, garages and hills. I also raced my first event, taking groms home and 5th placed in open, bailed in the semifinals.
What are your plans for 2014?
Travel as much as I can to international races, for now I plan on getting to Pikes Peak, Angies, Monterreal, and probably south America.
What do you do when you're not skating?
Hang out with friends aaaaand  "Study".

Pick 3 numbers between 1-20.
16, 17, 2
2 – what weapons would you choose in a zombie apocalypse?
Rocket Launcher with tons of ammo.
16 – Who would you like to be reborn as?
Myself.
17 – What is Victoria's secret?
Models are fed with Mexican avocados to stay in shape.
Oscar bro! Thanks so much for your time tonight, nice talking to you! Good luck in your adventures this year!
Thanks to you Gbemi, my pleasure.
Any last words?
Thanks to my homies, my sponsors, Hightide, Treee Skateboarding, Comet, Rey Trucks, RAD, G Form, SkateTrollMedia and Onboard dist.
Links.
Facebook: https://www.facebook.com/OscarGutierrez1702
Instagram: oscargutierrez_stm

 Thanks to Claudio Uribe and Fernando Vega for the photos!
Comments
comments