When Brandon isn't busy pushing faster than you, or bombing hills, the Salem local is quoting Miley Cyrus and doing big spins. Stay rad.
Hey Brandon, how are you?
I'm great Gbemi. And yourself?

Awesome. Where are you from?
Salem, Oregon. It's inbetween Portland and Eugene.
Are you a witch?
Haha. Opinions vary I guess, but I don't think I'm a witch. Maybe a wizard? I think you've got the wrong salem.
What was it like growing up there?
I like it. Many people like to complain about it because there are two big cities within an hour's drive making here seem pretty lame – but it's not too bad. Salem is neither a big or small town so you kind of get, as Miley Cyrus would say, "the best of both worlds."
When did you start skating?
I started really skating almost exactly five years ago. I've always had a skateboard growing up but never really got into it. I was always more interested in traditional sports until I got my first longboard over the spring break of 8th grade.
Were you the first Salemite to get a longboard?
No, but I was definitely one of the first to actually get into it. My best friend's brother, Jed Johnson, started skating a few years before we did with some very recognizable guys in Portland such as Billy Bones, Robin McGuirk, and Alex Tongue. I always thought it was pretty cool so I figure I'd give it a try.
What made you fall in love with it?
The absolute thrill! I've never done anything else that gives me the same rush that skating does. I love how it's a never ending progression. No matter how much you try, you can never fully master it. You can ALWAYS do a bigger slide, or bomb a faster hill, or nail a more technical trick… it just takes time and practice.
"No matter how much you try, you can never fully master it. You can ALWAYS do a bigger slide, or bomb a faster hill, or nail a more technical trick…"
What sort of skating does Salem offer?
All sorts. The pavement is generally pretty good and we have a couple killer runs. Most of the good ones are pretty sketchy though haha. The thing I like about Salem is that I can skate to pretty much any hill in town within 20 minutes. In bigger cities that just isn't an option. I took a trip down to California this winter and it made me realize how good I've got it. They can't skate hardly anything and walking back up a 5 mile run is unheard of.
Who were the first people you skated with?
Jacob Johnson, Abel Cardenas, Ricky Mills, Josh Smith, Maceo Boston, Chance Zavala, David James, Lukas Strong, Ben Cornish, Troy Sansburn, and many more…. Soooooo many good times!
Still riding with them?
A few of them, but everyone is so much more busy now. Back when I first started, we could go out for 6+ hours a day and have a great time with no worries. Nowadays everyone has responsibilities and obligations that make it hard to coordinate good skate sessions with those same guys.
What kind of stuff did you guys get back to back then?
We skated all over town scoping out the biggest and baddest runs around. For the first year or two there was a never ending hierarchy of hills that I thought we'd never be able to make it down alive. Every hill was a new thrill, a new adventure, a new place to hang out and "get pitted".

First time in Cali?
First time skating hills in Cali! I've been to NorCal a few times on family trips and travelled to San Diego in 2012 for the Adrenalina Skateboard Marathon but was way too sore afterwards to do any downhill runs.
What took you there?
A car. Some friends. A drive to get out of all this rain and experience something new and exciting.
You race distance?
Yes I do. You could say that's my forte. As relaxing and chill as skating is, I'm a competitive guy so distance racing is my main outlet for that. I never really thought I'd get into it but I skate all over town so I figure I'd give it a try. Ever since I dropped out of wrestling in High School I've had a lot of pinned up energy. Push races are my way of relieving all that tension.
I didn't know West Coasters could push!
Hahahaha! West Coasters are the best! Just ask Robin McGuirk, Cory Poole, and Conan Gay. We can compete with most anybody out there. Although, shorter distance is more our specialty. We have quite a few 6-8 mile races in the NW as opposed to the east coast which seems to have more marathons and extreme distance stuff such as Chief Ladiga and the Ultra Skate.
What are the distance events on your coast?
They tend to vary a bit, but pretty much every year we have: The P-Town Throwdown, The Longboard Larry Night Race, The Vancouver Vixen, The Ride and Slide, and the Cathlamet Downhill Corral push race. Last year Robin McGuirk and the IDSA really stepped up the competition with the addition of 2 new events:
1) Push in The Woods,
2) The Centennial Trail Push Race.
Both events were really fun and competitive with guys like Paul Kent, Will Frank, and Eric Palmer there to give us a run for our money!
Who is Robin?
Robin "The Leg" McGuirk is an all-around boarder from S.E. Portland. He is the owner of Eastside Longboards and one hell of a distance skater! He also teaches a Longboarding 101 class through PCC. There's no doubt he's one of the more influential skaters here in the NW! I believe I first met him a few years back at a distance race he hosted. He noticed how well I was doing for how young I was and complimented my abilities as well as giving me a few little tips. Ever since then, we've been battling it out at every single push race. He usually just barely beats me but I've got a couple wins on him so far. It's been great having a little bit of friendly competition pushing us both over the past 2-3 years.
"Having a great time is always my first priority; I'm not too picky on how I achieve that!"
What are your favourite things to do on your board?
Pick up chicks? No, my girlfriend would kill me lol. Depends on the day I guess. I really enjoy all disciples equally, but in general, I spend a lot of time working on my freeride and freestyle skills with friends. Having a great time is always my first priority; I'm not too picky on how I achieve that!
Does she skate?
No, but she's cute enough so I let it slide. I actually prefer it this way. When I'm with 95% of my other friends, skateboarding is involved in one way or another. She gives me a much needed retreat from all the skate stuff I'm constantly involved it.
What did you guys get up to in the old days?
Lot's of downhill, that's all there was back then. I started longboarding in 2009 before freeriding really got popular. It's crazy to think that sliding is what longboarding is all about now. Hell, nobody hardly even knew what a "pre-drift" was before 2010. If you wanted to slow down you had three options:
1) You threw down a footbrake.
2) You busted out a fatty coleman across the entire street.
3) You jumped off and hoped to god you could run it out.
Do you remember the first event you attended?
Yes I do! It was a local event in Salem in early 2009 on this super steep and mossy trail. It was way out of my league! I had only been skating for about two weeks at that point but fortunately I learned how to coleman slide by then, so I pretty much did that down the whole hill haha. I remember Casey Morrow, Chip Wood, Alex Tongue and a few others making it down here. It was very inspiring to watch them skate for the first time. I just kept thinking to myself, "how the hell do they do that?" I believe Alex ending up winning with a near flawless run. That's what really got me interested in skating.
Wow. Who organised that event?
Aubrey Rogers. That was the first event he hosted as Salem Longboarding.
Does he still skate?
Yes, but not nearly as much as he used to. When I first started, he was one of the main pioneers of the longboarding scene in Salem. Nowadays, he's more into National Guard biz niz.
Aside from Adrenalina, what did you get up to in '12?
I made it to the Maryhill Festival of Speed, the Cathlamet Downhill Corral, as well as like 10-15 smaller events here in the NW. 2012 is when longboarding really started to get big. Before then, most all events were unsanctioned and pretty sketchy. It was more about having an awesome time with all your skate buddies and making it down the hill alive. A few of the first races I went to didn't have any prizes and money wasn't involved but we didn't care. Boarding has always been about the fun and hopefully it stays that way.

Was Maryhill as fun as you hoped?
Maryhill is always as fun as I hope and then some. I love it! I've been going as a spectator since 2009 and started racing it in 2011. The atmosphere is really great there and the level of competition is unmatched. That's the only course where every race heat is soooooo close. Over the course of about 200 seconds, everyone is racing within the same second or 2. Every little thing counts on Maryhill!
Did you have to make any special preparations for your tour?
Not too much. I figure I had enough experience at that point to hold my own.
Was it scary that first time?
Not at all. I was really surprised at how comfortable I felt on the hill.
Who did you go with on your '11 trip?
My good buddy Abel Cardenas. We had our friend Ben drive us all the way up there and drop us off. Shoutout to Abel for making that such a badass trip!
How did you do in the race?
I did great! I made it through a few rounds of race heats and qualified 43rd of 186 in Open, and 7th of 58 in Juniors II with a time of 3:17.808. Crazy thing is that I got that same EXACT time for both of my qualifying runs. What are the odds?!
1 in 666.
Something like that! haha.
What were you racing on in 2012?
For most of 2012 I was riding an Incline Longboards Flat Top with Aera K3 186mm 50* and 72mm Venom Cannibals in red or white.
Are any of those your sponsors?
Not currently. I used to ride for Incline until the end of 2012 when Longboard Larry offered me a spot on his team. I couldn't say no. I never really pursued LBL because I figure I was never good enough to make the cut. Apparently I was wrong!
Larry makes race boards?
Hell ya he does! Ever heard of the Manatee or the Chupacabra?? They're some of the most race savvy shapes around; Although, he is better well known for his dancing and cruising boards thanks to guys like Adam Colton and Adam Stokowski. Those guys shred!

What LBLs are you riding currently?
A little bit of everything! Larry has a great collection of decks for any style. I skate competitively in most disciplines so it really helps having such a diverse collection in my arsenal. Right now my go to board is the Hippo. It's a very versatile shape and mold that's good for just about anything from kickflips and big-spins to downhill racing. It's the type of board you can take to any session and still have a great time!
"…longboarding isn't just a hobby or sport, but a lifestyle that we try to adapt our everyday lives around."
Who else is on the team?
Jed Johnson, David Mitchell, Carmen Shafer, Ryan Sorenson, Deano Ozuna, Tai Nakayama, Justin Suryanata, Hutton Richardson, Landon Jackson, Shay Sullivan, Pat Haluska, Morgan Preioni, Kyle Schmidt and a few others here and there. It's really a great group of people that genuinely love having fun on board. I guess our biggest similarity is that we can all be a little goofy at times, but who isn't? For us, longboarding isn't just a hobby or sport, but a lifestyle that we try to adapt our everyday lives around.
Do you have any other sponsors?
Yes I do. Other than LBL, presently I'm supported by: Seismic Skate, Edge Boardshop, GoPro, RipTide, Holesom, Buzzed Precision Trucks, and Frozen Flag.

How did you hook up with GoPro?
Through a site called "Hook It". They have a really great platform for promoting action sports athletes of all kinds. Essentially, it's a place to store all my recent accomplishments as well as keep my whole "skate resume" up to date. It even tracks how valuable you are based on your results, how much you skate, and how much interactions you get through all your social media platforms. I believe it's run by Monster Energy. This site actually just got a major upgrade and is definitely worth checking out. Do it.
What are your accomplishments?
If I had to pick my top 3, they would be:
1) Getting a longboard. That was the single most important decision of my life.
2) Creating this video https://www.youtube.com/watch?v=wwWItJjwR24. Without it, I don't think I'd have near the support that I do nowadays. It was the first thing I could really show off and be like, "BAM, this is me. This is what I can do on my longboard. This is what longboarding is."
3) Placing 3rd at the 2012 Adrenalina Skateboard Marathon. After this event I realised how good me and Robin really were compared to some of the other distance guys around the country. This event gave me a lot of confidence in myself which helped push me to where I am today.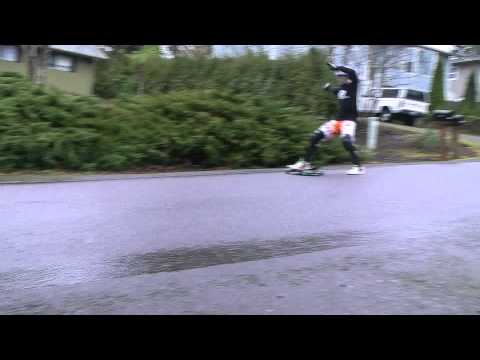 How was last year for you?
This last year has been freaking awesome! I've made many new friends and got to do a bit more traveling than I've done in the past. The year started off with the goal of trying to do the biggest slide I could in the rain before we got into dry season. I got 187ft which is rad (others would disagree lol). After that I got picked up by G-Form and did a little video for them. Mid-June, Lamin Cassama from Sweden came to stay with me for 5 weeks. We had an amazing time at the Maryhill Festival of Speed and hit up many rad skate spots. Thanks to my GoPro, we were able to get some badass follow footage of him on some of the coolest hills around. After that, there was Giant's Head which kicked ass. I went up with the PDX sk8 bus, and I'm glad I did! In late August, I went to the Cathlamet Downhill Corral for the 3rd year in a row where I got my first big win on Robin McGuirk. The weekend following that, I hosted a 2-day event entitled "The Ride & Slide". Finally there were a few bigger push races to finish off the season. I even managed to beat Paul Kent in one of them! 2013 was one hell of a year.
Have you had a fun year so far?
Definitely! Not many events so far but it's getting to be that time of the year again. I actually just landed in LAX a few hours ago for The Catalina Island Classic this weekend. It's my first year at this event and I couldn't be more stoked. Wish me luck!

What are your goals?
Short-term: Pump out more engaging media. Increase my exposure. Get more support. Go to more events. Better the skate community. HAVE MORE FUN.
Long-term: Don't die lol I just want to keep my health. The last  thing I need is a big crash that cripples me for the rest of my life. That being said, I'd love to keep going to events and doing what I love for many years to come.
What do you do when you're not skating?
Think about skating haha. I spend a lot of time with my friends and girlfriend. You guys rock! (Even you Colton). Or school. Lot's of school… I've got a pretty dang busy schedule these days!

Pick 3 numbers between 1-20.
How about 7, 13, and 17. Those numbers are prime!
7 – why did the chicken cross the road?
Give me ten minutes with the chicken and I'll find out.
13 – what happens when a zombie bites a shark?
It turns into a zombie shark. Duh!
17 – What is Victoria's secret?
How should I know? It's a secret.

Thanks for your time buddy! Good luck in the upcoming season.
Any last words?
Live and let live. It's all about mindset. Go out of you way to help people. Shred Oregon.
And a shoutout to all my sponsors:
You guys are amazing! Without your support I wouldn't be where I am today. Look for me on the podiums all this year!
Links
Comments
comments