We had a recentish chat with rad Aussie Mr English from those videos you love. He tells us about longboarding down under, the influence of the rad Stephen Daddow and the pleasures of hosting races. Enjoy

Hello Michael, how are you?
I am feeling good!

Weird, I listened to that song today and its playing in my head right now!
Haha! What song?
Feeling good – Nina Simone.
It's going into YouTube now!
www.youtube.com/watch?v=D5Y11hwjMN
What's got you happy this past week?
I have been teaching awesome subjects at school, got some rad new wheels from Cult, did some slacking and met a new girl!
Why are you in a Cult?
Well I was raised with grandparents in Jehova's cult so it was a natural progression! The new cult has more fun too!
What's the initiation for the new Cult?
4 weeks of meditation atop a secret mountain with an ancient order of cosmic monks. That and some other secret things.
What grade do you teach?
At the moment I have some grade 9 (14yrs), 11(16yrs) and 12(17yrs) but when I graduate I will be qualified for all ages.
Are you the coolest teacher alive?
Probably in the top 10, it's the modesty that gets me there haha.
Where are you from?
I am living on the east coast of Australia in a city named Brisbane. Not far from the beach, good study and lots of freeride!
What's life like in Brisbane?
So far so good. I moved here for study but the competitive nature of skating here made me progress my style too.
When did you get into skateboarding?
I think I'm coming up to my 7th year next month!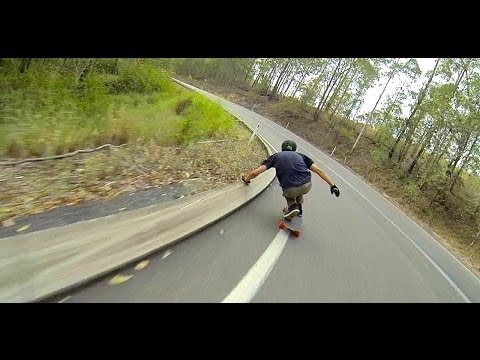 How will you celebrate your anniversary?
Well it's very close to BTB, Australia's biggest freeride. So I will be making the travel to north Queensland and rolling down a mountain maybe 80-100 times!
What were you getting up to in your early days?
The usual… Skating without a helmet… learning to slide… wearing shoes with a lot of footbreak… stinkbug!
Who organises BTB?
Ado from Cre8ive Sk8 and his team of helpers. I'm not sure exactly who but I know that Grits and Michalea help a lot too!
What's it like?
It's like a race that has no heats and not many hay bales! You wear leathers, do heaps of runs and go real fast with your friends!
When did your skating start to evolve?
Every day was evolution. I started skating with my close friends and there was a natural competitiveness then. I was always the slow, cautious one. One day I met Steve Daddow on the internet, he told "Wear a helmet grommet" so I did.
Where do Aussies meet online?
Mostly Facebook or through skateshops. There was ASRA but it has died.
Who is Mr Daddow?
Pro skateboarder, board builder, concreter, playboy model, stuntman and philanthropist.
Did your internet forays have any bearing on your skateboarding?
Getting in contact with Steve got me a lot of places in skateboarding both physically and mentally. He was a good coach. Getting into the broader community of the sport was good too, seeing what the guys overseas were doing was great! My first downhill video I saw was "Downhill in Austria" and there were groups of guys bombing hills, sliding stinkbug, putting two hands down for toeside and it was the greatest thing I had ever seen!
Who would Mike be if he hadn't met Steve?
Probably a less legitimate skateboarder but who really knows?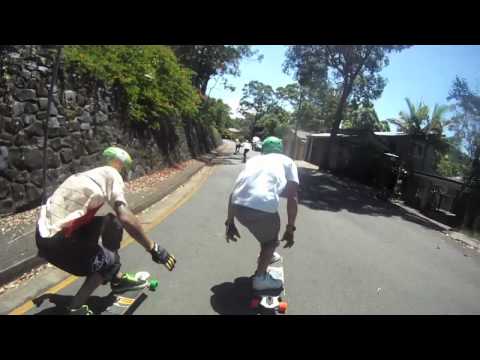 When did you get to meet skaters in real life?
Well there was my group of friends: Wingers; Mylos; Langas; Crash; Mitch and sometimes a kid on a ripstick that would come bombing hills after school. One day Wingers invented a pendulum slide and we were stoked! A few days later we found that people all around the world were already doing the "coleman". Other than those guys we probably met the guys from either Brisbane or the Gold Coast first and that would have been through Facebook. This is around the time that we started to progress out skating a lot.
Did meeting the wider community change skating for your gang?
Big time! We were improving inside this growing competitive community, going to races. Wingers and Mylos were even winning some of them! Steve taught us the importance of the community too. That got me and Mylo into holding races and events so that the sport we love could stay alive and grow!
What were you riding back then?
Randal trucks were my favourite with 42º plates and my favourite deck was the Rayne 09 avenger! I also rode a hellcat, dervish and an Aussie Glyde topmount. My favourite wheels were probably 70mm Lime Zigzags
What did you enjoy about going fast?
Fast was instant meditation, perfect clarity and flow.

How did you do in the races?
For the first 4 years, usually dead last! The first race I won was in Lennox head called the Dash and Slash and I think Rob McWhinnie held it.
When did you first put an event on?
I started with a race series 2011 and the first race was at a gnarly hill. Kula from Norway was there and he won it! There were some crashes and I learn't a lot. From there I have held the series 2 years in a row and the races are getting better and running smoother.
What led to that?
Everybody loves to race but nobody holds them… Someone had to do it.
Was it hard making it happen?
Harder than I thought… Who would think keeping track of 30-50 teenagers would be hard right? The more I do it the better it gets and being a teacher helps too.
Outlaw/Sanctioned?
I would love for everything to be sanctioned but they are outlaw always with as much safety as I can think of/afford. It is the state's only race series and maybe even Australia's only fully functioning outlaw series!
What's the series called?
I guess there is no name? Just Mike's outlaw series… maybe it's time for a new name!
Bacon rashers?
Thanks for the suggestion but I think that maybe a little more relevance could be used.
What does it take to win?
Consistency, precision riding and guts!
What format do you run?
Each race usually has a 3 round round robin race to qualify then 4 man heats with a single elim tree. From there the top 8 riders get points. At the end of the series the top 16 riders in points have a 4 man, single elim tree for the top spot and glory over the state!
Are they ASRA races?
No asra for me, I started with ASRA but nobody uses ASRA here anymore.
Why not?
Facebook has taken over. One place to check selfies, read some pseudo science and now to see when and where the next race is.
Does skateboarding cure anything?
Boredom, sexual frustration, creativity blocks, bad posture, small buns… It's the miracle workout of the millennium.
Gemma says you're a bush mechanic… is that as dirty as it sounds?
Probably worse… She has a way of sugar coating things.
What have been your favourite years of skating?
The last 3. Having brands behind me like Cult, PNL, Cre8ive Sk8, Bonehunter, TSG and Daddow have meant that I have more money for travel. That meant that I got to go to Newtons Nation, BTB and a lot of smaller races in Australia. This improved my confidence and style in both buttboard and skate.
When did you first get support?
The first support I got was from Daddow in the form of Daddow skateboards. I have a feeling that I only got that because Wingers and Mylo were getting put on the team and I was standing there and Steve felt awkward. I was then able to use the prestige of Daddow to get on the Extreme Skates team and then really built my reputation in the scene down here.
What is the Extreme Skates team?
Extreme Skates is a skate shop in Brisbane.
What is your rep right now?
The grumpy guy at the start line of races haha!
"It's great to have spare cash because you aren't buying wheels all the time but it is far more important to become a sponsor of the sport rather than a receiver of the product."
How important is sponsorship?
Being sponsored isn't that important really. It's great to have spare cash because you aren't buying wheels all the time but it is far more important to become a sponsor of the sport rather than a receiver of the product. Give time to events, give passion to riding and give love to local shops and products.

Are local shops important?
Being local helps but being kick arse is better. There needs to be a mutual respect between the shop and the riders. At the moment brands like Supersports and Cre8ive Sk8 probably spend more money on skateboarding than they make. It's a true labour of love.
Who are the people putting love into the down under scene?
There is a lot of love coming into Brisbane and the surrounding area. The Big hitters would be Cre8ive Sk8, Supersports.net (distributer of the year award), Mudjimba Cruisers and Les from Concrete Lines has been helping too. There are some big brands picking up the local rippers too like Landyachtz, Vandem MFG, PNL, Skoa, Blood Orange and Calibre. Lots of love down here!
"Give time to events, give passion to riding and give love to local shops and products."
You and Gemma are on all the same teams?
When you live together for two years you often go to the same places!
What is MikEnglish style?
I like to carve, do small slides and go fast.
What adventures did you have in the last year?
In this last year I have really started to tie camping adventures to skating. Waltzing Matilda across Queensland with my new buddy Bast skating hills and progressing our style. I guess this story can start with BTB last year. That was a weekend with team Extreme staying in a hotel together and bombing hills all day… To be honest it has been a blur of camping, study and local spots. Another race series has passed but that doesn't mean skate for me. Roy Churchland was this year's champion and it was a well deserved win with his consistent badassery. I have also had the privilege of taking some travellers for skates in the local area. Domink and Annika Laute visited from Germany and there was another guy Frederik but I don't remember where in Europe he was from. The Canadians Riley Harris and Elena Corrigall visited for a few weeks too. The craziest visitor was probably Danny Kim from South Australia. We skated nearly every day he was here and did a fair bit of camping near hills too. We even made hammock bunk beds!!! That guy makes you skate fast and ride close. Good memories!
Why do you like having visitors?
I love having visitors because they can teach you about skating, their culture and travelling. Also you get to meet beautiful people from all around the world.
Have you gotten to visit anyone?
I guess there has been one real skate visit where I stay with a family. That was staying in Tasmania for King of the Zig and Wazza, a local grommy, let me stay for nearly a week. Next year I plan to visit all of my skater friends in Germany and anywhere else Europe takes me!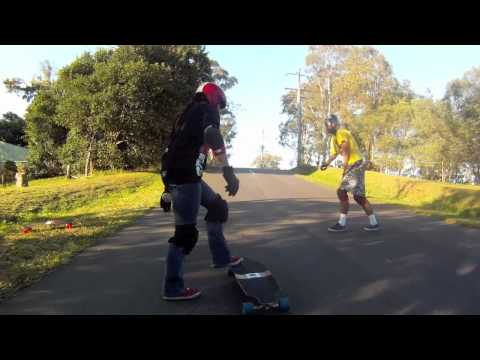 What are your favourite skate memories?
Ones that have lots of buddies to skate with or that one time that everyone crashed and I won my first buttboard race at Newtons Nation.
How much will you miss Newtons?
Too much.
What role did Newtons have in the skater you are today?
It was the first time that I got to see the 'real' downhill skaters! Watching Alex Tongue fly around Forest Elbow taught me to turn left and hold grip at speed and following Louis and Dalua through the Dipper taught me that going fast is achievable!
How is this year going for you?
This is a year of "FUCK YEA" for me. Lots of skating, lots of learning and lots of new faces.
What are your plans for the rest of the year?
I have another 5 weeks of teaching to finish my Prac then to get a job to start saving for Germany! Happy to accept donations haha.

Aside from Almatrieb, where can we catch you this year?
Not even Almabtrieb! I'l be at BTB and all of my local races. You'll find my buddies Bast and Skittles in Europe!
No Euro skating?
Not until next year!
What do you do when you're not skating?
Slacklining, bushwalking, throwing rocks off cliffs, sometimes reading but usually study or hanging out with friends. If I'm ever injured I often go to computer games to get my endorphin fix.
Who should we interview next?
Steve Daddow for sure.
Pick 3 numbers between 1-40.
4, 30, 39
4 – do you have any recurring dreams?
Not that I can remember.
30 – What's your party trick?
Magically vanish before the night is over.
39 – Tommy Watson – Who would be in your dream race heat?
I would happily re-live the heat with Dalua, Louis and Api at Newtons Nation. Those guys are fast and have wicked style!!!

Michael! Thank you so much for your time. It's been great hearing your story. Keep up the stoke and have fun in Europe!
Thank you for the opportunity! One holiday at a time, BTB is Tomorrow and I have to pack my bag!
Any last words?
Sponsor your scene with time and love!
Massive thanks to all of the people who help me out! Especially Daddow, Rodney, Adam, Douglas and Adrian, you are the dudes that give with your heart and keep the smile on my face!!! Be sure to hit the links below and help out the guys that pump the love into skateboarding and keep my skateboards and protective gear looking minty fresh!
Links.
http://www.pnlprecisiontruckco.com/
https://www.facebook.com/DaddowSkateBoards
http://www.supersports.net.au/
http://www.skatecultwheels.com/
https://www.youtube.com/user/FullysicPhatAwesome
Comments
comments