Delicious stoke filled conversation with one of South East Asia's premier longboarders. Ering tells us about Grupo Nopo, Skate Family, Hammock life and the VLT.
Hi Ering, how are you?
What's up bro! I'm good!
How is your weekend going?
It's good! Beaching and skating.
Where are you from?
I'm from Opon, Lapu-lapu City, Cebu Philippines. 
What was it like growing up there?
I grew up in a ghetto place. Lots of gangsters! We learned to be street-smart at a very young age. But for me, it's one of the best places, and I wouldn't trade it for any other place.
How hard is it growing up around all the bad people?
It's so hard! Seeing your close friends going with them! It sucks! 
Have you ever been bad?
Almost! Thanks to skateboarding, my life totally changed!

What keeps you out of trouble?
I hate trouble! We hate trouble! We try to stay out of it and make fun instead! Yes! Skateboarding keeps me out of trouble and I get to make more friends. 
"Skateboarding keeps me out of trouble…"
What's your favourite thing about Opon?
Lots of talented people! Skaters, Skimboarders, Bands, Artists, Shapers and many more. Also, the first national hero of the Philippines, Lapu Lapu, hails from Opon. Way back in 1521, when the Spanish leader Magellan tried to colonize us, Lapu Lapu saved the Oponganons by showing bravery and strength to put up a fight! And by the way, he killed Magellan! Google it up for more detailed info.  
Does the bravery show in your skating?
I think so! I mean all skaters here in Opon are good! like Dandoy, Pedro, GN Crew and Oponside Crew and some other kids are rippin.
When did you start skating?
I started skating when I was 15, using a plastic board like dogtown boards.. Surf style! Then started into downhill in 2008 with my GN brothers.

Do you surf?
Yah! I love surfing. 
How does surfing influence your skating?
Everything is the same. You need to be patient and just wait for the right set. 
What got you into downhill?
GN Brothers. 
Who else was skating around you back then?
Juan, Ricric, Pedro, Kieth, Arjun, Mikel, Ania, Kent, Adoy and Tongco brothers. Carve and Surf style! 
How did you meet them?
Ricric is my twin brother. Tongco brothers, Pedro, and the rest of the GN crew are my "kababatas", this means that they are my friends since we were kids. I met Juan when I was 14 in a skimboarding afternoon session, and from there it all started. Juan is our mentor, lucky to know him. 
YOU HAVE A TWIN!
Yup! Ricric Ricablanca. He's the older twin.

Which of you started skating first?
We started together. 
How has skateboarding affected your relationship?
Skateboarding keep us tight! Brothers for life! 
Are there many opportunities for DH skating around you?
Not that much, since the sport is still growing and not many people know and support it yet. But with the help of our local government and supporters like DC and Landyachtz Longboards, we're slowly getting there. Thank you DC Shoes Philippines and Landyachtz Longboards for making me as a part of the team together with my homie Pedro Escarda. Other brands like Rayne Longboards, Loaded Boards, Orangatang wheels, Predator helmets, Riptide Bushings, Hawgs wheels, Bear Trucks, Xavia Racing and Glyde Longboards.  Among others, are also starting to get Filipinos as their representatives!
Is it important to support skaters over there?
Yes! There are lots of talented skaters here in Philippines that all rippin. Luzon, Visayas and Mindanao.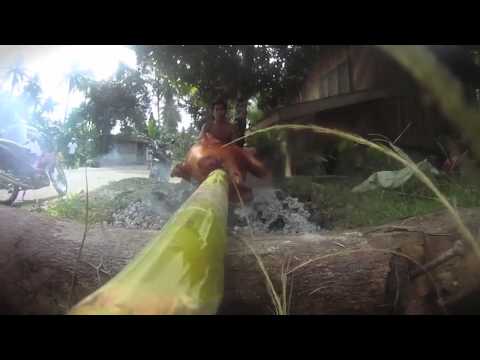 How hard is it to get that support?
For me, you should be a good ambassador. Share everything, travel and explore new possibilities. Introduce and explain the sport anywhere you go, especially to the children that love skating, because they are our future.
"Every time I fall, I stand and smile like nothing happened and go all the way down."
How did going fast change skating for you?
It changes a lot, in a fast situation you should be focus because a blink of an eye or a second you will crash and pay off! Every time I fall, I stand and smile like nothing happens and go all the way. Going fast on a skateboard is different and serious. It totally changes my life, you can't explain the feelings and happiness that only Downhill Skateboarders can describe.
"…you can't explain the feelings and happiness that Downhill Skateboarders feel."
Have you had any hard crashes?
Yup, way back 2010! Was racing and drafting with 2 riders which were my friends. Approaching a blind corner, the last thing I remember was hitting a white van and after that I  forgot everything. Literally! But it's not my fault, its organizers error. But anyway, thank god I'm alive!
Where are your favourite places to skate?
Siquijor, VG High, Dumanjic, Mt.Samat and Oslob.

What adventures did you have in 2008?
Learning everything along the way through skating and surfing trips. 
Who were you learning from?
Juan, Jukka and GN brothers. And all the other friends that I have met along the journey. 
Were there any hard lessons?
Yup! But hard lesson, it's like skating and surfing. You must to learn step by step.
What was the first event you attended?
Siqad Siquijor, 2009.
Who organised it?
Skate of the Nation, Free.Energy.Coop and DWLE. 
Who are the OG downhill skaters over there?
Jay Bomba, Lasse, Whiskey Hill, SONA, Sindicato, Makati CBD and GN.

What was the community like back then?
The community before is so strong like even now. Just imagine before we race with 30 plus riders and now we're racing with hundreds of riders from all over the country and around the world. 
When did it start to grow?
2010 till now. 
What changed in 2010?
Spots were getting crowded, new spots and events from all over the country and it's grown year by year.
What have been your favourite years of skating?
Every year since I started skating!
What are your favourite events?
Visayan Longboarding Trilogy.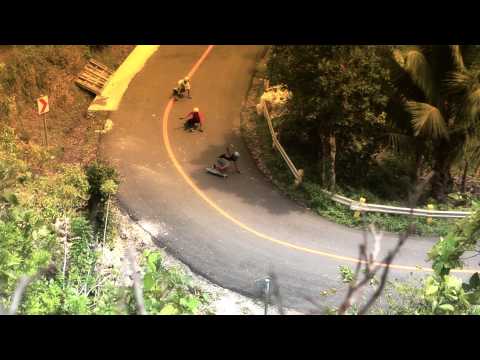 Do you organise any?
Yup we organise events like VLT, Opon Skate Fest, Cebu Landyachtz Slide Jam, Kings of the Outlaw. 
What is the VLT?
VLT- Visayan Longboarding Trilogy the biggest Downhill Skateboarding event in Asia. 10 days of Skating from Island to island. Racing, Slide Jam, Push race, Skate Clinic, Free riding, Camping, Motor biking, Hammock Exploring, Culture, Adventure, Beach, Party, Music, Falls, Mangoes, Coconuts, Coconut wine and Native food and many more… Come and experience the wonderful island vibes and skating the best hills of Philippines as its best! This is Visayan Longboarding Trilogy!
Gathering all skaters from Luzon, Visayas and Mindanao and now representatives from USA, Canada, Australia, Norway, Mexico, Czech Republic, Europe, Indonesia, Japan, Malaysia, China, Hongkong, and Singapore participating and helping the event to promote our beloved sports "Longboarding/Skateboarding".
They say that VLT is a Reunion of Philippine Longboarding Scene. Yes, it's true!
Since 5 years of participating and helping organize this event, I'm so glad and stoked that I'm part of the Philippine Longboard history helping and pushing VLT to the next level together with my brothers Grupo Nopo and Driftwood. local.ent and Free. energy. INC Family.. 
Also meeting old friends and new friends talking about skateboarding, filming, surfing and collaborating each other sharing ideas, good vibes and stoke. 
In this epic journey you can get through the best free riding in your life together with the local skaters that always smile riding world class skate spots.

Why/when was it started?
Way back in 2009, Juan and the crew decided to make a 10 day backpack skate trip to explore the new road, new hills and new possibilities to the southern part of Negros Cebu and Siquijor by camping, cooking their own food and hanging their hammock on the trees. From there VLT was born! The main goal is meeting the representative longboarders from Luzon, Visayas and Mindanao to talk about longboarding and collaborating by sharing ideas, stories and build a strong longboarding community.
How tight is the community over there?
Super tight! 
How hard is it to organise these events?
It's hard sometimes but we do as a team helping each other to make the event smooth and easy. 
Who is in the team?
Grupo Nopo, DWLE and Free.energy.inc 
What is your role in the organisation?
Sr. Datan / Graphics and Video Editor same role with my Twin brother Ric.

What has the reception for the events like?
Like a lot of skaters and spectators particapating and cooperating the event and most especially after it they're having a goodtimes! This event is more on chill, beach and party!
And I can see the stoke in their eyes and in a smile that burns as bright as a bonfire.
"At the VLT… I can see the stoke in their eyes and a smile that burns as bright as a bonfire."
How has the VLT grown over the years?
Every year it grows! Add hundreds of  people each year. 
What does it mean to you for people to come from abroad?
Visitors and we treat them as brothers. It means that we will take good care of them and show them around of what we have here. 
What's your favourite race in the triology?
Dumanjug. 
How was this year's VLT?
The competitors and spectators are pretty stoked! Groms are hyped and fast! Local riders and Pro's are super fast too on a wet condition! What we did this year is we gave a great show of racing!
Shout out to my brothers GRUPO NOPO, DWLE and FREE.ENERGY.INC Family for a wonderful and successful event!

Did having an IDF race make a difference?
YES! It's a big challenge for us! But its a great oppurtunity to race with the big pro white guy. Wow! What an experience, It's an honor! Hoping more IDF races here in Philippines soon. 
How did the locals do in the races?
Come and witness.
Which other races do you guys have to offer?
This year we offer Sierra Madre wild side Manila and Siquijor. December 2014 soon.. 
What have you been up to since the VLT?
I forgot it, but what I remember is Aussie guys Simon and Rob knocking me in our heat! Then they proceeded to the next round. But its ok, I'm super stoked skating with these guys. And having a chance to meet the big guys of Landyachtz Billy and Adam. Big smiles! Stoked also to meet Benbro, Duddy, Robo, Tom, Simon, Patrick, Tamara Rob and Maga.

Have you had many adventures since the VLT?
Yes! The MotorBike Adventure with the bamboo trailer full of skateboards with hammocks. Exploring the new roads of southern Cebu and The 120 kilometer push from Cebu city to Oslob with GN Bro's.. 
Have you skated anywhere else in Asia?
Yes! Singapore, Malaysia and Indonesia. 
How do those places compare to your home?
Singapore is a clean country, no street vendors, no squatters everything is accessible in terms of commuting. Malaysia and Indonesia are very similar to the Philippines, like foods, places and the people's faces, but those places is like a heaven of skateboarding, beautiful skateparks and very nice hills with a good smooth asphalt pavement. Locals are nice too!  But no place like home! 🙂 Try to visit Philippines soon.
Why should people visit the Philippines?
Because of the delicious Filipino foods, beautiful islands, awesome hill and nice people. Over 80% of the population speak English and Filipino's are very hospitable. 
"People should visit the Philippines because of the delicious Filipino foods, beautiful islands, awesome hills and nice people."
Where is your favourite place to skate?
Siquijor, Island Life .

Are you part of the ADC?
No! Supporting. 
Who would you be without GN?
Street Gangster! haha. 
Do you make any videos?
Yes! You can check our youtube and vimeo account/gruponopomedia
www.youtube.com/user/gruponopomedia
vimeo.com/search?q=gruponopomedia 
What are your plans for the rest of the year?
We're starting to plan for our upcoming event The OPON SKATEFEST and after blending in some surf trip to Lanuza this coming November. I'm looking forward to the upcoming races also this coming December in Sierra Madre wild side and Siquijor… soon. 
What setup are you riding right now?
Landyachtz Top speed 34, Bear Cast Trucks, Boss Hawgs Wheels and Bear Bearings.


Are any of those your sponsors?
Yes! Stoked to be part of Landyachtz Longboards! Philippine Represent! 
How hard is it for people there to get sponsored?
It's hard! You must to be aim it and earn it! But for me just believe in yourself and Skate for fun!
"Believe in yourself and skate for fun!"
What do you do when you're not skating?
Editing.

What do you enjoy about making videos?
Creating videos is like an art, it's up to you which angle you want and shots you desire and the feeling that you can find out all of the footage and you're asking yourself how can I manage these? And then eventually you make it! I enjoy it a lot!
Who should we interview next?
Gerard Cancio. 
Pick 3 numbers between 1-20.
1, 7 and 18 
1 – If you had to be a bad guy in a movie, who would you be?
Emile Hirsch
7 – why did the chicken cross the road?
For a better life.
18 – Norman Plante asks – If you could choose one person to be your new dad, who would that person be?
Benbro Hay all around good guy! "Legend" 
Ering, homie! Thank you for your time in doing this. Keep up the stoke and hopefully see you in Cebu one day!
Gbemi bro, You're very welcome here. I had fun answering all your questions. Thank you so much for your time too! Excited to see you soon! Thank you thank you.
"The most challenging part of riding steep hills is a commitment, so take that drop with commitment!"
Any last words?
The most challenging part of riding steep hills is a commitment, so take that drop with commitment! Stay stoked and Pass it on! 
I would like to thank all my solid supporters Landyachtz Longboards, DC Shoes Philippines, Hawgs Wheels, Bear Trucks, Driftwood.local.ent, JointSkateshop, Skatofthenation, Xavia Racing and Grupo Nopo Family! Thank you so much! 
Links.
https://www.facebook.com/pages/Grupo-Nopo/138062209556622
https://www.facebook.com/landyachtzlongboards?fref=ts
www.youtube.com/user/gruponopomedia
vimeo.com/search?q=gruponopomedia
Comments
comments