Stoked to have had this conversation with one of Australia, heck, earth's downhill skateboarding legends – Stephen Daddow. He tells us about his early days of skateboarding, competing in the IGSA and the boom of longboarding around the world.

Hey Steve, how are you?
Yeah I'm good mate.

How was your weekend?
The weekend was fine just a lot of rain, so it was a video/internet kind of weekend. And to top it off, it was cold and the surf was not happening either. Boo!! 
Where are you from?
I was Born in Papua New Guinea and moved to Australia then to Singapore then Back to Brisbane, Australia. I live on the Gold Coast now. Near the Beach where I like it!
What was it like growing up everywhere?
I had a great childhood and lots of great friends. We didn't have computers or mobile phones but we had good times. We spent our time outside being active and making our own fun. 
Better times than kids today?
I think it was a better time as we all talked and made fun out of nothing. Kids today are always on their phones, and so is everyone else. No one wants to say hello in the streets anymore.
How did you get into skateboarding?
I was actually good at BMX, on my mates bikes. My parents wouldn't or couldn't afford one, so I borrowed a plastic skateboard off a friend in Singapore back in 1980, and I'm still rolling. The kids there thought I was so good at it because I could tic tak. My mum saw that I liked it so much she bought me a plastic board like the new penny boards of today. Wooden ones were not around then for me. That was in about 1980.

Do you remember the moment you fell in love?
Well, I fell in love with surfing before I could even do it. If you're speaking of the ladies, I thought I was in love with this chick in school because she looked like the girl from 'Break Dance'  the movie in 1983. I was in grade 8.
How could be in love with a concept?
I love to be in the water and always thought surfing was so cool. Growing up in high school all I wanted to do was surf but I lived too far away from the waves. I watched surf movies and had surf mags and thought I could surf, until I tried it. I did get up a couple of times on that first day, and when my mates and I got our car licenses we were surfing every chance we got. I still love surfing! And I love Skateboarding and snowboarding! 
Do you have a favourite board?
I love downhill the most, but I love them all in the end. Its good to be able to do all disciplines and mix it with all the crews. And with all kinds of board sports to.
How does surfing compare to skateboarding?
Being a skater for over 5 years when I was young I thought it would be easy, but it was hard. Now I can do both and I ride all styles of surf and skate boards. Surfing doesn't hurt when you fall but it sure feels like death when you get held under for a long time. And skating has ground away so much skin I have to wear pads now. 
What was skateboarding about in your early days?
When I was a kid I skated with my good mate Brendan Pocock everyday after school even when it was exam times. We competed in Street comps, but that was all about learning new tricks and having fun and trying to be like the Bones Brigade.
From about 18 to 25 I skated more ramps and streets with another great mate Marco Palotta and we just had fun skating ramps and the Brisbane city streets.

At 29, I got into the Downhill scene and I found this new thing that was totally amazing! I didn't know too much about it but I saw a bit of it on sports TV and a little article in a mag. I learnt everything by myself as I didn't have the internet but I think I got it right! The downhill side was about learning new things and progressing the sport here in Australia. I skated by myself for a year before I met Jeremy Rogers and the Early crew and got to skate with others. That's when things got good!
Who is Jeremy Rogers?
Jeremy is the owner of Early Skateboards. He was the first longboarder I met after about a year and I started hanging at his skate shop and crew. 
What is/was the Early crew?
The Early crew is a bunch of skaters in the early days riding and racing and setting the standards here in Australia. Some of us rode for different skate companies but we were still crew/gang. 
Even in Oz you felt the impact of the Bones brigade?
Yeah! In the 80's the Bones Brigade were so BIG! I was into Street and Ramp and looking for Animal Chin. I had a Lance Mountain deck. I actually buying the Black Edition lance Mountain deck in a couple weeks time. 
Have you got to meet any of your idols?
In the Downhill scene when I was getting into it I only knew a few names, but I got to meet Manu Antuna from France, Cliff Coleman from USA, and Darryl Freeman who I did a lot of racing and traveling with. I got to meet a lot of the new rippers out there which I am stoked about too.
I even got to meet and hang out with Rodney Mullen and Tony Hawk. These guys have been my idols since I was in high school. Stoked!!!

Is there a down under equivalent?
We had a bunch of groups around in those days. In Brisbane we had the "Righteous" crew and the the "Lefteous" skate crew. But because where we lived we had not many skateparks, we just had our own skate things and we traveled to other parks. I skated and hung out at the "Happy Ramp" which was a few K's away from my place. It was a great scene in those days. you could go to someone's backyard ramp on a weekend and there would be about 20 – 50 kids hanging out and skating.
Have you stayed in it all through till now?
Yeah, I skated religiously every weekend till I was about 37 years old. I competed in All the Slalom, Ditch and Downhill races in Australia till then. I still race in masters races here in Australia these days but I still have a go in the Open races with the younger guys. I'll always skate for life. I did have a few months off here and there doing other things like surfing and snowboarding.
" I'll always skate for life."
Why did you slow down?
I slowed down when I started making my own skateboards to make a living. I have a permanent wrist injury and didn't want to do my normal job so I took my hobby to become my job. I worked too much to survive and could not skate as much. It was a bit  depressing at that time.

Aside from you and the Early crew, was anyone else skating down hills in Aus?
Back in the day there were the Sydney and Melbourne crew and as time went on the Sydney City Bombers came and more skate crews followed. I used to know most of the skaters in the day but in the last 5 to 7 years the number of skaters has increased so much. 
What were you riding before you made your own skateboards?
My first longboard was a Sector nine pintail. I thought that was the best and I took it overseas and raced in South Africa and the USA until I saw what everyone was riding. I didn't have much of a choice for boards in the early 2000's. Then I progressed to a Fibretec and then a Kebbek. I got sponsored by Kebbek and rode for them for a few years.
I make my own Speedboards, Slalom and Park boards now. 
What was everyone else riding?
In the early days every one was riding Early, Sector, Roley C and home made longboards. Then after my first trip back from my World Trip, crew started riding Kebbek longboards and then after a while everything else and now its too hard to keep up with what's out there and who's on what?
Why did Steve need his own skateboard?
I made a foam core slalom board first of all for fun. I made a vac bag and used a vacuum cleaner to keep suction. It came out really nice and I sold it to a mate who still rides it today. My Kebbek Sponsorship was over and I wanted to make my own board and shapes.I didn't really care about being sponsored anymore at this stage. I just loved skateboarding. I built a press and made a mould and it went from there.

Was sponsorship important to you at any stage?
Yeah for sure it was. I tried to get sponsored before my first World trip but no one knew what Downhill was about and it was not popular at all. I was the best at the time and I asked RedBull and they said to go get some results, so after 6 months I had a ranking of 5th in the World and they started helping me out with some cash for trips. I had a few other sponsors who gave me product which helped out a lot to. 
Can landing sponsors get in the way of the love of skateboarding?
The love of skating will always be there, but when race time is on then it may turn a persons fun side to a serious side. Riders may get money by their sponsors these days to get on the podium and that may help a rider get to the next event. 
Do you remember the first race you went to?
Yeah my first race in Australia was a multi-level car park race. They had a time trial, a dual elimination and a Chinese downhill with 8 man heats. I won the whole thing! I won $1000, 4 Skateboards,T's, Sunnies and videos.
But my first real Downhill race was in Pretoria, South Africa. I  wanted to test  myself against the World back then, but when I got there I didn't really have much of an idea of what was going on. I had to ask Stuart Bradburn and Mike Zeitsman to show me how to do a proper tuck and had to learn how to foot-brake. With my coaching I came in 5th.
How did you stop before that lesson?
Well I didn't know what a real track was like so I found roads with a run out until I taught myself how to slide – that was the way.  When I first learnt to slide, I would ride with one leather welding glove on and get a new one every time it got holes in it, until I stuck some plastic chopping board slide pucks on.

How was racing different from the street comps you were accustomed to?
With racing, you had to wear a leather suit and helmet and the slightest mistake could lose you the race. In the Street comps you just had to do your tricks and you always knew what the other guys could do so you just had to do it better and with more style.
What was your winning trick in street comps?
I don't really know but I loved the jump ramp and busting a method, Japan air or 360.
What do you remember best about that first race?
I remember how happy and friendly all the skaters were and how Stuart and Mike Z helped me get my tuck on.
Was it hard to fund a trip to SA to race back then?
That trip was a World trip. I sold my Van and Motorbike and a heap of my belongings, and I bought $6000 worth of tickets and travelled to South Africa, USA, Europe, Canada and in between wherever I was. It cost a lot of money and I had to find out what races were on the year before and just used a mates or a shop computer to sort it all out.
Wow. That's a huge commitment!
Yeah it was, but in Australia at that time we had no races, and I really wanted to Race and test myself against the best out there. 
How hard was it to learn stuff with no internet?
It wasn't too hard as I was already from a skating background. The slides I done by accident and progressed that side from there. That gave me a lot of confidence to go fast as i knew how to stop. My sliding technique was a lot different to a lot of others as they were footbreaking while I was sliding. The French were sliding at the same time and other riders were picking it up then to. I had my own surfy style of skating as  a lot of people said to me in Downhill and Slalom.

Is your approach to slowing down still the same these days?
Not much has changed in the slowing down process, I will use a foot brake or a slide and not to forget the air break depending on the circumstance. 
How big was racing in those days?
Depending on where the race was would decide how many people would come and race. There would be 32 man, 64 man and more in Europe. It was the best for me in those days. I loved how all the skaters were in Motorbike leathers and motorbike or  hang gliding helmets and home made gloves. It was really down to earth to say the least. 
How do today's races feel compared to this?
Today, if you want to race you have to stay up all night to register unless you're on the list. There are so many skaters out there wanting to have a race and prove themselves if not to just be in a race. The racing these days is off the charts! It is so epic to watch. The guys these days are doing amazing things and going so fast!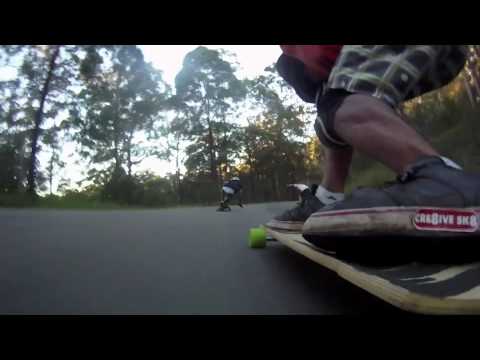 Who do you enjoy watching most?
I really enjoy  watching Reimer, Pilloni, Kelly, Hertler, Jacko, Connor, Yvon, Switzer. The Top 20 riders really. 
Did you do many competitions after that?
Yeah I raced from May 2003 thru to 2005. I ended up 3rd in the World on my first season of racing. I still race when I get the chance. 
Had you ever done that much travelling?
I had lived in Canada in the Snow for 2 seasons and traveled around to a few resorts snowboarding. I competed in Boarder Cross while I was there to, and I have done a few surt trips overseas, but downhill has taken me to more places then I could imagine. 
What years did you spend in Canada?
I was there for a month in 2003 to race the first Top Challenge and to hang out and skate with the Kebbek Crew.

Have you done any of the BC races?
No, but I have done some freeriding in Vancouver which is one of the best playgrounds for longboarders. I love that place. 
Does Aus have anything like Coast?
We have ASRA  (Australian Skateboard Racing Association) which was the only thing before Facebook. ASRA would put on legit races with insurance and a ranking system in both Downhill and Slalom. And way before that was a website called "Charlie Don't Skate". The MonkyPig crew post a lot of what's going on these days.
What was the circuit like back then?
The circuit was a real brotherly thing like it is today. I was skating with greats like Bradburn, Mike Z,  Aki, Dalua, Yvon and Siegrist. I really like the Europe scene. It was race, party, race, party. 
Where's your favourite place to ride in Europe?
Stevlio Pass and I can't just stop it there. Europ if full of amazing roads and its hard to say one or ten. You have to experience the awesomeness yourself. 
What does it take to excel?
I found that if you want to be in the top 10 riders you had to practice with the top riders and learn off the best.

What gave you the biggest smiles on your early adventures?
Being asked to Travel with Stephan Risch, Marvin and Yorck in the Big Silver bus to other events and also watching anyone and everyone get up on the podium to collect their trophies.
And skating Stelvio Pass for German Playboy in 2005 
Dude. Playboy! How did that happen?
My friend Yorck Dertinger did a story on the Ghost Rider in German PlayBoy a few years earlier and asked them if he could do a story on Downhill Skateboarding. So he invited Aki Von Glasow from Switzerland, Bassi Haller from Germany, Stuart Bradburn from South Africa and myself from Australia to come ride roads we could only dream of. It was an epic trip for sure.
What's your biggest claim to fame?
German Playboy for sure, but no one really knows about it. So maybe being a stunt man in a few movies.
Oh and being the first longboarder on the front cover of  the Concrete Wave Mag, Thanks Yorck Dertinger and CW! 
How did the ditch and slalom races compare to DH?
Ditch races were basically timed runs and best time at the end of the day wins. Slalom were man on man with the best time and a penalty for hitting cones.
In the Downhill it was heats of 4 to 6 man and first one across the line wins. This could be done by being fast or drafting other riders to slingshot past to take a win.
Doing all disciplines can compliment each other to help become a better skater.
"Doing all disciplines can compliment each other to help become a better skater."
Are you still friends with your friends from back then?
Yeah I still talk to them on the net and we always plan one day to meet up again and skate or drink a beer or 50. A few of them have come to visit me here and so have a few of their friends. My house was open to all skaters.

Were you different on your return to Oz?
I returned home in between seasons and I was the same guy but with a lot more skills. Everyone that goes overseas and races comes back a way better skater.
"Everyone that goes overseas and races comes back a way better skater."
You mentioned Kebbek earlier, how did you hook up?
I went to Quebec for the Top Challenge race and hooked up with Ian Comishin, Jim Z and a few other locals and he just gave me a board. Then when I got back to Australia I hooked up a shop sponsorship with Cre8ive Sk8 Shop and the Legendary owner Adrian Alderson (Ado) got a message off Ian who was trying to track me down and asked if I wanted to ride for Kebbek. So I did!  Kebbek made the best quality boards around. 
Was this your first sponsorship?
No I had a Electric sunglasses, Rhythm clothes Osiris Shoes and myself. 
What's your current relationship with them?
I am still mates with the Kebbek crew and I send them emails every now and then. Great guys and boards for sure. 
Who is Jim Z?
Jim Ziemlanski. He made one of the first precision trucks on the market and and he was a guy that had style while racing. He invented the one hand down into a backside turn at high speed. All the pros do it now. A great guy and skater.
http://www.kebbekskateboards.com/ 
Did you race again after your first IGSA season?
Yeah I raced for another 2 seasons overseas and then just here in Australia until 2008 I did another Europe season and Maryhill in the USA.

More fun than the first one?
Its always fun and sometimes you just got to stop having too much fun because you need the sleep and the next day is race day. 
Where's your favourite race in the world?
One of my favourite races in the World would have been Hot Heels in Austria. It was my first World Championship race, and it was the Best of its time in 2003. The race had a lot of everything and a section of super fast and the finish line had the camp ground on one side and the party tent on the other. It was the last time they held that race which went for 13 years. 
What's special about it?
The atmosphere, location and the people who traveled there. If you drove for another 40 minutes up the mountain to the glascia there is a ski field to ski and snowbaord and heaps of road to skate. 
When did you first race on a Daddow?
I raced my first board at a race called the Hillclimb in Noosa. I was only going to film the event but things changed.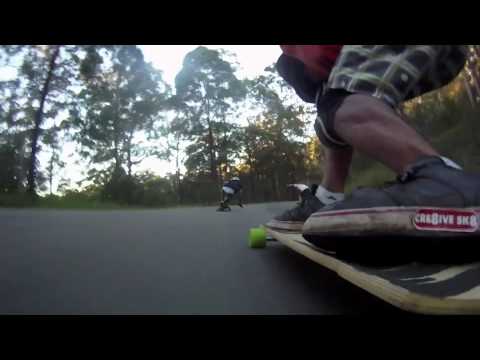 Have you made many films over the years?
I have made a few little skate video and been in a few Skate DVD's. Early Days, Australian longboarding experiance, Hot Heels 2003, Skate AUstralia and Stand up. 
Is there a history of DH racing over there?
Yeah there is a history in everything everywhere. History is where the roots are/were laid for the future groms.
Did you ever do Newtons/Kiera?
I did Newtons and Kiera for sure. We used to skate Kiera with Jackson Shapiera and the Sydney crew, and those guys always thought about having a race there. I was also lucky enough to be asked to test the Newtons track with Jacko, Jeremy and a few others to see if it was race worthy. It was! 
What impact did having those races on home turf have?
Having races on Australian soil gave a lot of the locals the chance to see what real racing was about and give them an insight to what to expect and to see how the pros were racing. Adding to that it would have given a lot of them the energy boost and drive to get overseas and do some racing for themselves and their country.

Tell me about your first Daddow board.
I made  the mould with a slight W cave and a slight angle at the front for more steering. It was called the "gnosis". It is a drop thru made with as much platform as possible and the cut outs had wheel arches for the trucks for extra turn.
Is slalom as big for you as DH?
In the beginning slalom races were the only races going on and not many people were into the DH scene. For me I only do DH these days but would love to get back into the slalom stuff. 
Who were your first customers?
That would be a few of my friends and then I got my boards into a few of the shops. 
How has Daddow skateboards evolved over the years?
It started as a fun thing in the back shed and grew as I took time off work for a wrist injury I had which was gradually turning into a permanent injury. It hurt to do my normal job so I turned making skateboards for fun into a job. I took it from the back yard to a mates work factory as they had a spare section, and then from there into my own little factory. I was a one man band with a few helpers who would come in and help every now and then. A big Thanks Dirk, Pokey, Jamie, Hammo, Mikey, Myles, Wingers, Gemma, Jaidyn, Conner, Elliott, for coming and helping out. 
Are those all team riders?
Not all, but most of them are and a few friends that helped me try get it going.

Is it a tough business to be in?
Yeah, doing it as a full time job and doing everything was tough as I was working everyday and most weekends. It's also a mission to get veneers in Australia so I had to order them from Canada. It was/is also hard to compete with the Chinese market these days. 
What do you enjoy about making skateboards?
I liked making custom and prize boards for people and events like BTB (Beat The Bastard).
What setups are you riding these days?
These days I ride The Pigasus2 with Skoa Trucks which are the Best trucks ever and Cult Wheels of every kind! Bearings and griptape that work. Risch racing helmet and TSG park helmet and pads, NJK leathers. 
How has your year gone?
This year I have just cruzed with work and trying to get into some new work away from the coast. I have done a few races and a lot of surfing. Mikey and Jamie are always buzzing me to go skate and I thank them very much. Love you guys!

The monkypigs?
The Monkypigs are a couple of mates, Jamie and Paul (Pokey) Gwilliam that love longboarding and help a few of the local riders around town. They put on races and get the word out on what's going on and what's going down, kind of like Coast Longboarding in Canada. And if you need any stone work like a kitchen or bathroom, then contact Extreme Marble and get the best stone job in town. 
What do you do when you're not skating?
I really like to go surfing on my short boards or my mal. I don't watch tv but I watch a lot on the net and share a lot of it. I used to love eating chocolate and nutella but I gave it up and just eat as much fruit as I can. I also dive when I can and really love snowboarding. 
Who should we interview next?
PC (Paul Carey) a great mate and a legend of the Australian longboard and slalom and park scene. The guy rips it all up and has a natural ability to be so awesome and nice.

Pick 3 numbers between 1-40.
10, 29, 33 
10 – What's your favourite band?
ACDC
29 – Is there anyone dead/alive you'd like to skate with?
Manu Antuna alive
Jay Adams Passed away 
33 – If you could commit a crime and nobody would know, what would it be?
I don't do Crime, but maybe rob a bank. 
Mr Daddow! This has been truly epic. Thank you so much for your time. Hope our paths cross one day. All the best on your adventures!
My friend I do hope we cross paths one day and go skating or have a beer even. Thanks so much for the interview. Stoked like a grom !! Much apppreciated. 
Any last words?
Skate Safe and Skate For LIfe!!
I'd like to shout out a big thanks to Ado from Cre8ive Sk8, Cult Wheels, Rodney at Super Sports and TSG pads, Stephan and Risch Helmets, Yorck, Uwe and Skoa trucks Crew, Ian and Kebbek Skateboards Crew, Timeship Racing, RedBull, Daddow Skateboard Crew, MonkyPig, J Bauuman, Andre and Pilih, Stu and Zietsman, Early, Electric, Flindt, Darryl, Cliff, Marcus, Fibretec, Roll Laden, ASRA and my mum for being there and believing in me!
Thank you all and to Thane Magazine!
Big Hugs!
Links.  
first stunt gig – film clip
https://www.youtube.com/user/DownhillDaddow/videos 
Comments
comments