We had a quick catch up with our buddy Greg "NoBull" NoBull. He's really excited about the first legal garage skateboard race in US history – Bayou Battle (Jan 16 – 18) and hopefully after reading this, you will be too.
Hi Greg!
Hello again my friend of Thane!
Happy new year?
Happy New Year to you and all the fellow shredders out there.
How were your holidays?
No rest for the wicked.
What did you get for Christmas?
Holidays were good, Santa was kind. I got to spend Christmas with my 3 kids and skate with all my friends on christmas, that was a priceless gift. I also got myself  a NoBull tattoo on my push leg – my first one!
Was skatan kinder?
Skatan is always kinder…..at a cost of course.
What have you been up to since the last time we spoke.?
The last time we spoke was around The Machado Downhill – Kyle Ramsey & NoCoast's event. That event was in Oklahoma and Arkansas and was absolutely fantastic. Team NoBull was a co-host  and it was two days of some of the best downhill seshes and racing I have ever been directly involved with. It's so great seeing the various scenes coming together and having bigger and bigger events.
Most of our time since we last spoke has been spent organizing our big January 16-18 NoBull Bayou Battle event. Richard Supernaw, Scotty Sheridan and I have been working on achieving the impossible dream  of having a legal garage race for the past two years.
"The increasing size of our races was frankly starting to become a challenge. Sneaking 100 + racers into a garage is difficult."
We've been having outlaw garage races here in Houston for years and they've gotten progressively bigger in size. Our last outlaw garage race had well over 100 racers. The increasing size of our races was frankly starting to become a challenge. Sneaking 100 + racers into a garage is difficult. It was difficult on many fronts, logistically it's been a nightmare, keeping the race from being blown, shepherding all those racers to one spot… remember we are trespassing, getting out without getting busted by the cops… all of it!
Plus the fact that we had to have these races after midnight really limited attendance, its tough to convince a parent to let their 12-14 year old out after midnight to trespass and race! Plus when you have an outlaw garage race its impossible to make it an event worth inviting out of towners to. You can't ask people to travel hundreds of miles to a race that has the potential of being busted!
Our dream of having a legal garage race that everyone can attend has finally been realized. All the hard work and persistence has finally paid off. Team NoBull & Carve Skateshop will be hosting the first legal garage race in U.S. History January 16-18. The event will be 3 days of both skateboarding and longboarding events with the main event being the garage race.
"All the hard work and persistence has finally paid off. Team NoBull & Carve Skateshop will be hosting the first legal garage race in U.S. History January 16-18."
How did last year rate on the stoke-meter for Texas?
On the Stoke-Meter it was an "11". So many great races. We had a ton of outlaw garage races and seshes. The scene down here in Texas  gets bigger every year. The races, the slide jams, the road trips all over the United States & Canada and most importantly the connecting of scenes like the NoCoast crew! It was an awesome year for Texas and Team Nobull. As a team we traveled to, sponsored, supported & competed at so many events! The most notable and memorable were Maryhill, The Patriot Race in Austin, Soldiers, Cathlamet, Angies Curves, Whistler, Davis City Downhill, King Of Kona and as always we mobbed Michael Harrington's event in Pensacola –  Carnage On The Coast.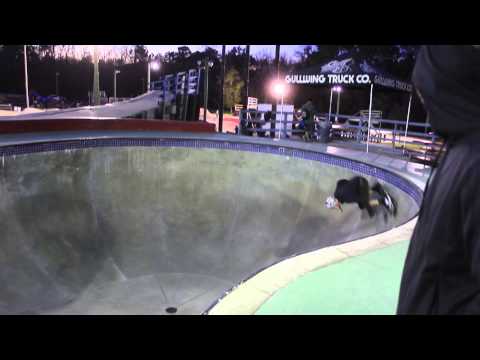 The best part of last year were the road trips that the Team took. In conjunction with Carve Skateshop Team NoBull took the Carve Van on 2 cross country trips hitting just about every place between Texas and the West Coast to include Canada. Yeah it was a stoke filled year for sure. This year is looking to be even bigger than last year as far as us traveling and participating in events. For all those out there throwing events let us know if we can help or be involved!
Where was your favourite stop on the trip?
That's a tough question! They all were so epic. Maryhill of course will always remain the Mecca destination of the sport.  I'd have to say the events which we mobbed as a team were my favorites. I just can't choose one! The 6 events which we went to as a group last year were the Patriot Race in Austin, The Machado Downhill, King Of Kona, The Maryhill Freeride, The Davis City Downhill and Carnage On The Coast. There is no better feeling than rolling up on an event with your whole crew in tow. Oh and of course what also made those so special was we grabbed some podium spots!
What did it take to bring your dream of a legal garage race to fruition?
First off it really was "our" dream, all of this is about Team NoBull, not me!
It took persistence, support and organization. We couldn't have done it without the support of Carve Skateshop, all the sponsors which have jumped on board and the help of the IDSA. The best part of the journey towards a legal garage race has been the longboarding communities acceptance of us and the sense of purpose that Team NoBull has around racing. We are all, as a team, committed to racing – sponsoring them, hosting them and traveling to them. We could not have pulled this off a year ago. As a team we have been building to this moment. We have been involved in dozens of races and that experience was all necessary before we attempted this.
"What it really took was an attitude of "Why the hell not?""
What it really took was an attitude of "Why the hell not?" We have been holding illegal races for so long that we felt we had nothing to lose. I called about 4 different ideal race garages and each one gave me different answer. One was "absolutely not", one was "hell no", and one was a "maybe" (I'm still working on that one). The garage which gave us approval turned out to be the best garage we could hope for. The Bayou Battle race garage is one that we never even held an outlaw race at because its security was so tight. Its a garage with cameras and patrollers on bikes…it was what we call a "One And Done" garage meaning we could only get one run in and we had to get the hell out. It's an absolutely epic racing garage, right on the edge of downtown Houston with super wide levels and a bomb out finish. Its perfect for both racing and spectating.
It took lots of meetings and conversations with the facility on our part, we had to show them the value of a race to the community and show them that we were serious and organized. Most importantly we had to teach them about longboarding. They really had no clue about the sport. All they knew about us was that they spent most of their time kicking us out everynight. I think they finally realized it was better to regulate the use of the garage rather than continually kicking us out.
The platform of Team NoBull and what we have built to date, the articles, the previous races and our organization really helped make an impression on them. It was equally critical that we had Carve Skateshop and Scotty involved. Having a local small business owner like Scotty helping with the event really made a difference.
I'll never forget the first meeting that Scotty Sheridan  with Carve and I had with the facility. We both got all dressed up and business like. It was the first time in 6 years I have seen Scotty in a collared shirt, it was awesome!  The cool thing about the whole process was that it was groundbreaking and a first for both us and the garage owners. We now hopefully have a template to replicate this throughout the U.S. and for many years to come in Houston.

How important are communities like NoCoast?
Communities like NoCoast are critical to the scene. They are critical to pushing the scene and especially organizing races and events. The content that Kyle Ramsey of NoCoast provides, the videos and the pictures which he posts just add so much stoke. When people new to the sport see what various communities are doing it inspires them to push themselves! NoCoast and communities like it are what makes the longboarding scene so special. In this neck of the woods NoCoast, San Antonio Hill Ratz, Houston Garage Riders, Austin Street Pirates, DFW Shred, The Texas Baked Crew  and others give the scene organization, stoke and a sense of belonging.  Each one has their own unique style and attitude but they all share one thing: a love for the sport and a desire to see it thrive. 
What has the IDSA done for your scene?
We could not have pulled off this race without the help and guidance of Jonathan Strauss & the IDSA. They helped us with event planning, approvals and insurance. They had all of those key elements already figured out. "IDSA" stands for the International Distance Skateboarding Association. Frankly the IDSA has in the past been more focussed on LDP (Long Distance Pushing) but more recently has been expanding into other areas like supercross and now of course garage racing.
"…the IDSA has changed its name to SkateIDSA: International Distance And Supercross Association."
As part of that expansion the IDSA has changed its name to SkateIDSA: International Distance And Supercross Association. Jonathan had previously tried to throw a garage race in Miami but was unable to get a garage to "buy in". The hope is now that Team NoBull has gotten approval the community can use this race as an example for other cities and spread garage racing throughout the U.S. and Canada. Maybe even start a garage racing series! When the IDSA learned what we were trying to do they committed their credibility, experience and all their resources to us.  The IDSA is committed to growing the sport and the best way to do it is to bring all forms of the sport of longboarding  to urban locations where it becomes accessible to the masses. So what the IDSA is  trying to do fits in perfectly with our  inner city garage race. I'd ask all your readers to hit up www.theidsa.org  learn more and become a member.
Did NoBull achieve anything last year ?
This past year was all about hitting as many events as possible, sponsoring races and throwing races. I think if the Team were to point to one shining achievement last year it would have to be cohesiveness around stoke. We became a closer group, we became more like a family this past year. We also kinda solidified ourselves as a rad group of skaters that aren't going away. Our exposure grew and with that so did our credibility. We are trying to grow the sport and get more women and groms involved….and most importantly race. We really are trying to stay a pure team of stoke that focuses on the love of the sport and racing. One last thing I have to mention is we are really starting to focus on both longboarding and skateboarding since most of our members do both! We accomplished so much in 2014. I could give you another entire interview on all the individual things that our Team members did this past year as far as longboarding achievements.
"I think if the Team were to point to one shining achievement last year it would have to be cohesiveness around stoke. We became a closer group, we became more like a family this past year. We also kinda solidified ourselves as a rad group of skaters that aren't going away."
For me personally this past year was about getting connected with all the various longboarding companies, their owners, other shredders and the peeps in the scene. All the people that are supporting the sport of longboarding and what we are doing. If it wasn't  for their support, input and involvement  there is no way we could have thrown all the races we did.
To ask if we "achieved anything" almost implies that we have goals or targets like a traditional team, we are anything BUT traditional. We are unaffiliated, self funded and really just go with the flow.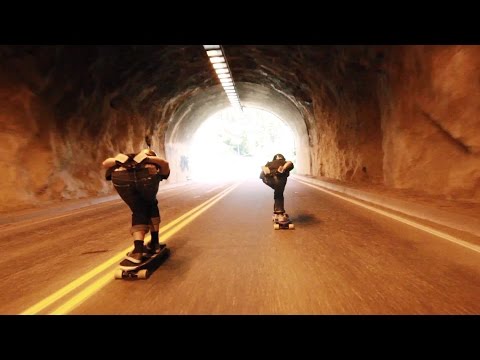 How excited are you for this garage race?
Unbelievably excited. I'm excited for the scene and what it means going forward. If we can get approval at one of the best garages in a major city like Houston, why not the best road for a downhill in Austin or garages in Dallas, Miami, San Diego and beyond? It gives us inspiration to aim higher going forward and have even more legit races.
Scotty with Carve, The Team and myself keep pinching ourselves. We're really excited that this event will encompass an entire weekend and will incorporates both skateboarding and longboarding events. The theme of this event is really bringing the scenes together. What's really cool about Bayou Battle  is how many different groups and riders are coming into town for it, many are coming to Texas for the first time. As of today we have a Portland crew, a Canadian crew, a Seattle crew….really riders from all around the country and the world are coming into town.
We talked earlier about communities and the Bayou Battle weekend really epitomizes the beauty of the sports various communities and how they can come together. For example Bricin Lyons with Coast Longboarding is contributing their podium medals, Dean Ozuna and the Maryhill Ratz are contributing Freeride passes to winners and a bunch of groups from around the U.S. & Canada are all descending upon Houston.
"Carve Skateshop has committed a $6000 prize purse with $3000 going to the 1st place winner of the garage race!"
The response by all the sponsoring companies supporting this race has been awesome. We are especially thankful to our Platinum Stoke sponsors, Jenni's Noodle House, Lucky Buddha Beer, Bombsquad Longboarding and Waterloo Wheel Designs. Carve Skateshop has committed a $6000 prize purse with $3000 going to the 1st place winner of the garage race! That is amazing….for a garage race! Nothing like some cold hard cash to get everyones attention!
Houston Garage Racing is a little unique in its physicality , take a look at the promo video put together by Brian "CHUBBS" Cortright to get a feel for it. Our races are very competitive and touchy feely in nature.
What format will it be running?
The garage race will be "full contact", typical HGR style. There will be Open (main event), Groms, Women and Masters. Time permitting we will also have switch and buttboard races. We will be running 5-6 man heats  till we get down to a four man final. We expect over 200 racers! It will be so exciting to have many race a garage for their first time. We're also looking forward to seeing how Team NoBull will do against some of the best racers in the U.S. and Canada.
Beyond the garage race other prize events will be the LDP race along the Bayou which will be an IDSA recognized event. We will also have a Ditch Jam on Sunday at the legendary EZ-7 ditch hosted by Surfhouse and Carve. If the weather is sketchy on Sunday "Big O" with Southside Skatepark has agreed to let us use his indoor facility!
Aside from the Bayou race, what else are you looking forward to this month?
We all can't wait for The Wham Bam Slide Jam on January 24th on Fulton Ranch Road in Wimberley Texas. This event has become a must attend annual event  and is the largest Slide Jam in Texas. This is its 4th year and is thrown by Zachary Piccolo of Team NoBull. Also of course Team Nobull will be representing at Cameron Frazier's event King Of Kona! Frankly I'm exhausted just thinking about everything we have going on. We never could've imagined years ago where we would be today as a Team and a community. Its absolutely amazing. Everyone has played a part in where we are, Team NoBull's members have continued to push the sport, the companies are supporting the scene and publications like yours are spreading the word and the stoke. I am so grateful to everyone, its simply amazing where we are and where we are going. 
What would you like to say to anyone who is contemplating any of the above?
The Wham Bam is absolute slide jam perfection. The spot is in the middle of Texas' Hill Country and it is held on an epic steep hill with granite walls that are about 40 feet high on either side of the road that you can spectate from. Zach really knows how to throw a fun event. The Bayou Battle is designed to be welcoming to out of towners and skaters of any ability! It will be a full weekend of stoke. It will be worth the trip to be a part of history. Come Race Us! Come To Texas Y'all! For those that want to attend you can register online for only $20 at www.carveskateshop.com – all the race information is on the facebook event page. 
Thanks again for your time bro, get NoBull out to Europe this summer!
Several of our Team racers most notably Stephen Dumaine and Zac Sharp – (Team NoBull's Race Team Captain) may be going across the pond this year for some IDF races. We are looking to go international as a Team! That's definitely our next step.
Any last words?
Support The Scene, Spread The Stoke!
Links.
Facebook Bayou Battle Event Page : https://www.facebook.com/events/728783393862093
NoBull World Cup Tour: 
http://youtu.be/IRPS2BiRJwg?list=PLcJTGy0JrCqrdE5G4jXAjR1FYPk0Nztr2
http://youtu.be/SjAkXN2rkKY?list=PLcJTGy0JrCqrdE5G4jXAjR1FYPk0Nztr2
Comments
comments