We had a quick chat with the outgoing President of the IDF for the past 2 years, Mr Koma Kino. He tells us about the upcoming IDF elec
Hey bro, how are you?
Hey bru, long time no talk
Almost a year since ISPO! What have you been up to since then?
Well lots of stuff in a year! The IDF had its 2nd season, Peyragudes was to happen in August for the 5th time, lost my job, found a new job, went to South Africa in December for hot heels, I was stoked.
Was your 2nd year as president more fun?
We had a good first year I think, so we looked forward to the 2nd season with more calm. Still, it was a tough year as we increased the number of members by 25 % and had 11 world cup against 8 in 2013. We had more WQS too and it meant more work, more issues with timing, etc… but now that the season is over, I am happy as it was… we learnt a lot from this year, new problems we had to solve and IDF is ready to fight the forthcoming ones!
Have you ever traveled as much as you did last year?
I haven't traveled that much! Only went to Almabtrieb and Hot Heels! The IDF people who traveled the most were Lee (mexico, pikes, angies, HH), Colin (Philippines, mfos, whistler, angies), Greg (kozakov, FDL Bajada,HH) and Robbo (BDLB, Philippines, Tarma, Mega Grand prix).
How was South Africa?
It's a great country with great people. It was my first time in Africa. SAGRA, with Candice Bouwer and Gaby at the top of it, is a great organization. HH was excellent, but we feel SA deserves a more challenging road than the actual one. Sagra will be looking for this better road this year and aim to be back on the Tour as a first event of 2016 maybe.
"…we feel SA deserves a more challenging road than the actual one(HH). SAGRA will be looking for this better road this year and aim to be back on the Tour as a first event of 2016…"
Did skateboarding make it hard to keep the job?
Yes and no. The 2 worlds are well separated now that I do not work at home anymore… But as I was home the 2 last years, it was hard not to spend time on IDF while I was supposed to work for my job, and so, my boss.
What's the new job?
I am in charge of Big data and "Internet of things" projects for the regional council of Aquitaine (the county). I help and finance projects in those matters.
What does the internet of things mean for skateboard racing?
Well, Phone apps on your mobile is a connected object. Already it gives you speed records, track records etc so when you're riding with your phone and your app, you actually are part of the internet of things! We could add sensors on wheels, trucks, boards to study the constraints more precisely, same for bearings.
How do you balance the number of WC and WQS events?
It is a good question and complex answer! This year we heard a lot from the riders that 11 WCs was too much and too expensive. It gave more chances to be the champion to sponsored guys, as there was also too many races taken into account for the ranking (6 best races+ 1 WQS as a bonus if you attend 6 WC). This year, we want to get 8-9 WC max.
About WQS/WC, we look at the events from the season and put them into a grid where we give marks… there are 15 criteria spread into 4 main topics (track, organization, accessibility, strategy) with different weight for each criteria, that gives a sum out of 1,000 points. We then have a ranking between events and it makes the start of a discussion between the board members, followed by a vote. Some criteria like the dates of the event are very important too, in order to build a good schedule.
About getting from WQS to WC, you are wondering how an event can do it without changing of track: that is because there are other criteria to consider about a race than just the track – safety and also quality of the organization team, prize money, and even some factors such as the number of riders in a country; for instance, we could not sanction an event in Qatar right now, unless all other criteria than the number of local riders, would get a 10!
When we downgrade an event, it is not necessarily that they did bad, it can just mean some other events have improved a lot, and are better now when you compare both.
I would like to have a max of 8 WC, but more WQS. We think, after WQS status, that each country should structure its own scene and award "national" titles. We would like to see more non profit official organizations pop up in all countries.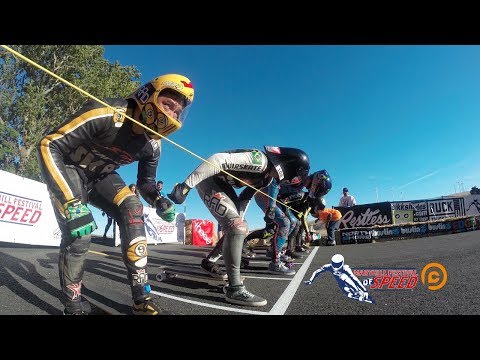 Will the cost of racing ever go down?
Cost of event fees are on organizers shoulders, it's not the responsibility of IDF. We only can advise them on what is usually charged, but that's all. So about that subject, the whole thing is how the financial structure of the event is built. As far as most of the resources needed to make the event happen, come from the riders fee, the price will be what it is now. If other resources become more important (sponsors, public funds, tv rights, etc) then we could have events with a symbolic entry fee and big prize money.
The other costs are travelling related; it always cost some money to travel the world.
What gave you the biggest smiles on last year's circuit?
That moment at hot heels, just after the race is over and the season too, just after Ben Malherbe's speech about Lloyd, just that moment when you feel you are in south Afrika, in a beautiful place, and you are alive!

Will the timing system ever be perfected?
Doing the job of timing a live event is not just about the technological system! So there will be always issues, human errors; but on that matters we hope to improve and get faster at solving things.
On the technical side of the thing, actually we used the system at 12 races and it worked fine at 6 of them, and only at 2 we could not use it for qualifications.
We had 2 kinds of issues: the distant decoder has been damaged during shipping to USA and did not work in MFOS. Then it got repaired after Almabtrieb, and worked fine unless we could not get any signal from start to finish because of geography (Peyragudes, hot heels, pikes).
Anyway, we wish to buy a second timing system, from another company, to see if it works better and above all, avoid shipping worldwide. We still think that Tag is the best material we could buy, but we have to accept things should have gone more smooth, even with the human errors we made.
Did you do much skating last year?
Not that much, went to 2 freerides, did the french championship, and that's nearly all for DH!
French Maryhill?
Yes, the championship was at la croix saint robert and it was awesome, on that "french maryhill track). Next year it will be a freeride and the championship thing will go to the REB (riders en bray).
What 3 things will the IDF do better this year?
Timing! New website, new (better) member management system, new continental rankings… the other stuff will be up to the new team.
Tell us about the team you've worked with over the last 2 years.
We started with Norman, Mischo, Kevin, Haggy, Greg, Lee and I. the few first months have been crazy as we had to decide and write all the rules, build all the tools (member management system, website, even registration system, brackets, rules, rankings).
Luckily Colin and Robbo, even if not on the board, were great helpers and SAGRA gave all what they had as ready-to use tools. They did the website, they had the brackets, I wrote the event guide with Norman and Mischo, I wrote the constitution with Greg and Haggy. The whole team has been very hard working. Then Mischo decided to retire from racing, and from IDF too, so we replaced him by Zak Maytum, as the constitution allowed it. Zak has been a great addition, even if I was sad that Mischo went away from the whole Downhill world.
Norman decided to retire and had a few changes in his life. He thought we could continue now that he had built the foundations with us… Colin Beck replaced him. It was very logical as Colin was there from the beginning and made most of the technical work. He is super clever and 200% dedicated!
Lee is a hard worker too, and managed most of the relationship with event organizers… and that's tremendous work… requires a lot of time! Greg has been working a lot on the timing system issues. He has learned a lot and know how to deal with it now. Without him we would be in trouble!Kevin did not attend the meetings regularly but brought lots of input when it was about racers, tracks, events. He was very concerned when it was about to explain rules on events.
It's a fantastic team, with people super motivated. I know all of us will continue to help in the IDF, whatever the results of the elections are.

Are you running for any position?
Yes I'm running for a position on the Board, and even would be glad to be still the president as I have a vision for our sport. I know where I want us to go and how.
It feels like yesterday when everyone was upset about racing under the IGSA; as the first president of the IDF, what is your legacy?
I think we have improved the following: more qualifying runs and no more waiting in WC, results of races in real time for most of WC, in the 24 hours for all others, regular report and info on Facebook, transparency on funds and decisions, more debates and answer to all emails that have been sent to us, rankings up to date 48 h max after each race, etc.
But, I know we have still no real control on events and can not declare ourselves responsible for the improvements (or not) of the events. We try to select more organized people and more challenging tracks, but there are many things to improve still.
We want to invest in a second timing system, find a way to collaborate with more people. We want to focus more now that the base is built, on finding sponsors, renew the management tools of the IDF (members, ranking, results, website), promote DH as a sport, etc.
"Voting opened on Thursday and closes on Saturday, at the end of the AGM. People have 48 hours to make their vote, on the IDF website."
What is the process for this weekend's vote?
There are 13 candidates for 7 positions. Voting opened on Thursday and closes on Saturday, at the end of the AGM. People have 48 hours to make their vote, on the IDF website. Each nominee gave a few words to help voters make a reasoned choice.
Each member has to choose 7 people. We will sum up the score of each candidate, verify that votes are valid (active members vote only, no double vote, no cheating, etc.) and then announce the 7 chosen ones. This should happen 2 days after the AGM. Then the 7 chosen ones have 2 weeks to meet and elect the 3 executive directors amongst them (president, secretary; treasurer).
Anyway, more than that, we need more people helping for free if we want to get more professional in the way we operate things. This year, Garry Reimer, Kevin's dad, offered to program a webapp that will deal with all rankings, and that will allow the IDF to handle continental rankings.
Where would you like to see DH racing in 5 years?
I would like to see each country with a national governing body helping clubs/crews to be created and have 5 races and 5 freerides in each country. Some "out of the core market" sponsors would have come and WC do not financially rely on attendance so that WQS really become a way to qualify for WC of the next season… an AM/PRO division could then appear.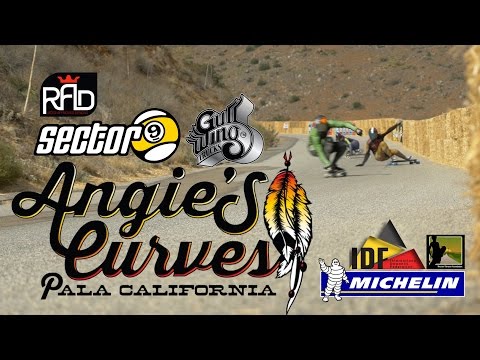 How will the IDF get us to this future?
Bringing a higher visibility to our sport is a key factor, but we won't be able to go on TV for instance, without very well organized events, able to meet the exact schedule that's required for a live tv show. Before that, we may have a step possible, by being able to produce a tv program out of the season, something that would not be live but would sum up the all season in a 52 minute format. The sport could become very popular.
Another point is helping national scene to grow and get structured… so that many events pop up everywhere, big and small, freerides and races.
What are your plans for this year?
Personally, I don't know yet. I might be going to Spain as it is a first year race event, and might go to Norway to help Greg with the timing, scoring, judging, communicating thing. I plan to meet IOC people and other organization in May in Istanbul for the global skateboarding summit.
You know, the winner of Peyragudes has gone on to clinch the World title in the past 2 years!
Yes the past 3 years actually: Douglas with IGSA in 2012, then Adam! with IDF in 2013, and Kevin with IDF in 2014. Maybe it is a sign :). But anyway, I fear that Peyragudes is dead for a little time.
I thought Peyragudes never died!
I don't have time anymore to run it and nobody wanted to take the lead on that. Simple as that. Last year was good but I also felt some riders did not like the track anymore, the asphalt especially.
Bro! This is probably the fastest interview we ever did. Thanks for letting me record all these chapters of your life. Best of luck in the elections, hope we get to hang out again soon!
Thanks Gbemi!
Vote here: http://www.internationaldownhillfederation.org/profiles/blogs/voting-for-idf-elections-is-now-open

Comments
comments