Full contact epic stoke with Mr Team NoBull back in the bacon chair. Greg Noble tells us about Bayou, the upcoming Carve Skateshop opening and tonnes of other rad events going on it Texas. Excitement!
Hey bro! How has your month been so far?
It has been awesome. Race season has started! It is going to be a full summer for sure. We recently spent a weekend at one of Texas' finest downhill races – Gnarathon. This year's event was at a new track and it was epic. The race, which is hosted by The Waco Longboard Club, Ryan Richbourg of Team NoBull and Gnarly's Skateshop, is in its 5th year and always kills. Team NoBull had a finals sweep in the open class and took 1st & 2nd in the women's (Open: 1st. Nicholas Lincoln Hopper  2nd. Jargh Hammons 3rd. Ray Adams Women: 1st. Bryanne Danger Harris 2nd. Colleen Dallas Scars Daugherty). It was a great day for our Team.
Who is Ryan?
Ryan Richbourg is a member of Team NoBull and is deeply involved in all aspects of the scene. There are those that skate and race and then there are those that give back to the scene as well. There are so many that have contributed so much to the scene in Texas and Oklahoma and have made it what it is today. Ryan not only shreds but has become a fantastic event organizer. Beyond Gnarathon he is also involved in the Waco Longboarding Club and started Bears On Boards at Baylor University. His commitment to the skate scene and spreading stoke is awesome.
What's the longest going event in Texas?
The longest running skating event in Texas is the Surfhouse Turkey Jam which is held at Houston's legendary EZ-7 Ditch. Its an event like no other and happens around Thanksgiving (hence the name "Turkey Jam"). It is seriously one of the coolest events in Texas. This year will be its 32nd year. It's an old school ditch covered in graffiti. I'd ask you readers to look up EZ-7 Ditch Turkey Jam on YouTube and check out the videos.

The longest running longboarding event is Josh Davis' Patriot Race in Austin, this will be its 8th year. Josh has done such an amazing job with this event. Somehow every year seems to get better. The Patriot Race was my son Dawson Noble's and my first race. The Patriot Race is without question one of the best races in Texas for so many different reasons. Given that it's in its 8th year, it has a history, some long running race "grudges", established attendance and a vibe unlike any other race. Some races cater to one specific discipline, like say downhill… but the Patriot Race is the single most inclusive race in the scene. Everyone races, young and old, beginner and Pro… serious and ridiculous, sober and… not.
What makes the Patriot Race unique are all the different kinds of races and classes culminating with the BroBomb. The BroBomb is one participant sitting on the front of the board with their leg extended as a battering ram and one standing (& pushing) on the back of the board. Its so gnarly, sketchy and fun. My son Dawson and I won it 3 years ago and to this day it is the highlight of my longboarding journey. Winning a race with my son is unlike any experience. Two years ago I separated my shoulder and tore my rotator cuff in the BroBomb race. For the past two years Clayton Nalley & Copper Blaha, both of Team NoBull, have dominated the race. This year's Patriot Race will be legal for the first time so Josh Davis & The Austin Longboard Club fully expects an even bigger crowd. It's always held the Sunday of Labor Day weekend and worth the trip.
Last time we spoke, you were getting ready for the NoBull Bayou Battle – how did that go?
It was absolutely epic. In our wildest dreams we could have never predicted the amount of joy and community that this event produced. There are so many stories and tales which will be told for years about what happened that weekend in January.  To have so many from all around the world descend upon Houston for 3 days was a dream come true for all of us. To be able to expose everyone to Houston's unique garage racing scene and to highlight our unique style of racing, community and stoke was awesome. We couldn't have asked for a better outcome on all fronts – stoke, attendance, gnarliness, vibe, community and most importantly exposure for our sport locally. We couldn't have pulled it off to the extent we did without our Platinum Sponsors: Bombsqaud Longboarding, Waterloo Wheel Designs, Lucky Buddha Beer and Jenni's Noodle House.

The best news about the event is the Hobby Center Garage has agreed to let us use their facility annually so this is now an event which will forever be a part of Texas. We had over 215 racers and 500 spectators from all around the world. Scotty Sheridan with Carve Skateshop, Team NoBull and myself want to double those numbers next year and we think we can do it.
"One thing we will not change will be the full-contact gnarliness of the garage racing and the rowdiness of the after party!"
We learned so much from the race and next year's will be better and will have several exciting additions and changes to the skate weekend, many of which are a secret. What I can tell you is, we will be increasing the prize money from $6000 to $7000 and we will be increasing it by $1000 a year for the next ten years. We will be incorporating more skateboarding events and trying to secure a longer LDP course. One thing we will not change will be the full-contact gnarliness of the garage racing and the rowdiness of the after party! For all the readers here that didn't go to the race I'll just say that this is one event you don't want to miss. We can't wait  to see Ray Adam's the Open Winner and Taylor Jandl the Women's Winner defend their hard fought titles. The date of the Bayou Battle will be late January or early February – stay tuned & come race us y'all.

How far afield did people come for this event?
They came from everywhere. There was a huge crew from Portland, Seattle, Canada, Mexico, Florida and New York. I think we even had some riders come in from Australia and Brazil. It's quite amazing what $6,000 in prize money and a full weekend of events will do for attendance. Seriously, it was the most fun we have ever had in the history of skating in Texas. Our homes were all open to everyone for crashing and we kept everyone fed all weekend thanks to Jenni's Noodle House and everyone's thirst was quenched thanks to Lucky Buddha Beer – two of our premiere sponsors. I had about 15 riders staying at my house and Scotty Sheridan had a tent city in his yard. For next year's event, Carve Skateshop will be fully moved into their new 4,000 square foot space on 6902 Longpoint Road and will have the space to handle the crowds and maybe even some skampers (skate campers) Carve Skateshop (www.carveskateshop.com) is the Bayou Battle headquarters and without their and Scotty Sheridan's support the event would never have occurred. What Carve is doing for the skate scene in Texas is amazing. Its truly a skater-centric shop with a focus on racing, supporting events and traveling. They have been the biggest supporter of Team Nobull and we use their van to go to races all year.
"What Carve is doing for the skate scene in Texas is amazing. Its truly a skater-centric shop with a focus on racing, supporting events and traveling."
Can a garage cater to double this year's numbers?
Absolutely! This race location can handle massive crowds. We anticipate that we can handle up to 500 racers. We want this event to be the biggest race in the United States. Not because of any ego based bullshit –  we want it simply because a garage venue can handle it. We want to get experience on huge events and have garage racing grow nationally. The Bayou Battle will be Team NoBull's one huge event and we want it to attract the entire scene. Garages are a central controlled environment perfectly suited for large races… racers don't have to wait for the UHaul, or walk back up a long hill… just hop on the elevator! Think about a garage as a stadium or even better its "Stoke In A Box – (I stole that phrase from Marc Dean fyi) .

The beauty of a garage race is that it is inclusive, all skill levels can compete with each other but ultimately talent and tenacity will win.  At a garage race you can have a 12 year old in a heat with his Dad and next to a Pro. We had several heats like that at The Bayou Battle.
The Hobby Center has agreed to extend our use of the garage from 4 hours to all day and night on Saturday to accommodate more riders. The extended format will allow us to have eliminations in the day session and get the bracket set for the night session. The beauty about this Bayou Battle race is that the Jamail Skatepark is just 500 yards from the garage! Jamail is one of the better skateparks in Houston.
Have you done much skating since Bayou?
I skate as much as I can, yet it never seems to be enough to fulfill my insatiable need. My son Dawson and I skate together often. Being involved in all aspects of Team NoBull, throwing events, sponsoring events, being a father of 3 and having my own company keeps me real busy. I try to hit the garages here in Houston every week and I LDP a ton. I'm trying to get to the G-Ride in June at Maryhill, if I don't make it I'll go to the Fall Freeride. I find myself living vicariously through the Team's skate lives and travels which we support. There is no greater joy for me than giving back to a sport which has given me so much. I love getting pictures from all of Team NoBull's skate trips.
Last week we had a crew at Joe Lehm's ditch event, SLAP, in Albuquerque. This week we have a crew heading to Clete Baum's race Hummel Havoc in Nebraska. Hummel Havoc is an event worth traveling to. We are sending 7 of our finest: Chris Cade, Colleen Daugherty, Davis Gill, Levi Dane, Brandon Byrd, Nick Taylor and  Sam Persons  to represent the Team. We always send riders to races we sponsor out of state. We have 7 going to Hummel this year, next year it will be 20. That's how we roll, safety in numbers.
Also this week is  Dylan Greenbaker and Jargh Hammons of Team NoBull & TxBaked high speed meet-up Talimena. I'm driving up to Arkansas with Neal Roberts, Damen Sistrunk and his son with a truck, a dually trailer for shuttling riders and a shit-ton of  food. "Tali" is one of those special places for speed. Its unlike any other. There will be about 40 of the sports finest downhillers and lugers hitting 60 MPH + on a closed road in Talimena State Park. Its a very special event. As well Anna O'Neill and Erik Ulmer are at the 8th Annual Britannia Classic in British Columbia this weekend. You might say we stay busy!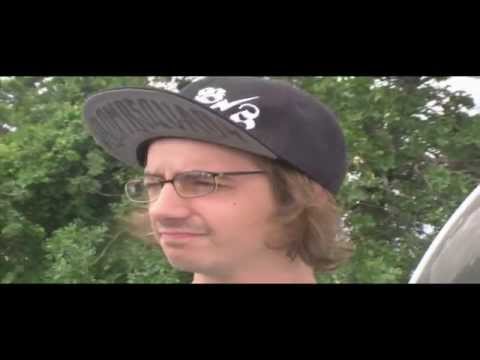 When it comes to races I never race in an event I'm hosting or running. I've found it too tough to do both. I find I'm either in Race Mode or Event Mode… can't really mix the two. There are a full slate of events which Team NoBull and myself will be involved in this summer. I love staying involved in the scene, its my passion. What really makes the Texas scene so awesome is that we are all passionate about racing. I'm really looking forward to racing at the Patriot Race this summer as well as some of the upcoming outlaw garage races.
" We have a big event coming up in Houston on Saturday May 30th which I hope to race in. Its Carve Skateshop's Grand Opening party"
We have a big event coming up in Houston on Saturday May 30th which I hope to race in. Its Carve Skateshop's Grand Opening party. As part of the all-day affair, there will also be an outlaw garage race – it'll be a full contact HGR style race. Can't wait for that one. Us old guys are really nasty and dirty in garage racing, it's all we got. Carve recently moved to a new location with double the space. Carve is Team NoBull's official clubhouse – its awesome, we just chill there on the couches and watch skate videos when we're not skating.

Has your involvement with Carve grown this year?
Its amazing that this whole journey started with my son and I walking into Carve Skateshop and upgrading our boards. I never could've dreamed that my son Dawson and I skating together would bring us all to where we are now. It just highlights the power and possibilities that our sport provides. 
Most definitely our relationship with Carve has grown.The collaboration of stoke between Carve Skateshop and Team Nobull has never been closer. As a Team we are always trying to build more relationships within the skate community. By relationships we mean connect with companies, events and organizations that have the same mission as we do in spreading stoke and growing the sport of longboarding.
When we tried to get approval for the Bayou Battle garage race we realized we needed some local small business support and involvement. Carve stepped up big time. Scotty & Carve were instrumental in helping fund the Bayou Battle event. As a Team we coordinate with Carve in using their Skate Van. Over the past couple of years we've traveled across the country and to Canada multiple times. We wouldn't be where we are today without the support of companies and skateshops like Carve. Scotty Sheridan, the owner of Carve, is a member of the Team, a great friend and a decent shredder for an old guy. Zac Sharp Carve's Austin Shop Manager & Waterloo Wheels founder is Team NoBull's Race Team Captain. Our relationship with Carve continues to grow and we are constantly looking for ways to spread stoke and grow the sport. 
"…we will always be about outlaw races. Regardless of how many approvals we get, we will still have the occasional outlaw garage race and downhill. There are simply some spots that will never give us approval and we will still race them. We've got to stay true to our roots."
Given our success with The Bayou Battle, which was the largest legal garage race in US history, we are aggressively looking to build on that success. We are working with multiple cities crews in assisting them with expanding more legal garage races. Beyond expanding legal Garage Racing we are also working hard on having more  legal races and downhills throughout Texas. It is our hope to gain more acceptance not only for the sport with local governments and municipalities but also to attract more riders. But let me be clear we will always be about outlaw races. Regardless of how many approvals we get, we will still have the occasional outlaw garage race and downhill. There are simply some spots that will never give us approval and we will still race them. We've got to stay true to our roots. All of us… myself, Team NoBull, Carve Skateshop and the community in Texas are pushing hard to have more… more races, more events, more riders, more kids and women skating.
Carve isn't the only shop that has helped the scene in Texas. Ehren Mohammadi with Insanity Boardshop in San Antonio has been awesome in supporting the scene and is a member of Team NoBull as well. Ehren and his store consistently sponsors every event in Texas and is always involved in the San Antonio scene. Gnarly's in Waco and TX SK8 in San Marco's are great supporters as well. The skateshops in Texas are really involved with the scene and it's awesome.

As a Team which focuses on racing, getting events legal, traveling to events and throwing races, we are always seeking new ways to rally around an event opportunity or a race as well as looking to get involved with other scenes and skate with other groups. Some examples of our involvement beyond Texas are our planned trip to Hummel Havoc in Nebraska, our closeness with Deano with the Maryhill Ratz and Marc Dean with the Push Culture Picnics to name a few. We are always seeking partnerships, friendships and connections with others to discuss collectively how we can be better and how we can help the sport we love grow. The skating community is so wonderful in so many ways and we are trying our best to connect everyday with groups, companies and events.
"…at first everyone thought we were some kind of "flash in the pan" or we were 'up to something' – they didn't get what we were about. Early on, people were waiting for us to sell our shirts, launch a board company or sell something. We will never sell anything, we have no ulterior motive to make money. We truly are here to support the scene and the skate companies that support it."
It's been an education process for a lot of people about Team NoBull. We think at first everyone thought we were some kind of "flash in the pan" or we were "up to something" – they didn't get what we were about. Early on, people were waiting for us to sell our shirts, launch a board company or sell something. We will never sell anything, we have no ulterior motive to make money. We truly are here to support the scene and the skate companies that support it.

If you are a company which sponsors one of our riders you not only will get a great rider but someone which we can assure you will represent your brand and the community better than anyone. You will also have the immediate benefit of all of our followers on all of the social networks, all the media we produce and the events we are involved in. We are here to work with companies, not compete with them.
Have there been any new additions to the team?
Our two most recent additions would be Eric Hoang & Chris Cade.
Eric lives in Portland and works at Daddies Board Shop. Eric rides for Daddies Boardshop, Rayne Longboards, Vicious Griptape, Organic Hogwash and Flo Footstops.
He hit our radar at Maryhill. He is just involved with everything, he is "All In"…always smiling, volunteering, shredding and giving back to the sport.  He even came down to Texas for the Bayou Battle. Rad dude and we expect great things from him.
Chris is originally from New Mexico and currently lives in Austin. Chris rides for Riot Boardsports, Loaded, Orangatang and Dave's Hippy Oil. Chris's presence on the team was felt immediately. He is such a great (T)all around rider and has such an amazing rep within the skating community. He is truly a longboarding ambassador. He already has been instrumental in organizing several skate trips for the team. Chris Cade is a real leader and we could use more like him.
We add members to the Team once a year in October. As we've grown in recognition and reach its only natural that we look throughout the entire community for Longboarding Ambassadors to add to the team. We are definitely seeking to add new members from outside of Texas and we want more women and Groms on the Team. The youth are the future of our sport and it definitely needs more women involved.
 It's so important to us to keep the vibe and stoke growing and going with the Team. Members of Team NoBull have to bring more to the Team than just skating ability. We are only as strong as how much everyone puts into it. We are looking for riders that get what we are all about and want to contribute to our exposure, stoke and of course podium spots. We really are a close-knit family at this point and want to continue to impact the scene in a positive way any way we can.
As important as who was recently added to the Team is who came before them. Those original members that are responsible where we are today. With us it's not about the individual  it's about the Team. We've already proven that as a group we can accomplish great things. Our original members and those are a part of this great family that is Team NoBull are all very cognizant that what we have is unique to the skating community and we want to protect it, keep it fresh and edgy. I never in my wildest dreams couldve imagined  Team NoBull getting to where it is now. The Team is truly my family and I'm so grateful for each and everyone of them. 
What are you riding these days?
My old time favorite, which I have 3 of, is the 2011 Landyachtz WolfShark. My go to boards right now are the Loaded Cantellated with PNL Precision Trucks, Riot Bushings and Waterloo Rallies for Garage Racing/Downhill and for LDP I ride a  Pantheon Nexus with Iliffe Precisions and Orangatang Kegels for LDP.
My son Dawson and I trade off boards allot though. Dawson is all about the Bombsquad Longboarding life and I'm constantly using his boards. Dawson rides the Battle Royale and the Mini-Agent Orange with Ronin's & Munkaes and Waterloo Wheels.
Will we see Team NoBull on the international race circuit this year?
We are supporting several of our riders to achieve their dreams of competing internationally. Anna O'Neill, Rachel Rayne, Brian "Chubbs" Cortright and Stephen Dumaine all have plans on competing in IDF races this year. Stephen's goal is to be ranked in the top 50 this year, we have confidence that he will make it into the top 25. Zac Sharp, is going to be competing in some IDF races as well. Zac has done some amazing things behind the scenes with our team to push our riders to chase their dreams. Zac is not only a manager of Carve Austin, the Founder of Waterloo Wheels and our  race team captain but also is one of the best riders in Texas. We have several racers which we believe have what it  to takes to go to the next level. We want everyone on our Team to have the support they need to race anywhere in the world they want and become the best that they can.
Shout outs.
I'll apologize if I'm about to forget anyone – I suffer from two acute maladies 1) A.D.D. & 2) Old Age. I could literally spend a whole day talking to you about shout outs.
Nicholas Hopper & Bryanne Harris of Team NoBull for winning Gnarathon this past weekend! David Petrie & Neil Wieland of Team NoBull for pursuing their skate-life dreams and SkateHouse Media for giving them lodging support!
Dave's Hippy Oil for helping us heal.
Ali Johnson for being the best skate Mom in the U.S.
Deano & the Maryhill Ratz for being the keepers & protectors of  Longboarding's Mecca: Maryhill.
Joe Lehm in Albuquerque for his hospitality and giving us a reason to skate ditches again.
Bricin Lyons of Coast Longboarding for his Stoke.
Marc Dean for his guidance and sage race advice.
Marcus Bandy for everything he does.
Kyle Ramsey & NoCoast for being a true friend and pushing our scene.
Jonathan Strauss & The IDSA for helping us achieve legal race dreams.
Jay Cronin for your epic race fliers & designs.
A Huge Thanks To All The Photographers That Are A Part Of The Team NoBull Family And Document Our Stoke: Kameron Denman, Neal Roberts, Katlyn Beachy, Jon Wesley Schyma, Aria Pramesi, Zachary Hooper and  Erick Barrandey
All the companies that have supported us and helped us to get where we are today.
Links.
www.instagram.com/nobull_longboarder
www.facebook.com/TeamNoBullLongboarders
www.teamnobull.tumblr.com
www.bayoubattle.com (coming soon)
Hummel Havoc: www.midwestlongboarding.com
Talimena : www.talimemorial.com
Britannia Classic: www.britanniaclassic.com
NoCoast Skate: www.nocoast-skate.com
Carve Skateshop: www.carveskateshop.com
IDSA : www.theidsa.org
Comments
comments