Emotional ride with one of the OG's of Grupo Nopo. Epos, son of driftwood, tells us about his gnarly first deck, a memorable final with P.Swiss, hosting 6 VLTs and the beauty of spreading the stoke.
Hi Epos, how are you?
I'm good amigo, how about you?
Great. What have you been up to this week?
It's been good! Working on something for Driftwood local ent. I'm also preparing for a trip tonight, going to siquijor. I'll be joining the DH MTB race, then I'll go skating there for the next 5 days and have a vacation.
Siquijor – the magic island?
Yes, the mystic island! We love Siquijor, it is like the paradise of the DH longboarding community here. Maybe next year for VLT, 2016 you can come and experience chillippines!
YEAH! Where are you from?
I'm from Mactan island, Cebu, Philippines.
Fun place to grow up?
Yes, it's the best island playground for me. It's a small island with a lot of people living there where you need to survive in a tough neighborhood. I learnt a lot from that experience and I am lucky to be where I'm at today. Thanks to skating and to the people who introduced me into this sport and its lifestyle!

What are your favourite kinds of play?
DOWNHILL SKATEBOARDING/Downhill mountain bike. I LIKE TO GO FAST! FREE ENERGY SPORTS! It's just different out here man, natural high.
Are you a tough guy?
No I'm not, I cry if I need to, but I learned the tough way.
"We were surrounded by drug dealers and bad guys back then… I realized that I needed to get away from this environment and… skating led me to a good adventure of life."
What do you need to survive?
We were surrounded by drug dealers and bad guys back then. I was exposed to these things in my younger years, but never tried bad drugs! I realized that I needed to get away from this environment and get a job or start a business, and skating led me to a good adventure of life.
I'm a young father with two kids; a boy who is 10 years old and the girl is 12 years old! I'm proud of that. I worked before in Loaded Philippines (Free energy Coop.) for 2 years which is owned by Jukka Holopainen, who is a cool boss! I used to skate and work at the same time which was a rad time, in Manila.
After, I went home 'cos I missed my family & skating homies in Cebu, so I started working for driftwood and they assigned me to making skateboards. I also helped with marketing and organsing events. I decided to bring my family to the driftwood house, (which is where we've been living for 3 years) cos it was hard to travel back and forth from the island to the city, just to go to work. I told them we're going to have great adventures and they came with me with excitement in their eyes.
I want my kids to be exposed to what we're doing here in the shop at their young age so they can learn how to be independent and learn a lot of things from the business.

What would have happened if you didn't get away?
If I didn't start skating and work in driftwood, maybe I'd be working somewhere in a car factory or somewhere in the desert! My dad is a fireman in the Middle East, he trains people to go there. He works in the airport as a fire chief, I grew up near the airport, so I saw my dad's work. I used to think that it was the coolest job in the world! "a fireman" – no fire, no work! Just making reports every weekend. Now I realize I have the coolest job in the world: skating, making skateboards and inspiring young kids to a different way of life.
"Now I realize I have the coolest job in the world: skating, making skateboards and inspiring young kids to a different way of life."
Did skating help in the tough neighbourhood?
Yes, board riding in general helped in many ways, like DH racing, surfing and skim-boarding. With these outdoor activities, I met a lot of people and made friends from all walks of life and this helped support my lifestyle.
Does your young family skate?
Yes, but not competing, they enjoy skating! They always come with me during the VLT VISAYAN LONGBOARDING TRILOGY. My wife loves it and the kids too! Skating and swimming all at the same time.

Why did you decide to move out to the city?
I moved out of the  island but we transferred to the big city of Cebu bec, our tree house/workshop in Mactan is over, after Juan went to New Zealand 'cos his wife works there and brought the whole family there and stayed there for good, but now there currently living in Noosa, Australia for work and have a good surfing life!  
What is driftwood?
Driftwood local enterprise is our small home base company. We make bamboo boards, surfboards, skim-boards, board bags, organizer bags for travelling and some dh helmet case bag. But our main product  is Cocoon hammocks. Visit our FB page DWLE (Driftwood Local Ent.) to see more hammock adventure and some board riding trips we have all around Philippines and Asia.  
Who started it?
Juan Duazo is the MAN! He started it back in 2002 in a "funeral home". He lived there because it was his mom's business. He started making skimboards and slippers. It was just a small production then, he supported local talent and local events to make the community grow. He helped out of school kids to go into a different sub-culture and change their lives.

Who are the other people involved?
Juan Duazo: We still communicate online. Guiding and Advising us. he helps in designing and he invented the four point system packable cocoon hammock. Father of driftwood.
Ryan Tan – The boss and Provider! Uncle of driftwood.
Dandoy Tongco – shaper, rider, son of driftwood.
Johannes Le – A German brother representing driftwood from a social works and mountaineering club in cebu. Driftwood germany.  
GN Family – forerunners and the sons of driftwood, media  
DWLE – local tailors and shaper (works for driftwood)
Patrick Switzer – DWLE Canada, South America, America. Brother from another Canadian mother.
Me – Marketing, events, production. Son of Driftwood.
What kind of skating were you doing in the beginning?
Free style dancing on a longboard. We love Adam and Adam. Boing Paras of Adrenaline Cebu was the one who introduced it to us. All the nopo boys started on free style in the streets of lapu-lapu. We have some classic videos on YouTube, like the dancers and presidents, Sundays school of aboys cebu. We were like boogers there at that time!

Did you complete any of the loaded challenges?
No, but we made videos for loaded before.  
What's your favourite trick?
Hippie jump.
How did you get into DH skating?
Back in 2008 there was a competition in Manila, the gravity games in Meralco. It was my first trip to Manila and of joining a national competition. It is the largest city here in Phil, that was the first time I saw an evo board and lots of riders around phil. It was a dream come true haha! That was the start of my skating life. I got a chance to travel around and compete.
"I believe that the only treasure you can take to the afterlife is your experience and adventures in life."
Why do you enjoy traveling?
It is the best way to live life. I believe that the only treasure you can take to the afterlife is your experience and adventures in life. Through travelling, you learn a lot of things and discover the unknown.
How do you do in the races?
Got some podium finishes in race – local and national. Got second place in Madrid Skateboards Philippines tour, 2011 with Calvin Stuab. In 2013, on one of the leg of the VLT, 2013, Boljoon race track which is a two man heat, I went head to head podium with Patrick Switzer and I got lucky and passed him on the finish line. Man that was day dreaming! But, yeah, I made it! I can't stop thanking Patrick for that great racing experience.
What is your favourite thing about racing skateboards?
Free energy, no engine. You need to understand gravity, distribution of weight and self discipline. Natural high of adrenaline!
"In 2013.. I went head to head with Patrick Switzer and I got lucky and passed him on the finish line. Man that was day dreamy! I can't stop thanking Patrick for that great racing experience."
Who was organising events in the Philippines back then?
The gravity games of Manila, Lassi Holopainen, (Jukka's brother), Makati CBD, SKATE OF THE NATION,  THE WHISKEY Hill boys and Carlos Domingo. They were the first guys who made the very first downhill race in Phil. Then us from the Visayas free energy coop lead by Juan Duazo and Jukka Holopainen. We tour around Visayas and Mindanao and make events and spread the stoke of longboarding and the boarding lifestyle. We camp a lot, it's like we mix the two cultures together and live the life style.  
Who won the first DH race in Phil.?
Mike Enriquez of sindicato sicatona boys.
When did you guys organise the first VLT?
Way back  in the summer of 2009, we decided to rent a minibus, invite a few friends around Philippines and travel around Visayas particularly in Cebu, Don Salvado Benidicto, Bacolod, down to Dumaguete. It was 12 days of skating, travelling, sleeping in the jungle, meeting the rebels in the mountain, swimming in the most wonderful waterfalls in the Visayas! It was just fun back then, no race, just pure adventure and skating.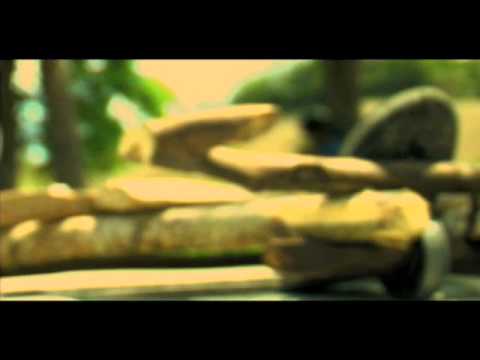 Why did you do it?
We want to unite all board riders here, cuz at that time, longboarding was just starting and we wanted to make something different, something like a solid community, more connected to nature and at the same time experiencing the best adventures of our life. We also wanted to promote environmental awareness through longboarding.
How did that trip go?
The best! That was the foundation. Maybe VLT now is different, we didn't start this way.
Are you happy with the evolution of the VLT?
Yes! It's been a crazy ride for the last 5 years. We still remember our humble beginning but now VLT is evolving into an international long running event. So, I must say, I'm very happy for the evolution of VLT. Our goal is to inspire young ones so that we can pass on the spirit of VLT to the next generation with a better foundation.

"We still remember our humble beginning but now VLT is evolving into an international long running event… Our goal is to inspire young ones so that we can pass on the spirit of VLT to the next generation"
Is the spirit of the VLT still the same, after 6 years?
Yes! It's all about family vibes, but now we do it a little bit of everything; we mix-up with racing, free riding and skate clinics. Only one thing we want to improve next year, we want to add more activities that locals can be part of and also involve the skaters in, like beach clean-up or some environmental awareness campaign. We've been doing this before, but we didn't do it last year's so maybe that would be our priority next year.     
When did you guys add racing to it?
The following year 'cuz everyone wants to race and compete and the community is also growing rapidly because of racing.
What's your favourite race in the trilogy?
Siquijor race the ''traditional race'', cuz the competitiveness is not that important, we race for fun and brotherhood. We have a team race also in between. Rad time in the island of Chilippines.
"competitiveness is not that important, we race for fun and brotherhood."
How important is brotherhood?
Brotherhood is the key to a solid group or community. This is not a one man show, this is for everybody. Without brotherhood this won't last!
Who are your brothers?
GRUPONOPO FAMILY, ALL THE BOARDRIDERS AND LONGBOARDERS!

What is Grupo Nopo?
We are a progressive group of Longboarders / Skaters in the Philippines. We work at Driftwood.local.enterprise, not only as riders, but as ambassadors for the increasing need for all to embrace the importance of living a sustainable life. We travel, meet new people, make friends and learn a lot of lessons along the way. Our short films show you our lifestyle as we live it day by day. Go slide waves & slopes!
"We are a progressive group of skaters in the Philippines. We work at Driftwood.local.enterprise, not only as riders, but as ambassadors for the increasing need for all to embrace… living a sustainable life."
When did you guys first invite foreigners to skate the islands?
2010 ADAM AND ADAM, PABLO OF LOADED, Jukka invited them to joined the 2nd vlt. It was featured in concrete wave magazine.

Are there any local magazines?
I remember only sprout magazine dedicated to board riding here in the Philippines. The rest are blogs like My life on Boards, Poste 98. Australia's Heelside magazine, we were featured there a couple of times also in SkateSlate Canada.
Was it nice to meet & skate with them?
Yes they're cool &fun to skate with. Very active and they play a lot of side games. They give away wheels or boards for  who can squat the longest time, bite the bag.
Have you had many visitors since?
Yes, the following year, it was Zak Maytum & Max Dubler. When they did the first Madrid tour Philippines back in 2011. Then in 2012, Calvin Staub was flying solo and joined our race in whiskey hill and Abucay Bataan for the Madrid tour 2 Philippines. Free energy coop was the organizer, led by Jukka Holopainen. The tour was a blast, everyone in the Philippines longboarding community attended it, every year after that, pro riders have come.
Patrick Switzer, Tamara Prader and Ethan Cochard organized the mango skate clinic supported by loaded boards and orangatang wheels. Justin Ortiz, Adam Yates, Billy Meiners, Dillon Stephens of Landyachtz Longboards and the basement skate shop.
This year, VLT 2015, many big names joined the event. Dubes Eldorff came back with big boys like James Kelly, Liam Morgan, Byron Essert, Roger Jones, William Royce, Levi Green of skateslate. Mica Green, Riley Irvine, Trevor Ovenden and Bryce Bradly, of Zealous bearing team.
ASIAN, AUSTRALIAN and European riders have joined for the last 3 years. Now I can say we already bring the world to our country and race with the best riders in our times. Today, we don't need to travel just to compete abroad with our idols. It's fulfilling to realise that we were riding a piece of wood with roller-blade wheels before and now we have more than we need.
Any personal impact from meeting these guys?
Yes! A lot of impact. But not just for me, for every potential local rider here. They help encourage all of the longboarders here, also they can discover local talents here and support local riders. Big companies like loaded, Landyachtz, Rayne longboards, are sponsoring our events, they give away items and stuff just to make the scene grow and by sending their riders to represent their company here in our country. I must say that's the impact right there!  
You've skated with wood and rollerblades!
Oh yeah. I remember those days, I made a hard wood pintail and a sketchers wheel from a surplus roller skate. It was a 45'' hard wood pintail board, it lasted over a year before I passed it on to the groms of nopo. It was for pure carving and cruising before and then we learned how to walk and do some Adam Colton dancing style on the board. Skate to sunshine video link was my favourite video from loaded!

Is it easy to get skate products out there?
Before it was hard, but when Jukka became the loaded Philippines guy, it was like  the revolution of longboarding in the Philippines. Other brands also came, from freestyle to DH & freeride boards and wheels. Big brands were here and suddenly everyone wanted to sell online, we had a network of riders that resold longboard stuff, it evolved into a business thing to everyone. The accessibility was not a problem any longer, buying and selling or bartering items from other riders was so easy.
"The sad part is local shops that support events here are dying because everyone wants to buy online."
The sad part is local shops that support events here are dying because everyone wants to buy online, most of the local shops are now doing online sales just to survive. National races were 6 to 8 times a year and outlaw races every month, sometimes twice a month. Now only down to 2 – 4 national events every year. In Luzon, the united guys are pushing to make multiple races every other month. They're doing a good job to promote the sport. Skate of the nation puts on Haven's gate every December, and us hosting the VLT every April. So far that is what's keeping us alive and stoked until now! Our journey before to spread longboarding around PHIL. It is worth it just by seeing lots of young longboarders here get into longboarding and growing every year.
What has been your favourite VLT ever?
VLT 2013 was my year! It was memorable too. As a competitive rider you always dream of a great victory or a memorable championship. That year, the 2nd leg on VLT Boljoon, with over 110 racers from around Phil/Asia including the 3 time world champ, Patrick S. of Canada, with whom I battled in the finals. I got lucky to pass him just before the finish line and I became the winner! It was a mixed emotion, my family was there, the whole event was so successful, I couldn't ask for more! I just thanked everyone and Patrick for coming back and giving this awesome experience to us again. From there it builds up to good friendship and then we created the mango skate clinic the following year in oslob.
What is the Mango clinic?
Mango clinic was Patrick's idea, last VLT, 2013, before the event, dandoy and I found the spot in oslob and we invited Patrick to drop by before going to Siquijor for the first leg of vlt 2013. At first we tried to keep it secret from everybody cuz the spot is not for beginners, too dangerous to freeride, then Patrick got this idea of organizing a skate clinic in oslob in order to skate it safely and learn how to communicate with your fellow riders by sharing the proper ways and techniques. After the first leg, everyone from Siquijor who joined the first leg was invited to skate our newly found spot and join our skate clinic.
We started it like an outlaw style – no police and hay bales, we rode every corner by category of the rider's skills, from beginner, intermediate to advanced intermediate. Everyone was on it, they learned so fast, and everyone had fun, even though there was one incident of an injured ride because of a high-side, but he is safe. We realized we need to formalize it and make it as one of the legs of the VLT. We upgraded all the things we needed from the lessons we taught to ambassador training to the safety bales, marshals and instructors. With the support of the mayor and local government of oslob. Now it's been two years of the skate mango clinic and every year international and local riders participate. This is the chance for our local riders to skate and exchange ideas in riding style with their idols. That is mango skate clinic by;MR, PATRICK SWITZER.

How important is it to spread the stoke?
Wery important. If you believe you're doing something you love and good for you and for other people why not share it? Be a good example to the next generation! A lot of people misunderstand longboarding or skating in general, they think we're punk, trashers just having fun and partying. What they don't know is the discipline of the sport, how we handle the speed without any breaks on a 80 to 90 km/h, some pros are doing 130 km/h, on a piece of wood! The weight distribution every time you do a free drift into corners, you need a lot of time to learn. Same thing in freestyle in every trick a skater does, it needs time and effort just to accomplish what they want. So, this is not just any sport, this is extreme sport that other people can't do and they need to understand and respect!
Have you done any skating outside your country?
Yes, in Thailand and West Java, Indonesia. Dandoy and I joined the Pattaya slalom in Thailand way back in 2012. Dandoy got 1st and I got the 2nd. The Talegong race, West Java was in August, 2014. 3 of us in our team went to finals Dandoy Tongco got the 1st place, Tom Romualdez of united team 2 place, Ering Ricablanca got 3rd place and I got 4th. It was an all Filipino finals! It is like one big family already in longboarding, everyone is like brothers, from Singapore, Thailand, Malaysia, Japan, Indonesia and Philippines we are all homies.

What is the community like in those countries?
Its a big Family! Brotherhood, chill but fast and we are welcoming. Island style!   
Are you having a fun year?
I always find ways to have fun as much as possible with my family and homies. Everyday, anywhere as long as my intentions are for everybody's good! There's no reason I won't be happy or having fun everyday.
What skateboard are you riding right now?
My pro model, DWLE EL KAPPA
Zealous precision trucks
Big H bearings
Orangatang kegel purple wheels
Venom bushings
Are any of those your sponsors?
Yes, some are sponsors. The boards from DWLE, the bearings from Big H. The trucks were a gift from the owner of zealous, Bryce Brady, not riding on the team but I'm so stoked to have these trucks. I like it. My wheels are not sponsored but my skate-shop sponsored me otang wheels. I use orang's for race and for free riders venom or big h wheels.

Is it hard to get a North American sponsor?
Yes! When we started it was hard, but after 3 years of racing and freeriding with the pros coming here we got some exposure and they supported us, like me, dandoy and arjun were riding Madrid boards and Venom wheels before when Zak Maytum and Max Dubler visited and made us flow riders.
Loaded boards and orangatang wheels are our all time supporters and sponsors. We're lucky when longboarding started growing here, we got the first shot.
Does the sponsorship make a difference?
It helps a lot especially in travelling and events. It makes the scene alive. If I didn't have a sponsor now, I couldn't do this with my status, I couldn't afford it!

Tell us about your Pro model!
I had it since 2013. My first victory on that board was with Patrick back in VLT 2013. I like it because it feeds my needs and I designed it for my own riding style.
Board Model: DWLE EL KAPPA
Sceps: L-36'' WB 26/25" W 9.75''
Top mount
Minimal  concave
Symmetrical
Construction:3 layers of 4mm bamboo panels, 3 layer of biaxial fiber cloth and one layer of formica.

What did it take to earn the Pro model?
I have been skating for almost 8 years. 6 of those years, racing and travelling around our country to promote the longboarding scene. I made my own pro model board, I have my own hardwood longboard brand before. I was into making local boards and found new local materials like scrap wood and local bamboo veneer, so when I got a chance to work in driftwood, they let me design and make their boards, they supported my bamboo panel material and I found a local bamboo carpenter to reproduce our bamboo panels and make it a driftwood board. That's the time I made my pro model boards. First, I made dandoy pasutoy pro model then my el kappa pro model followed by our forerunners (Gruponopo) pro model boards. It took me 6 years to have pro model board. I designed my own concave and specs so it feels so good riding your own creation.  
How are the groms?
They are Jrs now.
Pantoy Solasco, Bodeck Reuyan, Miko Nopo, Charlo Queruben.
They skate naturally well, they were with us since we started longboarding, they compete also and travel with us, so the exposure is a big advantage. 2013, we made a 2 episode film about them. "GN young guns".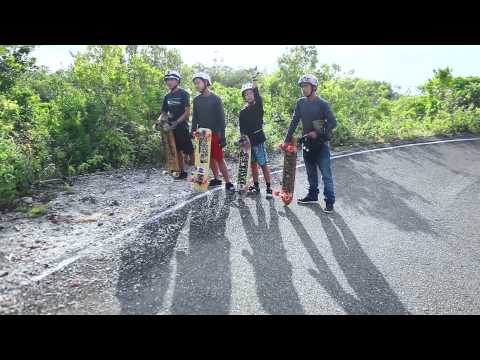 Do you do any camera work?
Yes I do. I'm not a professional but I love filming. This is one of the many things I learned from board riding and outdoor activities. I film every time we have a surf trip or go to a race, but most of the time longboard videos.
Who makes the GN videos?
We all contribute footage or one of our friends films us then the twins of GN edit it for GN's YouTube channel.
Ric and Ering Recablanca are the editors of GN videos, but when we started, Juan was the one making all of our videos. He taught us everything we know in basic filming and editing. We are lucky, Jukka got some equipment for us to use and learn back then. We were blessed also because we have elders that not just took care of us, they guided and taught us in the right way.
"We were blessed also because we have elders that not only took care of us, they also guided and taught us the right way."
What are your plans for the future 
Hopefully we can repave oslob next year and make a skate sanctuary there and do some program to teach basic downhill skateboarding and add on some outdoor program activities for kids or individuals who wants to learn the sport. 2016 OR 2017 VLT maybe we can host a world cup.
What do you do when you're not being a stoke machine?
A father of my two kids and a husband to my wife!
Pick 3 numbers between 1-20.
1 7 13
1 – If you had to be a bad guy in a movie, who would you be?
Castor Troy of the movie Face Off!     
7 – why did the chicken cross the road?
He choose to die in the road rather than ending as a deep fried chicken!
13 – what happens when a zombie bites a shark?
He will bite a surfer like what happened to Mick Fanning! SCARY SHIT!

Mr Falcone! This has been an epic adventure. Thanks for sharing your story. Stay rad and see you next year!
Like wise men! Thank you for having me bro, I had fun exchanging words with you. Maybe next year you can visit us here and skating in one of our local hills.
Any last words?
I would like to thank my family for the love and support, gn family for the brotherhood and rad times.
DWLE our home, our workplace and school at the same time. I'm learning everyday here and still want to learn more for the future of this company and community.
Juan Duazo for everything you taught us, John! You know what I mean 😉
Jukka Holopainen for your contribution to the sports without you maybe there'd be a big delay in our progression. To Patrick Switzer! Man, thanks for the inspiration and for helping us out here. Your presence here is a big impact to our community. Mango skate clinic is the sweetest fruit we've ever had!
Big ups to loaded for supporting and sponsoring our first event here in the Philippines YOU GUYS ROCK!
To my sponsors thank you for believing in me from day one, this would be so hard without your help & support.
DWLE driftwoodlocalent  
DC shoes Philippines
Joint skate shop
My life on board
Big H skate Co.
Local crag phil
Adrenaline Cebu
Links. 
https://www.youtube.com/user/driftwoodlocalent
https://www.youtube.com/user/gruponopomedia/videos
https://www.facebook.com/DriftWoodLocalEnterprise?fref=ts
https://www.facebook.com/dcskateboarding?fref=ts
https://www.mylifeonboard.net/
https://www.youtube.com/user/killerbrush/videos
https://www.facebook.com/bigHskate?fref=ts
https://www.facebook.com/freeenergycoop/videos/vb.251288385355/10151942299250356/?type=2&theater
Comments
comments