Danny Hawes sat down with us a couple of months ago to recap his year in skateboarding; living out in New Zealand and eating grapefruit.
Good day Mr Hawes, welcome back to the hot seat!
Thanks Eddy, it's great to be here.
How are you feeling?
Well, my lips are tingling from eating too much grapefruit, my head feels kinda tight from too much wine and my eyes sting from lack of sleep and lots of sun.
Last interview it was Guava, now it's grapefruit – why are you obsessed with Gs?
Girls, grapefruit and guava. The 3 G's.
Phew. Would hate to be the 4th.
O yea, haha! Damn, that woulda been good. Should've said that…
Are you still in Canada?
Haha no! Haven't been to Canada for 2 or 3 years now!

2 years since we spoke, you'd just missed a flight to Europe to stay with Les.
That's true, the thought of returning to Finnish Winter had me running scared so I ran to Vancouver's instead. Not much better.
Speaking of Finland and girls… How is our mutual friend?
Mmmmm yes, nice girls in Finland. Blonde hair, blue eyes. True fact. You will never meet a foreign male in Finland who is there for any other reason than a girl.
Miss Julia Jansson? She is well. Replaced me with a dog, just bought a new home and wrote a book last year! She's still pretty rad.
Ah. So Canada. Flatspot and such. How'd that go?
That was a good time. I did a lot of growing up in Canada, I dunno why or how. I just felt like it was a pretty big turning point in my life. Maybe because I felt so old compared to everyone other than Les and Graham? I loved it over there, pretty unlike anywhere I had ever lived before. Rain sucked though.

Turns out that last time we actually spoke, you were broken for 6 week, preparing to escape the Oz winter. Did you make it out?
You need to organise your filing system a little better. An assistant or something? I did escape in the end! Took a long time, had a lot of injuries last year but I ended up heading over for the Euro tour again. Had the mean time trekking the continent with Ville Hietela, Erik Lundberg, Max Meureling, Richard Gibello and his lovely lady Brie ''Cheese'' Schelling. After the tour, Ville and I drove back to Finland from Peyragudes which took a hell of a long time and I stayed there for a few months catching up with all the old crew before heading back to Hawaii for another short stint.

Going to Europe, off the back of not skating 6 weeks – tough?
Yea, it was. Mentally mostly, Almatrieb sorted it out pretty quickly though. I had some epic race heats there, managed to upload one but deleted the others – not on purpose! I ended up breaking my collar bone again in the Alps which put me out for the last race at Peyragudes. Big shout out to Orangatang and Rayne though who helped cover some of my costs and sent me as an official photo taker anyway!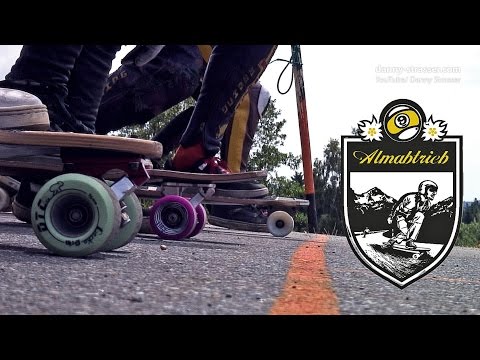 Ville must be one of your favourite humans!
He's on the list for sure! When I first met him he was so grommy haha! We were skating in a park in Helsinki, like a bike path or something. He got good really quickly and I truly respect his ability to come out of a 6 to 7 month winter and absolutely slay at overseas races after so long just boardsliding rails in Kovula. He's a hard worker too, I respect hard workers. Moikka paska poika Ville!
"Nowadays everybody wanna talk like they got something to say but, nothing comes out when they move their lips, just a bunch of gibberish and motherfuckers act like they forgot about Ville."
VH is legit. Why don't more people know him?
He lays low for most of the year. He's kinda like Oscar the grouch from Sesame street, only comes out of his trash can every so often… He's a bum. Nowadays everybody wanna talk like they got something to say but, nothing comes out when they movin' their lips, just a bunch of gibberish and motherfuckers act like they forgot about Ville. The right people know who Ville is, no one else has to know.

What were your stops on the tour?
I flew into France first, my mum was there on her way back home from visiting her family in England. We had 3 days I think of playing tourists in Paris. Funny, she lands here in NZ tomorrow night. It will be the first time I have seen her since those 3 days last year in Paris.
After that I flew into my favourite place, Prague. I was there 2 or 3 weeks before it all kicked off I think. Played Tennis Soccer with Vinchenzo, and got to catch up with my homie Adam who I lived with in Vancouver and had just been deported from my hood only a couple of months before. He hooked me up hard over there, no one looks after you like the Czech crew. Truly great friends. We drank much beer, plenty 4:20, skated some but mostly park I think before Kozakov rolled around. Oh, we had a race in Slovakia that's right. Local thing, I had never been there before. Adam and I scored a lift with some old Czech dude, kook of the country for sure. Drove like an absolute tosser, almost killed us a few times.
We went to a lot of places. Almatrieb was a highlight for me for sure, I love that road and Stephan puts on such a good event and is an awesome host. We spent some time with Torbjorn and Becks in Switzerland as well which was a riot. Our travel crew was a solid mix of funny and faffers. Mixing those two into it worked so well.
Clavicle cracking was so fun, you did it twice?
Mate, I love it! Still super scared to fall on it again, I am much tamer than I was with that constantly in the back of my head. Kinda sucks if I'm honest.

I thought Hawaii was your favourite place!
It is, but Czech is too…
If you break this bone a 3rd time, what do you win?
Street credit mostly, another excuse not to jump off of high shit anymore?
"Trying to take the perfect wave photo at the moment but it's harder than anticipated. It's kinda like reading books for me, should do more of it but finding the time to do so is always hard."
What was that you said about being a photographer?
Still digging photos. Trying to take the perfect wave photo at the moment but it's harder than anticipated. It's kinda like reading books for me, should do more of it but finding the time to do so is always hard. I get through them though, some photos, some books.

Are you still on your truck coring mission?
Always trying! I'm staying in a spot in New Zealand called Mangawhai. There are two mean bowls just down the road from me. One big faka, 12 ft deep end, vert all the way round and then a little backyard pool modelled thing about 8 foot deep end and 5 foot shallow. Death box, love seat, stairs. It's a big reason why I chose to live here and not in Auckland like I had originally planned when I came to NZ.
I started up some skate lessons for the local groms here back in January and since they began, I haven't been spending as much time in the bowls. Been in the plaza area a bit more learning new things. I'm amped to be skating park so much this year! I'm not a park skater by any means, I have sensitive knees and ankles and now it feels like my Femur is grinding my pelvis if I jump off anything too big, so it's all pretty tame. Lots of fun though and way easier to organise a park session than a day of downhill.
We have a Facebook page for the lessons, check um! https://www.facebook.com/Mangawhai-Skateboard-Lessons-336282856572237/timeline/?ref=hl
What's Slovakia like?
Slovakia was all good! Never really saw much other than the forest and hotel where the race was held. We pretty much just crossed the border, went straight to the race hill and then back to Czech afterwards. All good people there, as far as I could tell, good food, beautiful landscape and stunning women just like Czech. They don't like to admit it but Czechs and Slovaks are much the same people I think… I'm gonna get in trouble for saying that.
Any other near death experiences on that tour?
Nah, no near deaths this year. Everyone I was travelling with rides really well and nowadays I ride like an old lady drives so everything was pretty on cue. Maybe Erik nearly died from alcohol poisoning at the Peyragudes after party…?

Essentials for a good tour?
No time schedule, much faffing and people with a sense of humour. Good roads, people who like to jam parks as well. It's gotta be a laugh, I wanna travel with funny people, we all love to laugh!
"(for a good tour, you need) no time schedule, much faffing and people with a sense of humour; good roads and people who like to jam parks as well."
Dream travel team?
That's a tough one. Ville Hietala is always a laugh and we both dig 'Chronic 2001' so that works out. Janne Lehtinen except he has to stop every 3 seconds to take a photo Haha! Ethan Lau, Jonno Shakesby, Rad Mike, Adam Roguljic, and Vinchenzo Jarda, Matty B. Man and I'd be amped to do another journey with Erik as well. There are so many man. Need an eclectic mix of different skaters with different styles. An interest in Red Wine, Mary Jane and Pineapple Guava.
7 years down the line, do you miss having deep roots in the soil somewhere?
I feel like I have planted some roots this year in NZ. I'm living in a small town and I feel apart of the community here. With the skate lessons I have gotten to know a lot of the locals, parents and kids. I'm getting involved in the committee who is in charge of building the skatepark here too. It's all community funded. No council involvement and built by the best. They have sunk almost half a million into it already and there's at least another half going in. It's nice to be involved in the process and see it grow. It's very similar to my home in Oz here but a little more convenient when it comes to living how I want to live.  I love this spot and feel a real connection to it already. I'm hoping that I can continue to hop between here and Hawaii for the next few years, avoiding winter here for as long as possible.

What is your role in the community?
Well, I hope that I'm kicking off a skate scene here that didn't exist before. There are some people skating up here but there isn't crew. Most skaters come up from Auckland to sample the park, there's a couple of older local guys but really the scene is non existent up here. Mangawhai Skateboard Lessons began in February this year with one grommet showing up. Now we have well over 20 regular/semi regular kids, all aged between 6 and 15. You can see the infection spread as they become more and more hooked. They are speaking our language now, talking in a way that their parents don't understand but any skater could translate. Give it a few years, these kids will all be old enough to start trekking around New Zealand repping Mangawhai and it's local crew. They will travel together, bring more people up here to check the place out and show internationals all the spots. It's cool that I can help kick that off, I'm pretty stoked actually.
"(future belongs to) kids who prioritise style and lines over tricks and fun over Instagram."
What vision would you like for Mangawhai's scene?
Kids who prioritise style and lines over tricks and fun over Instagram. A pack of travellers who live life hard and bring in other skaters from other parts of New Zealand and the globe. A way to go yet as most of them are only 6 to 10 years old but it will get there. We have some shredders already!
When did you move out to NZ?
I got here last year just before Christmas. Think like two weeks before?
Isn't it too close to Oz to feel like you've moved?
Nah, still a 5 hour flight. Far enough away. It's how Aus should be, how it used to be. More relaxed, everyone isn't scared of everything like in Australia.
Giant spiders and winged crocs will do that to you.
Only if you're soft… I got one cup of concrete for you!
Why aren't you settling in Europe/Vancouver/Hawaii?
Too cold in Northern Europe and the winters make me wanna neck myself. Language barrier and work is the big issue in Southern Europe. Vancouver has super shitty winters as well, just rain, rain, rain plus the working wages over there are robbery and I would probably never be able to save enough to get out again. Hawaii is the place, I would move there in a heartbeat if I could but getting any kind of residency or permanent work visa in the US is next to impossible. I can stay in NZ for as long as I want, I don't need any Visa to work, it's reasonably close to home so maybe I can see my mum a little more often than every second year and it's close to Hawaii here as well.
What are you riding right now?
This year I have mostly been on the street deck. At the moment it's an 8'' hookup deck with Indies and spitfires.
Second to that is a 7''6 Xaboo mini mal.
Third is a Rayne G-Mack with K3's and Brorangatangs, crazy good shape on that board. I have never had concave work so well in a board before. Hopefully I will get to ride it a bit more this summer. Winter's been hard to get out to hills and the ocean and skate park are only 5 minutes from my place so they are the easy option.

Still on all the same teams?
Still repping my mates companies. Rayne Schlongboards, Brorangatang wheels. Tried to work with Predator but that's a shit show. It's the thought that counts though right? The last two years I have realised more and more the irony of being a part of a skateboard team.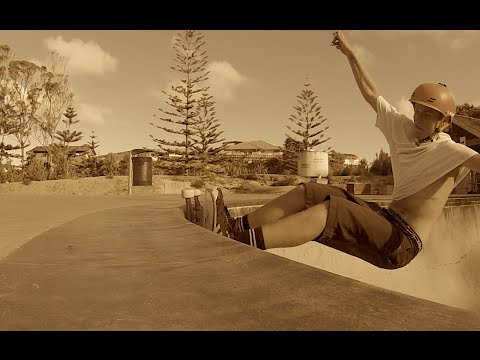 Aside from skating, how are you staying busy?
Been surfing with uncle Jerry (shot Jerry!) over here a bunch, learning the ways and keeping my head above water. Working flat chat, mowing lawns, fixing up gardens and running the Mangawhai Skateboard Lessons. That's all keeping me pretty busy.
What are your plans for the future?
Think my goals at the moment are to buy a van here in Mangawhai and over in Hawaii. Spend half the year there and half here just chasing the sun. Gotta get back to Finland and Czech ASAP too and the homies in Vancouver are always asking when I'm coming back so I'll go check up on them at some stage too. Sun and water, that's the plan.
What have I forgotten to ask?
Think that about covers me and my happenings.

Who should we interview next?
Ethan Lau's the one. I wanna read a full pidgeon interview. Go get him.
Mr Hawes. As always it's been a pleasure. Hope our paths cross sometime! Enjoy the rest of your year! Any last words?
Many thanks, always enjoy a chat! Way better than Skate Slate!
Links.
https://www.facebook.com/Mangawhai-Skateboard-Lessons-336282856572237/?fref=photo
Comments
comments